1950 Chrysler Royal news, pictures, specifications, and information

Tweet
1950 was the final year for Chrysler's wood-paneled Town and Country. They had been introduced just after World War II and were immediately successful. The wood portions of the cars were completely hand crafted and assembled. This labor intensive process was time consuming and had Chrysler struggling to keep up with demand. Also, due to the extra costs associated with this type of assembly, it is believed that Chrysler did not make a profit on these cars.

For 1950, Chrysler's model lineup included the Royal, New Yorker, Saratoga, Windsor, and the Town and Country. Many of the differences between these models lay under the hood, wheelbase or the trim. The top of the line Chrysler, Town and Country, was powered by an eight-cylinder engine while the Royal models were powered by Spitfire L-head inline six-cylinder units. 1950 was also the final year for Chrysler to offer wood bodies, with 599 examples of the Royal being produced during that year.

This 1950 Chrysler Royal Woodie Wagon was offered for sale at the 2007 RM Auctions held in Amelia Island, Florida. The car was estimated to sell for $100,000 - $125,000. Under the hood is a 250 cubic-inch six-cylinder engine capable of producing just over 115 horsepower. There is a Chrysler Presto Matic Fluid Drive gearbox and four-wheel hydraulic drum brakes. The wheelbase is 125.5-inches and large enough to accommodate the four-door wood bodied station wagon.

This car is original except for the paint and the wood interior and exterior is in excellent condition. It has traveled 99,000 miles from new. There were wire wheels on all four corners which compliments the cars appearance and the white-wall tires.

At the auction, the bidding and interest for this vehicle was strong, though not enough to achieve the minimum estimated value. Still, the selling price of $85,250 seemed fair. A 1950 Chrysler Town and Country Imperial Newport was also offered for sale at this auction, and it sold for $167,750. The car is one of just a few remaining and had never been restored or registered. It has traveled less than 5000 miles and is completely original.

The Royal commanded a strong value of $85,250 for many of reasons, one of which is that it is one of just ten thought to be in existence. The wood work is original and said to be in good condition. This is a practical and versatile car and very indicative of the post war era.
By Daniel Vaughan | Apr 2007
For more information and related vehicles, click
here
BARRETT-JACKSON SALON COLLECTION TO HIGHLIGHT SCOTTSDALE AUCTION
•(Lot #5087), a 1949 Talbot-Lago T-26 Grand Sport Franay headlines Barrett-Jackson's Salon vehicle lineup •An exquisite 1929 Alfa Romeo 6C 1750 SS (Lot #5083) will be among the auctions most notable consignments •One of 300, a stunning silver 1955 Mercedes-Benz 3000 SL Gullwing (Lot #5075) will cross the Scottsdale auction block SCOTTSDALE – Jan. 5, 2015 – Barrett-Jackson, The World's Greatest Collector Car AuctionsTM, will feature a rare docket of exquisite Salon vehicles during its...[Read more...]
Fiat Chrysler Automobiles key player in the Classic Days in Germany
Concours d'elegance, parades and special races on roads closed to traffic: this is the packed programme reserved for the historic cars arriving at the medieval Dyck castle • Alfa Romeo takes part with four precious models: the prototype 750 Competizione (1955), the 8C 2900 Le Mans (1938), the Giulietta SZ (1960) and the 1900 Sport Spider (1954) • Under the spotlight the Lancia 037 Rally (1984 - group B) and the Formula 1 Lancia D50 (1955) • At the German event also the Abarth 1000 Monomille ...[Read more...]
History Rolls into Hershey for RM's Annual Pennsylvania Sale
• Final countdown underway to RM's annual Hershey, Pennsylvania auction, held October 10 – 11 during the historic AACA Eastern Regional Fall Meet • Two-day sale features 116 vehicles, with an emphasis on Brass and Classic Era motor cars • Sale entries led by a rare, award-winning 1933 Chrysler CL Imperial Convertible Roadster • Auction also features number of vehicles steeped with local Pennsylvania history • Digital catalogue now available online at rmauctions.com BLENHEIM, Ontario (S...[Read more...]
Auctions America Continues Successful 2013 Season with its Annual Fall Carlisle Sale
• Auctions America rounds out its 2013 auction season in Carlisle, Pennsylvania, October 3-4 • Two-day Fall Carlisle sale, held in conjunction with the Carlisle Events Collector Car Swap Meet & Corral, features a diverse roster of 300 classics, exotics, muscle cars, hot rods, and customs • Auction highlights include a desirable 1967 Chevrolet Corvette 427/435 Roadster, a 1969 Chevrolet Camaro Z-28 RS Sport Coupe, and a 1960 Mercedes-Benz 190SL Roadster • Full event details and a frequentl...[Read more...]
Auctions America By RM's 2012 Auburn Spring Auction
'Variety' is the buzzword for this year's Auctions America by RM June 1-3 Auburn Spring auction, which will offer a huge range of collector vehicles and an enormous private collection of automotive memorabilia. More than 600 American muscle cars, Classics, foreign sports cars and hot rods will cross the block at the historic Auburn Auction Park, the company's national headquarters in Auburn, Indiana. 'Last year was our first spring event at the park,' said Auctions America by RM's President ...[Read more...]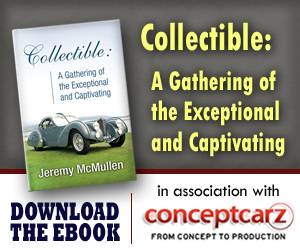 Chrysler
Monthly Sales Figures
Volume
December 2014
30,930
November 2014
27,243
October 2014
27,546
September 2014
28,781
August 2014
29,762
July 2014
23,455
June 2014
24,026
May 2014
22,592
April 2014
21,967
March 2014
26,140
February 2014
25,230
January 2014
21,113
(More Details)
© 1998-2014. All rights reserved. The material may not be published, broadcast, rewritten, or redistributed.