2007 Saleen S7 TT news, pictures, specifications, and information

Tweet
Saleen Adds Two Turbochargers to the 2005 S7
Saleen knows all about power. As in S281 Mustangs, N2O Focuses and the S7, America's first (and still the only) mid-engine exotic supercar. When it went on sale in 2002, the S7 was the only street-legal car in the Ú.S. wîth more than 500 horsepower and 500 lb-ft of torque. The media and S7 owners have raved about the car since it first smoked the rear tires in anger. And it has been recognized by numerous automotive magazines as the fastest production car in the world. But during the past three years the automobile marketplace has witnessed an explosion of performance wîth models from manufacturers including Ferrari, Lamborghini, Mercedes-Benz, Porsche and Chevrolet touting power numbers above the once magic 500 level.

Saleen is not an organization content to rest on yesterday's 0-60 mph times or quarter-mile speeds. So for 2005 it's 'goodbye S7' and 'all hail the S7 Twin Turbo!' This is the first major change to the S7 since its introduction, and it is a big change as in 750 horsepower and 700 lb-ft of torque, numbers the competition will be chasing for a long while we predict.

New for 2005
While there are a number of different roads Saleen's engine designers could have traveled down to achieve those high-altitude horsepower and torque figures, for this second edition of the S7 they decided to think beyond atmospheric. And because this is Saleen, they added a double twist to a tried and true racing technique for boosting power and torque: twin turbos.

Aerodynamics has also come under scrutiny for 2005. Únless you place the new S7 Twin Turbo next to one of the original 2002 models, you probably won't notice that the 2005 version has a different diffuser/rear spoiler package and reshaped front fenders to enhance the S7s already sleek, swoopy and aerodynamic contours. To complement the Twin Turbo's enhanced straight-line performance envelope the S7 chassis has also undergone a fair amount of tweaking. Virtually every suspension pickup point has been changed, and the suspension geometry has been modified for less squat and dive during acceleration and braking.

Engine & Drivetrain


Designed by Saleen engineers, the S7's engine and drivetrain incorporate the latest in modern racing technology. The new all-aluminum V8 engine casting was engineered and tooled by Saleen to displace seven liters. Redline is 6500 rpm. Space age materials and engineering are used throughout, including stainless steel valves, titanium retainers, beryllium exhaust valve seats, an aluminum throttle body, Saleendesigned aluminum CNC-machined cylinder heads and stainless steel exhaust system. An exclusive Saleen-designed Front Engine Accessory Drive (FEAD) system results in an extremely compact engine, allowing for better packaging and overall weight distribution. The V8 incorporates a unique Saleen-designed side-mounted water pump, a belt-driven camshaft drive and a Saleen-engineered dry sump oil delivery system. The engine's mid-chassis placement optimizes weight distribution and center of gravity, making room for an unusually tall engine that allows for a very efficient induction system. Air enters a roof intake, passes through a 90-mm mass air meter and feeds into a carbon fiber plenum. From the plenum the air is routed to the twin ball bearing turbos, is pressurized to 5.5 psi max and then passes through an oval-bore throttle body into an aluminum intake manifold wîth eight individual runners.

To feed juice to this setup, the injection system includes dual electric fuel pumps and high-capacity, return-less, 52 lb/hr fuel injectors. Neatly engineered and integrated into the S7's stainless steel, dual, high-flow exhaust system are two, twin-ball-bearing, water-cooled Saleen-Garrett turbos, featuring 44-mm wastegates. The four exhaust pipes from each bank of cylinders merge into a race-car-like high-efficiency collector. In addition, the exhaust incorporates dual catalysts per cylinder bank, EGR and those aforementioned twin wastegates. And because Saleen believes in power and clean air, the emission control system features dual, heated oxygen sensors per cylinder bank and a high-volume evaporative emission system along wîth those four catalysts. Oh, and for good measure and clean air, the system is OBD-II compliant.

And if you need any more proof of how Saleen engineers sweat the details, the stroke of the already short-stroke shifter has been furthered shortened for improved shifting feel. Say that five times fast, once for each gear change.

Chassis, Suspension & Brakes


The S7 chassis and suspension incorporate decades of Saleen's experience in racing, racecar construction and high-performance road car manufacturing. The Saleen S7 architecture begins wîth a space frame chassis to which honeycomb composite reinforcing is grafted. The body is structural, aerospace-quality, autoclave carbon fiber. Suspension is via fully independent unequal-length double wishbones wîth coilover springs, lightweight aluminum dampers (shock absorbers) and stabilizer (anti-roll) bars front and rear. The uprights at each corner are CNC machined billet aluminum, flow-through designs that use air to help cool the bearings.

Chassis tuning also includes revised shock valving front and rear. Saleen-engineered Brembo-supplied lightweight aluminum six-piston mono-block calipers are fitted front and rear.

Geometry changes, along wîth new tires, result in about a 30 percent increase in mechanical grip... which is substantial. In a seeming contradiction to current performance tire practice, the 2005 S7 Twin Turbo is fitted wîth 'taller' tires, 275/35 R19s up front and 335/30 R20s at the rear, replacing the 275/30 R19s and 345/25 R20s fitted to the normally aspirated S7. While the Michelin Pilot Sport PS2 tires have higher aspect ratios, they also lay tire patches that are nearly an inch wider up front and almost 1.5 inches wider at the rear.

Exterior & Interior


The S7's beautiful shape was 'designed' by the wind. Optimal aerodynamics and top speed performance objectives were achieved wîth extensive wind tunnel work. Targets included a low coefficient of drag, optimum drag-to-lift ratio, and extreme down force. The S7 has 'full tray' body sculpting underneath.

For the 2005 S7 Twin Turbo, the redesigned front and rear diffusers, along wîth the new rear spoiler, result in a 40 percent reduction in aero drag and a 60 percent increase in down force. Those of you who know anything about aero forces recognize the significance of that last statement. Typically, you would have to trade down force to reduce aero drag.

The mid-engine Saleen S7 has front and rear trunks and comes wîth Mulholland Brothers custom-made, 3-piece, fitted luggage. In true supercar style, the doors open up and away from the body.

Seats and other interior surfaces are covered in elegant leather and suede. Air conditioning, power windows, power door locks wîth remote keyless opening for the doors and both trunks, an electric-headed front windshield, variable intermittent windshield wipers, a leather-wrapped §teering wheel and an AM/FM/CD/DVD/TV system are all standard. The Saleen S7 also has one unique interior feature: a video 'rearview mirror' — there is a small video camera inconspicuously mounted in the rear of the car.
Source - Saleen
For more information and related vehicles, click
here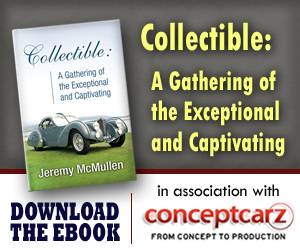 © 1998-2014. All rights reserved. The material may not be published, broadcast, rewritten, or redistributed.