1959 Ford Ranchero news, pictures, specifications, and information

Tweet
This 1959 Ford Ranchero was offered for sale at the 2007 RM Auctions held in Amelia Island, Florida. The car was offered without reserve and estimated to sell between $30,000 - $50,000. The car is powered by a 352 cubic-inch overhead valve V8 engine and an automatic gearbox. The body sits atop a 118-inch wheelbase and there are four-wheel hydraulic drum brakes on all four corners. The Ranchero is equipped with power steering, power brakes, power windows, twin spot lights, factory air conditioning, chrome bedrail, and sunray hubcaps. It is finished in Inca Gold and white with a Inca Gold, white and black three-tone interior. This car used to be in the possession of the Cappy Collection.

At auction, the car did find a buyer, as it sold for $37,400.
By Daniel Vaughan | Apr 2007
The Ford Ranchero was produced from 1957 through 1979. These were unique vehicles - they were part car and part pickup truck. In total, there were 508,355 examples constructed during its production lifespan.

The Ford Ranchero constructed from 1957 through 1959 was built atop a full-size Ford Fairlane platform. They were offered in two trim levels initially. There was a Basic and Custom model. The basic trim levels were intended for traditional pickup truck buyers while the custom trim levels were offered with accessories found on the Fairlane including two-tone paint and steel bodyside moldings.

The Ranchero, in both basic and custom trims, were offered with a variety of engines. The engines offered were the same offered on the Fairlane.

In 1960 the Ranchero decreased in size, now being placed on top of the Ford Falcon platform. This made the vehicle lighter and less expensive than its predecessor and most full-size pickup trucks. Under the hood was a 2.4-liter straight-six cylinder engine as standard. A year later, the engine was changed to a 170 cubic-inch unit. In 1963, a 260 cubic-inch V8 unit was offered.

1966 was the final year the Ranchero was built on the Falcon platform. The following year, dramatic changes occurred for the Ranchero. This was a one-year styling and featured such styling cues as stacked headlights. Power was from a variety of engines including a straight-six unit all the way up to a big-block V8 which produced over 310 horsepower. the Ranchero was offered in multiple trim levels including the 500, 500/XL, GT, and GT-A. The GT-A was an automatic transmission of the GT.

Beginning in 1968, the Ranchero grew in size and it was given new styling. The body became angular and kept pace with the bold and dramatic styling of the time. The front of the grille was upright and easily recognizable. Safety requirements and government regulations were continuing to enforce new safety features on automobiles. As a result, the Rancher now had wraparound front side marker lamps which were used as side reflectors and parking lights. When the headlights were on, the marker lights followed suite.

The interior featured a four-pod instrument cluster which gave information about the coolant temperature, oil pressure, charging system, and warning lights. The more expensive trim levels had a tachometer while instead of a clock.

Engine options ranged from a six-cylinder unit all the way up to a V8 unit. Horsepower changed from year to year. A 428 Cobra Jet V8 engine was one of the more exciting option offered, which offered significant increases in horsepower over the standard engine.

Optional equipment included air conditioning, bucket seats, front disc brakes, hood scoop, AM/FM radio, optional wheels, and vinyl top. The hood scoop was standard on the GT trim vehicles.

In 1969, Ford offered the Rio Grand, a special order and very rare option on the Ranchero. It carried many of the features of the GT but offered in unique colors such as the Wimbledon white, Poppy Red, or Calypso Coral. There were around 900 examples of the Rio Grand produced. These high-performance option on the Rancher added scoops, side stripes, vinyl top, bed rails, and unique wheel centers.

Styling changed slightly in 1969 and again in 1970. There were three models available.

For 1972, the Ranchero and the Torino both received major styling updates. The vehicles grew in size and in weight. There was a new body-on-frame design and a large front grille. The Ranchero was offered in the 500 which was the standard trim, the Squire, and the GT. The GT was the sporty option while the Squire had a wood-paneled size, though it was not actually wood. The standard engine was a 250 cubic-inch six-cylinder unit. Larger engines were available, such as V8 cylinder units. Horsepower was down than in prior years, due to a lower compression ratio in order to comply with new emission standards.

Little changed over the years, up to 1976. In 1973, there were small updates to comply with increasing government regulations.

The production of the Torino ended in 1976, so a new platform was needed for the Ranchero. Ford chose the Thunderbird as the next chassis to carry the Ranchero. Production continued until 1979.
By Daniel Vaughan | Apr 2007
For more information and related vehicles, click
here
Trio of Rare, Fully Restored Shelby GT's Hits Showroom at RK Motors Charlotte
Charlotte, N.C. – July 23, 2014 — Led by a pristinely restored GT500KR packing a ferocious 428 Cobra Jet V8, a trio of rare Shelbys have joined the burgeoning collection of classic, muscle and high-performance cars now available from Charlotte-based RK Motors. One of just 530 four-speed KR fastbacks produced for the 1968 model year, the stellar pony car sports only 95,518 original miles. This awesome Shelby likely spent very little time in the showroom before its big power and head-tu...[Read more...]
THE COUNTDOWN TO AUCTIONS AMERICA'S FORT LAUDERDALE SALE NOW UNDERWAY
• Auctions America kicks off its 2014 collector car calendar March 14-16 in Fort Lauderdale • Regarded as South Florida's premier collector car auction, the multi-day sale features nearly 500 cars spanning all segments of the collector car market • Joining the list of previously announced feature consignments are a 1970 Plymouth Hemi Superbird, a 1959 Cadillac Eldorado Biarritz and a 1934 Packard Twelve Convertible Sedan • Digital catalog now available for download at auctionsamerica.com [I...[Read more...]
Low Mileage Collectables offered at Fort Lauderdale Auction
• Auctions America kicks off its 2014 collector car calendar March 14-16 in Fort Lauderdale • Leading recent entries are fantastic low mileage examples including a 2005 Ford GT, a 2006 Ford GT Heritage Edition, a 1954 Chevrolet Corvette and a 1967 Chevrolet Corvette 427/435 Coupe • Additional vehicle highlights include a 1973 Ferrari 365 GTB/4 Daytona, a 1971 Ford Mustang Mach 1 and a 1935 Hudson Terraplane driven by Johnny Depp in the movie 'Public Enemies' • Regarded as South Florida's pre...[Read more...]
History Rolls into Hershey for RM's Annual Pennsylvania Sale
• Final countdown underway to RM's annual Hershey, Pennsylvania auction, held October 10 – 11 during the historic AACA Eastern Regional Fall Meet • Two-day sale features 116 vehicles, with an emphasis on Brass and Classic Era motor cars • Sale entries led by a rare, award-winning 1933 Chrysler CL Imperial Convertible Roadster • Auction also features number of vehicles steeped with local Pennsylvania history • Digital catalogue now available online at rmauctions.com BLENHEIM, Ontario (S...[Read more...]
Six Decades Of Ferrari At Mecum's Daytime Auction
1954 Ferrari 750 Monza Headlines Select Offering of Italian Illuminati Mecum Auctions will present its 4th annual Monterey Daytime Auction, Aug. 16-18, 2012 at the Hyatt Regency Monterey Hotel and Spa on Del Monte Golf course, featuring some of finest machines Ferrari has ever produced headlined by a 1954 750 Monza Spyder Scaglietti. By turns part of the Engelbert Stieger, Brando Wang, Walter Burani and Roberto Crippa collections, 1954 Ferrari 750 Monza Spyder Scaglietti S/N 0462MD...[Read more...]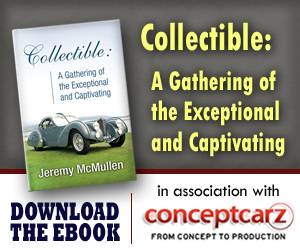 Similarly Priced Vehicles from 1959
Studebaker Lark VIII ($2,315-$2,588)
MG MGA ($2,460-$3,640)
Ford Galaxie ($590-$3,350)
Chevrolet Impala Series ($2,598-$3,000)
Plymouth Suburban ($2,570-$3,135)
Morgan Plus Four ($2,600-$2,700)

Average Auction Sale: $28,738
Ford
Monthly Sales Figures
Volume
December 2014
209,679
November 2014
178,221
October 2014
179,014
September 2014
172,261
August 2014
214,028
July 2014
204,373
June 2014
214,793
May 2014
244,501
April 2014
203,552
March 2014
235,198
February 2014
177,286
January 2014
148,671
(More Details)
© 1998-2014. All rights reserved. The material may not be published, broadcast, rewritten, or redistributed.