Image credits: © Fiat.
1953 Fiat 8V news, pictures, specifications, and information

Tweet
Confusion and distraction surrounded Fiat during the mid-1950s. This would cause the company to flounder and become rather aimless. Unfortunately, one of its newest sports cars would suffer as a result.

Fiat was consumed with its regular production lines when Dante Giacosa and Fabio Lucio Rapi would collaborate to build an all-new sports car. Confusion would come to hinder the naming of the new car. It was believed Ford had trademarked 'V8'. Unfortunately, the new car would utilize a V8 engine that had originally been used in a luxury sedan. The confusion about the trademark issue would cause the heads of the project to have to rethink what they were going to call the new car. Instead of something artistic or descriptive of the car's design, it was thought it would be just as simple to move things around. Therefore, in 1952, Fiat would give birth to its 'Otto Vu', or, 8V.

The confusion and aimlessness at Fiat at the time would end up translating into sales of the car. Although the car would become quite popular and very successful in sports car racing, for the private customer looking for a sports car to be seen driving around town in, many just couldn't quite figure the car out either. The same sense of aimlessness and uncertainty would fog peoples' minds about the car and would lead to them being passed over.

Although many customers just couldn't quite wrap their hearts around the car to embrace it, those taking part in sports car racing would whole-heartedly embrace the car and would be glad they did. Even though general sales of the car were very slim, its success on the race track would be anything but. In fact, a Fiat 8V would go on to win the Italian 2-liter GT Championship just about every year during the 1950s.

The success on the circuit was due to the chassis underneath the questionable body-styling. The car would come with a 2.0-liter 70 degree V8. Combined with dual Weber carburetors the engine could produce 110 hp. Originally, the car would come with a four-speed manual gearbox and four-wheel independent wishbone suspension with coil springs and shock absorbers, which was a rather rare arrangement at the time.

Even though the Fiat 8V would be a regular sight at the race track it would still be even more rare to see one driving around the city streets. Rarer still would it be to see a Fiat 8V with a Zagato body style, but at this year's Gooding & Company auction at Pebble Beach just such a rare Zagato Fiat 8V would cross the block.

Zagato had been very much involved in the Fiat 8V. The coachbuilder looked forward to the opportunity of building a new body for the 2.0-liter category. However, Zagato wanted to try and do some very special things with this design and it would end up incorporating many advanced techniques that would slow the process down.

One of the design elements Zagato would purposely create to provide extra strength but that would become a design icon would be the double-bubble top. Not only did this provide extra head room, it also helped to increase strength to the roof.

The double-bubble roof would become one of the signature elements of Zagato's Elaborata design. The Elaborata was a more sporting 8V but without the loss of interior comfort. Therefore, the car would include a lowered roof, new windscreens and a single headlight arrangement. Zagato would go on to create just five of these special Elaboratas and each one would feature different custom aspects to them. Therefore, every single one of the five Fiat 8V Zagato Elaboratas would be unique.

In spite of Zagato's work, and unique series of Zagato Elaborata chassis, the car still wouldn't fare all that well. However, it would still be well received in racing circles.

This particular chassis had first been sold with Rapi coachwork and was delivered to its owner in April of 1953. This car would then be sent to Zagato in order to have it re-made into one of the five 8V Zagato Elaboratas. The bubble roof, lighter-weight bumpers and Plexiglas side windows would all go on to the new car.

The car would go on to be finished and would be entered in the VI Coppa Internazionale delle Dame. The race was open to female drivers and would be piloted by Scuderia Ferrari driver Anna Maria Peduzzi. Peduzzi had won the event almost every year since 1951 and would end up earning a fine second place result in the Elaborata.

The car would continue to take part in a number of other races throughout its early career and wouldn't take part in its last race until 1958. At the time, M. Arifon was the car's owner. After the event, not much would be known about the car until it would be rediscovered in 1972.

The car would become the property of Paul Berson. During his ownership the car would come to be featured on the 1998 cover of Auto Passion sporting its red overall finish with white stripe down the center of the car.

In 1998, the car would come to be purchased by its current owner and would be sent to Tillack & Co. for a comprehensive, frame-off restoration. The restoration would take a number of years. During the restoration process the nose of the car would be modified to a much more typical Elaborata appearance. Therefore, the wider grille would be replaced and the Zagato body refinished in Zagato Green. Although the finish is a departure from its time used as a racing sports car it is widely believed the green finish may have actually been its original color. The only other modification done to the car would include the installing of a five-speed gearbox. However, the four-speed remains with the car and would be part of the sale.

After more than three years, the Elaborata would make an appearance at the Pebble Beach Concours d'Elegance and would end up earning a Second in Class result. However, such a car as this could not just sit around at some concours event. It was meant to be driven. Therefore, the car would take part in a number of rally and tour events and is even the famous Mille Miglia Storica.

Even though the car was birthed at a time when Fiat was not all that interested in the sports car market and would suffer from its rather aimless beginnings; in its later years, the car's value would become realized. The rare Zagato-bodied Fiat 8Vs would certainly become appreciated for what they had to offer. And at this year's auction, the uniquely blended sports car with its creative aesthetics would end up being appreciated with a final sale price of $1,127,500.

Sources:
'Lot No. 127: 1953 Fiat 8V Elaborata', (http://www.goodingco.com/car/1954-fiat-8v-zagato-elaborata). Gooding & Company. http://www.goodingco.com/car/1954-fiat-8v-zagato-elaborata. Retrieved 24 August 2011.

Wikipedia contributors, 'Fiat 8V', Wikipedia, The Free Encyclopedia, 19 May 2011, 08:01 UTC, http://en.wikipedia.org/w/index.php?title=Fiat_8V&oldid=429847430 accessed 24 August 2011
By Jeremy McMullen
Fiat stunned and surprised the motoring world at the 1952 Geneva Motor Show when it introduced its next competition car, the Supersonic with 2-liter 8V, or in Italian terminology, the OttoV. Designed for motor racing, it became very successful, winning the 1954 2-liter GT Championship of Italy. The design was the brainchild of Dante Giacosa, who produced a light alloy V8 with a very narrow 70-degree angle between the cylinder banks while the chassis was of tubular steel construction. During its two-year production period just 114 8Vs were constructed, and they were mostly hand built by Fiat, Ghia or Zagato. The Supersonic 8V was the work of Carrozzeria Ghia and its futuristic design appealed to buyers who were in the auto styling business. Just 14 8V Supersonics were built.

Fiat's in-house designer Dante Giacosa began work in 1951 on a new high-performance sports car, the legendary 8V, a two-liter V8-engined two-seater. To accommodate the fully independent suspension, Giacosa designed his frame from welded sheet metal, and the coachwork paneling was then welded to this structure. Chassis fabrication was contracted out to specialist manufacturer Siata. Fiat's V8 was designed from two four-cylinder blocks mounted on a common crankcase. To keep the engine low in height, the angle between the cylinder banks was 70-degrees. Breathing through three Weber carburetors, the engine achieved 115 bhp, more than a match for the competition. Ghia design house produced a total of 40 examples, of which the Giovanni Savonuzzi-penned 'Supersonic' was the most stunning. Ghia built 12 Supersonic bodies; eight on Fiat 8V chassis, three on Jaguar chassis and one on an Aston Martin. The aluminum bodied car made its debut at the 1953 Paris Show, where the press called it 'la plus bella voiture du salon' (the most beautiful car in the show). This example is the only one built with a hood scoop.
This Fiat 8V Berlinetta has coachwork by designed by stylist Fabio Lucio Rapi. It was on display at the 2006 Pebble Beach Concours d'Elegance in the Postwar Custom Coachwork Sports Category.
By Daniel Vaughan | May 2010
GT Coupe
Coachwork: Zagato
Chassis Num: 0026
Engine Num: 0031

At the 1952 Geneva Motor Show, Fiat excited the public with a new car developed especially for racing. Powered by a Fiat 2 litre V8 engine, the car was known as the 8V, or 'Otto Vu.' Of the 114 8Vs built, very few received bodywork by Zagato like this example with its distinctive 'double-bubble' roofline. Originally kept as a factory car with coachwork by Fabio Rapi, it was delivered to Zagato in 1956 to be rebodied. The 8V Zagatos were very successful in racing due to their lighter weight. In 1954, one particular 8V Zagato was campaigned by Elio Zagato himself. This car (chassis 0026) was only driven in one race, in Italy's Rally Sestriere in 1957, and was therefore relatively undamaged before being recently restored.
This 'Carrozzeria Speciale Berlinetta,' developed by Danto Giacorsa and styled by Fabio Lucio Rapi, is one of only 34 produced. The body employs a double steel shell concept - each wafer thin; the inner providing structural rigidity, the outer giving the car its aerodynamic shape. It was tested in a wind tunnel netting a 0.3 drag coefficient which was quite advanced for the time. All four wheels were independently suspended and used Rudge center locks with Baroni wire spoke wheels. The side and rear windows are made of a lightweight acrylic and the transmission is a racing 4-speed manual gearbox. The fuel cap is made of weight-saving aluminum and the special steering wheel is from Nardi. The car was given a restoration from 1991 - 1996.

At its heart is an alloy 1996cc 70-degree V-8 with pushrods operated by a single camshaft in the center. Breathing through two four-barrel Weber downdraft carburetors, it produced 127 horsepower.

This Series II Fiat 8V received factory bodywork and was delivered to Rome, Italy in November of 1953. It was finished in gray metallic paint with a blue leather interior. The car was a wedding gift for the Conte Ranieri di Campello and his wife, Maria Sole Agnelli. The car would stay in their care until 1957, when it was sold to a resident of Rome, Fabizio Corcos. The next owner was Rosario Bevaqua in Rome early in 1958, and later the same year, was exported to the UK by its new owner David John Wilks. After years of use, it was put into a barn, where it would sit for 15 years. In 1990, after the owner passed away, the widow brought the car to auction where it was sold to an Italian gentleman who began a restoration that was never completed. The car was offered for sale through the Oldtimer Garage in Bern, Switzerland, where it was purchased by the owner of a Fiat garage in Germany, Horst Kock. Mr. Koch and his son began an extensive restoration which would last five years. The fiat was stripped down and completely restored.

Mr. Koch retained the car for ten years and used it sparingly, accumulated just 150 km in a decade. The current owner - who has owned five of the 114 Fiat 8Vs produced - purchased the car from Mr. Koch.

In 2010, the car was offered for sale at the Gooding & Company auction held in Pebble Beach, CA. It had an estimated value of $425,000-$550,000. As bidding came to a close, the car had been sold for the sum of $400,000, inclusive of buyer's premium.
By Daniel Vaughan | Jun 2012
The end of World War II left many factories destroyed, materials were in short supply, economies were questionable, and normal manufacturing was struggling. In similar fashion, custom coachbuilders experienced a plethora of obstacles, including a shortage of automobiles in production that were suitable for custom bodywork. Finding lucrative contracts were difficult and in short supply. Several carrozzerie, including Pinin Farina and Bertone, landed contracts with Alfa Romeo and Lancia.

Overseas manufacturers were prime targets for the fledgling Italian coachbuilders. Virgil Exner, the head of Chrysler's design department, was impressed with the designs and skilled craftsmanship of Ghia. In the years that followed, a relationship between the two companies was cultivated. The work that resulted was beneficial for both companies - Ghia received steady cash-flow and publicity while Chrysler had the benefit of European design and fashion.

Also in the early1 1950s, Fiat introduced the 8V chassis. Elio Zagato was among the first to prove that custom coachwork could be applied to this new platform. Soon, other Italian carrozzerie followed, approaching Fiat with ideas and proposals for limited-production 8V models. Ghia was one of those trying to attract the attention of Fiat. Luigi Serge, the Commercial Director of Ghia, had an idea for the 8V that was based on the designs by Giovanni Savonuzzi, the company's new Technical Director. Savonuzzi had begun his career in Fiat's aeronautical sector where he worked closely with Dante Giacosa, the man responsible for the 8V project. Savonuzzi's first automobile was the Cisitalia 202, a design that helped launch his career to new levels and enhance his reputation.

Savonuzzi's design for the Fiat 8V was a two-door coupe that drew design inspiration from previous projects and experiments. The design comprised of contemporary and modern trends in aerospace and featured streamlined forms, subtle tail fins, and a swept-back roofline. It was referred to as 'the Supersonic' and it had a radical figure that was graceful, elegant, and slightly flamboyant. It was one of the first cars to feature designs that would later become known as 'jet-age' styling.

Late in 1953, Luigi Serge was visiting Detroit to meet with Chrysler executives. While there, he showed pictures of the Savonuzzi designs to Exner. Another individual who had the pleasure of seeing these designs were Paul Farago, a designer and engineering who was involved in Chrysler's styling department. Impressed by the designs, Farago (with support from Exner), place the first order for a Ghia-bodied Fiat 8V Supersonic. That vehicle was chassis number 106.000035.

This vehicle, the first 8V Supersonic produced by Ghia, features a number of distinct differences that is not found on the other 14 examples of the 'Supersonic.'

When the car was completed, it remained in continental Europe for some time, perhaps put on the show circuit and displayed at various events. When it arrived in the United States, it continued to amaze and inspire on-lookers. It was featured in several automotive publications and even spent time in Chrysler's design department.

In 1955, the car was purchased by Mr. Lazaros, who remains as the cars caretaker in modern time. The car was used for many years and shown at numerous events. It was later stored in his garage and used sparingly. In 2011, the car was brought to auction, having just under 17,000 miles on the odometer. It is a highly original car that has been well cared its entire life.

The car was offered for sale at the 2011 Gooding & Company auction in Scottsdale, Arizona. It was estimated to sell for $1,100,000 - $1,400,000. After several minutes of bidding, only two bidders remained. Both wanted the car, and they each bid strategically over a great length of time, in hopes of winning the car. It was one of the highlights of the auction, and certainly the most entertaining bidding struggle of the event. When the victor emerged, they were $1,705,000 (including buyer's premium) lighter in their wallet.
By Daniel Vaughan | Feb 2011
Fiat completed this 8V on October 6th of 1953 and delivered to Milanese coachbuilder Zagato as a bare chassis. Zagato clothed this vehicle in lightweight berlinetta with clean features and uncluttered lines and the rare, flat dashboard used only on the earliest examples. The car was originally finished in white and it has the distinction of being the only right-hand drive 8V ever built.

This is a first-series 8VZ fitted with a 1996cc overhead valve 70-degree V-8 engine breathing through Twin Weber 36 DCF3 carburetors and offering 110 horsepower. There is a four-speed manual gearbox and four-wheel hydraulic drum brakes.

Upon completion, this 8VZ was delivered to Mrs. Idelbe Vallaguzza and registered in Milan in March of 1955. It competed over the next two years in the most prominent Italian races and hill climbs. It was entrusted to racing driver Ottavio Guarducci and its first outing took place on June 29th of 1955 at the Trieste-Opicina Hillclimb. Guarducci managed to finish in 6th place. On July 10th it raced at the IX Coppa d'Oro delle Dolomiti, one of the oldest and most popular Italian events. Again, it was driven to a respectable 6th in class. On September 11th the 8VZ raced in the VII Coppa Intereuropa at Monza. It wore race number '96' and was piloted by Guarducci to an overall victory. At the Targa Florio in August, the car failed to complete the grueling race.

The next outing for the 8V was in September of 1956 with Guarducci again campaigning the vehicle. It returned to Monza for the running of the VIII Coppa Intereuropa and finished 9th overall and 5th in class. After this race, the car retired from racing and was sold to its second owner in December of 1957 to an Italian resident. It passed to another owner in March of the following year before being acquired by Augusto Bergonzi in June of 1960. Sig. Bergonzi kept the car for approximately 18 months before selling it to a Sig. Brosi of Cremona, Italy.

It is believed the car remained in Italy until the late 1980s when it was acquired by Andrea Zagato, the grandson of Milanese coachbuilder Ugo Zagato and the current CEO of the company.

The car was soon given a thorough restoration with its alloy coachwork being replaced using the same methods and materials that were used by the same firm several decades earlier.

When the restoration was completed, the 8VZ was used by Andrea Zagato in the 1991 and 1992 Mille Miglia Storica. The car was later sold to a collector in Holland before being acquired in the mid-2000s by an Italian enthusiast. The car was kept on the family's estate located on Lake Maggiore.

In 2012, the car was offered for sale at Gooding & Company's Amelia Island auction. It was estimated to sell for $750,000 - $900,000. As bidding came to a close, the car had been sold for 750,000 inclusive of buyer's premium.
By Daniel Vaughan | Apr 2012
The Fiat 8V is a sports car produced by the Italian automaker Fiat from 1952 to 1954. The car was introduced at the 1952 Geneva Motor Show. The Fiat 8V got its name because at the time of its making, Ford had a copyright on the term V8. They were not a commercial success, but did well in racing. Apart from the differential, the car did not share any parts with the other Fiats. The 8V was developed by Dante Giacosa and the stylist Luigi Rapi. The 8V engine was originally designed for a luxury sedan, but that project was stopped.

The 8V engine had a 70 degree V configuration of up to 1,966cc which developed 105 horsepower. The engine was coupled to a 4-speed gearbox and in the standard form, was capable of 118 miles-per-hour.

Only 114 of these high-performance coupes had been produced by the time the cars were withdrawn from production in 1954. Nevertheless, they continued to win the Italian 2-liter championship every year until 1959.
The Fiat 8V model, or Otto Vu in Italian, was built for just two years with a total of 114 examples produced. They were the star of the Geneva Salon in March of 1952 and remains one of the marque's most legendary motor cars to this day.

Fiat did not race the 8V, though several of the cars often found their way to owners who would. The racing success of the 8V helped to solidify the car's performance reputation. An 8V driven by Vincenzo Auricchio and Piero Bozzinio was entered in the 1952 Mille Miglia, where it finished 5th in its class. Ovidio Capelli, the Milanese Fiat dealer, commissioned Zagato to develop a full race-spec 8V, and a lightweight car with an aerodynamic body was turned out in record time for the Giro della Toscana. It placed 3rd in class, but during the remainder of the season, the 8V accumulated numerous stellar results, becoming the national two-liter GT champion. Elio Zagato, the coachbuilder's son, really put the 8V on the map. His success in competition resulted in a steady clientele for Zagato 8Vs being developed. Zagato eventually built two different competition versions of the cars.

Pinin Farina produced a coupe version that made its debut at the Geneva Salon in 1955. No less than fifteen 8Vs were produced by Ghia wearing custom coachwork. Fourteen of these had 'Supersonic' coachwork, which was penned by Giovanni Savonuzzi. The fifteenth of those 8Vs did not wear Savonuzzi's Supersonic coachwork; instead, it was given a body designed by Mario Boano.

This car, chassis number 000042, was sold new to Ghia on June 10th of 1953. The completed car left Ghia's factory five months later. The design was inspired by several other creations, including Savonnuzzi's Supersonic, Exner's K310 and d'Elegance, the Cisitalia 808, and Boano's Gioiello. There was several design cues sourced from Chrysler cars that had been designed by Virgil Exner.

The interior is finished in bright red. There are white-on-red gauges and a symmetrical half-moon speedometer and tachometer in a binnacle in front of the driver. The clock and fuel and oil pressure gauges sit in the center of the dash.

This 8V was imported to the United States by 1957 by a Hollywood movie director. Around this time, the present engine, number BS099, was installed. The car spent many years in California, returning there in the 1980s after spending a few years on the East Coast.

The car has been treated to a restoration with the final paintwork being applied in the 1990s. The car has Carello headlamps, Marchal driving lights, and an original mechanical fuel pump.

The car was on display at the 2002 and 2010 Pebble Beach Concours d'Elegance, and it took part in The Quail: A Motorsports gathering in 2005. In 2006, it completed the California Mille. In 2008, it made a trip to Italy to compete in the Concorso d'Eleganza Villa D'Este, where it was awarded Second in Class.
By Daniel Vaughan | Jan 2014
By Daniel Vaughan | Nov 2007
The Fiat 8V, also known as 'Ottu Vu' in Italian, was first shown to the public at the 1952 Geneva Motor Show. Production lasted from 1952 through 1954 with a total of 114 examples being produced. The car was powered by a V8 engine, and since Fiat thought that Ford held the trademark for 'V8', they dubbed their vehicle the 8V. The design was courtesy of Dante Giacosa and stylist Fabio Lucio Rapi.

Of the 114 examples produced, many were unique. They had been designed for competition, specifically the two-liter class in the Italian Championship. The 2.0-liter V8 engines were fed through two Weber 36 DCF3 Carburetors and produced 105-115 horsepower, depending on configuration. There was a four-speed manual gearbox, four-wheel drum brakes, with an independent suspension comprised of coil springs, telescopic shocks, stabilizer bar and transverse wishbones. The lightweight bodies, especially those from Zagato, were mounted on a traditional tubular steel frame. The factory bodies had two large headlights in the grill with two small lights in the fenders. There was a second series of the bodies, which had changes to comply with GT regulations. These changes resulted in four headlights in the fender.

The Fiat 8Vs did well in competition, especially those created by Zagato. The bodies were lightweight and the engines were highly tuned. In 1954, the Fiat 8V won the Championship and cemented these cars potential in history.

Of the 114 examples produced, 34 had coachwork by Carozzeria Speciale FIAT. Carrozzeria Zagato produced bodies for 32, which were known as 'Elaborata Zagato.' The rest of the bodies, which were mostly coupes with a few spyders, were created by Ghia and Vignale.
By Daniel Vaughan | Apr 2009
For more information and related vehicles, click
here
Techno Classica 2014: more than 30 racing cars to celebrate 120 years of Mercedes-Benz motor racing history
•Cars that were the heroes of magical moments put their stamp on this high-powered, most comprehensive show presentation •With more than 30 vehicles, Mercedes-Benz Classic presents motor racing history in all its unique breadth and depth •120 years of Mercedes-Benz motor sport in the focus of the leading international classic motor show 120 years of Mercedes-Benz motor racing history have produced a timeline of extraordinary victories which since 1894 also stand for outstanding innovations ...[Read more...]
63rd Pebble Beach Concours d'Elegance Names 1934 Packard 'Best of Show'
The competition showcased 248 cars, including 48 from abroad PEBBLE BEACH, Calif. (August 18, 2013) -- A 1934 Packard 1108 Twelve Dietrich Convertible Victoria owned by Joseph and Margie Cassini III of West Orange, New Jersey, was named Best of Show at the 63rd Pebble Beach Concours d'Elegance, held Sunday on the 18th fairway of Pebble Beach Golf Links at Pebble Beach Resorts. The event showcased 248 cars from 36 states and 12 countries and raised $1,277,007 for charity. 'This Pack...[Read more...]
Italian Racing Classics Lead Gooding & Company's 10th Anniversary
SANTA MONICA, Calif. (June 4, 2013) – Gooding & Company, the official auction house of the Pebble Beach Concours d'Elegance acclaimed for selling the world's most significant and valuable collector cars, will be hosting the 10th Anniversary sale of the Pebble Beach Auctions on August 17 and 18. This year Gooding & Company offers an early preview of some of the most highly sought after and rapidly amassing value collectible – the distinguished Italian race car. Auction highlights include a...[Read more...]
Historic Jaguar D-Type Leads Growing List of Significant Entries for RM's Monterey Sale
• RM Auctions building towards a spectacular roster of cars for its flagship Monterey sale held during the famous Pebble Beach Concours d'Elegance motoring week, August 16–17, in California • Historic 1955 Jaguar D-Type leads a superb roster of the world's finest sports and racing cars poised for the RM podium • Additional star lots include a 1955 Ferrari 750 Monza Scaglietti Spider, a 1950 Ferrari 166 Touring Barchetta, a 1961 Ferrari 400 Superamerica SWB Coupe Aerodinamico and a 1953 Masera...[Read more...]
TOPLINE COLLECTORS PLACE SPOTLIGHT on SPEED'S BARRETT-JACKSON BROADCAST FROM SCOTTSDALE
• TOPLINE COLLECTORS PLACE SPOTLIGHT on SPEED'S BARRETT-JACKSON BROADCAST FROM SCOTTSDALE
• 'LOST' SHELBY DUAL PROTOTYPE, HAGERTY GIVEAWAY & SALON COLLECTION HIGHLIGHT 39 HOURS OF LIVE COVERAGE
The 42nd annual Barrett-Jackson Scottsdale (Ariz.) Collector Car Event, the first of four set for live coverage in 2013, kicks off the auction season in grand style as some of the world's most sought-after machines cross the block starting Tuesday, Jan. 15 at 7 p.m. ET/4 p.m. PT. SP...[Read more...]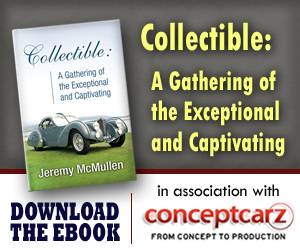 Fiat
Monthly Sales Figures
Volume
December 2014
3,784
November 2014
3,111
October 2014
3,725
September 2014
3,360
August 2014
3,362
July 2014
3,807
June 2014
4,478
May 2014
4,771
April 2014
4,298
March 2014
4,738
February 2014
3,465
January 2014
3,222
(More Details)
© 1998-2014. All rights reserved. The material may not be published, broadcast, rewritten, or redistributed.