1954 MG R2 Flying Shingle news, pictures, specifications, and information

Tweet
Ken Miles life came to a tragic end on August 17th, 1966 while driving a Ford J-car prototype. The car was traveling at 175 mph on a back-strech. Ken began preparing for a corner, slowing the vehicle down, but it went out of control and over an embankment. Ken was thrown from the car as it spun and went end-over-end. This tragedy brought an end to a brilliant career that began during the very early 1950s.

Ken was born on November 1st of 1918 in Sutton Coldfield, England. During his early life he apprenticed at a British car manufacturer. During World War II, he worked in various duties that dealt with machinery and utilized his mechanical skills. He began motorcycle racing while in the service and this would continue after his tour. After World War II, he returned to the automobile industry and to automotive racing. He acquired a Frazer-Nash racer and installed a Ford V8-60 engine. It had mile success in local and club competition.

In 1952 he came to the United States where he accepted a position as service manager for an MG distributor in California. Later, he would became involved with a wide range of teams and races and have a profound influence on early American road racing. His skills as a driver and fabricator quickly evolved and he became legendary on the West Coast with his competitive Specials.

Miles first racer that he constructed was in 1953, while working for Gough Industries. He had been racing MG TD's for Gough, but they were often outclassed by the competition. Gough helped Miles with creating a racer, though he was unable to provide cash. What Gough did provide was use of any MG or Morris and any stock spare part.

Miles began work on the R-1. The frame was created from mild steel tubing and attached to MG Series Y independent front suspension. The rear was comprised of a live axle. Alfin aluminum drum brakes with two-wheel cylinders were used to provide the stopping power while a Morris Minor rack-and-pinion kept the vehicle in the drivers control.

Under the hood was an experimental racing engine that had a 1466cc displacement size. The engine would later be used by MG for their MG TF 1500. The engine had twin SU carburetors and a 10.5:1 initial compression ratio. The compression ratio was later increased to 11.6:1. The 83 horsepower engine was mated to a stock MG TD transmission which sent the power to the rear wheels.

The car was clothed in a hand-formed aluminum body. The overall weight of the vehicle was less than 1,230 pounds.

The car made its inaugural appearance in 1953 at a rainy Pebble Beach. The car had not been tested but this did not seem to matter, as it emerged victorious. Throughout the next year, the car would win all of the races it was entered, except for two. Its racing career came to an end in 1954 at Pebble Beach, when it suffered mechanical difficulties and failed to finish the race. The flywheel bolts fractures which allowed the flywheel to come loose. This resulted in the engine over-revving and it threw a rod. The R-1 Miles Special's racing career had come to an end.

The second Miles Special racer was constructed in similar fashion to the first, but incorporated many key mechanical and design changes. Many MG components were still utilized, such as the gearbox and 1466cc MG XPEG engine. The space frame chassis was constructed from one-inch steel tubing which was lighter than its predecessor, but still retained the structural rigidity. To reduce frontal area, the driving position was lowered by nearly four inches. Other techniques were used to reduce the frontal area. The engine was tilted down in the front which did much to achieve this goal.

The car was narrow and low, which meant changes were needed to fit all the engine components in the engine bay. The MG intake manifolds were installed upside down which allowed the carburetors to be angled and fit under the hood.

The design of the vehicle was similar to the MG TF. This was done for brand recognition and to help promote the MG line of vehicles. There were differences; the R-2 had an envelope body with fenders that flared up, and over, the front and rear wheels. In the front was an MG style grille with headlights on either side. The car was finished in British racing green.

The car was given the nickname, the Flying Shingle. Its inaugural race was in 1955 at Willow Springs. It failed to finish the race. Many of the other races in which it entered, it emerged victorious. Among its accomplishments were first place finishes at Pebble Beach and Torrey Pines.

Miles was doing well in small-bore racing, but the competition was consistently keeping pace. Soon, a new machine was needed.

Miles acceptable a position at Johnny Von Neumann's Porsche dealership. He raced during the 1956 season in a Porsche 550 Spyder and began work on a new racing Special. With von Neumann providing a generous budget, and Porsche providing ample stock components, Miles was able to construct a proper, large-budget racer.

Power came from a Porsche Carrera four-cam engine that displaced 1500cc. The chassis was a Cooper Bobtail with a modified nose. The suspension was an independent setup with drums in the front and rear. The body shell was constructed of aluminum which aided greatly in the vehicles low weight of just under 950 pounds.

Near the close of 1956, the newly created Special was brought to Pomona where it was piloted by Miles to a second place finish. At Paramount Ranch, the car was driven to a class win in the 1500cc class, and beat-out the big-bore modified class as well. The car was raced in 1956 and for part of 1957 before the von Neumann dealership was given the break they had been desperately searching for - a Porsche 550A. The car was supplied from the factory with orders to sell the R-3 Pooper Special.

The R-1, R-2, and R-3 are still in existence in modern times. They are used in vintage competition and are shown at events.
By Daniel Vaughan | Apr 2007
AUDI INTRODUCES THE 2015 AUDI TT AND TTS
◾New optional TTS Competition package available for 2015 ◾Optional S line® plus carbon package for the 2015 Audi TT ◾New standard features include front heated seats, 5-arm Dynamic design wheels HERNDON, Va., Mar 20, 2014 - The Audi TT and TTS Coupe and Roadster models – known for their distinctive profile and iconic design along with the spirited performance that the 2.0 TFSI® motor delivers – continue for the 2015 Model Year. The 2015 TT and TTS models continue with their iconic s...[Read more...]
SHELBY COBRA DAYTONA COUPE BECOMES FIRST CAR IN NEW CONGRESSIONAL HISTORIC VEHICLE REGISTRY
◾Shelby prototype (CSX2287) becomes first auto in Sec. of Interior's Heritage Documentation Registry ◾The car was designed and developed by the famed Shelby American team in 1964 ◾Shelby Cobra Daytona Coupes helped USA capture first and only FIA world championship Los Angeles – Feb. 12, 2014 – The prototype Shelby Cobra Daytona Coupe (CSX2287) designed and developed by Carroll Shelby's racing team, Shelby American, in 1964 is the first automobile recorded under the Secretary of the I...[Read more...]
SHELBY AMERICAN COMMEMORATES 50TH ANNIVERSARY FIA COBRA WITH SPECIAL EDITION CAR
• Iconic Shelby FIA Cobra to be Celebrated
Scottsdale, Ariz. – Jan. 17, 2014 – In 1964, Shelby American, today a wholly owned subsidiary of Carroll Shelby International Inc. (CSBI:PK) introduced the FIA version of the small block Cobra, which competed in the 1964 World Manufacturers Championship series against marques like Aston Martin, Jaguar and Corvette. To celebrate the birth of the 289 Ford powered roadsters, Shelby American will offer 50 limited edition continuation (CSX70...[Read more...]
Worldwide vehicle introductions dominate successful Press Preview at NAIAS
• Next up: Industry Preview-day two; VP Biden; and the biggest night of giving
DETROIT, Mich., Jan. 16, 2014 - When the dust settled after two remarkable days of vehicle unveilings, organizers of the 2014 North American International Auto Show (NAIAS) counted 50 vehicle introductions, the majority being worldwide, presented to a crowd of 5,169 journalists from around the world. NAIAS Chairman Bob Shuman said the optimism and confidence felt on the show floor is a reflection of a...[Read more...]
Mercedes-Benz at Pebble Beach: An Expression of Fascinating Design and Innovation
• Historical Tribute to SL: W194 Chassis No. 2, 7 and 11 among 300SL vehicles on display • The Concept Style Coupé opens a new chapter and generation of Mercedes-Benz vehicles • AMG 45 year anniversary highlights the pinnacle of performance and style A tribute to Mercedes-Benz SL Roadsters is set for Pebble Beach weekend with three 1952 W194 vehicles among a mix of vintage and new vehicles bearing the three-pointed star that express the marque's breadth and depth of fascinating design and ...[Read more...]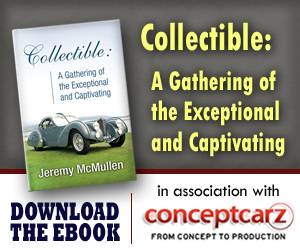 © 1998-2014. All rights reserved. The material may not be published, broadcast, rewritten, or redistributed.