1947 Delahaye 135 M news, pictures, specifications, and information

Tweet
Delahaye emerged from The Great Depression and World War II with an eagerness to return to the brilliant designs and elegantly sculptured works of art of the 1920s and 1930s. The low-slung chassis of the 135 was an excellent candidate for coachbuilders to form the elegant bodies and create their masterpieces. The 3.2-liter six-cylinder engine with three Solex carburetors produced an impressive amount of horsepower, ranging from 95 to 115 hp. As time progressed, the engine capacity increased and more horsepower was tweaked from the engine. The competition engine had a high compression head and increased horsepower to over 150.

This Delahey 135 has custom coachwork by Figoni & Falaschi. This particular design was called the 'Narval' which was named after an Artic whale with a unicorn. The name is suitable, as this vehicle has a nose that extends over the front grille. It is finished in coupe configuration with a convertible top. It was unveiled to the public at the 1948 Barcelona Show.

This car was shown at the 1987 Pebble Beach Concours d'Elegance where it was awarded a Best in Class. It returned to the concours in 2006 where it sat amongst other Delahaye's, the featured marque.
By Daniel Vaughan | Apr 2007
The Delahaye 135 was without doubt the most prestigious of all the celebrated French car models. Offering no revolutionary technical innovations, the 135 owed its success and its justified reputation to the great durability of its components. Because it was so sturdily made, the 135 proved itself superior more for endurance than for pure speed during its 15 years in European racing. A 135 won the LeMans 24 Hours in 1938, averaging over 82 mph with the team of Chaboud and Tremoulet at the wheel. This is a one-off coupe by Henri Chapron on a 1947 Delahaye 135M competition chassis. The car is equipped with triple carburetors, heavy-duty suspension and wheels, and a Cotal four-speed electronic transmission. Henri Chapron's widow supplied the current owner with the factory build sheets for this example to assist in restoration to exact factory specification.
This vehicle is a right-hand drive 1947 Delahaye 135M Cabriolet with coachwork by Carrossier A. Guillore of Coubevoie, France. The bodies design was influenced by aerodynamics, as were an increasing number of vehicles at the time. This car was treated to a restoration during the 1980s and has had a recent re-spray in black. The interior was re-trimmed in maroon leather in 2000.

The Type 135 was an important car for the Delahaye marque. These models boosted the company's reputation for style and performance. The Type 135 MS was successfully campaigned in racing endeavors, often beating cars with more potent power-plants. The finest coachbuilders of the time were attracted to this car, and outfitted many examples with exceptional designs. It is believed that around 2000 examples of the 135/235 were made.

This car was offered for sale at the 2006 Bonhams & Butterfields auction held at the Quail Lodge in Carmel, California where it was estimated to sell between $270,000 - $300,000. At auction, this car was sold, with the buyer getting one of the better deals of the auction. The car was sold for $194,000.
By Daniel Vaughan | May 2007
The Delahaye Company created their first automobile in 1894. By the mid-1930s they had evolved into one of the most influential marque's of their era, creating impressive thoroughly modern designs fitted to state-of-the-art chassis and powered by a very potent power plant.

The T135 was introduced in 1935 and would improve the following year with the 3.6-liter, 120/130bhp T135MS. This sport version raced successfully in many events, including a 2nd, 3rd, 4th and 5tyh place finish at the 1936 French Grand Prix. An outright victory was earned at the Monte Carlo Rally in 1937; another first place finish was had at the grueling 24-Hours of LeMans in 1938. In 1938, Prince Bira drove a T135MS to first place at the Donington 12-Hour Sports Car Race in later took a victory in Brooklands' 'Fastest road car in England' race.

Production of the 135M continued until 1951, with a brief pause during the Second World War to aide in the war effort. Delahaye were experts in creating the rolling chassis but outsourced the coachwork to independent coachbuilders. The most memorable of these artisans included Saoutchik, Chapron, Franay, Graber, Pennock and Figoni et Falaschi. Among the elite of this group are Figoni et Falaschi with their dropheads produced for their most discerning clientele. An example was even shown at the Paris, Brussels, Geneva and Londo Auto Shows.

This Figoni & Falaschi bodied Three-Position Drophead Coupé is chassis number 800954. It features the two-level bumpers and the horizontal grille found on many post-war Delahaye's. It was later fitted with a large light on the trunk and the exterior was changed with minor updates to the brightwork. The interior has round gauges - another design of the pre-War era; post-War cars were given round gauges with four square gauges.

The sister car to this example is on display at the Schlumpf Collection in France. In 2007 this 135M Three-Position Drophead Coupé was brought to the Quail Lodge Resort & Golf Club in Carmel, California where it was auctioned at the Bonhams auction, An Important Sale of Collectors' Motorcars and Automobilia. It was estimated to sell for $450,000 - $500,000 but failed to find a buyer willing to satisfy the cars reserve. The lot was left unsold.
By Daniel Vaughan | Apr 2008
The Delahaye Company was started by Emile Delahaye in 1895 and quickly fostered a reputation for reliability, power, and fuel economy. It would become known as one of France's grandes routieres enjoying racing success in grand prix and sports car competition, including the 24 Hours of LeMans.

In 1935, the company introduced the Type 135. After World War II, Delahaye resumed production of the model, including the high performance Type 135 M and MS. Powering the Type 135 M was a 3558cc engine offering 130 horsepower, which, combined with a lightweight body, gave the vehicles a top speed in the neighborhood of 100 mph. The 4-speed Cotel transmission and triple Solex carburetors helped keep it competitive on the racing circuit. In the front was an independent suspension setup with a live rear axle. They had a low center of gravity offering enviable handling abilities and made it an ideal platform for coachbuilders seeking to demonstrate their vision, skill and craftsmanship.

This 1947 Delahaye Type 135 M wears coachwork by A. Guillore. Its style is that of the 1947 Paris Auto Salon car featuring teardrop shaped pontoon fenders and a line of chrome that starts at the top of the grille and sweeps along the length of the car, terminating into the rear fender. Only a few Delahayes were giving this design.

The car is finished in red and black with complimenting black fenders. The interior is upholstered in black leather piped in red. A black cloth top and boot, wood-trimmed dashboard, chrome wire wheels, black wall tires, Marchal lights and a 4-spoke leaf spring steering wheel complete the car's stylish appearance. The car also has a tilt-out front windshield designed to supply additional airflow and a chassis lubrication system.

The car's early history is not known but in the late 1980s, it was purchased by Jacques Harguindeguy at auction in France. He kept the car for several years before selling it to a Japanese collector, who included it in his collection in Tokyo for approximately 20 years. It was subsequently purchased by Mark Hyman of St. Louis, MO.
By Daniel Vaughan | Feb 2014
This vehicle has a hood, center section and trunk that were to remind the viewer of a graceful dolphin (actually a Narwhal whale). The fenders and chrome accents allow one to see the water move off the dolphins back as it glides through the waters.

This car was sold new and delivered new to Mark B. Deitsch, president of the Prima Company Ohio. In 1954 he used the Narval in a magazine advertisement for 'Cover Girl Dress Flats by Prima', hence the nickname 'Cover Girl' given to this car.
The Series 135 was first presented at the 1934 Paris Salon. Soon after, Delahaye took over French manufacturing Delage, thus inheriting many of that marque's wealthy clients who demanded both performance and elegance in an automobile. The agile chassis, combined with a 3.5-liter / 130 horsepower six-cylinder engine topped with triple-Solex downdraft carburetors and backed by a Cotal 4-speed electric-shift transmission, made for a wonderfully competitive road and racing car. A total of 2,592 were produced from 1935-1952 including 1,115 built post World War II.

This car is one of a handful of 'narwhal' roadsters built by Figoni et Falaschi. It is so named as the nose-piece reminiscent of the bump on a narwhal's snout. The car was built and shown at the contemporary Concours d'Elegance in France at the Palais de Chaillot and Bois de Boulogne in 1947. Inside, the car retains its original interior outfitted by the Paris firm of Hermes, whose logo is fitted in the steering wheel center hub. Other than a repaint in the 1950s the car has never been restored.
Emile Delahaye was born in Tours, France in 1843. He studied engineering in Angers, France. In 1869 he began work with his engineering degree in applied arts and crafts.

Emile Delahaye began business in Tours, France in the middle of the 19th century for the purpose of constructing engines for the ceramic industry. The company branched out and began constructing mechanical appliances such as pumps and engines. In 1888, Delahaye designed an internal combustion engine for the shipping industry. It was not until 1896 that Automobile production began for Delahaye. His first automobiles produced were powered by belt-driven single and twin cylinder engines.

Emile used motor racing to promote his vehicles. In 1896, Emile Delahaye entered the Paris-Marseilles race. Not only did he enter a vehicle his company had created, but he entered as the driver. The results were astounding, which truly speaks highly of the caliber and quality of the automobile. The demand for the vehicles began pouring-in and a second factory was opened.

Due to failing health, Delahaye was forced into retirement in 1901. This was a year after the second factory was opened in Paris. Since Delahaye had no heirs, management control was passed onto a young engineer named Charles Weiffenbach. Weiffenbach oversaw operations until 1954.

In 1905, due to failing health, Emile Delahaye passed away.

Automotive racing was paramount during this period in history. This is why many of the vehicles built during this era were built to be raced and to be used as the daily driver. The sales of the vehicles were stimulated by the way the vehicle performed on the race track. Weiffenbach, however had a different philosophy. His main focus and priority was to build dependable vehicles. Many of the early vehicles were equipped with four cylinder engines capable of producing between 9-12 horsepower. Near the beginning of the first World War, a 6 cylinder, 2565cc, engine was used.

In addition to automobiles, the Delahaye company produced trucks, lorries, parcel carriers for the post office, motor ploughs, fire engines, and other commercial and military vehicles. Many of the vehicles were used during the First World War

From 1927 to 1933, productions of the medium-class cars were low, but the vehicles that were produced carried with them a reputation of being reliable and robust.

In the early thirties, Weiffenbach, also known as 'Monsieur Charles' by his piers, was in his early 60's. The decision was made to boldly move into the sports car arena. This was in response to the market trends and a way to re-establish a competitive edge in the automotive technology spectrum. For an automotive company that had never created a car that could achieve a top speed faster than 110 km/h, this would be a major undertaking.

Jean Francois, a 29 year-old engineer, was commissioned to construct a series of sporty cars using as many of the spare parts as possible. Talbot's new independent suspension was used along with a new chassis with box-section side members. The engine was borrowed from one of their trucks. The engine featured a 65mm crankshaft with internal lubrication. In 1933, the vehicles were introduced at the Paris Car Salon. They were the 4 cylinder 12CV and the 6 cylinder 18CV. At the show, Lucy O'Reilly Schell approached Weiffenbach with a request to have a vehicle built that could be entered in rally events.

Lucy O'Reilly, a wealthy American with an Irish origin, had a passion for racing. So fueled by Delahayes desire to produce sports cars and Reilly's financial backing and quest to win motor sport events, the company re-entered the racing scene.

The Type 135 was created with variants such as the 135 Competition Speciale (135 CS), designed specifically for racing. The 135 Sport and the 135 Coupe both featured a 3.2 liter engine. The Sport produced 96 horsepower while the Coupe had 110 horsepower. 120 horsepower was produced by the 3.6 liter engine that rested in the Type 135 Competition model. The engine in the 135 CS was a simple pushrod operated engine borrowed from the 1927 Type 103 truck engine. It gave up horsepower for great acceleration and torque.

The Type 135 is considered as one of the most famous and prestigious vehicles produced by Delahaye. In both design and racing competition, it was very successful. Designed in 1934 it was quickly entered into races such as the 24 Heures du Mans, the Monte-Carlo Rally, and the Paris-Saint-Raphael motor race, where it had great successes at being a competitive and reliable automobile.

The Type 135 Competition Speciale Sports Car (CS) had a chassis 25 cm shorter than the 135 touring car. This shortened version had better weight distribution which greatly improved the handling and performance. The engine and 4-speed Wilson epicyclic gearbox was placed lower in the chassis, thus contributing to the benefits of a better balanced vehicle. The 135 CS came equipped with an 80 liter or a 100 liter fuel tank, this option was left up to the buyer's discretion.

The 135 CS was debut in the 1936 Monte Carlo Rally where it finished 2nd in a field of fierce competition. In 1936 it was the winner of the Marsailles Gran Prix. At the French Gran Prix is placed second, third, fourth and fifth.

Well-known coachbuilders, such as Franay, Letourner & Marchard, Chapron, and Guillore, were tasked with outfitting the 135's. This may have been influenced by Delage, an automotive company that Delahaye merged with in 1935. As a result, the 135 won numerous awards for styling and design.

The Type 135's are truly a prestigious masterpiece with a strong racing history and a heritage that was formed on stability, robustness, and stamina.
By Daniel Vaughan | Feb 2007
For more information and related vehicles, click
here
Postwar Ferrari Named Best of Show at 2014 Pebble Beach Concours d'Elegance
1954 Ferrari 375 MM Scaglietti Coupe Named 'Best of Show' PEBBLE BEACH, Calif. (August 17, 2014) -- Excited cheers echoed across the 18th fairway of Pebble Beach Golf Links Sunday when a 1954 Ferrari 375 MM Scaglietti Coupe was named Best of Show at the 64th annual Pebble Beach Concours d'Elegance. The car, owned by Jon Shirley of Medina, Washington, was the first postwar car to take the top award at the prestigious event in nearly five decades. It was also the first Ferrari to win. ...[Read more...]
ENGINE STOP-START TECHNOLOGY NOW STANDARD WITH V-6 IN AWARD-WINNING JEEP CHEROKEE AND I-4 IN ALL-NEW 2015 CHRYSLER 200
◾Estimated fuel-economy improvement up to 3% ◾Estimated C02 emissions-reduction up to 3% ◾Enhanced high-speed/high-durability starter and advanced control strategies contribute to seamless, automatic activation ◾Intuitively adapts to driving styles for optimal responsiveness, driving enjoyment ◾Availability third quarter for Jeep Cherokee, fourth quarter for Chrysler 200 June 24, 2014 , Auburn Hills, Mich. - Chrysler Group is offering fuel-saving Engine Stop-Start (ESS) technology ...[Read more...]
HOW FORD, RAILROAD INDUSTRY CREATED INNOVATIVE WAY TO SHIP THE NEW TRANSIT VAN TO NORTH AMERICAN CUSTOMERS
◾Innovative new railcar for vehicle shipping accommodates the variety of Ford Transit roof heights ◾Optimized mix of rail and truck transport provides the most efficient delivery time and lowest shipping cost, and supports Ford's Blueprint for Sustainability by using resources responsibly and minimizing environmental impact ◾All-new Ford Transit offers a best-in-class range of vehicle configurations and will be available at U.S. and Canadian dealerships this summer Ford Motor Company is tak...[Read more...]
PRODUCTION OF AWARD-WINNING PENTASTAR ENGINE ECLIPSES 3 MILLION
◾Total production of 3.6-liter Pentastar V-6 engine hit 3 million today ◾Available in 17 Chrysler Group vehicles across nine vehicle segments ◾Powers vehicle range once served by seven different V-6 engines ◾One of Ward's 10 Best Engines three years running ◾Contributes to 22 best-in-class benchmarks, from fuel economy to towing ◾Design has spawned Pentastar engine family – 3.2-liter V-6 (all-new 2014 Jeep Cherokee) 3.0-liter V-6 (2014 Jeep Grand Cherokee sold in China) ◾Nearly half of all...[Read more...]
The Most Valuable Road-Going Car in Auction History Sells at RM Auctions' Historic $125,000,000 Monterey Sale
• During a weekend sale that will surely go down in collector car auction history, RM grosses in excess of $125,000,000 as a total of 120 vehicles cross the podium on the Monterey Peninsula, breaking the world record for the highest sales total for a collector car auction • 1967 Ferrari 275 GTB/4*S N.A.R.T. Spider sells for an astounding $27,500,000 making it the most valuable road-going car ever sold at public auction and the second most expensive car in auction history • Additionally, 26 lot...[Read more...]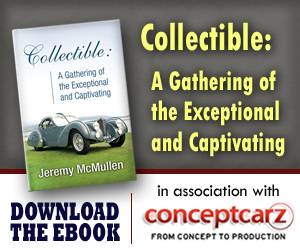 © 1998-2014. All rights reserved. The material may not be published, broadcast, rewritten, or redistributed.