1908 Thomas Flyer F news, pictures, specifications, and information

Tweet
The Erwin Ross (E.R.) Thomas Motor Company produced automobiles from 1902 through 1919. Production transpired in Buffalo, New York. The first cars produced by the company appeared in 1903 and were mostly small runabouts with seating for two. The company had begun like so many other auto-manufacturing firms at the time - through a bicycle business. Thomas had been building bicycles for several companies before making the switch to automotive production.

The first E.R. Thomas Motor cars were powered by a vertically-mounted water-cooled straight-three cylinder engine that produced just over 20 horsepower. The engine was mated to a two-speed planetary gearbox.

After a brief run of three-cylinder cars, the Thomas Flyers were introduced in 1905, in 40, 50 and 60 horsepower variants. This was an impressive accomplishment for a company who, just two years prior, had been producing one-cylinder cars. These new T-head four-cylinder motors had four individually cast jugs lined up on an alloy crankcase. The T-head design was chosen to produce good cross flow breathing. The short stroke allowed the engine to rev freely.

The four-cylinder engine design was popular for performance-minded companies in the pre-War era. Companies, such as Simplex, Mercedes, and Mercer, valued the 4-cylinders for their flexibility and lack of destructive vibration that large engines often experienced.

As times progressed, so did the E.R. Thomas Motor Cars. The Company did much to promote their vehicles and to attract customers, such as painting the cars in bright and attractive colors. The cars became more powerful and elegant and became renowned for their reliability and endurance.

In 1908, an E.R. Thomas Car was entered into 'The Great Race' which ran from New York to Paris. The decision was made at the last minute and there was little time to properly adapt the car for the race. Instead, the company pulled one from the production line and entered it into the race. The race began at New York during the winter and proceeded for San Francisco. The entrants then loaded onto a boat and traveled to Alaska and then Siberia. Once they arrived at Siberia, the race continued.

The race lasted 171 days and covered 13,300 miles. At the conclusion of the race, ending in Paris, it was an E.R. Thomas in first place, claiming the overall victory.

Demand for the E.R. Thomas Motor cars increased after the heroic victory. In 1911, the company only produced six-cylinder cars. Within a year, the car had entered into receivership and purchased by C.A. Finnegan of the Empire Smelting Company. The company continued to produce cars through 1916, after which, the cars were able to be special ordered. It is believed that the company continued until 1918 or 1919.
By Daniel Vaughan | Oct 2010
This 1908 Thomas Flyer has a Atwater Kent Switch which and was among the earliest automotive examples to use this technology. The Atwater Kent Manufacturing Company has roots that date back to 1896, when A. Atwater Kent left the Worcester Technical Institute in Massachusetts prematurely to start his own business. The business began in his fathers machine shop where he created and sold small electrical items. Kent traveled to Philadelphia on a business trip in 1902 and upon arriving, made the decision to rent a space and relocate his operations to that facility, and continue the production of electrical products. By 1906, Kent he created an ignition system for the automobile which created a single large spark from a series of smaller sparks. The system was dubbed the Unispark and became an integral part of the automobile in the years to come. The success of this venture soon had him creating many other parts for the automobile.

This car has seating for four and a side-mounted tire located on the drivers side. The Thomas Flyer's were very impressive machines. The early examples were powered by four-cylinder engines that were capable of producing an astonishing sixty-horsepower and could propel the cars to speeds of 60 mph. At around $4,000, they were among the more expensive machines on the market, but well worth the price.

This car is in similar configuration to the vehicle that was taken off the show-room floor and driven from New York to Paris in 'The Great Race'. The car was basically stock, except it was given extra gas tanks, additional spare tires, and a few other minor modifications. The car was driven 12,427 land miles in 170 days and straight into the history books. The car had proven reliability and the Thomas marque took full advantage of this wonderful accomplishment, advertising it in sales literature and using it as a tool to promote their product.
By Daniel Vaughan | Apr 2007
This original owner of this Touring car was Auto Club of America founder J. Herbert Carpenter of Ossining, New York. The car was delivered on October 20th of 1908. Mr. Carpenter would be the cars care-taker for over 30 years. In the 1920s, he drove it on a cross-country trek. He even used it in the earliest AACA events.

The next owner was Joe Tracy, who later sold it to the Thompson Products Company, which would be the basis of the Crawford/Western Reserve Historical Society Museum collection in Cleveland, Ohio. The collection soon grew, and by 1951, the Thomas was de-accessioned. C.F. Greiner, a former worker for E.R. Thomas, purchased the car for $300. A restoration soon followed and two or three years later, the Historical Society exercised their 'first right of refusal' and re-acquired the car. The car would remain in that collection until 1990.

In 1990, part of the collection was brought to the market, including the Thomas. It was purchased by a new collector named Vijay Mallya of the Kingfisher Breweries fame. Mr. Mallya retained the car for a few years in the U.K. before selling it with the Brooks/Bonhams team to the current owner.

In 2010, the car was offered for sale at the Exceptional Motorcars and Automobilia auction presented by Bonhams. It was sold for $733,000 inclusive of buyer's premium.
By Daniel Vaughan | Oct 2010
FORD VOLUNTEER PROJECTS EXPAND IN MIDDLE EAST AS EMPLOYEES GO FURTHER IN NINTH ANNUAL FORD GLOBAL WEEK OF CARING
◾More than 13,000 Ford employees, retirees and dealers will work on 310 community service projects in 26 countries for the ninth annual Ford Global Week of Caring ◾Projects expand in the Middle East as volunteers in Ford's newest region join the global effort ◾Volunteers are putting a special emphasis on projects that support and protect water resources, in keeping with Ford Motor Company's corporate water strategy Next week, 20 employees from Ford South Africa's Struandale Engine Plant wil...[Read more...]
FORD 1.0-LITER ECOBOOST ENGINE WINS UNPRECEDENTED THIRD CONSECUTIVE INTERNATIONAL ENGINE OF THE YEAR HONORS
◾Ford 1.0-liter EcoBoost® engine named 2014 International Engine of the Year for an unprecedented third consecutive year ◾Fuel-efficient and powerful 1.0-liter EcoBoost – available in Ford Fiesta and upcoming 2015 Focus – also named Best Engine Under 1.0-Liter for third year in a row ◾Judges call 1.0-liter EcoBoost engine 'one of the finest examples of powertrain engineering' as it finishes ahead of entries from premium and supercar brands Ford Motor Company's 1.0-liter EcoBoost® engine, wh...[Read more...]
FORD BRINGS CUSTOM TRANSIT CONNECT WAGONS TO MAKER FAIRE 2014; MAKERS GET A CHANCE TO MEET THE UNMINIVAN
◾Two new custom Ford Transit Connect Wagons, Hackmobile and Happy Mutant Mobile, will be on display at Maker Faire – an all-ages event for the do-it-yourself enthusiast ◾Ford and MAKE magazine teamed up in the construction of Hackmobile, the ultimate Transit Connect Wagon for the do-it-yourselfer, and Happy Mutant Mobile, which was personalized for the Web-based magazine Boing Boing ◾All-new Ford Transit Connect Wagon, the #unminivan, is available as a five- or seven-seat vehicle that can be p...[Read more...]
FORD BUILDS TWO MILLIONTH ECOBOOST ENGINE AS CONSUMER DEMAND GROWS IN MARKETS WORLDWIDE
◾More than 100,000 EcoBoost engines now produced every month, with a target of 1.2 million for 2013, up more than 60 percent from 2012. For the first time, EcoBoost production expected to exceed Ford's global diesel-engine production ◾Customer demand exceeds projections globally with 90 percent of Escape buyers in North America and 95 percent of Kuga buyers in Asia choosing EcoBoost; in diesel-centric Europe, 39 percent of Focus customers opt for EcoBoost ◾Ford doubled Cologne, Germany, produc...[Read more...]
Rolex Monterey Motorsports Reunion : A Brilliant Finish
There are times to spectate and there are times to roll up one's sleeves and participate. At the Rolex Monterey Motorsports Reunion this year, both options brought abundant joy, as more than 550 authentic and historic race cars from nearly every decade of motorsports history popped their clutches and shifted gears on the esteemed road course of Mazda Raceway Laguna Seca. Over August 16-19, the cars--split into 17 groups according to age and engine size and chosen for their period-correct presen...[Read more...]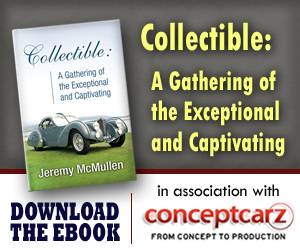 Similarly Priced Vehicles from 1908
Stanley Steamer Model K ($1,800-$4,500)
Simplex Model 50 ($5,500-$5,500)
Locomobile Model 40 Type I ($2,600-$4,750)
Packard Model 30 ($4,250-$5,650)
Pierce Arrow Great Arrow ($4,000-$6,500)
Stearns Model 30-60 ($4,600-$4,750)
American Simplex Model D-50 ($4,000-$5,400)
National Model K ($3,500-$4,500)

Average Auction Sale: $733,000
© 1998-2014. All rights reserved. The material may not be published, broadcast, rewritten, or redistributed.