1966 BMW 1800 news, pictures, specifications, and information

Tweet
This 1966 BMW 1800 TI/SA Sedan is one of 200 genuine factory-built TI/SA's constructed. Its history does include competition. There is a 130 bhp engine with twin Weber carburetors matted to a Getrag five-speed, close-ratio gearbox. There are factory lightweight racing bucket seats, roll cage and column-mounted tachometer. This car was offered for sale at the 2006 Bonhams & Butterfields auction held at the Quail Lodge in Carmel, California where it was estimated to sell between $25,000 - $30,000. At auction, there was much interest in this vehicle and it was sold above the estimated value, at $39,780.
By Daniel Vaughan | May 2007
BMW introduced a new series of vehicles beginning in 1962 with the 1500. It made its debut at the 1961 Frankfurt Motor Show and produced until 1966. It was powered by a four-cylinder BMW M10 engine that would grow in size of the years, and the naming scheme would change along with it.

The BMW 1500 four-door sedan was a popular vehicle, and helped secure BMW financially. The car brought with it front disc brakes and a MacPherson strut setup in the front.

In 1964, the 1600 was introduced which brought with it an engine that increased horsepower to 80. The 1800 was introduced in 1963 and horsepower rose to 90 from the 1.8-liter engine. A 'TI' option, meaning Touring International', was offered and featured components by Alpina. Upgrades included two Solex PHH side-draft carburetors and higher-compression pistons resulting in an increase in horsepower to 110.

In 1964, a TI/SA option was introduced, which was intended as a racing option. It was equipped with dual Weber DCOE-45 carburetors and increased horsepower to 130. The car was created to qualify for the touring car racing regulations. The 'SA' portion of its name represented 'SonderAusfuhrung meaning extraordinary sporting special. The car had a five-speed gearbox and only two-hundred genuine factory-built 'Tisas' were ever created.

The 1800 TI/SA enjoyed much racing success with drivers such as Hubert Hahne who won the German national championship in 1964. Hahne and co-driver Rauno Aaltonen entered a 1800 TI/SA in the Spa 24-Hour race, where they finished second, nearly capturing the victory from the winning Mercedes-Benz 300SE. In 1965, Pascal Ickx and Gerald Langlois drove a 1800Ti/SA to a victory at the Spa 24-Hour race and many other racing events.

The 1600 was introduced in 1964, and used the 1500 engines with the pistons from 1800. The resulting 1.6-liter engine produced 85 horsepower and produced through 1968. In 1966, it was joined by a two-door version of the 1600, commonly referred to as the 1602. This version was sold through 1975. By this time, power had risen to nearly 100 horsepower.

The 2000C/CS was produced from 1965 through 1969. The 'CS' versions were only fitted with manual gearboxes, while the 'C' came with a manual as standard and automatic as options. The coupe body's were designed by Karmannn, and by many people's opinion, was a rather odd design. The front grille and headlights give the car a distinct look that has been termed as 'controversial' in appearance. In 1969, the front-end was changed.

The 2002 was a financial victory for BMW and was a very popular automobile. It was based on the four-door 1600 and became the fore-runner for the BMW 3-Series.
By Daniel Vaughan | May 2007
Italian Racing Classics Lead Gooding & Company's 10th Anniversary
SANTA MONICA, Calif. (June 4, 2013) – Gooding & Company, the official auction house of the Pebble Beach Concours d'Elegance acclaimed for selling the world's most significant and valuable collector cars, will be hosting the 10th Anniversary sale of the Pebble Beach Auctions on August 17 and 18. This year Gooding & Company offers an early preview of some of the most highly sought after and rapidly amassing value collectible – the distinguished Italian race car. Auction highlights include a...[Read more...]
Ford Celebrates 10 Years As Mid America Ford And Shelby Nationals Sponsor In Tulsa
◾Ford has now been a key part of the Mid America event for a decade ◾The action-packed event includes instruction from the Ford driving school, along with open track and drag racing experiences ◾Ride-and-drives will be offered in Ford's elite stable of vehicles at Tulsa Marriott Southern Hills ◾Ford photographer and archivist Dean Weber will be a guest speaker at the event's banquet TULSA, Okla., June 7, 2013 – This year marks an important milestone for Ford Motor Company with the ...[Read more...]
Extremely Significant, Early Shelby Cobra Roadster an Exceptional and Early Headline Consignment to Russo and Steele's Upcoming Monterey Auction
Scottsdale, Arizona – With his AC Ace-derived, Ford-powered Cobra, Carroll Shelby and his racing team spearheaded Ford's 'Total Performance' campaign of the 1960s on the world stage and ended Ferrari's dominance of the World Sportscar Championship for GT cars by 1965. This stellar example, CSX2012, is particularly significant as the first Cobra sold to the public from Shelby American's West Coast operations in Venice, California. With highly documented and fascinating history including its...[Read more...]
1963 Andre Simon/Lloyd Casner Maserati Tipo 151/2
At a time when Maserati's financial picture couldn't have looked more bleak, it would be enticed to build what many would end up considering to be one of their finest sportscars ever. It would even be suggested it could have been one of the greatest of all time if Maserati had had the money to develop it. Unfortunately, the Maserati Tipo 151 forever lives in relative obscurity when it truly deserves to be remembered as much more. It is often remarked that for a race team to win a championship...[Read more...]
EXCEPTIONAL ROSTER OF PORSCHE RACE CARS JOIN THE STARTING GRID FOR RM'S EAGERLY AWAITED MONTEREY SALE
RM Auctions, the world's largest collector car auction house for investment-quality automobiles, has announced more star consignments for its highly anticipated Monterey sale, August 17–18, in California, this time a remarkable group of Porsches. Comprising twelve examples in total and spanning 48 years of production, the offering is headlined by an exceptional group of racing greats from the sixties, seventies, and eighties. Continuing RM's commitment to present the world's finest automobiles, ...[Read more...]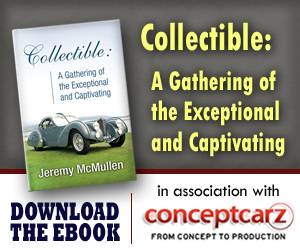 Similarly Priced Vehicles from 1966
Chevrolet Corvette C2 ($4,080-$4,290)
Ford Thunderbird ($4,393-$4,843)
Citroen DS21 ($3,585-$5,875)
Amphicar 770 ($3,400-$3,400)
Alfa Romeo Giulia ($2,930-$4,890)
Pontiac Catalina ($2,760-$3,600)

Average Auction Sale: $39,780
BMW
Monthly Sales Figures
Volume
December 2014
41,526
November 2014
31,019
October 2014
30,602
September 2014
25,586
August 2014
27,214
July 2014
26,409
June 2014
30,201
May 2014
29,602
April 2014
25,202
March 2014
32,107
February 2014
22,017
January 2014
18,253
(More Details)
© 1998-2014. All rights reserved. The material may not be published, broadcast, rewritten, or redistributed.