1962 Cooper Monaco news, pictures, specifications, and information

Tweet
Sports Racer
Chassis Num: CM 5/62
Engine Num: 5509

The Cooper Monaco CM 5/62 was produced in November 1962, as the prototype for the 'King Cobra' of the following year. Jack Hinkle took delivery equipped with a 2.7-liter Coventry Climax that had been used in Grand Prix racing in Europe. Hinkle, Chairman of the SCCA Board in 1961, was an accomplished sports car driver, winning nine of twelve races and the MiDiv D Mod Championship in 1964 with CM 5/62.

Hinkle sold CM 5/62 less Climax, to Tracy Bird, who installed a 3.0-liter Ferrari TR250 engine and raced CM 5/62 very successfully in 1965 and 1966.

In 1968, Bird sold CM 5/62 to Pete Lovely, who is well known for installing a Ferrari engine in a Cooper T-51 and racing the 'Cooper-Ferrari' at the Formula 1 race at Riverside in 1960, finishing 11th.

CM 5/62 was acquired from Lovely by Mr. William Commarano in 1974. Lovely had returned 250TR #0718 to its rightful chassis, so Ferrari 250GT V12 Lusso engine #5509 was used to restore the car to Tracy Bird specs.

Fred Burke acquired the car in 2005, and intends to continue the chain of good stewards for his interesting and historically important sports racing car.
The rear-engined Cooper Monaco sports-racing series of cars was launched for the 1959 racing season. Cooper had been a pioneer in the rear-engine setup, initially with its chain-driven motorcycle-engined 500cc Formula single-seaters from as early as 1946. In 1955, the design continued with the rear-mounted water-cooled lightweight aluminum racing engines manufactured by the Coventry-Climax company. Jack Brabham drove a 1.96-liter Formula 2-derived single-seater Cooper-Climax in 1957 against the full 2.5-liter Formula 1 cars in the Monaco Grand Prix. Early in 1958 an enlarged Cooper-Climax single-seater driven by Maurice Trintignant won the Monaco Grand Prix. In homage of the victory, the 1959 rear-engines sports-racing Cooper was then named 'Monaco.' Fittingly, their driver, Jack Brabham, would win the marque's second consecutive Monaco Grand Prix that year, and later clinch the Formula 1 World Championship titles for himself and the Cooper-Climax marque.

The early Cooper Monaco had short chassis and a stubby-body design. In the early 1960s, the model evolved, receiving a longer wheelbase, multi-tubular chassis, and more sophisticated coil-spring/telescopic shock absorber suspension replacing the original design's transverse leaf spring arrangement. The body designs were produced in-house by chief designer Own 'The Beard' Maddock and produced by the father and son team of Fred and Pete Bedding.

Cooper-Monaco's were piloted by many famous and accomplished drivers including double-World Champion Driver, Jack Brabham, Bruce McLaren, Roy Salvadori and Jim Hall.

This 1962 Cooper Monaco Type 61 Mark 3 is presently equipped with Buick V8 power unit and Halibrand-made McKeen transaxle. It was delivered new to American customer Van Housen Motors of Sacramento, California in April of 1962. The chassis featured the latest model modifications including the coil-spring independent rear suspension setup. The aluminum body style, with its sharply pointed tail fins, was specifically tailored by Charles and John Cooper to suit 'American taste' and thereby owed rather more to the 1961-style Cooper Monaco than to the rather more sober 1962 styling then being adopted by the Formula 1 World Championship-winning marque's Surbiton factory, in Surrey, England.

The car was delivered with a 4-cylidner Coventry Climax FPF engine serial ''FPF'/430/17/1236.' The owner/driver was SCCA and USAC road-racing luminary William Sturgis of Gardenville, Nevada. Sturgis retained the car from 1962 through 1963. In 1962, the car was entered for 1962 F1 World Champion Driver Graham Hill to drive in the 1962 Pacific grand Prix 'West Coast Professional series' event at Laguna Seca in California. Unfortunately, the car encountered difficulties and failed to finish.

During the 1962 and 1963 season, Mr. Sturgis entered the car in many American races, earning many outright victories. In 1964, it was purchased by Washburn Motors of Santa Barbara, California. While there, the four-cylinder Climax engine was removed and replaced by a Chevrolet Corvette V8 power unit driving through a Halibrand-McKee gearboxes.

On June 13th of 1969, the car was sold to George Lehman of Goleta, California. The car had been purchased with the intent of racing, but it was later taken apart, and put into storage. He moved in 1973 he the Cooper was split up, with the chassis and body lost in the move. The remainder of the Cooper remained in storage until 1999. The remains were sold on February 1st of 2000 by Mr. Lehmann's widow. The purchaser is the present owner of the vehicle.

In 2011, the car was offered for sale at the Quail Lodge auction presented by Bonhams. It was estimated to sell for $225,000 - $275,000 but did not receive a high bid needed to satisfy its reserve. It would leave the auction unsold.
By Daniel Vaughan | Nov 2011
Sports car racing had been slowly growing in popularity since the conclusion of the Second World War. As the 1950s were coming to a close, the interest in the sport began to peak. Competition had grown and designs had became perfected. Cooper began work on their racer in 1958, with the intention of competing during the 1959 season. The resulting vehicle was named the Monaco, in honor of Trintignant's accomplishments at that race in 1958. A Cooper Monaco prototype was displayed at Hollyfield in November of 1958.

Sports car racing requirements at the time stated one working door, and two seats, along with a host of other requirements. They had to comply with FIA regulations used in Europe and built solely for racing. Superchargers were not allowed; the use of superchargers bumped the car into another class. The vehicles engine size determined its racing class.

The Cooper Monaco chassis was much up of four large tubes resting on a wide wheelbase. The engine bay was designed to accept a variety of engines, such as the Bristol engines which had been used in Cooper's open-wheeled Formula racing cars. As competition increased from other marques such as Lotus, Cooper continued to refine their Monaco by giving them more rigid frames, improved suspension, engine modifications, and continued to perfect the design. The Monaco and the Cooper Formula cars shared many similarities and mechanical components in an effort to minimize problems during development and to streamline the building process.

The spaceframe chassis was designed for a mid-engine layout with seating for two. The rear-mounted engine meant no central transmission tunnel was needed which helped in weight reduction and allowing for more power to reach the rear wheels. A Citroen-ERSA four-speed transaxle with was mated to the 1.5- or 2.0-liter FPF engines. The engines were mounted at an 18-degree angle and attached via four points on rubber bushings. The 12-gallon aluminum fuel tank was mounted outboard on the left side of the chassis rails. The driver and outboard battery were located on the right-hand side. This configuration was chosen to keep the driver as far away from the fuel source as possible, and to distribute the weight more evenly.

The rack-and-pinon steering was centrally located. The front suspension as comprised of double wishbones and coil springs and damper units. In the rear was the tried-and-true transverse leaf-spring setup with a single lower wishbone. Girling disc brakes were at all four corners and measured 10.25 inches in diameter.

The entire package had a wheelbase of 91 inches with a length of 141-inches. As expected, the weight of the vehicle was pretty well distributed, with 44% in the front and 56% in the rear.

The Cooper Monaco's immediately dominated the racing circuit and eventually became one of the most successful mid-engined sports racing cars ever constructed. When introduced, Cooper did not plan on running any works cars. The first few examples sold were tax-free kit cars. In total, eight examples were registered in 1959, each with unique specifications and purposes.

The Cooper Monaco MKII Type 57 was raced during the 1960 season and was nearly identical to the MKI, except for a longer nose. The MKII was produced in smaller quantities and most were sold in Britain where they provided many podium finishes for their drivers.

In 1961, Cooper introduced their third iteration of the Monaco, the Monaco MKIII Type 61. BY now, the Monaco was basically a Formula 1 car in two-seater configuration. These versions had straights tubes in the frame, replacing the curves and angles, and similar to the Lowline Formula 1 cars. There was a wide radiator intake. The suspension was improved with the use of coil springs and wishbones at the rear; this was the first time a production Cooper car would contain this setup. To improve aerodynamics and to appeal to the American market, the cars were given tail fins and a slightly revised body.

There were three Monaco Mark III's registered, including the prototype machines. One went to Roger Penske, another went to Texan Hap Sharp, and the third was sold to British privateer Peter Berry.

In 1963, Carroll Shelby's Cobras were doing very well in SCCA Competition. They won the A/Sports Racing National Championship and US Road Racing Championship. Though these street-derived Mustang Cobra vehicles were fast, they could not compete with the USAC-sanctioned 'Fall Series' held on the West Coast. This series would eventually evolve into the Canadian American Challenge Series (CAN-AM), which had little rules and restrictions resulting in high horsepower cars with lightweight, aerodynamic bodies, large wings and tires.

Carroll Shelby had all of the ingredients to compete in the Fall Series, except the car. He used his connections in England to resolve that problem. He approached John Cooper in search of finding a car that could house a 289 cubic-inch Ford V8 engine. Cooper had enjoyed great success with his mid-engined Coventry Climax-powered sports cars, and their successor, the Monaco. Charles Cooper and his son John, had created a series of non-production car based sports racing cars using a multi-tubular chassis designed to hold Bristol engines. From this, other series cars were constructed. There was potential in the 1100cc Coventry Climax FWA engines, due to their lightweight construction, power, and durability. In 1955, a lightweight and aerodynamic body was constructed to house these engines. These sports-racers were known as 'Bobtails'. The Monaco cars were further evolutions of the Bobtails.

Shelby purchased two cars, CM/1/63 and CM/3/63 and powered them with an American cast-iron V8 engine. The engines featured four dual chock downdraft Weber carburetors and matted to a BMC/Hufaker four-speed transaxle. The gearbox proved to be problematic, so it was replaced by a Colotti four-speed unit, which, too, was not without its problems. The body was constructed of aluminum and clothed the 1.5-inch 18 gauge tubing and full independent suspension with coil springs and shock absorbers. They were delivered early in the season but they were not completed until the close of the USRRC season.

Carroll Shelby nicknamed these cars, the 'Cooper Ford', which persisted until it was replaced by Steve Smith of Car & Driver who thought up the name 'King Cobra'. This was the perfect name for these newly created sports-racers.
By Daniel Vaughan | Jun 2007
Derek Hill to Drive Rare Maserati Tipo 151 in Rolex Monterey Motorsports Reunion
MONTEREY, Calif., June 23, 2014 — American race driver Derek Hill, son of World Champion Phil Hill, will strap himself behind the wheel of the lone surviving Maserati Tipo 151, of which only three were ever constructed, to race in the Rolex Monterey Motorsports Reunion August 14-17 at Mazda Raceway Laguna Seca. Maserati is this year's featured marque and will officially celebrate its 100th anniversary at the motorsports gathering. Entered by Fratelli Auriana Racing from the collection...[Read more...]
Sonoma Historic Motorsports Festival Celebrates Can-Am at Sonoma Raceway
• More than 350 vintage and historic race cars highlight May 17-18 weekend
• George Follmer and Don Nichols are honored guests; popular racing seminar set for third year
SONOMA, Calif. (May 7, 2014) - The Sonoma Historic Motorsports Festival returns to Sonoma Raceway on May 17-18 for the fifth straight year under that title. The program for the 28th annual historic-car event organized by General Racing Ltd. in Sonoma will celebrate the early years of the iconic SCCA Can...[Read more...]
High Efficiency Motors: 1958 Formula One Season
C.T. 'Tommy' Atkins would start out his career as a motorcycle racer riding Douglas motorcycles in the early 1930s. By the time the mid-to-late '50s rolled around, Atkins had moved on from racing, but not very far. Perhaps feeling a need to support up-and-coming drivers, Atkins would turn to providing rides, but in single-seater grand prix cars. Prior to the Second World War, Atkins would be in search of speed records on a motorcycle. Riding motorcycles, Atkins knew very well their ability t...[Read more...]
Sports and Racing Rarities Lead Early Highlights For RM's Two-Day Arizona Sale
• RM Auctions returns to the Arizona Biltmore Resort & Spa in Phoenix from January 16–17 to kick off its 2014 collector car season • Expanded to two days in 2014, the well-established sale will celebrate its 15th year by lifting the gavel on approximately 120 handpicked motor cars • Early highlights span the spectrum of the market, led by a superb trio of sports and racing Porsches • Annual sale kicks off RM's 2014 international auction calendar, which includes the company's highly anticipate...[Read more...]
1962 Monaco Grand Prix: McLaren Carries the Cooper Flag back to the Top
By the beginning of the 1962 Formula One season Jack Brabham had left Cooper to form his own racing team. It seemed the glories days of the double World Championship were well and truly behind them. However, left in Brabham's stead would be a man very akin to the Australian in so many ways. And in Bruce McLaren, Cooper had a driver and competitor more than apt to help carry the team forward into the future. The first race of the 1962 season, the Grand Prix of the Netherlands, certainly didn't...[Read more...]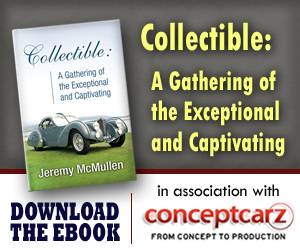 © 1998-2014. All rights reserved. The material may not be published, broadcast, rewritten, or redistributed.