1956 DeSoto Adventurer news, pictures, specifications, and information

Tweet
'Lovely to look at and delightful to drive!' - this was the advertising slogan for DeSoto, a Chrysler division automobile.

Adventurer's motivation was a special enlarged DeSoto Hemi sized engine at 341.4 cubic-inches. Horsepower was rated at 320 which was more than any other engine offered in DeSoto's price class. The DeSoto was proven at 137 mph in Daytona and 144 mph at the Chrysler Proving Grounds.

Adventurer achieved its stunning performance without sacrificing luxury. Standard equipment included push button control Powerflite automatic, power steering, power seat, power windows, power brakes, windshield washers and electric clock. On top of these, the Adventurer delivered a custom interior with padded dash, dual rear view mirrors and dual radio antennas atop the fins. 996 Adventurer's were built.
The 1956 Adventurer was DeSoto's answer to the Chrysler 300B. Both were high performance vehicles with top speeds of 144 mph. Besides speed, the popularity of the Adventurer was enhanced by its strikingly good looks. Exterior colors were restricted to three colors in six combinations: white/gold, black/gold and the extremely rare white/black. By reversing colors, you had six combinations from which to choose. The interior had gold vinyl upholstery with black and brown metallic tweed seat inserts. Other accents included a gold and white steering wheel, gold accented dash and black pile carpeting with a gold thread weaved through it. Base price was $3,728, but most cars were heavily optioned to include power steering, power windows and power seats. Power brakes were standard. This car is additionally equipped with the rare instant heater (generating heat within 30 seconds), Hiway Hi-Fi record player and a steering wheel clock.
| | |
| --- | --- |
| | Hardtop Coupe |
The Desoto Golden Adventurer was marketed as a limited production two door hardtop available in one of six color schemes. It stickered for $3,680 and fewer than 1,000 examples were built.

The Adventurer was a corporate hot rod. It spoke loudly, boasting of its 320 horsepower, Hemi, dual carbureted V8 engine. The specially enlarged engine displaced 341.4 cubic-inches and out horse-powered all of the similarly priced competition from American manufacturers. They were fast, topping out at 137 MPH at Daytona and 144 MPH at the Chrysler Chelsea Proving Grounds.

The current owner spotted this Adventurer in the back yard of its original owner in 2005, in Boise, Idaho. It was complete with all the specialty trim and performance pieces and had covered only 53,000 miles. The restoration was overseen by Dave McLaughlin of Dana Point, CA, with the assistance of John Edwards and Theo Sahli.
The exclusive and expensive DeSoto Adventurer was introduced in 1956 as a prestige performance coupe just a step below the Chrysler 300. Just 996 were built.

The Adventurer was offered only in White or Black. Contrasting gold-anodized wheel covers and aluminum side sweeps gave it a true custom appearance. In Black, this glamorous high-performance machine evoked images of luxury in a tuxedo, accessorized with a gold cigarette case.

This 1956 DeSoto Adventurer coupe was bought new by the current owner's father and has been in the family since then. It is unusually well-equipped, with power windows, power seat, Search-Tune radio, and the rare HiWay HiFi record player.

During restoration, a 'factory' air-conditioning system was added. The powertrain consists of a dual carburetor, 341 cubic-inch HEMI V8 and Powerflite automatic transmission.
The DeSoto was introduced in 1956 and produced through 1960. The two-door hardtop Adventurer had received its name from a DeSoto concept car. During its production life span, the car would endure both good times and bad times. There were many reasons for the final demise of the vehicle. At the close of the 1950's the country was experiencing economic turmoil which was causing the sales of most automobiles to decline. DeSoto was unable to advertise its vehicles to the same degree that other manufacturers could due to a limited budget. In 1958 quality control and recall problems plagued the company. By 1960 the DeSoto Company, owned by the Chrysler Corporation, ceased production.

Gold plating adorned the Adventurers mesh grille and its wheels were turbine-style. When introduced it did not have elaborate styling or flashy components, it was simply a clean and powerful automobile. Under the hood lurked a Hemi 5.6-liter V8 that produced between 230 and 320 horsepower. Power brakes were offered as standard equipment and the suspension was modified to help control the horsepower produced by the engine. A push-button PowerFlite automatic, electric clock, dual rear view mirrors, padded dash, power windows, power steering, and power seats added to the amenities provided by the Adventurer. A record player was offered as optional equipment but it was never very popular and was quickly discontinued.

The base price for a 1956 Adventurer was around $3680. This was less than most of its competition.

At Daytona Beach a golden Adventurer was able to achieve 137 miles per hour. At the Chrysler's Chelsea Proving Grounds oval it topped 144 miles-per-hour. There were no other vehicles offered that could out pace the Adventurer.

During the Adventurers introductory year nearly 1000 examples were produced. For 1957 the styling was enhanced and fins were placed on the rear of the vehicle, a style that was growing in popularity at the time. A convertible option became available. The engine was enlarged from 341 to 345 cubic-inch increasing horsepower output to 345, one horsepower per cubic inch. The suspension was modified to keep up with the engine enhancements. These improvements helped the sale of 1950 Adventurers for 1957, an increase of almost half from the prior year.

For 1958 only 423 examples were produced. This was due to several factors including an economic recession and changing trends in the market place that had other manufacturers producing more vehicles. A big reason however was quality. The Hemi engine was replaced with a cheaper-to-build engine that produced equivalent horsepower. Fuel injection was standard but often failed, causing the company to issue recalls. The Bendix EFI system was later replaced with carburetors. Many of the DeSotos leaked, had faulty transmissions, or a slew of other problems. This kept people from visiting the DeSoto show rooms.

For 1959 the exterior of the car received aesthetic modifications. Swivel bucket seats were part of the interior modifications. This helped entry and exit from the low-sitting car. Sales climbed to a respectable 687 units.

For 1960 the Adventurer name was available on nearly all DeSoto automobiles. Sales for the entire vehicle line-up continued to decline causing the Chrysler Corporation to discontinue the DeSoto marque in mid-November of 1960.
By Daniel Vaughan | Jun 2007
RARE CHRYSLER LA COMTESSE CONCEPT APPEARS AT AMELIA 2014
After decades in obscurity Chrysler's La Comtesse Concept Car will re-debut at the 19th annual Amelia Island Concours d'Elegance on March 9, 2014. The Fifties introduced new automotive chemical and paint technologies that helped summon a sea change in the way cars were purchased. It was a subtle component of Detroit's marketing equation, but color had risen near the top of the car buyer's priority list. The important fact was that women invariably chose the color of the new family car....[Read more...]
FORD ECOBOOST POLICE INTERCEPTORS OUTRUN CHEVROLET CAPRICE V8, HEMI DODGE CHARGER IN MICHIGAN STATE POLICE TESTING
◾Ford EcoBoost® Police Interceptor sedan repeats top performance and retains its title as best-in-class overall acceleration pursuit vehicle ◾New Ford EcoBoost Police Interceptor utility vehicle acceleration faster than Chevrolet Tahoe and all base V6 competitors ◾Ford Police Interceptors maintain segment sales leadership for 16 years straight Ford, manufacturer of the best-selling police vehicles since 1996, trumped Chevrolet and Dodge in recent instrumented acceleration testing by the Mic...[Read more...]
MECUM TOPS $18.6 MILLION IN CHICAGO
Walworth, WI - October 15, 2013 -- The windy city welcomed Mecum Auctions with an exceptional sale and enormous crowds at the Schaumburg Convention Center in Schaumburg, Ill., this past weekend. With 965 cars crossing the block throughout the three-day event, 615 hammered sold for a 64 percent sell-through rate and $18,634,223 in sales. The one-of-a-kind personal driver of Corvette's original designer Harley J. Earl led auction sales with a hammer price of $1.5 million. Chicagoland was...[Read more...]
RON BURGUNDY ANCHORS NEW 2014 DODGE DURANGO ADVERTISING CAMPAIGN
◾Co-branded advertising campaign combines power of Detroit automaker, major Hollywood studio and Will Ferrell (as Ron Burgundy) in biggest ever original content promo ◾Campaign launches new 2014 Dodge Durango featuring 'Anchorman 2: The Legend Continues' character Ron Burgundy as its new pitchman ◾Multimedia campaign spans television, digital, social and print ◾Television spots debuted on television and online on Saturday, October 5 ◾Campaign champions holiday release of Paramount Pictures' ...[Read more...]
Crowd Shakers And History Makers At Mecum's Chicago Auction Oct. 10-12
• Hemi Under Glass Collection and Harley J. Earl Corvette Part of 1,000-Car Lineup
Walworth, WI - September 16, 2013 -- Mecum Auctions is taking the gavel to Chicagoland this Oct. 10-12 with 1,000 vehicles expected to cross the block at the breathtaking Schaumburg Convention Center. The lineup is already fraught with headline-worthy consignments including the most famous wheel-standers in drag racing history– the Hurst Hemi Under Glass Collection – as well as the one-of-a-kind,...[Read more...]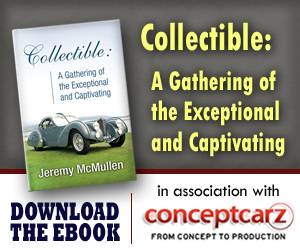 © 1998-2014. All rights reserved. The material may not be published, broadcast, rewritten, or redistributed.