1954 Hudson Hornet news, pictures, specifications, and information

Tweet
| | | | |
| --- | --- | --- | --- |
| | | | Special Series Club Sedan |
Hudson first offered the step down body style in the 1948 model year. The Hornet dual carburetor in-line six engines called the 'hornet' was first offered in the 1951 model. It was this combination of style with its lower center of gravity and the new motor that was called the Hudson Hornet that would be successful in stock car racing in 1951 and 1952. The Hornet Eight motor was a 308 cubic-inch L-Head 8-cylinder and was continued for 1954 but the demand by the automotive public was for the V8 engine and sales dropped appreciably down to 24,833. The merger with American Motors took place in 1955 and The Hudson Automobile Company, which had started in 1905, ceased to exist. This low mileage (21,455 miles), award winning Hudson Hornet Coupe took two years to restore and was completed in 2004.
| | | | |
| --- | --- | --- | --- |
| | | | Special Series Club Sedan |
The Hudson Motor Car Company was founded in Detroit in 1909 and produced Hudson, Essex and Terraplane automobiles for 45 years. The primary organizer of the company was Roy Chapin, who got his automotive start with R.E. Olds, Detroit department storeowner J.L. Hudson providing financing for the new company, hence the name 'Hudson.' The company merged with Nash-Kelvinator in 1954 to form American Motors. The Hudson name was subsequently dropped at the conclusion of the 1957 model run.

The Hudson Hornet was introduced in 1951 and became an instant success on the racecar circuit. The 308 cubic-inch, six-cylinder engine with Twin-H Power (dual carburetors) compiled wins across the nation, setting unparallel records. Hudson regularly won NASCAR races from 1951 to 1954 and became NASCAR's champion in those years.

The Hudson Hornet Convertible Brougham was the company's most expensive body style offered in the 1954 model year. This Brougham is finished in the optional color of lipstick red and has 19 options on it. Base price was $3,257 with the total retail price coming to $4,277. Exact production is unknown but has been estimated to be approximately 340 units. About 70 survive today. The present owner purchased this car while still in high school in 1967, at the age of 16. Restoration of this rare Hudson was completed in 1999.
The Hudson Motor Car Company came into existence in 1909 and produced vehicles until 1957. It was created by Howard Coffin, George W. Dunham, and Roy E. Chapin. Based in Detroit, Michigan, the company had it most successful year in 1929 when it produced and sold over 300,000 vehicles. From 1942 through 1945, the Hudson Corporation did its patriotic part by manufacturing war materials such as naval engines and aircraft parts, during the Second World War. After the war, the Company had its share of ups and downs before it merged with Nash Motors in January of 1954, when it became known as American Motors. The Hudson plant closed while the production of Nash vehicles bearing Hudson badges continued. The brand name ceased to exist after 1957.
In 1951 Hudson introduced the Hornet. The Hornet sat atop a modified version of the Super Six chassis and outfitted with a 262 and 308 cubic-inch inline six-cylinder power-plant. It dominated the NASCAR circuit in the early fifties. In 1952, it won 27 NASCAR Grand National races, 22 in 1953, and 17 in 1954.

The car sat low, giving it an excellent center of gravity. Its flowing, curvy lines and enclosed rear wheels gave it aerodynamic features. The car sold well for the company when first introduced but slowly faded into the history books. The Big Three auto manufacturers were able to change the faces of their model line-up every year, the Independent Auto Manufacturer, Hudson was not. So by the time the Hudson was discontinued, it was feeling and looking its age.

A wonderful car with seating for six and featuring an L-head straight six coupled with Twin-H Power carburetors was enough to breathe life into the Hudson Company for only a few years. The company had lasted through two World Wars and the Great Depression but it would ultimately find its demise at the hand of low-cost, mass-produced automotive giants.
By Daniel Vaughan | Mar 2006
UCONNECT DELIVERS AN ARRAY OF STATE-OF-THE ART, INNOVATIVE AND EASY-TO-USE FEATURES AND SERVICES FOR 2015
September 2, 2014 , Auburn Hills, Mich. - 2015 Chrysler Group vehicles will allow customers to stay connected to the information they want and need while remaining focused on the road. Each vehicle comes equipped with a Uconnect system, which can provide drivers with a range of available communication, navigation and entertainment features or connected services. Consumers can choose the Uconnect system that suits their individual needs. Drivers have the ability to make handsfree pho...[Read more...]
KEN BLOCK PILOTS HIS FORD FIESTA ST TO A RED BULL GLOBAL RALLYCROSS VICTORY IN CHARLOTTE
CONCORD, N.C. – July 26, 2014 – It was clear that Ken Block had one thing on his mind during Round 5 of the Red Bull Global Rallycross (GRC) weekend, winning. Block was able to put together a perfect weekend including, two heat wins, a semi-final win, and eventually a finals win at the Dirt Track, which is located across the street from Charlotte Motor Speedway. This marked Block's first Red Bull GRC Super Car win of the 2014 season, and the Hoonigan Racing Division driver was thrille...[Read more...]
FUSION WINS FIRST NASCAR SPRINT CUP SERIES RACE AT SONOMA RACEWAY AS CARL EDWARDS TAKES CHECKERED FLAG
· Carl Edwards captured the 23rd NASCAR Sprint Cup Series win of his career with today's victory. · The win is the 135th NASCAR Sprint Cup Series triumph for car owner Jack Roush. · Ford Racing's five wins this season is only one less than the entire total for 2013. · The win is Ford's seventh win at Sonoma Raceway and 623rd all-time series victory. Ford Finishing Order 1st – Carl Edwards 8th – Marcos Ambrose 9th – Greg Biffle 16th – Joey L...[Read more...]
ROAD AMERICA WELCOMES RACERS AND FANS FOR THE SVRA SPRING VINTAGE WEEKEND
- Active, Reserve and Retired Military Receive Free Admission on Saturday, May 17 - ELKHART LAKE, Wis., May 7, 2014 - Step back in time at Road America, as legendary racing vehicles from around the world will compete at the Sportscar Vintage Racing Association (SVRA) Spring Vintage Weekend Friday, May 16, through Sunday, May 18. Here's your chance to take in the sights and sounds of racing as it was during the early years. This historically significant race field will take ...[Read more...]
PJ JONES WINS ROUND 2 AT GRAND PRIX OF ST. PETERSBURG
ST. PETERSBURG, Fla. (March 30, 2014) – PJ Jones captured Sunday's thrilling second round of the SPEED Energy Formula Off-Road Presented by Traxxas race at the Grand Prix of St. Petersburg, beating Robby Gordon to the line by a truck length. Jerett Brooks, 16, finished third, making it the high-school student's second-consecutive podium finish after coming home second in Saturday's first race. Jones, a veteran of IndyCar, USAC Silver Crown and Sprint Cars, started sixth and drove a ...[Read more...]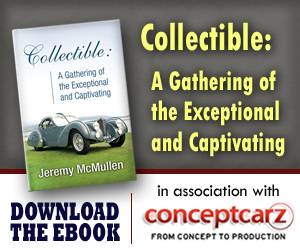 Similarly Priced Vehicles from 1954
Chevrolet Corvette C1 ($3,005-$3,005)
Porsche 356 ($2,995-$4,580)
DeSoto FireDome ($2,650-$3,557)
Studebaker Champion Conestoga ($2,185-$3,000)
Dodge Coronet Sierra Wagon ($2,795-$2,795)
Austin-Healey 100-4 BN1 ($3,000-$3,000)
Sunbeam Talbot 90 ($2,700-$2,900)
Chrysler New Yorker ($3,200-$4,365)
Oldsmobile Ninety-Eight Starfire 98 ($2,960-$2,960)

Average Auction Sale: $36,644
© 1998-2014. All rights reserved. The material may not be published, broadcast, rewritten, or redistributed.