1955 Cadillac Custom Viewmaster news, pictures, specifications, and information

Tweet
The Hess & Eisenhardt, Cincinnati, Ohio, Built Custom View Master Station Wagons in 1955 and 1956. William 'Bill' Hess, who designed this wagon in conjunction with the Cadillac Motor Car Division of GM, was a graduate of General Motors Institute of Technology; in the fifties, he was considered one of the most advanced stylists in the industry. These luxury station wagons were built on the Series 62 chassis (129-inch wheelbase) using Series 86 Commercial cowl and floor pan. Doors were by Fleetwood. The tail-gate glass was that of the Chevrolet Nomad wagon. Seven were manufactured, each one being different in color and finish from the next; they stood two inches taller than the regular Series 62 Cadillac and each weighed around 5000 pounds. All had chrome window pillars all round and most had imitation wood side-paneling in Fiberglass (except this prototype with its plain metal sides), as well as three rows of seats providing room for eight passengers.
THE FIAT BRAND TO BRING A SPLASH OF COLOR TO LA AUTO SHOW; ARTIST TO PAINT ITALIAN MASTERPIECE INSIDE FIAT 500L
• An iconic canvas fit for a masterpiece – Italian artist Nicola Verlato to paint the ceiling of a Fiat 500L on showroom floor during LA Auto Show
• 'Fiat 500L Italian Masterpiece' to pay homage to Renaissance period's Michelangelo; Artist will lie on his back to paint inside vehicle
• Painting to take place over six days (Wed., Nov. 20 - Mon., Nov. 25) LIVE on showroom floor
• Time-lapsed video will showcase Verlato's daily progress, beginning Nov. 21
Nove...[Read more...]
KIA MOTORS AMERICA ELECTRIFIES LAS VEGAS WITH MUSIC-DRIVEN SOULS AT SEMA
Inspired by the Eclectic World of Contemporary Music, Kia Partners with RIDES Magazine and Popular Mechanics to Open the Show in Amplified Fashion ◾Five 2014 Souls debut with live mobile performances, featuring a cutting-edge DJ station and a pro-sound-quality, plug-in-ready amplifier on wheels ◾NBC's The Voice and Vans Warped Tour are represented with their own themed Soul urban hatchbacks ◾A rolling music museum Soul pays homage to the art form with memorabilia spanning multiple genr...[Read more...]
RICHARD PETTY DEDICATES MUSCLE CARS FOREVER STAMPS
Raw power gets a stamp of its own today as seven-time NASCAR National Champion Richard Petty helps dedicate the America on the Move: Muscle Cars Forever stamps. Petty, his son Kyle and Postmaster General Patrick Donahoe will dedicate the limited-edition stamps at the Daytona International Speedway where 'The King' won a record seven Daytona 500 Championships. Typically equipped with big, powerful engines, these high-performance vehicles began roaring across America in the 1960s. The limite...[Read more...]
Unique Mystery Mustang Headlines Amelia's Unique WWTT* Class
'The Amelia's' *WHAT WERE THEY THINKING? Class is much more than a place for what some might label weird, odd or strange. The class, with a philosophy unique to 'The Amelia', is a place for significant and interesting cars that fit no class, category or commercial orthodoxy. Nearly half a century later, we still don't know what Ford was planning when they commissioned the creation of Bill and Chris Snyder's 1964 ½ 'shorty' Mustang. We do know that they created one man's dream car. We just...[Read more...]
Corvette Shines in the Big Apple
All-new Corvette Stingray comes to New York City 60 years to the day after Motorama debut 2013-01-16 Sixty years ago tomorrow, spectators lined New York City's posh Park Avenue, waiting to get a glimpse of the ground-breaking Chevrolet Corvette on display at the General Motors' Motorama show. On Thursday, the Corvette will be back in The Big Apple, marking the historic milestone with the all-new 2014 Chevrolet Corvette Stingray. The all-new Corvette Stingray debuted earlier...[Read more...]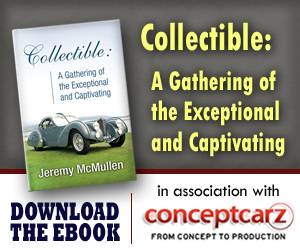 Cadillac
Monthly Sales Figures
Volume
June 2014
13,941
May 2014
14,688
April 2014
13,900
March 2014
14,765
February 2014
13,437
January 2014
11,386
December 2013
18,165
November 2013
16,172
October 2013
14,792
September 2013
13,828
August 2013
20,255
July 2013
15,652
(More Details)
© 1998-2014. All rights reserved. The material may not be published, broadcast, rewritten, or redistributed.