1967 Datsun 1600 news, pictures, specifications, and information

Tweet
| | | | |
| --- | --- | --- | --- |
| | | | Sport Roadster Convertible |
'The quality-minded sport car for the economy-minded people' was the advertising slogan for this automobile first shown at the Tokyo Auto Show in 1961.

This automobile was known as the 'Fairlady' until 1965. The engine is a 1600cc, 96 horsepower, 4-cylinder.

There never was an actual 'Datsun' firm. The name was created in 1931 by the DAT Motorcar Co. for a new car model, spelling it as 'Datson' to indicate its smaller size when compared to the existing, larger DAT car. Later, in 1933 after Nissan Motor Co., Ltd. took control of DAT Motorcar Co., the last syllable of Datson was changed to 'sun', because 'son' also means 'loss' in Japanese, hence the name 'Datsun.'

Datsun built by Nissan Motor Company LTD in Yokohama Japan was introduced as a concept car at the 1961 Tokyo Auto Show and was not released until 1965 as the 1600.

Production volume of the 1600 from 1965 to 67 was 10,400. This car is truly a love affair and was owned since 1973 and driven until 1980, stored until 2000 when the owner did a five year restoration of the 1600.

The engine is a 96hp 1600cc (thus the name 1600) overhead valve straight 4.
Sport Roadster Convertible
Chassis Num: 14328
Engine Num: 07826

Datsun's type number was SPL311 - S for Sports - and in Japan was known as the Fairlady, in the USA simply the 1600. Datsun goes back to the 19-teens: as DAT-son, son of DAT (initials of the surnames of the three founders) soon changed to Datsun because Datson sounded much like a word meaning 'to lose money!' The Bluebird overhead valve, 4-cylinder motor was both tough and powerful for the day - 96 horsepower at 5600 RPM and 77 lb of torque at 2800 RPM, with all synchro 4-speed. The car weighed close to 2000 pounds so performance was strong. At $2,446 it compared well with the MGB at $2,615 for similar performance on the road.
This 1967 Datsun 1600 Roadster is a rare steel dash model with toggle switches and short windshield. It was given a restoration in the early 2000s and finished in red metallic with tan interior and black convertible top. It has newer tires, new clutch, and AM/FM CD player, and the original spare and jack.
By Daniel Vaughan | Dec 2014
Datsun sports cars, in certain markets, were known as Fairlady. These were a series of roadsters produced in the 1960's and a predecessor to the Z car. The series designation for the Fairlady's included S212, S213, SP310, SP311, and SRL311.

In 1959 Datsun introduced a sports car, the S211, powered by 988 cc engine capable of producing just under 40 horsepower. Production was low with only 20 examples being produced. The following year the S212 was put into production outfitted with a slightly larger engine at 1.2 liter and producing nearly 50 horsepower. The S212 was the first vehicle to be adorned with the Fairlady name.

In 1961 performance was slightly increased with the adoption of a dual-carburetor, brining horsepower up to 60. Not bad for a small car. During its production lifespan lasting only two years, 217 examples were created.

The Datsun 1500 Roadster, the SP310, was introduced to the public at the 1961 Tokyo Motor Show. It was powered by a 1.5-liter four-cylinder engine capable of producing 77 horsepower. In 1964 a second SU carburetor was added and the horsepower increased to 85. A final revision of the 1500 was introduced in 1965, complete with a new interior. The dash layout was redesigned and the back seat was removed.

In 1966 a 96 horsepower engine was introduced and continued in production until mid-1970. This 1.6-liter power-plant meant the name of the 1500 Roadster was changed to the 1600, SP311, to reflect the new engine displacement size.

A 135 horsepower 2 liter engine, complete with dual SU carburetors, was introduced in 1967. Vehicles outfitted with this power-plant were referred to as the 2000 roadster, or SRL311. The Datsun 2000 was built for racing with hopes of creating a sporty image for Datsun. It was raced in SCCA in the D-Production class where it had very consistent strong finishes. Paul Newman was one of the more famous of the drivers to pilot the car. Production of the 2000 roadster ceased in 1970 when Datsun introduced the famous 240-Z car.
By Daniel Vaughan | Sep 2006
AROUND THE WORLD IN SEVEN DAYS WITH LUCAS ORDÓÑEZ
In 2014 Lucas Ordonez will race in a full season of Super GT in Japan. Since winning the first GT Academy competition in 2008, Lucas has raced for Nissan and already won two prestigious championships and taken two podium finishes in the Le Mans 24 Hours. Super GT is a new adventure for Lucas and he will be reporting on this challenge throughout the season in a series of blogs, the first of which is below. Welcome to my racing blog in which I will try to share with you my experiences both on a...[Read more...]
YOKOHAMA TIRE CORPORATION DEBUTING TWO NEW RADIAL OTR TIRES AT CONEXPO, MARCH 4-8
The RL45™ and RL51™ will be on display in booth #30412. Tire maker will also feature a new tread compound in the RT41™ FULLERTON, CA (Feb. 5, 2014) – Yokohama Tire Corporation is unveiling two new off-the-road (OTR) radial tires at the upcoming ConExpo trade show: the RL45™ and RL51™. The tires will be on display in Yokohama booth #30412 at the Las Vegas Convention Center, March 4-8. 'The new RL45 and RL51 spotlight our latest technology in OTR radial tire tread design,' said Tim Easter, ...[Read more...]
YOKOHAMA TIRE CORPORATION HIRES ROBERT HARRELSON AS VP OF HUMAN RESOURCES AND ADMINISTRATION
FULLERTON, CA. – (Oct. 2, 2013) – Yokohama Tire Corporation (YTC) has announced the hiring of Robert Harrelson as its new vice president of human resources and administration. With his appointment, Harrelson will be responsible for the integration of human resources strategies, plans and programs across all of YTC's North American operations. Harrelson replaces Rex Simpson, who retired in September. Prior to joining YTC, Harrelson was a senior director of human resources for Dr Pepper ...[Read more...]
ALL-NEW 2014 FIAT 500L EXPANDS FIAT BRAND'S PRODUCT LINEUP AND COMMITMENT TO INNOVATIVE AND VALUE-LOADED ITALIAN CARS
◾Loaded with value: all-new 2014 Fiat 500L arrives to FIAT studios this June with a starting price of $19,100 and four well-equipped models ◾Leveraging: taking the FIAT brand's DNA, the all-new Fiat 500L expands the appeal of the iconic 500 while adding two more doors plus best-in-class interior volume (120.1 cu. ft.) providing comfortable accommodations for five passengers ◾Large: a Fiat 500 designed on the new 'small-wide' vehicle architecture for 27 inches more length, plus six inches more ...[Read more...]
NISSAN LAUNCHES NEW ERA FOR NISMO AS ITS GLOBAL PERFORMANCE CAR AND MOTORSPORTS BRAND
•Redeveloped global headquarters in Yokohama heralds new era for NISMO •NISMO to create a range of affordable performance Nissan models from small cars to flagship sports cars •Juke NISMO is the first, followed by new 2014 370Z NISMO •New GT-R NISMO confirmed, the ultimate Nissan performance supercar •Nissan's global motorsports program to be managed by NISMO Nissan Motor Co., Ltd. today kicked off a new era for NISMO, confirming it as Nissan's exclusive global performance car and mot...[Read more...]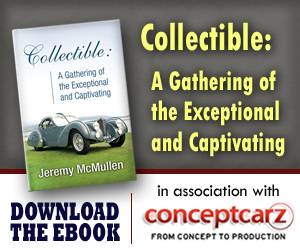 Similarly Priced Vehicles from 1967
Mercury Comet Caliente ($2,540-$2,820)
Mercury Comet ($2,284-$3,000)
Ford Fairlane ($2,295-$3,065)
Chevrolet Chevelle Series ($2,200-$3,020)
Chevrolet Corvair Series ($2,130-$2,545)
Chevrolet Biscayne Series ($2,440-$2,900)
Chevrolet Bel Air Series ($2,500-$3,105)

Average Auction Sale: $7,112
© 1998-2014. All rights reserved. The material may not be published, broadcast, rewritten, or redistributed.