1959 Chevrolet Apache news, pictures, specifications, and information

Tweet
For 1959, Chevrolet made minor design changes for its popular light-duty Apache pickup truck, which included new interiors and a wider selection of colors to select from. In total, Chevy offered five different exterior colors.

The 'wrap-around' windshield, a truck industry first, was introduced on Chevrolet's pickup trucks in 155. Power steering and power brakes became available for the first time on GM trucks. The electrical system was upgraded to 12 volts and 1955 was the only year for the 7-foot bed length. The following year, the trucks received a wider hood emblem. 1956 would be the final year for the eggcrate grille. The open grille would be a one-year only design feature in 1957. The hood became flatter and featured two spears on top, in similar fashion to the Bel Air.

1958 was the first year for the fleetside bed. Also, the truck was given a significant redesign in the front. All the 1/3-ton trucks were now called Apaches. Four headlights were in the front instead of the prior year's two-light setup.

For 1959, one of the more visual changes was the larger and more ornate hood emblem. The badging on the fenders was also redesigned.

The Apache had a ball-gear steering, large brakes, cast spoke or disc wheels, and high capacity front axles. There were tubeless tires, dual headlamps, and a parallel-design frame. Six and eight cylinder engines were available, and many other options to accommodate small to large jobs.
By Daniel Vaughan | Jan 2013
This 1959 Chevrolet Apache Pickup is finished in teal and white which is an original color combination. This fleetside pickup has a short box and big back window. The truck has recently undergone a complete 2012 cosmetic restoration. The original 6-cylinder engine is reported to be in good condition and the clutch is new in the 4-speed transmission.
By Daniel Vaughan | Jan 2013
NAPCO, the Northwestern Auto Parts Company of Minneapolis, MN, began selling their 'Powr-Pak' 4x4 Conversions in 1942 to owners of GMC and Chevrolet pickups - and many other brands. By 1956, GM began to offer the NAPCO drive as a regular production option (RPO). 1959, however, would be the final year of this arrangement, as a redesign of the suspension for 1960 meant that GM would market its own system. As a result, the NAPCO equipment was no longer compatible.

This 1959 Chevy 3100 Fleetside Deluxe truck is equipped with the NAPCO 4-Wheel-Drive Model 23 transfer case. It has been given a comprehensive and careful restoration. It is finished in Bombay Ivory and Frontier beige paint. There are chrome bumpers, grill, hubcaps, side spears and windshield visor, door handle guards, oil bath filter, lighter, 2-speed wipers and heavy-duty factory radiator speaker. Inside, the interior has the correct woven pattern cloth, AM radio and heater/ defroster. The dashboard displays the all-wheel drive operating instruments. Power is from a Thriftmaster 6 and there is a four-speed manual transmission. It has all its correct stickers, hoses, clips, clamps, and tags.

This truck has won at the 2011 Desert Classic Concours where it was chosen 'Best Non-Passenger' vehicle and the Palm Springs Cruiser's Association Car Show 'Sponsor's Pick' in 2012.

In 2013, the car was offered for sale at Bonhams Auction in Scottsdale, Arizona. As bidding came to a close, the car had been sold for the sum of $66,700 including buyer's premium.
By Daniel Vaughan | Feb 2013
In late 1955, Chevrolet introduced the Task Force - the successor to the Advanced Design trucks - and would remain in production through 1959.

In 1954, Ford introduced a modern overhead valve V8 engine, beating Chevrolet to market. Though the Chevy OHV V8 was a year behind Ford, the small block 265 cubic-inch V8 quickly gained popularity. It was offered in the Corvette and Be Air and was very popular among stock car racers, earning the nickname the 'Mighty Mouse' motor. By 1958, the engine had grown to 283 cubic-inch. With the optional Rochester mechanical fuel injection system, it was one of the first production engines to make one horsepower per cubic inch.

For 1955, the all-new Chevy Trucks were called 'Task Force.' They were given the industry's first wraparound windshield (Chevy advertising called it a 'Sweep-Sight Windshield.'). This design was first seen a year prior on the Buick LeSabre Concept Motorama show car. Other features of the truck included shrouded headlights in visored fenders, concealed running boards, an egg crate grille, and an optional 'full view (wraparound) window.' The fenders had single headlights and there was a one-piece emblem mounted below the horizontal line on the fender.

The Task Force pickups were given power steering, power brakes, overdrive for half-ton pickups, 12-volt electrical system, tubeless tires, and key-turn starts. Series 3000 pickups were given a four-speed automatic transmission.

The wheelbase size for the half-ton pickup measured 114-inches. They had a 78 1/8 long by 50-inch wide cargo box with flat flares, and hardwood floor with steel skid strips. An optional side mounted tire carrier could also be purchased.

A Model 3204 long box 1/2-ton pickup was new for 1955. It rested on a 123.25-inch wheelbase and had a 90-inch long by 50-inch wide cargo box. The Model 3604 3/4-ton pickup had a 123.25-inch wheelbase and carried the same cargo box as the long box half-ton pickup. The long box 1/2-ton had a VGW of 5000 pounds while the 3/4-ton had a GVW of 6,900 pounds.

The standard engine was the 235.5 cubic-inch Thriftmaster six which offered 210 ft-lb of torque and just over 120 horsepower. The optional 265 cubic-inch Trademaster V8 developed 250 ft-lb of torque and 130 net horsepower. Several transmissions were available including a three-speed synchromesh with optional overdrive, a heavy-duty three-speed, a four-speed automatic and a four-speed synchromesh.

The 1-ton Pickup was the Model 3804 resting on a 135-inch wheelbase with a 108.25-inch long by 50-inch wide cargo box. It had a 7,000 pound GVW and a payload rating of 3,100 pounds.

Also available was the Model 3124 Cameo Carrier. These were available in two-tone exterior colors of Bombay Ivory and Commercial Red. These helped pave the way for the El Camino.

The Cameo Carriers offered many car-like features for the pickup truck, including fiberglass rear fenders, two-tone paint, a relatively luxurious interior, optional V8 engines, automatic transmission, and power assists.

1955 was the only year for the 7-foot bed lengths.

For 1956, Chevrolet gave their 'Task Force' pickups a wider hood emblem and the two-piece fender emblems were now mounted above the horizontal fender line. This would also be the final year for the egg crate grille.

For 1957, the trucks were given a more open grille. This would be a one-year only design, as for 1958 the grille was again changed.

For 1958, Chevrolet re-named the light-duty trucks to Apaches. The medium-duty trucks were called Vikings and the heavy-duty trucks were called Spartans. Design changes included four headlights instead of the previous two. There were given a shorter and wider grille which ran the width of the front end. Parking lights were now located in the grille instead of being in the front of the fender. This was also the first year for the factory-equipped air conditioning.

The Fleetside Pickup box was introduced mid-year of 1958. This was Chevrolet's first cab wide (75 inches) pickup. With the introduction of the Fleetside, Chevrolet discontinued the Cameo Carrier. In 1959, they introduced the El Camino.
By Daniel Vaughan | Feb 2014
For more information and related vehicles, click
here
BARRETT-JACKSON'S 43RD ANNUAL SCOTTSDALE AUCTION PROVES TO BE THE MOST SUCCESSFUL IN COMPANY HISTORY, EXCEEDING $113 MILLION
Barrett-Jackson Hosted Top-Tier Celebrities, Auto Legends, Auctioned the World's Most Sought-After Blue Chip Vehicles, Awarded Two Guinness World Records and Set World Records for Rare Corvettes and Thunderbird HIGHLIGHTS: • 1399 cars sold • Over $113 million gross sales • An estimated 300,000 attendees • 14 vehicles sold to benefit various national and local charities SCOTTSDALE, ARIZ. (Jan. 21, 2013) – Barrett-Jackson, The World's Greatest Collector Car Aucti...[Read more...]
Gooding & Company Celebrates 10th Anniversary as Global Appreciation of Cars Push Markets to New High in 2013
SANTA MONICA, Calif. (November 11, 2013) – The mystique of collectable cars continues to expand enthusiasm and buyer participation around the globe. In 2013, Gooding & Company, the auction house acclaimed for selling the world's most significant and valuable collector cars, celebrated its 10th anniversary and saw new and returning bidders flock to its three auctions. Demonstrating Gooding & Company's power in the marketplace is an annual auction total of $192.6 million for 286 lots with a...[Read more...]
1975 Learjet 35 To Be Auctioned Off At Upcoming Barrett-Jackson Palm Beach
The World's Greatest Collector Car Auctions to Offer One-of-a-Kind Classic Aircraft During Sale on Saturday, April 6 Vintage, restored airplanes may be nothing new for Barrett-Jackson, but the stunning 1975 Learjet 35 Fixed-Winged Jet (Lot #770) that will be offered up for sale on Saturday, April 6 at the upcoming 11th annual Palm Beach auction will certainly be a sight to see. The magnificent aircraft will be presented by one of the nation's premier air-ambulance services, Angel MedFl...[Read more...]
Barrett-Jackson Flavors Its January Scottsdale Auction With NASCAR Treats
• RACING HERITAGE, HIGH PERFORMANCE ARE RECIPES FOR CAR-COLLECTING FEAST
• SPEED™ SET FOR 39 HOURS of LIVE COVERAGE STARTING JAN. 15
The great Henry Ford once said, 'Auto racing began five minutes after the second car was built.' And for more than 60 years, there are few entities that better represent auto racing in America than NASCAR. From the hallowed grounds of Daytona International Speedway, to Sonoma, California's intricate and picturesque road course, the sp...[Read more...]
TOPLINE COLLECTORS PLACE SPOTLIGHT on SPEED'S BARRETT-JACKSON BROADCAST FROM SCOTTSDALE
• TOPLINE COLLECTORS PLACE SPOTLIGHT on SPEED'S BARRETT-JACKSON BROADCAST FROM SCOTTSDALE
• 'LOST' SHELBY DUAL PROTOTYPE, HAGERTY GIVEAWAY & SALON COLLECTION HIGHLIGHT 39 HOURS OF LIVE COVERAGE
The 42nd annual Barrett-Jackson Scottsdale (Ariz.) Collector Car Event, the first of four set for live coverage in 2013, kicks off the auction season in grand style as some of the world's most sought-after machines cross the block starting Tuesday, Jan. 15 at 7 p.m. ET/4 p.m. PT. SP...[Read more...]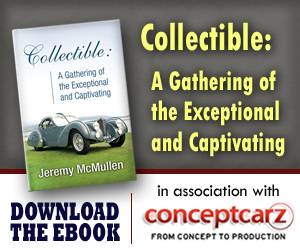 Chevrolet
Monthly Sales Figures
Volume
December 2014
184,938
November 2014
149,673
October 2014
155,965
September 2014
153,873
August 2014
185,930
July 2014
175,155
June 2014
188,567
May 2014
205,010
April 2014
181,648
March 2014
179,681
February 2014
153,913
January 2014
119,089
(More Details)
© 1998-2014. All rights reserved. The material may not be published, broadcast, rewritten, or redistributed.