1930 Packard 733 news, pictures, specifications, and information

Tweet
Packard: a premier luxury and quality built automobile from 1899 to 1958. While founded in Warren, Ohio, Packard is best known for their Detroit, Michigan produced automobiles. Unique symbols such as the trademark red hexagon and Coat of Arms readily identify the marque. Their radiator ornaments were equally graceful and well known with the most famous being The Goddess of Speed, Adonis at the Well, and the Cormorant. Their most memorable slogan was 'Ask the Man Who Owns One.'

This Packard features engine capable of producing 110 horsepower & 3200 rpm. It is a flathead straight-eight that displaces 321 cubic-inches.

This automobile was restored nearly 35 years ago and is used continuously during the summer for touring.
Packard, for a period of time, was a very successful company, selling more automobiles than all other fine car brands combines. The Packards were popular with the social elite, wealthy, captains of industry, and those who treasured quality automobiles.

With the introduction of the Seventh Series of Packards introduced a single flowing fender line from the crown of the fender to the running board. Underneath the long and graceful bonnet was an eight-cylinder engine mated to a four-speed manual gearbox. The cars featured a Bijur chassis lubrication systems and four-wheel assisted mechanical drum brakes. Amenities that were common to the vehicles were a single center driving lamp, white wall tires, cowl mounted spot lights, grille guard, wind wings, and a single, rear mounted spare tire.

The Seventh Series Packard Standard Eight was available in either the 127.5-inch form (known as the 726), and the 134.5-inch size (known as the 733). In total, there were 15,731 Model 726 sedans produced in 1929, and 12,531 Model 733. The 726 was available only as a sedan while the 733 was available as a Roadster, Phaeton, Sport Phaeton, 7-passenger sedan, sedan Limousine, 4 and 5 passenger coupe, club sedan, and 7-passenger touring car. Power was from a 319.2 cubic-inch straight eight L-head engine capable of producing 90 horsepower. Prices ranged from $2300 - $2775.
By Daniel Vaughan | May 2009
It's not generally known that the Packard Motor Company started in Warren, Ohio before moving to Detroit in 1903.

By 1930, when this Packard 733 club sedan was built, the company had established itself as one of the finest luxury automobile manufacturers in the world.

One of the most handsome closed car bodies on any chassis was the club sedan. This seventh series Packard 733 is powered by the famous Packard straight eight engine, which developed 90 horsepower. Wheelbase was 134.5-inches. The club sedan was priced at $2,695. Side mounted spares, wood spoke wheels and Trippe lights were extra.
In 1930, Packard sold 28,318 cars, priced from $2,375 to $5,350. Their sales success made them a leading luxury marque at the start of the Classic era. They were one of the oldest car companies in American, with the first Packard built in 1899. They began life as the Ohio Automobile Company based in Warren, Ohio. In 1902, they became the Packard Motor car Company and a year later, moved to Detroit.

Known as the Seventh Series Packards, all cars were powered by Packard's famous L-head straight eight engine. The 733 Series developed 90 horsepower from 319 cubic-inches. New for 1930 was an updraft Detroit Lubricator carburetor.

By 1930, Packard had become the sales leader among American luxury makes. But tougher times lay ahead as the Great Depression grew worse and independent American automobile manufacturers began to disappear.

This particular Model 733 Packard is a Convertible Coupe riding on a wheelbase that measures 134.5-inches. It is powered by a 90-horsepower straight eight engine. This car has been disassembled and stored in boxes for many years, until the current owner undertook a complete frame-off restoration.
This 1930 Packard 733 Club Sedan was sold by the Earle C. Anthony Packard dealership in California. It was shown at the 2010 Meadow Brook Concours d'Elegance after having just completed a 2.5-year restoration. The car features 19 original Packard accessories and dealer upgrades.
By Daniel Vaughan | Aug 2010
Magic moments: 120 years of Mercedes-Benz motor sport: history at the Retro Classics show from 13 to 16 March 2014
•Mercedes-Benz Classic presents highlights in the history of the DTM in hall 7 at the show in Stuttgart •Strong presence by the company and the brand clubs at southern Germany's leading show for automotive classics •Fascinating dialogue between competition models and the top-of-the-line C-Class models from Mercedes-AMG 120 years of motor sport history at Mercedes-Benz also stand for twelve decades in a culture of ongoing innovation for series production cars which is fuelled by strong impul...[Read more...]
Auctions America Continues Successful 2013 Season with its Annual Fall Carlisle Sale
• Auctions America rounds out its 2013 auction season in Carlisle, Pennsylvania, October 3-4 • Two-day Fall Carlisle sale, held in conjunction with the Carlisle Events Collector Car Swap Meet & Corral, features a diverse roster of 300 classics, exotics, muscle cars, hot rods, and customs • Auction highlights include a desirable 1967 Chevrolet Corvette 427/435 Roadster, a 1969 Chevrolet Camaro Z-28 RS Sport Coupe, and a 1960 Mercedes-Benz 190SL Roadster • Full event details and a frequentl...[Read more...]
Goodwood Festival of Speed 2013: auction of Mercedes-Benz W 196 R one of highlights at world's 'largest motorised garden party'
• Mercedes-Benz Classic presents great moments in motor-racing history at Goodwood • Motorsport festival celebrating its 20th anniversary • Auction of only privately owned post-war Silver Arrow by Bonhams sure to cause a stir Stuttgart – This year's Goodwood Festival of Speed in West Sussex, England, includes the auction of a Mercedes-Benz Type W 196 R Grand Prix racing car on 12 July 2013. The auction will be one of the highlights of a weekend dedicated to motor sport. Mercedes-Benz...[Read more...]
BUICK TURNS 110: MOST SIGNIFICANT BUICK OF EACH DECADE
DETROIT – Remaining in business for 11 decades requires constant innovation, so choosing one model to represent a decade of significance can be a catalyst for debate. Among the hundreds of models designed and engineered for Buick, the 11 below stand out as the most significant for their respective decades since May 17, 1903. Let the debate begin. ◾1903-1912: The first Buick ever is quite significant, so Buick's first decade honor goes to the 1904 Model B. The first one of the line was so...[Read more...]
Auctions America By RM's 2012 Auburn Spring Auction
'Variety' is the buzzword for this year's Auctions America by RM June 1-3 Auburn Spring auction, which will offer a huge range of collector vehicles and an enormous private collection of automotive memorabilia. More than 600 American muscle cars, Classics, foreign sports cars and hot rods will cross the block at the historic Auburn Auction Park, the company's national headquarters in Auburn, Indiana. 'Last year was our first spring event at the park,' said Auctions America by RM's President ...[Read more...]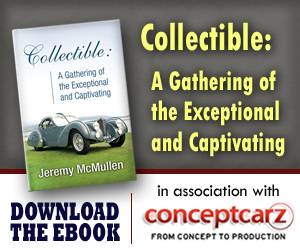 Similarly Priced Vehicles from 1930
Cord L-29 ($2,590-$3,000)
LaSalle Model 340 ($2,450-$3,995)
Pierce Arrow Model C ($2,700-$2,900)
Studebaker President ($1,795-$2,795)
Marmon Big 8 ($2,695-$2,995)
Franklin Series 147 ($2,600-$7,500)

Average Auction Sale: $65,157
© 1998-2014. All rights reserved. The material may not be published, broadcast, rewritten, or redistributed.