1932 Pierce-Arrow Model 53 news, pictures, specifications, and information

Tweet
This Pierce-Arrow is a 1932 Model 30 Touring Sedan and powered by a twelve cylinder engine. It has dual side mounted tires, both are enclosed, and a rear trunk for carrying cargo. This car is in excellent condition with a very attractive two-tone paint scheme. There are white wall tires which adds to the allure of the vehicle. It is seen here at the 2007 Eastern Concours of the United States. It returned two years later for the 20th Anniversary of the event.

A Pierce-Arrow 1932 12-cylinder Model 53 chassis, identical to this car, won the 24-Hour World Land Speed Record at the Bonneville Salt Flats with an average speed of 127 mph for 27 hours (stock). The driver was Ab Jenkins, 'The Mormon Meteor,' who was later Mayor of Salt Lake City. Jenkins drove the entire 27 hours without a co-driver. He used a 1934 supercharged Duesenberg race car in 1934 to add only 5 mph to his Pierce-Arrow record.

This car was restored entirely 20 years ago by Eddie Cobb of Ohio on behalf of Tom Welch of Cambridge. Only 286 12-cylinder chassis were built in 1932. This car was awarded the Vandeveer Trophy, the preeminent trophy given each year by the Pierce-Arrow society.
By Daniel Vaughan | Mar 2010
Pierce-Arrows were stately vehicles that commanded admiration and respect and had a price tag to match. The individuals who bought the most elite Pierce-Arrows were individuals that were high on the social ladder and cost was not an issue. The Pierce-Arrow catered to every demand and request, even keeping special colors on hand for important families and only using those colors for those vehicles and non-others. Most of the vehicle was custom, including the carpets, luggage, trunks, and seats. The Pierce-Arrows were more than just a custom and exclusive automobile, they were also known for their quality, reliability, performance, and sophistication.

The slow demise of the Pierce-Arrow Company began when other marques moved away from custom built automobiles to production lines. The mass produced vehicles raised the bar on quality and dependability. Though they could not guarantee exclusivity, they could guarantee a better product at a better price. When Cadillac introduced their 16-cylinder engine in 1929, Pierce-Arrow knew they had to improve their 12-cylinder engine to stay competitive. The Twelve was introduced in 1932 and came equipped with a 452 cubic-inch engine capable of producing 150 horsepower, just slightly below the output of the V16. By 1933, Pierce-Arrow had raised the output of their engine to 175 and the public approved, buying many examples and setting new sales records for Pierce.

1932 was a great year for the Pierce-Arrow Twelve. Ab Jenkins drove a 33,000 mile prototype to the salt flats of Bonneville. he set several records and then drove 2000 miles back to Buffalo. He returned the following year and set nearly 80 new records.

Unfortunately, the Great Depression was taking its toll on the company. Negotiations to merge with Auburn and Reo failed and Pierce-Arrow entered into bankruptcy. Buffalo business rescued the failing company, raised money and cut the work-staff by half. Sales improved for a short while but not enough to sustain the company. In 1937 the company closed its doors forever.
By Daniel Vaughan | Mar 2006
For more information and related vehicles, click
here
JAGUAR LAND ROVER REPORTS U.S. SALES FOR NOVEMBER 2013
• Jaguar Land Rover North America increases 37 percent in November, for its best November sales result since 2005
• Jaguar continues industry-leading growth streak with 103 percent growth in November on new XF and XJ All Wheel Drive models and F-TYPE sales
• Land Rover brand has its best ever November sales increasing 25 percent on strong Range Rover and Range Rover Evoque demand
(MAHWAH, NJ) - December 3, 2013 - Jaguar Land Rover North America today reported No...[Read more...]
THE 2014 RANGE ROVER SPORT NAMED TO ROAD & TRACK'S 'BEST CARS' LIST OF 2013 IN THE SUV CATEGORY
(MAHWAH, NJ) – November 14, 2013 – Land Rover announced today that the all-new 2014 Range Rover Sport has been named to Road & Track's first ever 'Best Cars' list of 2013 in the 'SUV' category. Road & Track's first annual 'Best Cars' list distinguishes the best new automobiles and trucks of the year and the honorees are recognized in the December 2013/January 2014 issue, available on newsstands now. 'We're thrilled to be recognized among Road & Track's list of 'Best Cars' in 2013,' ...[Read more...]
Cadillac's 'Sixteen' Headlines The Amelia Concours d'Elegance Cadillac Concept Car Class
Cadillac's 2003 'Sixteen' will headline the 18th annual Amelia Concours d'Elegance's Cadillac Concept Car Class. A decade ago, the elegant excess of Cadillac's 'Sixteen' Concept Car set off alarms throughout the global auto industry as it rolled into the North American International Auto Show. Cadillac's 'Sixteen' Concept Car is a 1000 horsepower 13.6 liter V-16, 5000 pound, 19 foot long engineering and design statement taking conceptual cues from the legendary Cadillac V-16s of the 1...[Read more...]
WHAT'S YOUR INTERNATIONAL HISTORIC CAR OF THE YEAR?
Voting is now open in the Car of the Year category in the International Historic Motoring Awards, in association with EFG International and Octane magazine. To have your say in what should be celebrated in 2012, visit the Car of the Year page on www.historicmotoringawards.com and cast your vote by the closing date of November 9th. In 2011 the magnificent Porsche Type 64 Rekordwagen belonging to the Prototyp Museum in Hamburg scooped the award and, for 2012, six headline-making cars (or, in o...[Read more...]
Vicari Auction Hits $3.4 Million At Biloxi Event
Rare 1969 M Code Corvette is Top Sale at $152,000 The Vicari Auction Company announces total sales for their 16th annual Biloxi Auction reached $3.4 million, excluding buyer's premium. More than 300 vehicles crossed the block during the event, which took place Oct. 12-13, 2012, at the Mississippi Coast Coliseum & Convention Center in Biloxi, Miss. 'We strive to create an entertaining and customer-focused environment for collector car enthusiasts, and this year's record-break...[Read more...]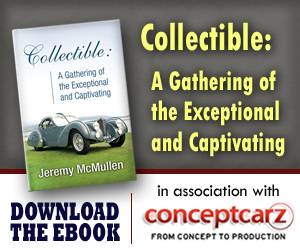 © 1998-2014. All rights reserved. The material may not be published, broadcast, rewritten, or redistributed.