1932 Pierce-Arrow Model 53 news, pictures, specifications, and information

Tweet
This Pierce-Arrow is a 1932 Model 30 Touring Sedan and powered by a twelve cylinder engine. It has dual side mounted tires, both are enclosed, and a rear trunk for carrying cargo. This car is in excellent condition with a very attractive two-tone paint scheme. There are white wall tires which adds to the allure of the vehicle. It is seen here at the 2007 Eastern Concours of the United States. It returned two years later for the 20th Anniversary of the event.

A Pierce-Arrow 1932 12-cylinder Model 53 chassis, identical to this car, won the 24-Hour World Land Speed Record at the Bonneville Salt Flats with an average speed of 127 mph for 27 hours (stock). The driver was Ab Jenkins, 'The Mormon Meteor,' who was later Mayor of Salt Lake City. Jenkins drove the entire 27 hours without a co-driver. He used a 1934 supercharged Duesenberg race car in 1934 to add only 5 mph to his Pierce-Arrow record.

This car was restored entirely 20 years ago by Eddie Cobb of Ohio on behalf of Tom Welch of Cambridge. Only 286 12-cylinder chassis were built in 1932. This car was awarded the Vandeveer Trophy, the preeminent trophy given each year by the Pierce-Arrow society.
By Daniel Vaughan | Mar 2010
In the intervening years between World War I and World War II there would be a handful of luxury automobile makers in the United States. There would be the Duesenbergs, and then Cadillac. However, it would be hard not to have the three 'P's come to mind first. One of those three would be headquartered in Buffalo, New York—Pierce-Arrow.

Pierce-Arrows' fame would actually begin in the years before the Great War. In the early part of the 20th century, George Norman Pierce would earn a number of endurance race victories at the wheel of the Great Arrow. Known for performance and reliability, Pierce's four-cylinder automobile would win the Glidden Trophy in 1905 and would lead to a new factory complex being built for production the following year.

Just three years later, Pierce would be dead and the company renamed The Pierce-Arrow Motor Car Company. Prior, Pierce's automobiles had earned a solid reputation for performance and reliability. However, luxury would also be a part of the company's canon and this would lead to presidential limousines and other estate vehicles being built by the company.

In the late-1920s, Studebaker would come to control Pierce-Arrow. Beginning in 1928, the Studebaker and Pierce-Arrow union would prove to be a rather short partnership with Pierce-Arrow benefiting perhaps the most as a result of Studebaker's dealer network.

During that time, Pierce-Arrow would introduce a new engine. Gone would be the six-cylinder that had made the company famous. Instead, the company would introduce an L-head straight-eight and 12-cylinder engine.

Given the somewhat ostentatious history of Pierce-Arrow automobiles, it was not inconceivable the company would advertise their automobiles in much the same way. They had a new design they wanted to debut to the public. What better way was there to prove performance could look good than by hiring the famed Ab Jenkins to power one of these new models down the salt flats at Bonneville.

The publicity stunt would consist of several tests. Driving a specially-prepared 1932 Model 53 Roadster, Jenkins would drive for 24 hours averaging nearly 113mph. Captured in a documentary film, the Model 53 Roadster can be seen streaking over the salt at some truly impressive speeds for a luxury automobile.

Chassis 2050118 would be produced in 1932 and would be identical to the one Jenkins would use in his efforts. Being identical to Jenkins' example means this particular chassis is one of only six short-wheelbase Model 53 Convertible Roadsters ever to be produced by Pierce-Arrow. But what makes 0118 of particular note is the fact that only three of those six are known to still exist.

The car's known history extends back to the 1960s when Wally Rank owned the car and had it as part of his collection. He would, however, sell it to another collector Al Freddendahl. Freddendahl would hold onto the Pierce-Arrow until 1979 when an east coast collector came along and purchased the car. Tom Welch of Ohio would purchase the car in 1991, but would turn back around and sell it to the previous owner in 1997.

A most attractive example of the Classic Era Pierce-Arrows, this 1932 Pierce-Arrow Model 53 Convertible Roadster is no mere Pierce-Arrow. Among the rarest of the rare, this car is an exquisite piece of automotive design. Touched with elements of chrome and finished in silver with black and red pinstriping, the car sports a splendid contrast that draws eyes to itself. It is a true Pierce-Arrow.

A highlight of the 2014 Hershey auction hosted by RM Auctions, the Pierce-Arrow roadster would be a highly-anticipated part of the auction lineup. Pre-auction estimates valued the car between $275,000 and $375,000. However, when the car made its appearance the excitement would turn into spirited bidding with a sale price of $407,000 being realized.
By Jeremy McMullen
Pierce-Arrows were stately vehicles that commanded admiration and respect and had a price tag to match. The individuals who bought the most elite Pierce-Arrows were individuals that were high on the social ladder and cost was not an issue. The Pierce-Arrow catered to every demand and request, even keeping special colors on hand for important families and only using those colors for those vehicles and non-others. Most of the vehicle was custom, including the carpets, luggage, trunks, and seats. The Pierce-Arrows were more than just a custom and exclusive automobile, they were also known for their quality, reliability, performance, and sophistication.

The slow demise of the Pierce-Arrow Company began when other marques moved away from custom built automobiles to production lines. The mass produced vehicles raised the bar on quality and dependability. Though they could not guarantee exclusivity, they could guarantee a better product at a better price. When Cadillac introduced their 16-cylinder engine in 1929, Pierce-Arrow knew they had to improve their 12-cylinder engine to stay competitive. The Twelve was introduced in 1932 and came equipped with a 452 cubic-inch engine capable of producing 150 horsepower, just slightly below the output of the V16. By 1933, Pierce-Arrow had raised the output of their engine to 175 and the public approved, buying many examples and setting new sales records for Pierce.

1932 was a great year for the Pierce-Arrow Twelve. Ab Jenkins drove a 33,000 mile prototype to the salt flats of Bonneville. he set several records and then drove 2000 miles back to Buffalo. He returned the following year and set nearly 80 new records.

Unfortunately, the Great Depression was taking its toll on the company. Negotiations to merge with Auburn and Reo failed and Pierce-Arrow entered into bankruptcy. Buffalo business rescued the failing company, raised money and cut the work-staff by half. Sales improved for a short while but not enough to sustain the company. In 1937 the company closed its doors forever.
By Daniel Vaughan | Mar 2006
For more information and related vehicles, click
here
JAGUAR LAND ROVER REPORTS U.S. SALES FOR JUNE 2014
◾Jaguar Land Rover North America sales increase 4 percent in June, for its best June sales month result since 2007 ◾Land Rover brand has its best June sales month since 2007 ◾Best Range Rover Evoque and Range Rover Sport June sales month ever ◾Jaguar F-TYPE lineup, now featuring Coupe and Convertible models, increase 3 percent (MAHWAH, NJ) - July 1, 2014 - Jaguar Land Rover North America today reported June 2014 U.S. sales: Land Rover sales reached 4,038 units, up 16 percent from 3,...[Read more...]
DANA ENABLES EFFICIENCY, PERFORMANCE OF AWARD-WINNING VEHICLES
MAUMEE, Ohio, Jan. 23, 2014 - Technologies from Dana Holding Corporation (NYSE: DAN) are enabling award-winning vehicles and engines to operate at peak efficiency and performance. The company's technologies are prominent on the 2014 Motor Trend Car and Truck of the Year, the North American Car and Truck of the Year, the Green Car of the Year, and six of this year's Ward's 10 Best Engines. Dana's innovative technologies help automakers increase overall vehicle performance and efficiency...[Read more...]
MULSANNE LE MANS LIMITED EDITION MAKES NORTH AMERICAN DEBUT AT PEBBLE BEACH
Continental Range of Le Mans Limited Edition models on display • 1931 Bentley 4½ Litre Supercharged Le Mans headlines a series of vintage Bentleys to be auctioned during the Monterey Classic Car Week (Pebble Beach, 13 August 2013). The past meets the present for Bentley this year as California's Monterey Peninsula is primed for a week of the world's most coveted historic automobile displays and events. Bentley continues to celebrate the 90th Anniversary of the Le Mans 24 Hour...[Read more...]
Bentley Ready For Classic Thousand Mile Challenge
•Iconic Bentley Blowers ready for great Mille Miglia adventure •Bentley Continental W12 and V8 models join historic cars in Italy (Crewe, England & Brescia, Italy. 16 May, 2012) W.O. Bentley's gift for creating cars that combined the speed of a thoroughbred racing machine with an enviable reputation for strength and comfort, allowing them to effortlessly cover hundreds of miles, is set to be underlined once again at the 2012 Mille Miglia when two 4½ litre Bentley Blowers take on the ...[Read more...]
JAGUAR EXPANDS POWERTRAIN CHOICE WITH TWO ADDITIONAL FORCED-INDUCTION PETROL ENGINES
As Jaguar expands its product offer in key global markets it is introducing two additional petrol units to its range to enhance customer choice; the new 3.0-litre V6 Supercharged Petrol, and the 2.0-litre I4 Turbocharged Petrol. Adrian Hallmark, Global Brand Director, Jaguar Cars, said: 'Jaguar currently has its strongest range of products for several decades. Our continued growth is dependent on two things; activating the awareness of the brand, and expanding our range to enable us to access...[Read more...]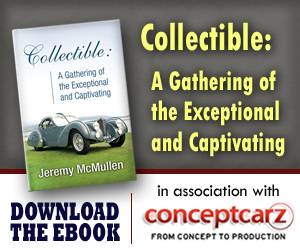 © 1998-2014. All rights reserved. The material may not be published, broadcast, rewritten, or redistributed.