1947 Pontiac Streamliner news, pictures, specifications, and information

Tweet
| | | | |
| --- | --- | --- | --- |
| | | | Six Cylinder Standard Station Wagon |
For 1947, the Pontiac Streamliner came in two series, the Six Series 26 and the Eight Series 28. The six series was powered by a six-cylinder L-head engine that produced 90 horsepower. The Eight Series had an eight-cylinder engine which produced 103 horsepower.

The base bodystyle, the two-door sedan coupe with seating for five, would set the buyer back $1360. The top of the line of the Streamliner Six Series was the four-door deluxe station wagon, which cost just over $2000. The Eight Series had a price that ranged from $1400 - $2110. Bodystyles for both series included Coupe, Sedan, and Station Wagon.

Little changed for the Streamliner in 1947; they carried over the same designs and features as the prior year. Only slight changes were made and those were to the vehicles aesthetics, such as the trim and grille.

This 1947 Pontiac Streamliner Station Wagon was on display at the 2007 Eastern Concours of the United States. It is an elegant 'woody' wagon, with no visual blemishes, scratches, or flaws. An excellent example and well maintained wagon of the 1947 Streamliner.
By Daniel Vaughan | Jul 2007
Automobile production in the US was halted during the Second World War; when it resumed in 1945, most marque's vehicles were basically 1942 designs and technology. Small updates were usually made, such as updates to the fenders, trim, and grille.

The Streamline Woodie Station Wagon was offered for the first time in the post War era, in 1947. It was available with either a six or eight-cylinder engine. The eight-cylinder was more popular and outsold the six. The Woodie Wagon was the most expensive of the body styles offered, which included a Convertible, Coupe and Sedan. The price to own the Woodie Wagon was $2,282.

This example is finished in green with a light brown colored interior. It has had some restoration and maintenance since new, but it is mostly original.

This 1947 Pontiac Streamline Woodie Wagon was offered for sale at the 2007 Monterey Sports & Classic Car Auction presented by RM Auctions, where it had an estimated value of $50,000 - $70,000. It left the auction under new ownership, having been sold for $58,300 including buyer's premium.
By Daniel Vaughan | Dec 2007
| | | | |
| --- | --- | --- | --- |
| | | | Six Cylinder Standard Station Wagon |
Even before the automobile, horse-drawn wagons carried people and luggage from the train station to their hotels or other destinations....hence the term, 'station wagons.' Early self-propelled station wagons evolved from trucks and were typically commercial vehicles rather than personal automobiles. Their wood framing was left unsheathed because of this commercial nature.

While commercial in their origins, station wagons began to take on an aura of prestige during the mid-1930's. Priced higher than regular cars, they became popular in affluent communities, especially among country club social sets. Pontiac introduced its first station wagon in 1937. Cachet aside, wood-bodied station wagons required constant maintenance, including recoating the varnish.

This example, a 1947 Streamliner Station Wagon, offers seating for eight and is powered by a 289.9 cid 'straight-eight' engine rated at 103 horsepower. Originally priced at $2,111, it was the most expensive Pontiac offered for 1947. The body was manufactured by Ionia Manufacturing Company, of Ionia, Michigan. Ionia produced 18,791 Pontiac wagon bodies from 1946 to 1948, the last year a full wood-body Pontiac station wagon was offered.

Prior to obtaining this car, the current owner searched for many years for a Pontiac Station Wagon produced in 1947, the year of their births. Their family has sold Pontiacs in Reading, PA since the brand was introduced in 1926.
| | | | |
| --- | --- | --- | --- |
| | | | Six Cylinder Standard Station Wagon |
Streamliners represented Pontiac's B-Body line, which was their first new offering since the War. They can be identified by their straight-back Indian hood ornament, and 'speedline' fender ribs. Series 28 Pontiacs, like this example, were equipped with 249 cid L-head inline 8-cylinder engines. Station wagons can comfortably seat eight adult passengers. Collectors now consider this car one of the most desirable 'Woodies' ever built by General Motors.
Though the name Pontiac didn't find it itself on a car until 1926, the marque actually dates back to 1893 when Edward M. Murphy founded the Pontiac Buggy Company in Pontiac, Michigan. The town had gained its name from a mighty Indian chief who was responsible for banding together the Chippewas, Ottawas, Pottawattamis and Miamis into a powerful league.

The Pontiac lineup was restyled by Herman Kaiser along Harley Earl's guidelines in 1949. Introduced in 1942 the Streamliner was a full-sized car produced by Pontiac until 1951. During 1940 Pontiac, along with Oldsmobile had the distinction of featuring all three of GM's mainstream platform, at least for one year. Pontiac introduced its initial B-bodied car; the Deluxe Series 28 Eight along with the Torpedo on the C-body in 1940. This C-body featured very hip 'torpedo' styling within a more streamlined body. 2 to 3 inches lower, the running boards were gone and passengers received more shoulder and hip room thanks to an additional 5 inches in width. Offering true comfort for up to six passengers the Torpedo featured a column mounted shift lever.

The following year both the A-body and B-body were revamped in a similar fashion. Pontiac renamed its entire line 'Torpedo' and featured models ranging from the low-end A-bodied Deluxe Torpedo, the mid-level B-bodied Streamliner Torpedo and the high-end C-bodied Custom Torpedo. This was the final year that Pontiac would offer a model with the GM C-body until the introduction of the Pontiac Safari and Grand Safari station wagons of '71-'76. The Torpedo name was shifted to the A-bodied Pontiac in 1942 while the Streamline became the B-bodied Pontiac.

The first generation Streamliner utilized the larger B-body and used fastback styling, except for the station wagons. This generation ran from 1942 until 1948. With a wheelbase of 122.0 inches, a height of 65.3 inches, the length of all but the station wagon measured at 210.3 inches, while the station wagon measured 215.8 inches. When a folding center armrest was added to the 1941 Super models they became known as Chieftains in '42.

Pontiacs now displayed a wider, heavier, lower look. The forward fender line was elongated by the addition of extension caps on the front doors. The cowl was gone when the hood extended back to the front doors. Headlamps were placed further apart and the grille, bumper and hood were widened. Above the vertical side grilles were long horizontal parking lamps. Horizontal bars were found in the horseshoe shaped center grille while a circular emblem was put in the middle of the upper main surround molding. The Pontiac name was now on the hood side molding of six-cylinder models, while eight-cylinder car moldings said Pontiac Eight. Wartime 'blackout' trim was used after December 15, 1941 and all earlier chrome plated parts were finished in Duco Gun Metal Grey.

Station wagon production went to the new Streamliner line when the C-body Pontiac Custom Torpedo came to an end. Either Hercules Body Company or Ionia Manufacturing did the last of the bodywork.

A base Six Streamliner station wagon cost about $1,265 while a Chieftain Eight, Pontiac's most expensive model was priced at $1,340. The longest Pontiac until 1959, the 1942 Pontiac Streamliner station wagon measured 215.8 inches in overall length.

The Streamliner coupe became the first Pontiac available postwar in September of 1945. The coupe remained the sole product quite some time. In 1946 the Chieftain trim level of '42 was renamed the Deluxe trim level. Pontiacs featured many exclusive styling cues that included wraparound bumpers, concealed safe-light parking lamps, new nameplates and huge 14 blade grille. Straight back Indian moldings on the rear hood ornament chrome beltline moldings and bright moldings on the 'speedline' fender ribs set apart the Streamliner from other Pontiac models. Other features included larger front fender crown moldings and the fact that Streamliners were typically larger in size. Eights were differentiated by lettering on hood emblems and badges placed forward of the 'speedlines'.

Passenger cars featured gray striped cloth interior trim. Inside the station wagon were three seats in standard trim, two seats in Deluxe trim and featured imitation leather upholstery and passenger car style interior hardware. A standard Six cost around $1,942 while a Deluxe Eight was priced at $2,047. Streamliner station wagons continued to be the priciest of the Pontiac models. In 1946 92,731 Streamliners were sold which accounted for more than two thirds of Pontiac sales.

With five bands of chrome on the hood, the 'Silver Streak' styling theme continued for 1947. Pontiacs for this year received new grilles with four broad softly bowed horizontal bars. An inverted steer's horn shaped bar that included a die cast plate with Indianhead relief protected the hood and fender. On the inside the sedan and coupes were redesigned with Berwicke beige panels for windows and dashboard. Autumn brown with dado stripe border moldings was the finish of choice for the windshield, door and garnish moldings. All of the sedans and coupes were fastbacks with full-loop around window moldings. Once again the Deluxe Eight was Pontiacs most expensive model and cost $2,111, while the standard Six tipped the scale at $1,992. More than half of all Pontiacs sold, sales of Streamliner models totaled 128,660 in 1947.

The following year a new styling design was introduced that included triple 'Silver Streaks' which featured round taillights and a horizontal grille theme with vertical shafts. 'Silver Streak' was written on the sides of the hood with eights having an '8' placed between the two words. Once again Streamliners had the distinction of being the largest and most expensive of Pontiac models. All Streamlines now came standard or Deluxe whether 2-door or 4-door fastbacks or station wagons.

Deluxe models featured spear moldings on front fenders, had bright gravel guards and chrome plated wheel discs on all of the cars except the wagons. On the inside of the Deluxe were flashy two-tone trims with pillow-and-tuft seatbacks, electric glovebox door clocks and quarter sawed mahogany dash and window trim. They also featured Deluxe steering wheels along with other lux appointments. Deluxe wagons featured red upholstery imitation leather seats and the standard Streamliner station wagons featured tan imitation of the same type. The station wagon price started at $2,364 for a standard Six, while the Deluxe Eight, once again Pontiac's priciest models at $2,490. Almost 66% of Pontiac sold for 1948 were Streamliners, a total of 160,857 models.

New for 1948 was the Hydramatic automatic transmission option. Prior to this only General Motors sold vehicles with fully automatic transmissions and the only way to get one was to purchase a higher prices Buick, Cadillac or Oldsmobile. Chevy wouldn't introduce Powerglide until 1950, Ford FordoMatic until 1951 and Chrysler, Powerflite on Imperials until 1953. The Hydramatic was a very popular option and around 71% of all Pontiacs were sold with it, a total of 171,946 Pontiacs and 122,327 Streamliners.

The second generation of the Streamliner was introduced in 1949 and lasted until 1951. This newest generation featured low smooth envelope bodies, with the coupes and sedans using the fastback B-body shell. The Streamliner lineup continued to carry the station wagon. All of these models came either as standards or Deluxes. Small hubcaps were found on all station wagons and other standard models. Beltline trim disappeared on standard coupes, sedans, and wagons while gaining painted headlight rims and rubber gravel guards. Deluxe models featured beltline moldings, bright plated headlight doors and chrome gravel guards.

Once again the Silver Streak appeared in the lineup. It featured lettering that was placed above front fender spears on Deluxes and high on the fenders of standard models. New number '8''s were placed between the two words on Eights. Standard models typically came with gray striped pattern cloth upholstery. The Deluxe usually came with dark gray broadcloth trims. Wagons retained the same trim as before except imitation leather only used on standard wagons. The final year for wood-bodied station wagons was 1949 when production shifted to all-metal wagons with woodgrain trim. Once again Streamliner station wagons were the priciest Pontiac models ranging in price from $2,543 for a standard Six to $2,690 for a Deluxe Eight.

The well-liked 1949 envelope bodies were used again in the 1950 models with updates made to the trim and appointments. /the horizontal center grille bar was now encasing the corners of the body. Deluxe models featured a chrome body strip, chrome wheel rings, stainless steel gravel guards and chrome headlight rings. Except for station wagons and sedan delivery trucks, the Streamliners had fastback styling. Streamliner station wagons prices fell slightly to $2,264 for standard Sixes and $2,411 for Deluxe Eights. This was because all-metal construction didn't require final work being done at Iona Manufacturing or Hercules Body Company. The Streamliner station wagon continued to be the priciest Pontiac model.

For 1951 Pontiac introduced 'Silver Anniversary' models that commemorated 25 years of advanced engineering. The Silver Streak continued and also the introduction of a wing shaped grille. Streamliners used the B-body shell again with sloping fastbacks on coupes.
Deluxe models featured bright gravel guards, headlight rings and a chrome body strip. Deluxe passenger cars, all models except station wagons had belt line moldings that had a dip behind the doors. On Series 25 Sixes a script plate that read Pontiac was used, and on Series 27 Eights it read Pontiac Eight.

The Streamliner station wagon continued to once again be Pontiac's priciest model for its final year. The model ranged in price from $2,740 for a standard Six to $2,629 for a Deluxe Eight. Until 1959 this would be the last time that Pontiac offered a B-bodied car.

The Streamliner remains a true collectible today for the enthusiast looking to experience early postwar American auto ownership.

Sources:
http://en.wikipedia.org/wiki/Pontiac_Streamliner
http://www.hagerty.com/price-guide/1950-Pontiac-Streamliner
http://ucapusa.com/lost_marques_pontiac.htm

By Jessica Donaldson
For more information and related vehicles, click
here
BARRETT-JACKSON SALON COLLECTION TO HIGHLIGHT SCOTTSDALE AUCTION
•(Lot #5087), a 1949 Talbot-Lago T-26 Grand Sport Franay headlines Barrett-Jackson's Salon vehicle lineup •An exquisite 1929 Alfa Romeo 6C 1750 SS (Lot #5083) will be among the auctions most notable consignments •One of 300, a stunning silver 1955 Mercedes-Benz 3000 SL Gullwing (Lot #5075) will cross the Scottsdale auction block SCOTTSDALE – Jan. 5, 2015 – Barrett-Jackson, The World's Greatest Collector Car AuctionsTM, will feature a rare docket of exquisite Salon vehicles during its...[Read more...]
MERCEDES-BENZ 2014 G63 AMG: THE ULTIMATE G-CLASS
The latest technology for the AMG off-road icon: the new 2014 G63 AMG impresses with a state-of-the-art powertrain, expressive new design and improved efficiency. All this is largely attributable to the AMG 5.5-liter V8 biturbo engine delivering 536 hp and the AMG SPEEDSHIFT PLUS 7-speed automatic transmission. Every new AMG high-performance vehicle offers an outstanding mix of 'more power from less fuel' – and the G63 AMG is no exception. The 'strong man' in the AMG model range has been furt...[Read more...]
History Rolls into Hershey for RM's Annual Pennsylvania Sale
• Final countdown underway to RM's annual Hershey, Pennsylvania auction, held October 10 – 11 during the historic AACA Eastern Regional Fall Meet • Two-day sale features 116 vehicles, with an emphasis on Brass and Classic Era motor cars • Sale entries led by a rare, award-winning 1933 Chrysler CL Imperial Convertible Roadster • Auction also features number of vehicles steeped with local Pennsylvania history • Digital catalogue now available online at rmauctions.com BLENHEIM, Ontario (S...[Read more...]
The Champion in Touring Car Racing : The BMW M3
In August 1985, a rumour surfaced in motor magazine Auto-Deutschland which emanated from a new sports car. An A Group Car from BMW that was a thoroughbred racing car according to the rules but was also to be produced in a version licensed to drive on open roads for everyday use. Speculation about this dream car that could take to normal roads and was intended for the 'Most dynamic among BMW 3 Series drivers' was right on target. But the pundits missed the mark about the motor-sport car by a mile...[Read more...]
Auctions America By RM's 2012 Auburn Spring Auction
'Variety' is the buzzword for this year's Auctions America by RM June 1-3 Auburn Spring auction, which will offer a huge range of collector vehicles and an enormous private collection of automotive memorabilia. More than 600 American muscle cars, Classics, foreign sports cars and hot rods will cross the block at the historic Auburn Auction Park, the company's national headquarters in Auburn, Indiana. 'Last year was our first spring event at the park,' said Auctions America by RM's President ...[Read more...]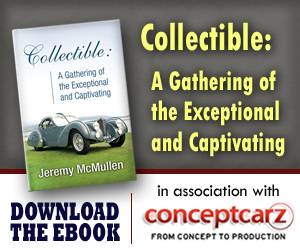 Similarly Priced Vehicles from 1947
Chevrolet Fleetmaster ($1,280-$1,891)
Ford Super Deluxe ($1,250-$2,275)
Nash Ambassador ($1,750-$2,225)
Buick Super Series 50 ($1,845-$2,593)
Packard Super Deluxe Clipper Eight ($1,900-$1,950)

Average Auction Sale: $41,897
© 1998-2014. All rights reserved. The material may not be published, broadcast, rewritten, or redistributed.