Image credits: © Pontiac. GM Corp
1926 Pontiac Series 6-27 news, pictures, specifications, and information

Tweet
This vehicle is a 1926 Pontiac Landau Coupe. When new, it carried a price tag of $895, making it the mid-priced vehicle in Pontiac's line-up. For 1926, Pontiac's first year in business, they offered one series consisting of 5 bodystyles. The base priced bodystyles were the 2-Door coach with seating for either 2 or 5 people, both cost $825. Next was the four-door Landau Sedan and 2-door Coupe, both costing $895. The top-of-the line Pontiac was the 4-door Deluxe Landau Sedan which had seating for five and a price of $975.

All of the Series 6-27 vehicles rested on a wheelbase of 110-inches and had a length of 151.25-inches. All were powered by an L-head, cast-iron block, six-cylinder engine that displaced 186.5 cubic-inches and produced 40 horsepower.

When the 1926 model year began, Pontiac had only two models in the 6-27 series. After August of 1926, the model range had been expanded to include the five bodystyles listed above.

The bodies were designed by Fisher and featured a honeycomb radiator with Indian head mascot. All were given cowl lamps as standard equipment. The bodystyles introduced part-way through the year had mild changes. One of the bigger changes was the addition of body colors; the early 1926 models were offered in only a few colors. The coup was finished in light SageGreen with Faerie Red striping. The Coach bodystyles were painted in Arizona gray.
By Daniel Vaughan | Jun 2008
1926 marked the debut of the Pontiac. It was meant to be a 'companion car' to the Oakland, just as LaSalle was to Cadillac. These cars were powered by 186.5 cid six-cylinder, 36 horsepower engines. They were built on a 110-inch Chevrolet chassis and were available in two versions, the 2-passenger coupe and a 5-passenger coach, and both sold for $825.
The first Pontiac Automobile was introduced in 1926 by the Oakland Motor Car Company. The Oakland Company had a history that dated back to 1907. The company's founder, Edward Murphy, passed away in the summer of 1925 and shortly-thereafter, the company came under the complete control of General Motors. The popularity of the Pontiac automobile was immediate, and by 1932, the Oakland name was dropped in favor of the Pontiac division.

GM had acquired half ownership of the Oakland Motor Car Company in 1909. GM's founder William Durant was impressed with Edward M. Murphy and his mechanical abilities and talents, and thus chose to provide financial backing.

The first Pontiac model was the Series 6-27, which made its inaugural debut at the New York Auto Show in 1926. The vehicles body design was created by Fisher and it rested on a 110-inch wheelbase. Power was from a six-cylinder L-head engine.
By Daniel Vaughan | Sep 2008
The Pontiac 6-27 Model 6650 was powered by a six-cylinder engine with a split L-head design, displaced 186.5 cubic-inches and produced 40 horsepower.

This two-door Sedan was built during early May 1926. It was acquired in 1931 by Minnesota-based Oakland-Pontiac dealer Leland Holm for $200 and displayed it in his showroom for much of the following 60 years. The car remains in original condition and shows only minor surface rust. It has had only one exterior refinish under Mr. Holm's ownership. The current owner acquired it with just 13,000 miles and has since traveled just 2,500 miles. It took a local Best of Show and earned a second in class at the 2002 POCI National Convention. This vehicle may be the oldest Pontiac in existence.

This car has many factory-original features such as a roll-up windshield and a trip odometer, as well as a unique distributor.

In 2010, the car was offered for sale at the Vintage Motor Cars of Hershey auction presented by RM Auctions. It was estimated to sell for $20,000-$30,000 and offered without reserve. As bidding came to a close, the car had been sold for the sum of $17,600 including buyer's premium.
By Daniel Vaughan | Oct 2010
The Oakland Motor Car Company introduced its companion car in January of 1926 and was called the Pontiac after the legendary American Indian warrior, leader and orator. The new Pontiac was called the 'Chief of the Sixes' and was powered by a new six-cylinder engine with harmonic balancer on the crankshaft and automatic spark advance. The car had smaller diameter wheels and fatter tires, with reduced air pressure, for a smoother ride.

Earning the distinction of being America's 13th best-selling company for 1926, Pontiac sold 76,742 units in its first year.
By Daniel Vaughan | Jan 2011
Pontiac was introduced by General Motors in 1926 to fill the price gap between the Oakland and Chevrolet brands. Pontiac vehicles were first introduced as a companion to the Oakland in late December of 1925 as 1926 models. They were labeled the NEW-FINER Series 6-27 and were immediately popular.

This 1926 Coach was one of only two body styles, along with the coupe, initially available for the 1926 model year. The 927 Pontiac was an extension of the enlarged 1926 model lineup and also featured the first open Pontiac car, the 2-door Sport Roadster wearing a Stewart body and a 2-door Sport Cabriolet with rumble seat that replaced the 1926 Deluxe Coupe model.

Pontiac cars through the 1929 model year had '1/2 year' models and were sold as the next following year cars. That came to an end with the 1930 introductions. From December of 1925 through October of 1927, Pontiac sold 204,553 vehicles.
By Daniel Vaughan | Jan 2013
PORSCHE 911 GT3 NAMED 2014 WORLD PERFORMANCE CAR
Atlanta. At a ceremony at the New York Auto Show this morning, the Porsche 911 GT3 was named the 2014 World Performance Car. The World Car Awards (WCA) are presented annually in four categories – Car Design, Green Car, Performance Car and Car of the Year. Winners are determined by an international panel of 69 automotive journalists from 22 countries. Jurors are appointed by the World Car Awards' Steering Committee based on automotive expertise, experience, credibility and influence. ...[Read more...]
NEW YORK AUTO SHOW CONCEPT CARS: THE FUTURE STARTS HERE
NEW YORK, April 7, 2014 - With an awe-inspiring combination of new design ideas and technological innovation, this year's concept cars at the New York International Automobile Show reveal what's to come in the automotive world. The Auto Show opens to the public on Friday, April 18th through April 27th at the Jacob K. Javits Convention Center in Manhattan. The future starts here… Kia GT-4 Stinger Hearkening back to the glory days of purebred, affordable sports cars, Kia's...[Read more...]
DODGE TO SET BIG APPLE AND CAR ENTHUSIASTS ABUZZ WITH REVEAL OF ITS TWO ICONIC MUSCLE CARS
April 7, 2014 , Auburn Hills, Mich. - Dodge is giving an early look at its new 2015 Dodge Challenger and the 2015 Dodge Charger, both of which will be revealed Thursday, April 17 at the New York Auto Show, just ahead of the Dodge brand's 100th anniversary this summer. Inspired by the classic Dodge Challenger, the iconic muscle car is new from the inside out for 2015 and features a new powertrain combination that is sure to get enthusiasts 'abuzz.' The world's most-successful, ...[Read more...]
SHELBY AMERICAN PRESIDENT TO KEYNOTE NATIONAL AUTOMOTIVE TECHNOLOGY COMPETITION AWARDS CEREMONY
Shelby American President John Luft will deliver the keynote address at the National Automotive Technology Competition Awards Luncheon at the Jacob Javits Convention Center. The Competition is held annually in conjunction with the New York Auto Show. Luft will join the Greater New York Automobile Dealers Association's (GNYADA) president Mark Schienberg and Rallye Motors VP & General Manager Nick Toomey to honor students from all over the country who have competed in the national finals....[Read more...]
NEW YORK AUTO SHOW WELCOMES WRAITH
Rolls-Royce Motor Cars proudly presents Rolls-Royce Wraith in New York, the most powerful and dynamic Rolls-Royce in history. It is a model steeped in hallmark Rolls-Royce luxury, refinement and hand-craftsmanship, but with a unique character defined by power, style and drama. With just a hint of the noir. Wraith's sweeping fastback gives the car its unique character. Bold lines and a raked rear screen evoke the image of an athlete poised in the starting blocks. Coach doors open to revea...[Read more...]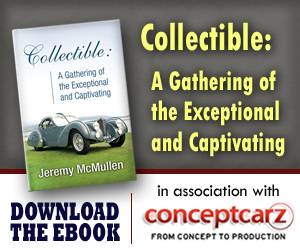 © 1998-2014. All rights reserved. The material may not be published, broadcast, rewritten, or redistributed.