1950 Allard K2 news, pictures, specifications, and information

Tweet
Sidney Herbert Allard built a reputation in England as a prominent builder of competitive racers. The Allard Motor Company was founded in 1946, though Sidney had been building and modifying vehicles since the mid-1930's. The post war automobiles were mostly powered by Ford flathead V8s and often fitted with Sidney's own intake manifolds and cylinder heads. His J2X Sports Racers utilized the Cadillac and Chrysler OHV V8's continuing the tradition of American power in a British alloy body. Allard cars were seen at most every sports car race in 1950's.

For an all-too-brief period in the late 1940s and early 1950s, the name of Allard was one of the most revered of all motor manufacturers. The company's road cars were some of the most popular among wealthy enthusiasts, especially in the United States. The racing versions were more than competitive on the track, and the company's founder, Sidney Allard, was one of Britain's leading competitive drivers, winning the British Hillclimb Championship in 1949 and the Monte Carlo Rally in 1952.

The design of the Allard K2 was a modern car with European design influences, seating for two, small trunk area, and a monstrous American V8 engine. The standard engine was the 3.6-liter Ford, but Mercury, Chrysler or Cadillac V8 engines were able to fit under the bonnet. Production lasted from 1950 through 1952 with a total of 119 examples being constructed.
In 1950 Allard introduced the K2, the improved version of Sidney Allard's road-going K1 sports car. It incorporated suspension refinements and a smoother aluminum body with cut-down doors. The K2 was offered with a choice of four engines, all based on the popular Ford Flathead V-8, with a 3-speed manual transmission. Allard built 119 K2s through 1952.

This Allard roadster is completely authentic, with the exception of the front and rear bumpers, which were missing when acquired by the current owner in 2003.

It is the fourth of 119 Allard K2 models built. When it was built motor mounts for a Cadillac 331 cubic-inch V-8 motor were installed - and that is the motor in this car (a never used, Cadillac crate engine).

The J2, which was built in 1950-51, was especially designed for the American market. This car was shipped to R-P motors in New York City in July of 1950. Several engines were available, including a Ford 239 cubic-inch V-8, a Chrysler 331 cubic-inch V-8 and the Cadillac 331 cubic-inch V-8, which is installed in this car.

Restoration of this car was completed in 2007. The owner acquired the car in 2003 completely disassembled, with parts stored in five different locations.
What sets this car apart from other Allards is its originality. It may have been repainted in areas, but for the most part it is unrestored. According to the current owner, it 'proudly wears its bumps, bruises, scratches, dings, dents and cracks.'

It features the fold-down windshield, which appeared on many early K2 cars.

Other noteworthy features including 'full moon' hub caps, single blade bumpers, and wind wings shaped to match the contours of the doors (when opened).

This K2 was built in England but has spent most of its life in the United States. Several engines were available, including a Ford 239 cubic-inch V-8, a Chrysler 331 cubic-inch V-8 and a Cadillac 331 cubic-inch V-8, which is installed in this car.
For more information and related vehicles, click
here
Worldwide vehicle introductions dominate successful Press Preview at NAIAS
• Next up: Industry Preview-day two; VP Biden; and the biggest night of giving
DETROIT, Mich., Jan. 16, 2014 - When the dust settled after two remarkable days of vehicle unveilings, organizers of the 2014 North American International Auto Show (NAIAS) counted 50 vehicle introductions, the majority being worldwide, presented to a crowd of 5,169 journalists from around the world. NAIAS Chairman Bob Shuman said the optimism and confidence felt on the show floor is a reflection of a...[Read more...]
Sports and Racing Rarities Lead Early Highlights For RM's Two-Day Arizona Sale
• RM Auctions returns to the Arizona Biltmore Resort & Spa in Phoenix from January 16–17 to kick off its 2014 collector car season • Expanded to two days in 2014, the well-established sale will celebrate its 15th year by lifting the gavel on approximately 120 handpicked motor cars • Early highlights span the spectrum of the market, led by a superb trio of sports and racing Porsches • Annual sale kicks off RM's 2014 international auction calendar, which includes the company's highly anticipate...[Read more...]
DODGE ANNOUNCES PRICING FOR NEW 2014 DODGE DURANGO
Best-equipped Seven Passenger SUV Loaded With Advanced Technology, Efficiency, Performance and Style for a Starting U.S. MSRP Less Than $30,000. ◾The new Dodge Durango features a slew of new standard features for 2014, including a new standard eight-speed automatic transmission with steering-wheel mounted paddle shifters, Uconnect Bluetooth, 5-inch Uconnect Touch Screen and 7-inch customizable gauge cluster, signature Dodge brand LED racetrack taillamps and standard three-row, seven pass...[Read more...]
ACURA NSX PRODUCTION SITE SELECTED IN OHIO
05/14/2013 - MARYSVILLE, Ohio Acura today announced that the all-new NSX supercar will be produced at a new Performance Manufacturing Center in Ohio, a $70 million advanced production facility encompassing 184,000 square feet to be housed inside Honda's former North American Logistics facility and located in the midst of Honda's existing R&D and production engineering operations. The site for the new production facility, which will be Honda's third auto plant in Ohio, is only a few mi...[Read more...]
Pebble Beach Concours d'Elegance Introduces Its First Sport Customs Class
One-off Sport Customs designed to turn heads while tooling down Main Street USA will roll onto the 18th fairway of Pebble Beach Golf Links for the 2012 Pebble Beach Concours d'Elegance on August 19. This year, for the very first time, the Pebble Beach Concours d'Elegance is hosting an entire class dedicated to Sport Customs. 'These are one-of-a-kind cars built in the US, on modified American production chassis with American engines by individuals, designers and craftsmen,' explains auto...[Read more...]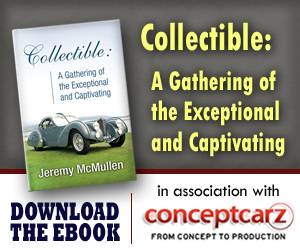 © 1998-2014. All rights reserved. The material may not be published, broadcast, rewritten, or redistributed.