1950 Allard K2 news, pictures, specifications, and information

Tweet
Sidney Herbert Allard built a reputation in England as a prominent builder of competitive racers. The Allard Motor Company was founded in 1946, though Sidney had been building and modifying vehicles since the mid-1930's. The post war automobiles were mostly powered by Ford flathead V8s and often fitted with Sidney's own intake manifolds and cylinder heads. His J2X Sports Racers utilized the Cadillac and Chrysler OHV V8's continuing the tradition of American power in a British alloy body. Allard cars were seen at most every sports car race in 1950's.

For an all-too-brief period in the late 1940s and early 1950s, the name of Allard was one of the most revered of all motor manufacturers. The company's road cars were some of the most popular among wealthy enthusiasts, especially in the United States. The racing versions were more than competitive on the track, and the company's founder, Sidney Allard, was one of Britain's leading competitive drivers, winning the British Hillclimb Championship in 1949 and the Monte Carlo Rally in 1952.

The design of the Allard K2 was a modern car with European design influences, seating for two, small trunk area, and a monstrous American V8 engine. The standard engine was the 3.6-liter Ford, but Mercury, Chrysler or Cadillac V8 engines were able to fit under the bonnet. Production lasted from 1950 through 1952 with a total of 119 examples being constructed.
In 1950 Allard introduced the K2, the improved version of Sidney Allard's road-going K1 sports car. It incorporated suspension refinements and a smoother aluminum body with cut-down doors. The K2 was offered with a choice of four engines, all based on the popular Ford Flathead V-8, with a 3-speed manual transmission. Allard built 119 K2s through 1952.

This Allard roadster is completely authentic, with the exception of the front and rear bumpers, which were missing when acquired by the current owner in 2003.

It is the fourth of 119 Allard K2 models built. When it was built motor mounts for a Cadillac 331 cubic-inch V-8 motor were installed - and that is the motor in this car (a never used, Cadillac crate engine).

The J2, which was built in 1950-51, was especially designed for the American market. This car was shipped to R-P motors in New York City in July of 1950. Several engines were available, including a Ford 239 cubic-inch V-8, a Chrysler 331 cubic-inch V-8 and the Cadillac 331 cubic-inch V-8, which is installed in this car.

Restoration of this car was completed in 2007. The owner acquired the car in 2003 completely disassembled, with parts stored in five different locations.
What sets this car apart from other Allards is its originality. It may have been repainted in areas, but for the most part it is unrestored. According to the current owner, it 'proudly wears its bumps, bruises, scratches, dings, dents and cracks.'

It features the fold-down windshield, which appeared on many early K2 cars.

Other noteworthy features including 'full moon' hub caps, single blade bumpers, and wind wings shaped to match the contours of the doors (when opened).

This K2 was built in England but has spent most of its life in the United States. Several engines were available, including a Ford 239 cubic-inch V-8, a Chrysler 331 cubic-inch V-8 and a Cadillac 331 cubic-inch V-8, which is installed in this car.
For more information and related vehicles, click
here
THE CHRYSLER BRAND SURPRISES SCHOOLS WITH A $5,000 BONUS
◾Five schools from Drive for the Kids™ program rewarded with additional funding for fundraising excellence January 7, 2014 , Auburn Hills, Mich. - The Chrysler brand announced today the five schools that will each receive an award of $5,000 in additional funding through its Drive for the Kids™ program for exceeding the expectation for test drive participation during each school's fundraiser. The five schools are: ◾California Region: Pinon Mesa Middle School, Phelan, Calif....[Read more...]
CONSUMERS DIGEST NAMES SEVEN CHRYSLER GROUP VEHICLES 'BEST BUYS' FOR 2014
◾Chrysler 300 and Town & Country earn 'Best Buy' awards ◾Dodge Durango and Grand Caravan honored ◾Jeep® Grand Cherokee named a 'Best Buy' ◾Ram 1500 honored in Full-Size Pickup segment ◾Fiat 500 awarded a 'Best Buy' in Subcompact segment November 1, 2013 , Auburn Hills, Mich. - Seven Chrysler Group vehicles, representing each vehicle brand, have earned a spot on Consumers Digest's list of 2014 Best Buys. Vehicles chosen as 'Best Buys' deliver the most value for the money in thei...[Read more...]
Chrysler Brand Partners With United Way For Southeastern Michigan And Scholastic To Donate 148,500 New Children'S Books
◾Chrysler brand combines forces with United Way for Southeastern Michigan and Scholastic to put 148,500 brand-new books in the hands of metro Detroit Youth ◾From mid-July through September, Scholastic books will be distributed at sites throughout the metro Detroit area July 2, 2013 , Auburn Hills, Mich. - Starting mid-July through September, Chrysler brand will partner with United Way for Southeastern Michigan (UWSEM) and Michigan No Kid Hungry to distribute 148,500 Scholastic childre...[Read more...]
Chrysler Wants To Show Off Your Customized Chrysler Brand Vehicle
- Grand prize winner will receive a trip to the 2014 North American International Auto Show (NAIAS) in Detroit, a luxury vacation package for two and a two-year lease of a Chrysler vehicle - Three contest finalists will attend the 2013 Specialty Equipment Market Association (SEMA) show on Nov. 8 in Las Vegas - Participants can enter the 'Chrysler Custom Challenge' via the Chrysler brand's Facebook page (www.facebook.com/Chrysler) May 1, 2013 , Auburn Hills, Mich. - The Chrysler brand...[Read more...]
Bonhams Monaco sale
Now in its 26th year, Bonhams celebrated sale 'Les Grandes Marques à Monaco' will be held at the Musée des Voitures du Prince, Monte Carlo on the 11th May and will once again be under the patronage of the Grimaldi Family. The sale also coincides with the biannual Monaco Historic Grand Prix, the focal point for historic motor racing enthusiasts during May. Highlights from the Sale include examples from Bugatti, Ferrari, Alfa Romeo, Rolls-Royce, Aston Martin, Maserati and Facel Vega. Partic...[Read more...]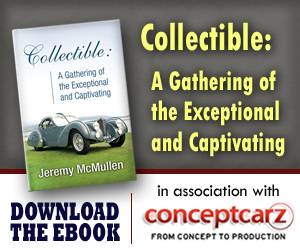 © 1998-2014. All rights reserved. The material may not be published, broadcast, rewritten, or redistributed.