1950 Allard K2 news, pictures, specifications, and information

Tweet
Sidney Herbert Allard built a reputation in England as a prominent builder of competitive racers. The Allard Motor Company was founded in 1946, though Sidney had been building and modifying vehicles since the mid-1930's. The post war automobiles were mostly powered by Ford flathead V8s and often fitted with Sidney's own intake manifolds and cylinder heads. His J2X Sports Racers utilized the Cadillac and Chrysler OHV V8's continuing the tradition of American power in a British alloy body. Allard cars were seen at most every sports car race in 1950's.

For an all-too-brief period in the late 1940s and early 1950s, the name of Allard was one of the most revered of all motor manufacturers. The company's road cars were some of the most popular among wealthy enthusiasts, especially in the United States. The racing versions were more than competitive on the track, and the company's founder, Sidney Allard, was one of Britain's leading competitive drivers, winning the British Hillclimb Championship in 1949 and the Monte Carlo Rally in 1952.

The design of the Allard K2 was a modern car with European design influences, seating for two, small trunk area, and a monstrous American V8 engine. The standard engine was the 3.6-liter Ford, but Mercury, Chrysler or Cadillac V8 engines were able to fit under the bonnet. Production lasted from 1950 through 1952 with a total of 119 examples being constructed.
In 1950 Allard introduced the K2, the improved version of Sidney Allard's road-going K1 sports car. It incorporated suspension refinements and a smoother aluminum body with cut-down doors. The K2 was offered with a choice of four engines, all based on the popular Ford Flathead V-8, with a 3-speed manual transmission. Allard built 119 K2s through 1952.

This Allard roadster is completely authentic, with the exception of the front and rear bumpers, which were missing when acquired by the current owner in 2003.

It is the fourth of 119 Allard K2 models built. When it was built motor mounts for a Cadillac 331 cubic-inch V-8 motor were installed - and that is the motor in this car (a never used, Cadillac crate engine).

The J2, which was built in 1950-51, was especially designed for the American market. This car was shipped to R-P motors in New York City in July of 1950. Several engines were available, including a Ford 239 cubic-inch V-8, a Chrysler 331 cubic-inch V-8 and the Cadillac 331 cubic-inch V-8, which is installed in this car.

Restoration of this car was completed in 2007. The owner acquired the car in 2003 completely disassembled, with parts stored in five different locations.
What sets this car apart from other Allards is its originality. It may have been repainted in areas, but for the most part it is unrestored. According to the current owner, it 'proudly wears its bumps, bruises, scratches, dings, dents and cracks.'

It features the fold-down windshield, which appeared on many early K2 cars.

Other noteworthy features including 'full moon' hub caps, single blade bumpers, and wind wings shaped to match the contours of the doors (when opened).

This K2 was built in England but has spent most of its life in the United States. Several engines were available, including a Ford 239 cubic-inch V-8, a Chrysler 331 cubic-inch V-8 and a Cadillac 331 cubic-inch V-8, which is installed in this car.
For more information and related vehicles, click
here
2014 RAM 1500 ECODIESEL ORDERS TOP MORE THAN 8,000 UNITS IN THREE DAYS, FILLING INITIAL ALLOCATION
◾Between the afternoon of February 7th and the morning of February 10th, Ram Truck received more than 8,000 Ram 1500 EcoDiesel orders, which quickly filled the initial allocation for the exclusive powertrain ◾First round of Ram 1500 EcoDiesel orders account for more than 50 percent of the total order mix ◾Special order rate nearly twice the corporate average – an all-time high ◾Overwhelming response attributed to best-in-class 28 MPG with 9,200 lbs. of towing capacity and strong consumer dema...[Read more...]
CHRYSLER GROUP'S 3.0-LITER ECODIESEL V-6, 500E BATTERY-ELECTRIC DRIVE SYSTEM AMONG WARD'S 10 BEST ENGINES FOR 2014
◾All-new 3.0-liter EcoDiesel V-6 delivers best-in-class highway fuel economy in award-winning 2014 Ram 1500 pickup and Jeep Grand Cherokee ◾First and only clean diesel in full-size light-duty pickup truck ◾Contributes to Grand Cherokee's best-in-class driving range (730+ miles) ◾Battery-electric drive system in Fiat 500e A-segment hatchback delivers best-in-class range (87 miles) ◾Lone representative of electric-vehicle technology among 2014 Ward's 10 Best Engines ◾Fourth consecutive year C...[Read more...]
NEW 2014 DODGE DURANGO SPECIAL SERVICE IS A HIGH-TECH CIVIL SERVANT
◾Special Service Dodge Durango designed for police, fire and general fleet customers ◾New Special Service model features the new 2014 Dodge Durango's standard eight-speed transmission, which delivers up to a 15 percent improvement in fuel economy ◾Advanced technology and new interior and exterior updates include the Dodge signature racetrack tail lamps, 7-inch customizable TFT gauge cluster and Uconnect touchscreen ◾Durango Special Service adds unique heavy-duty components to handle extreme u...[Read more...]
More Power, More Party: '50 Years Of Mini Cooper S' Anniversary To Be Celebrated At Brands Hatch Race Track
Munich/Fawkham. MINI's legendary victorious racer is due to turn 50 - an anniversary which will be celebrated on a race track in its home country. The weekend of 22-23 June, the former Formula 1 race track Brands Hatch, south east of London, will host a celebration of the MINI Cooper S, which was first presented in spring 1963. The MINI Festival will attract thousands of classic Mini and modern MINI fans. As well as live music, vehicle shows and lots of MINI action, a special highlight wi...[Read more...]
Amelia Island Concours d'Elegance Honors The Genius Of Porsche's 911 at 50
Porsche's 911 has defied common wisdom, outlived its competitors and, from roots in the early Sixties, leads Porsche Cars into a new century as the only car built today that carries its engine behind the rear axle. At 4:00 PM on Friday, March 8th, 2013 in the Ritz-Carlton, Amelia Island, the Amelia Island Concours d'Elegance presents 'THE PORSCHE 911 SEMINAR: PORSCHE'S FLAGSHIP at 50'. The Porsche 911 Seminar will be empaneled by a pride of Porsche 911 legends. Brumos Porsche's Hurl...[Read more...]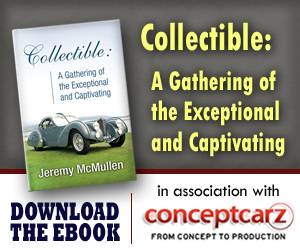 © 1998-2014. All rights reserved. The material may not be published, broadcast, rewritten, or redistributed.