1950 Allard K2 news, pictures, specifications, and information

Tweet
Sidney Herbert Allard built a reputation in England as a prominent builder of competitive racers. The Allard Motor Company was founded in 1946, though Sidney had been building and modifying vehicles since the mid-1930's. The post war automobiles were mostly powered by Ford flathead V8s and often fitted with Sidney's own intake manifolds and cylinder heads. His J2X Sports Racers utilized the Cadillac and Chrysler OHV V8's continuing the tradition of American power in a British alloy body. Allard cars were seen at most every sports car race in 1950's.

For an all-too-brief period in the late 1940s and early 1950s, the name of Allard was one of the most revered of all motor manufacturers. The company's road cars were some of the most popular among wealthy enthusiasts, especially in the United States. The racing versions were more than competitive on the track, and the company's founder, Sidney Allard, was one of Britain's leading competitive drivers, winning the British Hillclimb Championship in 1949 and the Monte Carlo Rally in 1952.

The design of the Allard K2 was a modern car with European design influences, seating for two, small trunk area, and a monstrous American V8 engine. The standard engine was the 3.6-liter Ford, but Mercury, Chrysler or Cadillac V8 engines were able to fit under the bonnet. Production lasted from 1950 through 1952 with a total of 119 examples being constructed.
In 1950 Allard introduced the K2, the improved version of Sidney Allard's road-going K1 sports car. It incorporated suspension refinements and a smoother aluminum body with cut-down doors. The K2 was offered with a choice of four engines, all based on the popular Ford Flathead V-8, with a 3-speed manual transmission. Allard built 119 K2s through 1952.

This Allard roadster is completely authentic, with the exception of the front and rear bumpers, which were missing when acquired by the current owner in 2003.

It is the fourth of 119 Allard K2 models built. When it was built motor mounts for a Cadillac 331 cubic-inch V-8 motor were installed - and that is the motor in this car (a never used, Cadillac crate engine).

The J2, which was built in 1950-51, was especially designed for the American market. This car was shipped to R-P motors in New York City in July of 1950. Several engines were available, including a Ford 239 cubic-inch V-8, a Chrysler 331 cubic-inch V-8 and the Cadillac 331 cubic-inch V-8, which is installed in this car.

Restoration of this car was completed in 2007. The owner acquired the car in 2003 completely disassembled, with parts stored in five different locations.
What sets this car apart from other Allards is its originality. It may have been repainted in areas, but for the most part it is unrestored. According to the current owner, it 'proudly wears its bumps, bruises, scratches, dings, dents and cracks.'

It features the fold-down windshield, which appeared on many early K2 cars.

Other noteworthy features including 'full moon' hub caps, single blade bumpers, and wind wings shaped to match the contours of the doors (when opened).

This K2 was built in England but has spent most of its life in the United States. Several engines were available, including a Ford 239 cubic-inch V-8, a Chrysler 331 cubic-inch V-8 and a Cadillac 331 cubic-inch V-8, which is installed in this car.
For more information and related vehicles, click
here
CHRYSLER BRAND EDUCATES FAMILIES ON BULLYING PREVENTION THROUGH 'DRIVE FOR THE KIDS' PROGRAM
◾Robert F. Kennedy Center for Justice and Human Rights bullying prevention materials offered at Drive for the Kids® events March 11, 2014 , Auburn Hills, Mich. - In 2014, the Chrysler brand will continue its support of the Robert F. Kennedy Center for Justice and Human Rights' bullying prevention initiative – RFK Project SEATBELT throughout and beyond the school year. The Chrysler brand has employed its local dealerships to support the measure during Drive for the Kids® fundraisers at ...[Read more...]
FIRST 2014 CTS VSPORT DELIVERED
• Sale proceeds going to SAE Foundation STEM Education
BOULDER, Colo. – The first Cadillac CTS Vsport produced was delivered today to the high bidder in an auction to benefit the SAE Foundation's support of science, technology, engineering, and math, or STEM, education programs. Tim and Pat Whited of Nederland, Colo., took delivery of the new twin turbocharged sedan at McCaddon Cadillac in Boulder. They purchased the car August 9 at Barrett-Jackson's Hot Nights Car Auction in...[Read more...]
FINALISTS ANNOUNCED FOR 2014 'GREEN CAR OF THE YEAR®'
• Green Car Journal to Reveal Winner at LA Auto Show® Press Days
LOS ANGELES, CA (October 17, 2013) - Green Car Journal has identified its five finalists for the magazine's high-profile 2014 Green Car of the Year® program. The five 2014 models include the Audi A6 TDI, BMW 328d, Honda Accord, Mazda3, and Toyota Corolla. These five finalists are also honored as Green Car Journal's'Top 5 Green Cars for 2014' and earn the magazine's 'Green Car Product of Excellence' honors. An in...[Read more...]
2013 Chrysler Town & Country Leads Minivan Segment In Initial Quality
◾Chrysler Town & Country ranks highest for initial quality in minivan segment ◾Chrysler 300 ranks in top three of large car segment June 19, 2013 , Auburn Hills, Mich. - The most-awarded minivan Chrysler Town & Country earns another honor as the highest-ranking minivan in the J.D. Power 2013 U.S. Initial Quality StudySM (IQS). IQS is based on responses from more than 83,000 owners of new 2013 model-year vehicles who were surveyed about issues with their vehicles after 90 days of o...[Read more...]
ROD MILLEN SHOWDOWN WITH MONSTER TAJIMA IN ELECTRIC DIVISION HIGHLIGHTS THE 2013 PIKES PEAK INTERNATIONAL HILL CLIMB
Colorado Springs, February 11-------- A battle between two former Kings of the Mountain in the suddenly-loaded Electric Auto Division will highlight the 91st running of the Pikes Peak International Hill Climb on June 30. Eleven new records were set last year at the second-oldest motor sports event in the USA behind the Indy 500, the first edition contested on the fully-paved 12.42 mile course with 156 turns that begins at 9,390 feet and finishes on the summit at 14,110 feet, where the...[Read more...]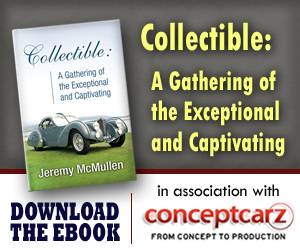 © 1998-2014. All rights reserved. The material may not be published, broadcast, rewritten, or redistributed.