1953 Chevrolet Bel Air Series 2400C news, pictures, specifications, and information

Tweet
This 1953 Chevrolet Bel Air Two Door Sedan was offered for sale at the 2007 RM Auction held at Meadow Brook. This car is powered by a six-cylinder overhead valve engine that displaces 235.5 cubic-inches and capable of producing 115 horsepower. There is a three-speed manual gearbox and four-wheel hydraulic drum brakes. This is a very original example in very good condition. It has never been given a restoration. Its exterior color is black and believed to be original. The interior is gray and is well equipped with options such as push button radio, fender skirts, fingernail guards, wide whitewall tires, heater/defroster, full wheel covers and Venti-pane wind deflectors. The odometer reads just 21,700 miles. At auction this car was estimated to fetch between $25,000 - $30,000. There was no reserve on the vehicle, which means as bidding slowed and finally came to a rest at $19,800 the car was sold.
By Daniel Vaughan | Aug 2007
This Bel Air Convertible Coupe is finished in light blue and upholstered in white interior with white top. It is a well-optioned vehicle with a continental kit, fender skirts, dual mirrors, bumper guards, chrome wire wheels, and wide whitewall tires. It has a 235.5 cubic-inch overhead valve six-cylinder engine and Powerglide automatic transmission. Other amenities are a push-button radio and lap belts. At the 2007 Monterey Sports & Classic Car Auction presented by RM Auctions, where it had an estimated value of $40,000 - $45,000 and offered without reserve. The lot was sold for $26,400.
By Daniel Vaughan | Dec 2007
From 1950 through 1952 Chevrolet hardtops in the Deluxe model line were dubbed the 'Bel Air'. It took a few more years before it would become its own distinct series. In 1953, the Bel Air became its own model and was applied to Chevrolet's top-of-the-line model range. By 1955, the cars were offered with an optional V8 engine which greatly improved the cars performance.

In 1953 Chevrolet had three new models and 17 body styles to select from. This was the company's widest range of offerings in its history. The introduction of the Chevrolet was stirring press for the company, but so was the Bel Air, considered the company's Crown Jewel.

The Bel Air Series consisted of a two and four-door sedan, sport coupe, and a convertible coupe. Everything that was standard on the lower priced series was standard on the Bel Air, plus so much more including comfort, convenience and styling options. There was a one-piece curved windshield which added superb visibility. The luggage compartment was massive and the 115-inch wheelbase provided plenty of interior room for its occupants. The 115-horsepower Blue-Flame six-cylinder engine was new and the most powerful engine in Chevrolet's history.

In 1954, the Bel Air was launched as a 1955 model and brought with it a fresh new, elegant look for Chevrolet. With bold features that included hooded headlights, tailfins, wrap-around windshield, and rear fender skirts, the Bel Air was able to out-style the competition. The base engine was a six-cylinder, 115 horsepower power-plant. At a base price of $1095, it was a bargain. It is considered America's first low-priced 'hardtop coupe'. The most famous of the Bel Air engine options was the 283 cubic-inch V-8 small-block, with Ramjet Fuel injection. It delivered one horsepower per cubic inch, a first for production cars. Along with style, the Bel Air was a fast machine. Chevrolet quickly ascertained a reputation for building performance vehicles.

A full-width grill, redesigned front and rear fenders, gas cap behind the left taillight, larger rectangular parking lights, and sweeping side trim were just a few of the changes that set the 1956 Chevrolet apart from the 1955, which had taken the country by storm with its all new body re-design.

For the performance-minded public, the 1956 Chevrolet offered three 265 cubic-inch Turbo-Fire V-8 engine options: base 170 hp, 205 hp 4 bbl and the 225 hp dual 4 bbl.

Chevrolet produced 1,574,740 cars in the 1956 model year, of which 41,268 were Belair Convertibles. The 3,320 pound car cost $2,443 with the base V-8. You could literally load your new Chevy with factory options and accessories and stay under $3,000.

In 1957, the Bel Air grew in length by 2-1/2 inches and received a wider and taller grille. Additional options became available including two-tone interior, power convertible top, shoulder harnesses, tinted glass, seat belts, tissue dispenser, and ventilated seat pads.

In total, there were seven body styles to select from. In 1957, a two-page Chevrolet magazine ad proclaimed that 'Chevy puts the purr in performance'. This Bel Air Convertible, with the optional 245 HP 283 CID small block V-8 equipped with two four barrel carburetors, would certainly deliver on the promise made by the ad copy noted above, delivering a hearty purr from its dual exhausts.

Over the years these popular cars became an icon for the entire generation and they have gone on to become one of the most desirable and collectable post war cars of all. 47,000 Bel Air convertibles were produced in the 1957 model year.

The Chevrolet models grew in length in 1958 and increased in size. The Chevrolet Impala became their top-of-the-line model, followed by the middle-range Bel Air. The front end featured a broad grill with quad headlights.

By the later part of the 1960s, the Chevrolet Bel Air moved into the territory of a fleet vehicle. It was a basic machine built on Chevrolet's large platform and outfitted with few thrills or options. It was a good car though it lacked the prestige of times gone by.

The 1964 Chevrolet Be Air (Series 1600) was Chevrolet's mid-priced line between the basic Biscayne and the Impala.

The Biscayne was discontinued after 1972 and the Bel Air was moved into its place, becoming Chevrolet's low-level model. Production in the United States continued until 1975 though production continued in Canada until 1981.
By Daniel Vaughan | Dec 2007
For more information and related vehicles, click
here
St. Louis Classic & Exotic Car Auction
Over 300 vintage cars on the block at the St. Louis Classic & Exotic Car Auction to be held in St. Louis, MO on May 31st and June 1st, 2013 ST. LOUIS – More than 300 classic and exotic vehicles will be on the block at the St. Louis Classic & Exotic Car Auction, Friday May 31st and Saturday June 1st. MotoeXotica Classic Cars will host the auction at the MotoeXotica Classic Cars facility located at 2340 Cassens Drive, Fenton MO, 63026. The facility is conveniently located just pas...[Read more...]
Mecum's Kansas City Spring Auction Reaches $9.6 Million in Sales
April 25-27 Auction Draws Large Crowd and Diverse Selection to Downtown K.C. Magnificent and serene Kansas City, Mo., turns into a car collector's paradise twice a year when Mecum Auctions comes to town. Last weekend, April 25-27, the Kansas City Convention Center was transformed into that dream location with 735 cars spread across the gleaming floor of beautiful Bartle Hall. With 446 cars selling over the three-day period for a 61 percent sell-through rate, the enduring auction brough...[Read more...]
2013 General Tire Norra Mexican 1000 Goes Down In The History Books
After four days of competition through 1,200-plus miles of the most demanding terrain on earth, the 2013 General Tire NORRA Mexican 1000 is now in the history books. An event record of 148 entries (up from 95 just one year ago) took the green flag at the historic Mexicali bullring for the fourth annual running of this vintage-flavored on and off-road rally through the legendary Baja peninsula, with overnight stops in Bahia de Los Angeles, Loreto and La Paz. The rally ended in San Jose del Cabo...[Read more...]
Tradition Continues At Auctions America'S Spring Carlisle Collector Car Auction
• Total sales at Auctions America's Spring Carlisle collector car auction exceed $2.2 million • Top seller: rare 1959 Chevrolet Corvette 'Big-Brake' Fuel-Injected Convertible realizes $148,500 • Full weekend of collector car events attracts bidders from 27 states across the U.S. • Auction raises more than $12,000 to benefit the Chip Miller Amyloidosis Charitable Foundation AUBURN, Indiana (May 1, 2013) – Tradition continued in Carlisle, Pennsylvania this past weekend, as Auctions Am...[Read more...]
Brass Era, Corvettes Highlight First Four Classes Of Pinehurst Concours
VILLAGE OF PINEHURST, N.C. (April 24, 2013) – How often do you get an opportunity to see autos more than 100 years old restored to pristine condition, or a series of vintage Corvettes battling it out for 'Best in Class' to celebrate the 60th anniversary of an American sports car classic? It will all unfold for car enthusiasts the weekend of May 3-5 on the emerald green fairways of historic Pinehurst Resort as the inaugural Pinehurst Concours d'Elegance begins a new tradition in a state...[Read more...]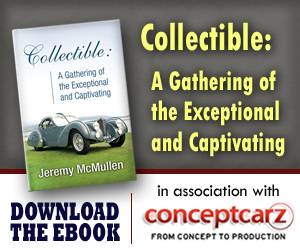 Similarly Priced Vehicles from 1953
MG TD ($1,945-$1,945)
Ford Crestline ($2,120-$2,400)
Mercury Monterey Custom ($2,000-$2,115)
MG TD Sport Special ($1,945-$1,945)
Pontiac Chieftain ($1,960-$2,800)
Mercury Monterey ($2,130-$2,590)
Chevrolet DeLuxe 210 Series ($1,705-$2,271)

Average Auction Sale: $22,683
Chevrolet
Monthly Sales Figures
Volume
December 2014
184,938
November 2014
149,673
October 2014
155,965
September 2014
153,873
August 2014
185,930
July 2014
175,155
June 2014
188,567
May 2014
205,010
April 2014
181,648
March 2014
179,681
February 2014
153,913
January 2014
119,089
(More Details)
© 1998-2014. All rights reserved. The material may not be published, broadcast, rewritten, or redistributed.