1940 Buick Series 70 news, pictures, specifications, and information

Tweet
1940 was a big year for the Buick marque, with registration passing the 233,000 mark, which was something it had not done since 1926. Buick introduced the Estate wagon and the Super line in 1940, adding to pedigree of the Buick marque.

The Buick vehicles became more modern in design in 1940 by phasing out such design cues as the side-mounted spare tires and the running boards.

This 1940 Buick Roadmaster Sedan Model 71 was offered for sale at the 2007 RM Auctions held at Meadow Brook. It was offered without reserve and estimated to sell between $25,000 - $35,000. It is powered by a 320 cubic-inch eight-cylinder engine capable of producing over 140 horsepower. There is a column-mounted three-speed sliding gearbox and four-wheel hydraulic drum brakes. It is finished in black with a gray and white pinstriped interior. It has been treated to a full body-off-the-frame restoration to concours quality in 1988. It has earned its AACA National badge and an AACA Senior National win.

Though it has an older restoration, it is still in good condition. At auction, the high bid exceeded the estimated value; the car was sold for $36,300 including buyers premium.
By Daniel Vaughan | Aug 2007
This 1940 Buick Series 70 Roadmaster Convertible Sedan is one of the last four door convertibles made by Buick, and has an interesting history. Purchased from the owner of Sailorman in Ft. Lauderdale, it was then sent to a restoration shop in Melbourne, Florida. While there it was fitted with new red leather interior, tan cloth top with red piping, and a complete paint job on a very clear body. The wide whites compliment the look and the ride, and this three speed, 320 cubic-inch OHV eight Buick performs as it should. Lea Francis Ltd of W. Palm Beach went through the mechanicals, and they fitted it with a new fuel pump just prior to its trip North. Only 235 of these Roadmaster Phaetons were produced, and it unknown how many exist in modern times.
As the 1930s came to a close, Buick adopted an all eight-cylinder range that would continue through to World War II and beyond. The 1940 Roadmaster was designated the Series 70 and was positioned just below the top-of-the-range Limited Series 80, in the model line-up. It shared its styling with the Super and was available as a Touring Sedan, Convertible Phaeton, Convertible Coupe or Sport Coupe. The 76C Convertible Coupe sold for $1,430 and just 6060 examples were built. This was the last time Buick offered sidemounts and the first time 'Fore-N-Aft' directional indicators were added, an industry first.

This Roadmaster Convertible Coupe was once owned by automotive adventurer Martin Swig who purchased the car in 2006. At the time of purchase, it wore an older restoration but was still a driver-quality vehicle. A short time later, swig sold the car to a close friend. The car was then prepared for the month-long, 7,600 Peking-to-Paris Motor Challenge. After its return to the US, the Buick was comprehensively gone through as needed. It has since participated in the California Mille on two occasions.

In 2012, this car was offered for sale at the Quail Lodge Sale presented by Bonhams. The car was estimated to sell for $50,000 - $60,000. As bidding came to a close, the car had failed to find a buyer willing to satisfy its reserve. It would leave the auction unsold.
By Daniel Vaughan | Oct 2012
The Roadmaster named first appeared on Buick automobiles in 1936 as a celebration of their engineering improvements and advancements in design. The Buick Series 80 became known as the Roadmaster. The Roadmasters were built on the longest wheelbase Buick had to offer. From 1946 through 1957 they were the most elegant and prestigious automobiles that Buick sold.

From 1936 through 1948 the Roadmaster appeared in coupe, sedan, convertible and station wagon bodystyles. A hardtop coupe was added in 1949 and dubbed the Riviera.

The Roadmaster named reappeared in 1991 and continued in production until 1996. It served as a replacement for the Electra model line and offered as an Estate Wagon. A sedan was introduced in 1992.

The end of the 1953 Buick Roadmaster station wagon meant the end of the last wood-bodied station wagon to be mass-produced in the United States. In 1996, the end of the Buick Roadmaster Estate Wagon meant the end of the full-size family station wagons.
By Daniel Vaughan | Mar 2006
For more information and related vehicles, click
here
120 years of motor sport at Mercedes-Benz take centre stage at the Goodwood Festival of Speed 2014
'Addicted to Winning': at this year's Goodwood Festival of Speed, Mercedes-Benz looks back on some fascinating racing victories of the last 120 years •The unique motor sport heritage of the Mercedes-Benz brand is being celebrated with an exclusive installation by sculptor Gerry Judah •Mercedes-Benz and Gran Turismo®6 jointly celebrate '120 years of motor sport' Stuttgart. – The thrilling victories of the Mercedes-Benz Silver Arrows mark the peaks of the history of motor sport for...[Read more...]
MERCEDES-BENZ 2014 G63 AMG: THE ULTIMATE G-CLASS
The latest technology for the AMG off-road icon: the new 2014 G63 AMG impresses with a state-of-the-art powertrain, expressive new design and improved efficiency. All this is largely attributable to the AMG 5.5-liter V8 biturbo engine delivering 536 hp and the AMG SPEEDSHIFT PLUS 7-speed automatic transmission. Every new AMG high-performance vehicle offers an outstanding mix of 'more power from less fuel' – and the G63 AMG is no exception. The 'strong man' in the AMG model range has been furt...[Read more...]
POTEET, CIZEK EARN TOP AWARDS AT GOODGUYS 16TH PPG NATIONALS
Columbus, OH – Tennessee's George Poteet and Nebraska's Ron Cizek collected the top two awards at the Goodguys 16th PPG Nationals in Columbus, Ohio last weekend. Under brilliant sunshine and in front of record crowds, Poteet's vintage NASCAR-inspired '69 Torino won the Goodguys 2013 Optima Batteries Street Machine of the Year while Cizek's popular Ridler award-winning '40 Ford coupe collected the Goodguys 2013 Classic Instruments Street Rod of the Year title. For Cizek, it's the second ma...[Read more...]
The Champion in Touring Car Racing : The BMW M3
In August 1985, a rumour surfaced in motor magazine Auto-Deutschland which emanated from a new sports car. An A Group Car from BMW that was a thoroughbred racing car according to the rules but was also to be produced in a version licensed to drive on open roads for everyday use. Speculation about this dream car that could take to normal roads and was intended for the 'Most dynamic among BMW 3 Series drivers' was right on target. But the pundits missed the mark about the motor-sport car by a mile...[Read more...]
Auctions America By RM's 2012 Auburn Spring Auction
'Variety' is the buzzword for this year's Auctions America by RM June 1-3 Auburn Spring auction, which will offer a huge range of collector vehicles and an enormous private collection of automotive memorabilia. More than 600 American muscle cars, Classics, foreign sports cars and hot rods will cross the block at the historic Auburn Auction Park, the company's national headquarters in Auburn, Indiana. 'Last year was our first spring event at the park,' said Auctions America by RM's President ...[Read more...]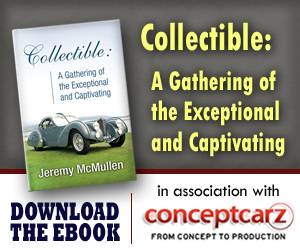 Buick
Monthly Sales Figures
Volume
November 2014
19,143
October 2014
18,699
September 2014
17,466
August 2014
22,143
July 2014
17,683
June 2014
21,403
May 2014
19,957
April 2014
19,214
March 2014
20,428
February 2014
19,192
January 2014
13,278
December 2013
15,379
(More Details)
© 1998-2014. All rights reserved. The material may not be published, broadcast, rewritten, or redistributed.