1931 Stutz Model DV-32 news, pictures, specifications, and information

Tweet
In the early 1930s, Stutz doubled the number of valves per cylinder in its engine resulting in a boost of horsepower by 40-percent from the base motor. It was known as the DV-32 for its 32 valves, and it was used to power vehicles that were adorned in an array of bodies.

Chassis number DV-21-1345 is one of the last examples built in 1931. As such, it wears slightly elliptical double-bar bumpers that nearly touch each other at either end, a feature that was only seen on the 1931 models.

The coachwork is a five-passenger sedan that is finished in dark blue paint with yellow beltline accents. There are dual side-mount wire-wheel spares, whitewall tires, Ryan-Lite headlights and chrome details. Inside, there is plush camel cloth with brown carpets, roll-up window shades, a folding footrest and a lap robe rope. The driver's area features a finished console of burled wood veneers framed in wood grain sections.

Since new, this vehicle has been treated to a nut-and-bolt, ground-up restoration.

In 2011, the car was offered for sale at the Gooding & Company auction in Scottsdale, Arizona. It was estimated to sell for $150,000 - $200,000. As bidding came to a close, the car had been sold for the sum of $170,500, inclusive of buyer's premium.
By Daniel Vaughan | Feb 2011
Convertible Coupe
Engine Num: DV32597

This Stutz DV-32 Convertible Coupe is powered by an eight-cylinder, double overhead camshaft engine with four-valve per cylinder, and capable of producing 156 horsepower. It sits on a wheelbase that measures 145-inches and carried an original sale price of $6,495. This is an original car and one of the few examples that can claim this title. It was offered for sale at the 2007 Blackhawk Collection exhibit at the Pebble Beach Concours d'Elegance.

The Stutz automobile company of Indianapolis, Indiana, was the creation of automotive maverick Harry C. Stutz.
By Daniel Vaughan | Feb 2011
For 1931, Stutz produced just 384 examples of their top-of-the-line model, the DV-32.

This example, car number DV-42-1383, it an early-production DV-32 that rides on an extended 145-inch wheelbase and styled with convertible sedan coachwork. Although designed and built by LeBaron in Detroit, this body style was offered through the standard catalogue and would have been delivered to Stutz 'in the white' - without paint and upholstery.

The car spent its early years in California where it was purportedly used in the production of Hollywood films. In 1950, the Pettit family purchased the Stutz from its second owner. It served as Mr. Pettit's primary transportation throughout college and later it was a fixture at the Museum of Motoring Memories in Natural Bridge, Virginia. It has been apart of the Pettit Collection for more than 60 years.

The coachwork was repainted many years ago, most likely before World War II. It remains remarkably untouched in all other areas and displays the consistent patina expected of an unrestored pre-war automobile.

The car is finished in two contrasting shades of blue and is outfitted with a tan top, leather-covered trunk, painted wire wheels and correct factory-delivered accessories. The interior is original fabric upholstery. It has its 1958 Virginia Department of State registration sticker affixed to the windscreen and the odometer shows just over 66,000 miles. It is currently not in running order.

In 2012, the car was offered for sale at the Gooding & Company auction held in Pebble Beach, California. It was estimated to sell for $225,000 - $300,000 and offered without reserve. As bidding came to a close, the car had been sold for the sum of $154,000, inclusive of buyer's premium.
By Daniel Vaughan | Dec 2012
As many automakers began using large V12 and V16 engines, Stutz decided to stick with their 322 cubic-inch former BB engine which had been designed by the dean of the Stutz engineering department, Charles 'Pop' Greuter, who gave it double overhead camshafts and angled valves above hemispherical combustion chambers. In this guise, the four valves per cylinder earned it the 'DV32' name. The engine offered 125 horsepower, or about the same horsepower-per-cubic-inch ratio of the Model J Duesenberg. The gearbox was a four-speed unit built by Duesenberg's supplier, Warner.

The DV32 was capable of 80 mph, even with the heaviest formal coachwork on the longest chassis. Sadly, only about 200 examples were delivered before the company succumbed to the Great Depression.

For three decades, Rollston Company of New York City was Manhattan's most prestigious coachbuilder. They portfolio was diverse and encompassed everything from fleet roadsters to very large town cars. Their work was done to very high standards focusing on build quality, with equally impressive price tags.

The five-passenger convertible victoria was originally developed in Europe in the early 1920s and the popularized in the United States by Waterhouse and, later, Rollston, who continued producing it after Waterhouse folded. The style was distinguished by a formal top with no rear quarter windows, providing a sheltered perch for rear seat passengers when the top was raised. When lowered, the top would lie flat into a scooped 'notch' behind the doors. Other design elements included a lowered windscreen and side windows.

This Rollston Convertible Victoria is the second of seven built on the Stutz chassis. It was displayed at the Chicago Auto Show of 1931. In the 1960s, the original SV16 engine was replaced by the more desirable DV32 unit, after which the car spent many years in the well-known collection of Bill Harrah. It was eventually acquired from Harrah's Automobile Collection by Knox Kershaw. The present owner acquired it from Mr. Kershaw in the early 1990s.

The owner undertook an exhaustive, high-quality, nut-and-bolt restoration to concours levels, which was completed in the early 1990s. After the work was completed, it was shown at several events including the Pebble Beach Concours d'Elegance in 1994, where it was awarded Second in Class. In 2000, it was shown at the California Grand Classic of the Classic Car Club of America, where it was judged at 100 points.

The car is finished in pale blue with dark red beltlines and a black top. The interior is upholstered in dark red leather. There are Ryanlite headlights and the famous 'Ra' headlamps.
By Daniel Vaughan | Jan 2014
In 1876, Harry C. Stutz was born. He grew up on the family farm where he often helped repair their farm equipment. This led to a fascination with engines and in 1897 he built his first car; soon after he began designing and creating engines. The Stutz Company, based in Indianapolis, Indiana, introduced its first production vehicle in 1911. The vehicle, after only five months of design and build, was immediately entered in the inaugural Indianapolis 500 mile race where it captured an 11th place finish. Not bad for its first vehicle and first race. Throughout the company's life span, it would endure good and bad times. The Stutz Company was in production during World War I and the Great Depression, both responsible for negatively affecting Industry.

Stutz will be forever remembered for their Bearcat model, a vehicle produced until 1925. This pure-bred race car had an aggressive and masculine stance; the interior was void of luxury and amenities. With its high revving straight 8-cylinder overhead camshaft engine and lightweight construction, the vehicle was poised to compete in national and international competition.

In 1919, Harry Stutz was forced by stock holders to leave his company. In 1922, Charles Schwab was given control of the company. In 1925, Schwab gave control of the company to Frederick Moskovics. Moskovic planed to revitalize the company by shifting the priorities from racing to producing luxurious automobiles. This did not mean that the company was to abandon its racing heritage, rather Moskovics wanted to expand its racing prowess by entering it in International competition. The 24 Hours of Le Mans is a grueling endurance battle that tests stamina, speed, and durability. In 1928 a Stutz Series BB Black Hawk Speedster, driven by Edouard Brisson and Robert Bloch, was entered in the French LeMans race. The vehicle did well, leading for most of the race. Half way through the 22nd hour, the gearbox broke on the Stutz and a Bentley 4.5-liter was able secure a first place finish. The Stutz was second, the best an American car had ever placed in this prestigious race.

In 1929, the Stutz Company decided to increase their chances of victory by entering more than one vehicle into the Le Mans race. The vehicles were designed and prepared especially for the race. Gordon Buehrig was tasked with designing the bodies for the 2-seater sportscars. A modified 5.5-liter straight 8-cylinder with a supercharger were placed in the front and powered the rear wheels. Three vehicles entered by Stutz Paris, Colonel Warwick Wright, and Charles Weymann were anxiously anticipating a repeat of the prior years success or possibly an overall victory. Sadly, only one vehicle would finish. Behind a fleet of Bentley's was the Stutz followed by a Chrysler 75. With a fifth place finish, the Stutz cars were no match for the powerful and agile Bentley Speed Six models.

In the early part of 1929, Moskovics resigned and Edgar Gorrell assumed the duties of president. Many manufacturers were developing multi-cylinder cars which attracted a larger market share of the already small luxury car market. The Stutz Company was not in a financial position to develop an engine of this caliber. Instead, Stutz embarked on developing an inline eight cylinder engine with single overhead cams. The result was the SV16, representing the side-valve 16 meaning that one exhaust and one intake valve per cylinder was allocated for the eight cylinders. By using the name SV16, it gave the vehicle an allure of equal capacity to other nameplates such as the Cadillac and Marmon V16. The SV-16 came equipped with a windshield safety glass and hydrostatic brakes. The chassis sat lower than most of the competition giving it an advantage through turns. During its production run, around 100 examples were produced.

Following on the heals of the SV16 was the DV-32. The engine featured updraft Schebler carburetors and four valves per cylinder equaling 32 valves and dual overhead camshafts. The power-plant was capable of producing 156 horsepower. The vehicle sat atop of a 145 inch wheelbase and outfitted with Stutz 8 hubcaps. At $6,400 these vehicles were extremely expensive at the time.

The Stutz 8 was produced from 1926 through 1935. The engine produced just over 90 horsepower. Within a few years, horsepower had been incrased to over 115.

In 1928, the Blackhawk series was introduced. These sports cars were affordable, competitive, and compact; outfitted with a powerful engines.

During the close of the 1920's, the Stutz company was riddled with lawsuits, including 'breach-of-contract' over engine building. James Scripps-Booth entered a lawsuit about the low-slung worm drive design Stutz had been using. The Stutz Company was beginning to fall on hard times.

The demise on the race track would slowly transcend to the market place. For all of 1930, there were less than 1500 cars produced. Sales declined even more in the following years and in 1934, after only six Stutz cars produced, the factory closed its doors. This is not to suggest the racing results were solely responsible for the company's woes. The Great Depression crippled and destroyed many auto manufacturers at this time. Competition in design and technology was ever present and the dependable, mass-produced, low-cost automobile manufacturers were in the best positions to come out on top. The Stutz Company had an impressive racing heritage and its automobiles are legendary. The Stutz name is respected by many including those overseas.

In 1968 a New York banker named James O'Donnell incorporated Stutz Motor Car of America. Ghia was commissioned to create a design for the Stutz Blackhawk, which was shown to the public in 1970. Sales continued for more than a decade selling very strongly until 1987. Production slowed from 1987 until 1995 when production ceased.
By Daniel Vaughan | Aug 2007
For more information and related vehicles, click
here
Techno Classica 2014: more than 30 racing cars to celebrate 120 years of Mercedes-Benz motor racing history
•Cars that were the heroes of magical moments put their stamp on this high-powered, most comprehensive show presentation •With more than 30 vehicles, Mercedes-Benz Classic presents motor racing history in all its unique breadth and depth •120 years of Mercedes-Benz motor sport in the focus of the leading international classic motor show 120 years of Mercedes-Benz motor racing history have produced a timeline of extraordinary victories which since 1894 also stand for outstanding innovations ...[Read more...]
Two Best of Show Winners : Similar Designs : Same Owner
When these two vehicles won Best of Show honors at major Concours d'Elegance events, they both were owned by Judge Joseph Cassini III. The green colored Chrysler 4 door Phaeton with tan convertible top wears coachwork by LeBaron. In 2012, it won the Best of Show title (for an American car) at the Concours d'Elegance of America at St. Johns. The other car is a Packard 2 door Convertible Victoria with coachwork by Dietrich. It won this years Pebble Beach Concours d'Elegance Best of Show honors...[Read more...]
Magnificent Series of Coachbuilt Classics To Grace RM's Amelia Island Concours D'Elegance Sale
• RM Auctions returns as the official auction house of the Amelia Island Concours d'Elegance, March 9, 2013 • Single-day sale features breathtaking roster of more than 80 investment-quality collector cars • Notable highlights include an outstanding series of coachbuilt classics headlined by a multi-million-dollar 1935 Duesenberg Model SJ Walker-LaGrande Convertible Coupe and a trio of Cords from the personal collection of Jim Fasnacht • Frequently updated list of entries available online at r...[Read more...]
POW! BAM! ZOOM! The Original 1966 TV Batmobile To Cross Auction Block At Barrett-Jackson Scottsdale
Holy Grail of TV Star Cars to be Sold for First Time January 19, 2013 Barrett-Jackson, the World's Greatest Collector Car Auctions™, announced today that it will offer one of the most recognized and popular pieces of entertainment history worldwide, at its 42nd annual Scottsdale www.barrett-jackson.com/scottsdale/ auction in January – the only 1955 Lincoln Futura concept car which was heavily modified by legendary customizer George Barris to become the original 1966 Batmobile in the l...[Read more...]
The Champion in Touring Car Racing : The BMW M3
In August 1985, a rumour surfaced in motor magazine Auto-Deutschland which emanated from a new sports car. An A Group Car from BMW that was a thoroughbred racing car according to the rules but was also to be produced in a version licensed to drive on open roads for everyday use. Speculation about this dream car that could take to normal roads and was intended for the 'Most dynamic among BMW 3 Series drivers' was right on target. But the pundits missed the mark about the motor-sport car by a mile...[Read more...]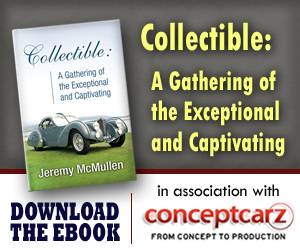 © 1998-2014. All rights reserved. The material may not be published, broadcast, rewritten, or redistributed.