1955 Buick Roadmaster Series 70 news, pictures, specifications, and information

Tweet
This 1955 Buick Roadmaster Convertible was offered for sale at the 2007 Blackhawk Collection Exhibit held at the Pebble Beach Concours. It carried a price tag of $175,000.

This car has been treated to a frame-off restoration with 61,000 original miles. It is a National Show Winner at the 2005 Buick Club of America, Buick Club of American National Meet Gold Award, 13th Annual Buick Pontiac Show it won 1st Place and Best of Show, Wachusett 31st Antique & Classic it won 1st Place Winner. This vehicle has undergone a complete frame-off restoration to the highest standards with all stock components. The vehicle is powered with its 322 cubic-inch V8 producing 236 horsepower. This is one of the finest 1955 Buick Roadmaster Convertibles in the country.
Buick Roadmaster Prototype (BX 279B)
This car appears to be a standard 1955 Buick Roadmaster. But in fact, it is a one-off prototype built for one of General Motors' Motorama shows. These extravaganzas were marketing masterstrokes, high profile traveling road shows designed to showcase GM's innovative design and engineering. These prototypes allowed the public to see new models before they actually went into production. They were virtually hand-built and hugely expensive to fabricate.
| | |
| --- | --- |
| | Convertible |
In 1988, there were 36 of these Roadmasters registered in the United States out of 4,739 produced in 1955. This Roadmaster has a 322 cubic-inch V8 engine that produces 236 horsepower. It has power steering, power brakes, power windows, power seats and electro-hydraulic convertible top. The Buick was purchased in 1955 by Stanley Waters at Haygood Buick in Miami, Florida. It was sold to the current owner 40 years later in May of 1995.

The vehicle underwent a three-year, frame-off registration at Chris Smith's Creative Workshop in Dania, Florida. The car was delivered to the current owners at a Buick, Olds, Pontiac show in Pembroke Pines Florida on April 12th of 2002.
The Roadmaster named first appeared on Buick automobiles in 1936 as a celebration of their engineering improvements and advancements in design. The Buick Series 80 became known as the Roadmaster. The Roadmasters were built on the longest wheelbase Buick had to offer. From 1946 through 1957 they were the most elegant and prestigious automobiles that Buick sold.

From 1936 through 1948 the Roadmaster appeared in coupe, sedan, convertible and station wagon bodystyles. A hardtop coupe was added in 1949 and dubbed the Riviera.

The Roadmaster named reappeared in 1991 and continued in production until 1996. It served as a replacement for the Electra model line and offered as an Estate Wagon. A sedan was introduced in 1992.

The end of the 1953 Buick Roadmaster station wagon meant the end of the last wood-bodied station wagon to be mass-produced in the United States. In 1996, the end of the Buick Roadmaster Estate Wagon meant the end of the full-size family station wagons.
By Daniel Vaughan | Mar 2006
For more information and related vehicles, click
here
NEW DODGE VIPER DOCUMENTARY CAPTURES HAND-BUILT CRAFTSMANSHIP AND PASSION IN EVERY DODGE VIPER
Twenty-two minute 'Viper: DNA of a Supercar' available for viewing at driveSRT.com/2015/viper/documentary January 8, 2015 , Auburn Hills, Mich. - A new 22-minute documentary, 'Viper: DNA of a Supercar,' launched today by Dodge showcases how the Dodge Viper is created like no other car – with passion driving every ounce of design origin, attention to detail and meticulous handcrafting. The film can be viewed at driveSRT.com/2015/viper/documentary. 'The Dodge Viper is a precisi...[Read more...]
THE LIGHTWEIGHT E-TYPE IS REBORN
◾Jaguar is to build six brand new 'Lightweight' E-types – the 'missing' six Lightweights that were never built from the intended 18-car series ◾The Jaguar brand's first ever 're-creation' project, the all-aluminum cars, will be assigned the six remaining chassis numbers which were originally allocated in 1963 ◾All six vehicles will be built as perfect reproductions and to the exact specifications of the original 12 cars first produced in 1963 ◾The first new Lightweight E-type will make its pu...[Read more...]
Home Of Rolls-Royce Collection Debuts At Quail
On 1 January 2013,Rolls-Royce Motor Cars celebrated 10 years of production at the Home of Rolls-Royce in Goodwood, England. To mark this latest chapter in the marque's 109-year history, the very first vehicle of a special collection of Ghost and Phantom family models, conceived and designed by the Rolls-Royce Bespoke team, will be unveiled this month. The first Home of Rolls-Royce Collection car will make its world debut at Quail, A Motorsports Gathering on Friday 16 August at 10.00 am in th...[Read more...]
Prototype Cadillac Not Seen In Decades Coming To Amelia
For the first time in 64 years the first Cadillac to wear the name 'Coupe de Ville' will make a public appearance. The site for this historic re-debut is the 18th annual Amelia Island Concours d'Elegance on March 10, 2013. Charlie Wilson was the CEO of General Motors from 1946 through 1953 and President Eisenhower's Secretary of Defense from 1953 through 1957. When Wilson left GM in 1953, the corporation gave him an extraordinary gift honoring his long service. What he got was the origina...[Read more...]
CADILLAC CONCEPT CARS STAR at AMELIA CONCOURS d'ELEGANCE
There are limited production cars, there are rare cars and there are concept cars that never find their way to the showroom. A fleet of Cadillac's rare and mythic Motorama and Detroit Auto Show Concept Cars will take to the field at the 18th Annual Amelia Island Concours d'Elegance on Sunday March 10, 2013. Created under the supervision of GM's legendary styling chief, Harley Earl, the Cadillac Concept cars of the 'Fifties were created as the stars of GM's Motorama shows. All are blood anc...[Read more...]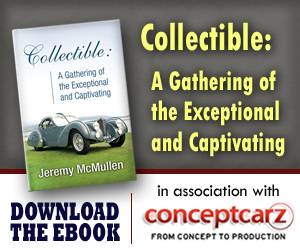 Buick
Monthly Sales Figures
Volume
December 2014
20,357
November 2014
19,143
October 2014
18,699
September 2014
17,466
August 2014
22,143
July 2014
17,683
June 2014
21,403
May 2014
19,957
April 2014
19,214
March 2014
20,428
February 2014
19,192
January 2014
13,278
(More Details)
© 1998-2014. All rights reserved. The material may not be published, broadcast, rewritten, or redistributed.