1955 Buick Roadmaster Series 70 news, pictures, specifications, and information

Tweet
This 1955 Buick Roadmaster Convertible was offered for sale at the 2007 Blackhawk Collection Exhibit held at the Pebble Beach Concours. It carried a price tag of $175,000.

This car has been treated to a frame-off restoration with 61,000 original miles. It is a National Show Winner at the 2005 Buick Club of America, Buick Club of American National Meet Gold Award, 13th Annual Buick Pontiac Show it won 1st Place and Best of Show, Wachusett 31st Antique & Classic it won 1st Place Winner. This vehicle has undergone a complete frame-off restoration to the highest standards with all stock components. The vehicle is powered with its 322 cubic-inch V8 producing 236 horsepower. This is one of the finest 1955 Buick Roadmaster Convertibles in the country.
Buick Roadmaster Prototype (BX 279B)
This car appears to be a standard 1955 Buick Roadmaster. But in fact, it is a one-off prototype built for one of General Motors' Motorama shows. These extravaganzas were marketing masterstrokes, high profile traveling road shows designed to showcase GM's innovative design and engineering. These prototypes allowed the public to see new models before they actually went into production. They were virtually hand-built and hugely expensive to fabricate.
| | |
| --- | --- |
| | Convertible |
In 1988, there were 36 of these Roadmasters registered in the United States out of 4,739 produced in 1955. This Roadmaster has a 322 cubic-inch V8 engine that produces 236 horsepower. It has power steering, power brakes, power windows, power seats and electro-hydraulic convertible top. The Buick was purchased in 1955 by Stanley Waters at Haygood Buick in Miami, Florida. It was sold to the current owner 40 years later in May of 1995.

The vehicle underwent a three-year, frame-off registration at Chris Smith's Creative Workshop in Dania, Florida. The car was delivered to the current owners at a Buick, Olds, Pontiac show in Pembroke Pines Florida on April 12th of 2002.
The Roadmaster named first appeared on Buick automobiles in 1936 as a celebration of their engineering improvements and advancements in design. The Buick Series 80 became known as the Roadmaster. The Roadmasters were built on the longest wheelbase Buick had to offer. From 1946 through 1957 they were the most elegant and prestigious automobiles that Buick sold.

From 1936 through 1948 the Roadmaster appeared in coupe, sedan, convertible and station wagon bodystyles. A hardtop coupe was added in 1949 and dubbed the Riviera.

The Roadmaster named reappeared in 1991 and continued in production until 1996. It served as a replacement for the Electra model line and offered as an Estate Wagon. A sedan was introduced in 1992.

The end of the 1953 Buick Roadmaster station wagon meant the end of the last wood-bodied station wagon to be mass-produced in the United States. In 1996, the end of the Buick Roadmaster Estate Wagon meant the end of the full-size family station wagons.
By Daniel Vaughan | Mar 2006
For more information and related vehicles, click
here
RONART'S LIGHTNING V8 GT AND GORDON MURRAY-DESIGNED ROCKET BRING BACK THE SIXTIES AT THE HURLINGHAM CLUB
◾GT models and GP racers from the Sixties' motoring era inspire style and design of rare models at the Capital's summer party An interpretation of classic lines and evocative times in British design and engineering: the Lightning V8 GT and Gordon Murray's 'cult' model Rocket are among the rare and unusual privately-owned motoring objets d'art displayed at the newest luxury event in London, Salute to Style at The Hurlingham Club. An entirely British project started in the late Nineties, th...[Read more...]
NISSAN'S LEGENDARY TAKUMI: FOUR MASTER CRAFTSMEN WHO HAND-BUILD EVERY NISSAN GT-R ENGINE
• Automaker continues pursuit of innovation and excellence
IRVINE, Calif. - In Japan, the term takumi is used to describe a master craftsman who has perfected his skills over years of painstaking work and dedication. It is reserved for those who are at the very top of their profession. At Nissan's expansive engine factory in Yokohama, four men have been designated as takumi. They are the sole assemblers of the engines that power one of the most heralded sports cars in automotive...[Read more...]
ROLLS-ROYCE CELEBRATES THE 2013 GOODWOOD REVIVAL
Rolls-Royce Motor Cars will celebrate a record Goodwood Revival this weekend, with all three days of the popular event selling out a month ahead of the event for the first time. The local manufacturer of super-luxury motor cars will host customers, prospects, VIPs and also entertain the thousands of visitors to the world's most popular historic motor race meeting in true Rolls-Royce style. This year the Rolls-Royce showroom at the March Motor Works – an authentic recreation of a 1960s dealers...[Read more...]
Corvette Shines in the Big Apple
All-new Corvette Stingray comes to New York City 60 years to the day after Motorama debut 2013-01-16 Sixty years ago tomorrow, spectators lined New York City's posh Park Avenue, waiting to get a glimpse of the ground-breaking Chevrolet Corvette on display at the General Motors' Motorama show. On Thursday, the Corvette will be back in The Big Apple, marking the historic milestone with the all-new 2014 Chevrolet Corvette Stingray. The all-new Corvette Stingray debuted earlier...[Read more...]
Prototype Cadillac Not Seen In Decades Coming To Amelia
For the first time in 64 years the first Cadillac to wear the name 'Coupe de Ville' will make a public appearance. The site for this historic re-debut is the 18th annual Amelia Island Concours d'Elegance on March 10, 2013. Charlie Wilson was the CEO of General Motors from 1946 through 1953 and President Eisenhower's Secretary of Defense from 1953 through 1957. When Wilson left GM in 1953, the corporation gave him an extraordinary gift honoring his long service. What he got was the origina...[Read more...]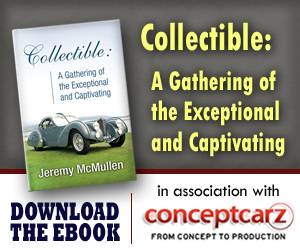 Buick
Monthly Sales Figures
Volume
September 2014
17,466
August 2014
22,143
July 2014
17,683
June 2014
21,403
May 2014
19,957
April 2014
19,214
March 2014
20,428
February 2014
19,192
January 2014
13,278
December 2013
15,379
November 2013
15,072
October 2013
17,555
(More Details)
© 1998-2014. All rights reserved. The material may not be published, broadcast, rewritten, or redistributed.