1955 Buick Roadmaster Series 70 news, pictures, specifications, and information

Tweet
This 1955 Buick Roadmaster Convertible was offered for sale at the 2007 Blackhawk Collection Exhibit held at the Pebble Beach Concours. It carried a price tag of $175,000.

This car has been treated to a frame-off restoration with 61,000 original miles. It is a National Show Winner at the 2005 Buick Club of America, Buick Club of American National Meet Gold Award, 13th Annual Buick Pontiac Show it won 1st Place and Best of Show, Wachusett 31st Antique & Classic it won 1st Place Winner. This vehicle has undergone a complete frame-off restoration to the highest standards with all stock components. The vehicle is powered with its 322 cubic-inch V8 producing 236 horsepower. This is one of the finest 1955 Buick Roadmaster Convertibles in the country.
Buick Roadmaster Prototype (BX 279B)
This car appears to be a standard 1955 Buick Roadmaster. But in fact, it is a one-off prototype built for one of General Motors' Motorama shows. These extravaganzas were marketing masterstrokes, high profile traveling road shows designed to showcase GM's innovative design and engineering. These prototypes allowed the public to see new models before they actually went into production. They were virtually hand-built and hugely expensive to fabricate.
| | |
| --- | --- |
| | Convertible |
In 1988, there were 36 of these Roadmasters registered in the United States out of 4,739 produced in 1955. This Roadmaster has a 322 cubic-inch V8 engine that produces 236 horsepower. It has power steering, power brakes, power windows, power seats and electro-hydraulic convertible top. The Buick was purchased in 1955 by Stanley Waters at Haygood Buick in Miami, Florida. It was sold to the current owner 40 years later in May of 1995.

The vehicle underwent a three-year, frame-off registration at Chris Smith's Creative Workshop in Dania, Florida. The car was delivered to the current owners at a Buick, Olds, Pontiac show in Pembroke Pines Florida on April 12th of 2002.
The Roadmaster named first appeared on Buick automobiles in 1936 as a celebration of their engineering improvements and advancements in design. The Buick Series 80 became known as the Roadmaster. The Roadmasters were built on the longest wheelbase Buick had to offer. From 1946 through 1957 they were the most elegant and prestigious automobiles that Buick sold.

From 1936 through 1948 the Roadmaster appeared in coupe, sedan, convertible and station wagon bodystyles. A hardtop coupe was added in 1949 and dubbed the Riviera.

The Roadmaster named reappeared in 1991 and continued in production until 1996. It served as a replacement for the Electra model line and offered as an Estate Wagon. A sedan was introduced in 1992.

The end of the 1953 Buick Roadmaster station wagon meant the end of the last wood-bodied station wagon to be mass-produced in the United States. In 1996, the end of the Buick Roadmaster Estate Wagon meant the end of the full-size family station wagons.
By Daniel Vaughan | Mar 2006
For more information and related vehicles, click
here
ASTON MARTIN CONFIRMS BESPOKE SUPER SALOON: THE FINEST OF FAST CARS
◾Exclusive super saloon sees return of evocative Lagonda nameplate ◾Innovative special project champions exclusivity ◾Strictly limited series production from early 2015 25 July 2014, Gaydon: Aston Martin is today confirming a bespoke product programme for a new super saloon that will see the revival of the historic Lagonda nameplate in a strictly limited series. As has traditionally been the case, the Lagonda badge will once again sit proudly on a luxurious and exclusive super s...[Read more...]
Mecum Will Offer One-Of-A-Kind Personal Driver Of Corvette's Original Designer
• Harley J. Earl Corvette will Cross Mecum's Block at Chicago Auction Oct. 10-12
Walworth, WI - September 24, 2013 -- The factory-styling Sting Ray gifted to the father of the Corvette – Harley J. Earl – will cross the block at Mecum's Chicago auction this Oct. 10-12 at the Schaumburg Convention Center. Among an anticipated 1,000-car lineup, this car stands out as the personal driver of GM's head designer who was one of the most significant innovators in the history of the Amer...[Read more...]
Triple victory in the 2013 Design Trophy: Mercedes-Benz builds the most beautiful cars
The readers of the German motoring magazine 'Auto Zeitung' have voted for their favourite cars with the most appealing design. Models from Mercedes-Benz took first place in three categories: the A-Class was the winner in the compact class, and the CLS Shooting Brake took the laurels in the Estate Car class while also being voted the most beautiful car of all – the overall champion. This year 24,258 readers of 'Auto Zeitung' cast their votes for the most beautiful cars. The only criterion was...[Read more...]
Allard Automobiles Featured at 2012 Glenmoor Gathering
Allard automobiles will be one of the featured marques at the 2012 Glenmoor Gathering. More than 20 Allard automobiles are expected to be on display during the Glenmoor Gathering weekend. Allards featured lightweight bodies built in England but were usually fitted with big American engines, resulting in a terrific power to weight ratio. Shown above at last year's Glenmoor Gathering is an award-winning 1950 Allard J2 roadster owned by David K. Hans of Barrington, Illinois, that was displayed in...[Read more...]
Legendary Tucker Automobiles on Display at 2012 Glenmoor Gathering
Several 1948 Tucker Automobiles will be part of the show field at the 2012 Glenmoor Gathering, including an unrestored Tucker from the Gilmore Car Museum Collection (above). A total of 51 cars were built before production stopped and most of them survive today. The distinctive car-the brainchild of Preston Tucker-was designed by Alex Tremulis. In all, more than 200 vintage and classic American and European automobiles and motorcycles will be on the show field. The motorcycle class will f...[Read more...]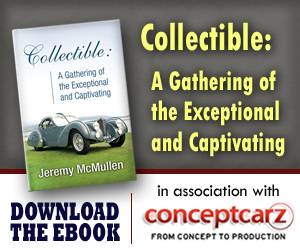 Buick
Monthly Sales Figures
Volume
August 2014
22,143
July 2014
17,683
June 2014
21,403
May 2014
19,957
April 2014
19,214
March 2014
20,428
February 2014
19,192
January 2014
13,278
December 2013
15,379
November 2013
15,072
October 2013
17,555
September 2013
15,623
(More Details)
© 1998-2014. All rights reserved. The material may not be published, broadcast, rewritten, or redistributed.