1985 Mercedes-Benz 380 Series news, pictures, specifications, and information

Tweet
The Mercedes-Benz 380 SL R107 was produced from 1980 through 1986. Under the bonnet of the 380 SL lurked an all-aluminum 3.8-liter V8 engine that produced over 150 horsepower. It engine was mated to a four-speed automatic gearbox and power was sent to the rear wheels. The 380SL was a two-seater coupe that cost nearly $39,000 in 1981. Also in the 380 Series at this time were the 380SEL which was a four-door sedan with seating for five. The 380SLC was a two-door coupe with seating for four and cost $46,640.

By 1984, only two models were being offered, the SL and SE. The cost of the SL was $43,820 while the SE four-door sedan cost $42,730. The SE version was very similar to the 300SD, distinguishable by its powerplants. The 300SD had a turbocharged diesel engine while the SE had a gasoline fueled V8. Standard equipment on the SE included anti-theft alarm and power seats, with a driver's airbag being offered for an additional cost.

W126 Series
The Mercedes-Benz W126 Series (named in accordance to their engine size) premiered in September of 1979 as the successor to the earlier W116 line. It was the second generation of the flagship Mercedes-Benz to bear the S-Class name referring to Sondeklasse or 'special class.' The W126 Series was initially offered with a straight-6, V8, and turbo diesel sedan models. A 2-door coupe was added in September of 1981.

In comparison to its predecessors, the W126 was more aerodynamic, fuel efficient, powerful, and capacious. It introduced many safety innovations including the first seatbelt pretensioners. It introduced a new design style for Mercedes-Benz which was later used on other vehicles in the company's lineup.

The W126 Series was produced for twelve years, lasting from 1979 through 1991, the longest of any S-Class generation since the first models were built in the mid-1950s. The W126 series initially included the 280, 300, 380 and 500 series models. After the first S-Class mid-cycle refresh, the W126 series included the 260, 300, 350, 420, 500, and 560 models. Variants included the SE (standard wheelbase), SEL (long wheelbase), and SEC (Coupe). The SD and SDL versions were the diesel models.
By Daniel Vaughan | Oct 2013
For more information and related vehicles, click
here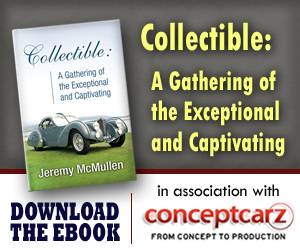 Mercedes-Benz
Monthly Sales Figures
Volume
December 2014
37,297
November 2014
37,110
October 2014
30,733
September 2014
29,523
August 2014
28,958
July 2014
29,406
June 2014
28,707
May 2014
26,617
April 2014
28,281
March 2014
29,316
February 2014
22,609
January 2014
23,892
(More Details)
© 1998-2014. All rights reserved. The material may not be published, broadcast, rewritten, or redistributed.