1933 Pierce-Arrow Silver Arrow news, pictures, specifications, and information

Tweet
Pierce-Arrow enjoyed remarkable prestige and standing from the earliest days of American motor cars. The original Silver Arrow was built for the Chicago Worlds Fair in 1933. Its streamlined styling was the most advanced of the day. It is powered by a 12-cylinder engine of 175 horsepower, and priced at a then huge sum of $10,000.

In 1933 five very special streamlined show cars were built to promote Pierce-Arrow's new and highly acclaimed V12 engine. First shown at the New York Auto Show in 1933, the Silver Arrow was designed by Phil Wright and was actually built in the Studebaker factory. The motoring press at the time heralded the Silver Arrow with the slogan 'Suddenly its 1940!' Special attention was focused on aerodynamics; the wider-angle v12 allowed for a much lower engine bay and dramatic styling hid the twin side-mounted spare tires inside the fenders. It took over three months and thirty skilled men to build the five cars. This is one of the four Silver Arrows still known to exist. Of all the Pierce-Arrow models, the Silver Arrows is perhaps the most sought-after example of 1930s luxury cars.

This particular car, with serial number 1, caused a sensation when it was unveiled at The New York Auto Show in January of 1933. It was the most daring and radical automobile of its day, giving an unnerving glimpse into the future. The $10,000 price tag was humbling; the top speed, a death defying 115 mph. Only five were built. This one being one of three that survive today. It took three months and thirty skilled men to build the five cars, mostly by hand. This car has scored 100 points at the CCCA Concours. Also it has won Best of Show and most popular at the Burn Center Concours, Most Elegant at The Pebble Beach Concours, and other Best of Show at Various meets.
This radical, aerodynamic design by Philip O. Wright and built by Studebaker in South Bend, Indiana was produced for the 1933 Chicago World's Fair. This example is one of five examples built, of which only three survive. The original price was $10,000 and its wide-angle V-12 was the first American engine with hydraulic tappets.

The Pierce-Arrow Company descended from Heintz, Pierce, and Munschauer in Buffalo, New York. It was founded in 1865 and manufactured bird cages and iceboxes. In 1896, George N. Pierce took control of the firm and began producing bicycles. With its elegant styling, dignified advertising, and respectable dealers, the Pierce-Arrow was the choice of wealthy owners and rivaled Packard for prestige. It pioneered the extensive use of aluminum, including cast-aluminum bodies. They were also the first automaker to feature hydraulic valve operation. Unfortunately, the conservative company clung to six-cylinder engines long after rivals Packard and Cadillac introduced V-8s.

By 1926 Pierce had been forced to merge with Studebaker and move to their headquarters in South Bend, Indiana. Hoping to stimulate sales, five hand-built concept cars, designed by Ralph Roberts and called Silver Arrows, were assembled in South Bend. At the Chicago Century of Progress International exposition in 1933 - and competing with Duesenberg's 'Twenty Grand' and Packards 'Car of the Dome' - the Silver Arrow upstaged them all with its integrated body and fenders, and tapered, aircraft-like shape.

The Silver-Arrow pioneered modern trends such as the rounded door openings, enveloped front fenders, low roofline, and flat body sides that concealed twin spare tires. With a marketplace that was flooded with a sea of boxy sedans, the sleek showcar was as modern as tomorrow.

Pierce-Arrow, best remembered for the Silver Arrow, went under in mid-1938.
By Daniel Vaughan | Jul 2011
1989 24 Hours of Le Mans: Mass and Mercedes Slay its Dragons
It had been nearly 35 years since Mercedes-Benz had made an appearance at Le Mans as a factory team. It had been longer than that since the German manufacturer had taken victory in the famed event. To return to the top the manufacturer needed speed, but they would also need experience. Jochen Mass was their ideal candidate. Mass had enjoyed a competitive, but short, Formula One career. He would earn victory in the 1975 Spanish Grand Prix at the impressive Montjuic Park Circuit. Unfo...[Read more...]
Goodwood Festival of Speed 2013: auction of Mercedes-Benz W 196 R one of highlights at world's 'largest motorised garden party'
• Mercedes-Benz Classic presents great moments in motor-racing history at Goodwood • Motorsport festival celebrating its 20th anniversary • Auction of only privately owned post-war Silver Arrow by Bonhams sure to cause a stir Stuttgart – This year's Goodwood Festival of Speed in West Sussex, England, includes the auction of a Mercedes-Benz Type W 196 R Grand Prix racing car on 12 July 2013. The auction will be one of the highlights of a weekend dedicated to motor sport. Mercedes-Benz...[Read more...]
2013 Chinese Grand Prix - Preview
The Formula One season resumes next week with the third round, the 2013 UBS Chinese Grand Prix, taking place at the 5.451 km Shanghai International Circuit, located 40 kms outside of the city. This year's race will be the 10th anniversary of the Chinese Grand Prix which made its debut during the 2004 season. • 'Shanghai specialist' Nico has led 78 of a total of 168 laps (46%) in the past three years in China
• Nico and Lewis have won the last two Chinese Grands Prix in 2012 and 2011 r...[Read more...]
Mercedes-Benz wins Best of Show title at the 2012 Pebble Beach Concours d'Elegance
• A Mercedes-Benz Saoutchik S Type receives the coveted award • Originally delivered in 1928 • Seventh Best of Show title for Mercedes-Benz Stuttgart – A Mercedes-Benz Saoutchik S Type has won this year's Best of Show title at the Pebble Beach Concours d'Elegance. The car, whose 'torpedo' bodywork with low windscreen was designed by French coachbuilder Jacques Saoutchik, captured the hearts of the judges, who named it the finest vehicle on display at the prestigious event. The...[Read more...]
Home again: the last Auto Union Type D twin-supercharger Silver Arrow returns to Audi
• Audi Tradition buys back the second 'Karassik restoration' car
• Auto Union Type D built in 1939, then lost in the USSR for many years
• Thomas Frank, Head of Audi Tradition: 'One of the most emotional moments in our heritage work for AUDI AG'
'This is one of the most emotional moments in our heritage work for AUDI AG – we have come full circle,' says Thomas Frank, Head of Audi Tradition. A few weeks ago, the car manufacturer was able to repurchase an extremely rare...[Read more...]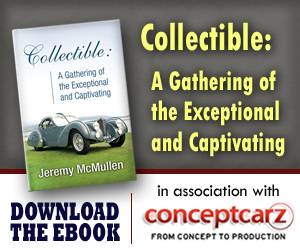 © 1998-2014. All rights reserved. The material may not be published, broadcast, rewritten, or redistributed.