1937 LaSalle Series 50 news, pictures, specifications, and information

Tweet
Convertible Sedan
Coachwork: Fisher

LaSalle was Cadillac's companion car, built from 1927 to 1940. It was typically a smaller car than the Cadillac. LaSalle models were also priced slightly below comparable Cadillac models.

The 1937 LaSalle was very modern in appearance and was also markedly more similar to contemporary Cadillac's than had been its predecessors. In fact, the Series 50 LaSalle now spanned the same 124-inch wheelbase as the lowest-priced Cadillac Series 60 line. A LaSalle Convertible Coupe was selected to pace the 1937 Indianapolis 500 race. It was driven by famed race driver Ralp de Palma. The first LaSalle models had used a V8 engine of the same basic design used in the Cadillac. However, LaSalle would be powered by an Oldsmobile-derived L-head straight eight during 1934-1936. Then, in 1937, LaSalle once again became a V8 powered car, equipped with what was essentially a Cadillac V8 with reduced displacement.

This car is one of only 530 4-door Convertible Sedans - a new model for 1937 - built that year. Its original price was $1,485. David Kruddener, the publisher of the Des Moines (Iowa) Register donated this car to the Cadillac & LaSalle Club Museum & Research Center. His father owned Kruddener Cadillac of Des Moines, one of the first dealerships in Iowa.
The 1937 LaSalle models were introduced in November of 1936. Total production for 1937 reached 32,005 units sold. The 37-50 LaSalle was available as a two- and four-door touring sedan, a convertible sedan, convertible coupe, and a sport coupe. They all rested on a 124-inch wheelbase, except for the commercial chassis's which had a larger 160-inch wheelbase and measured 237-inches in length. The styling was courtesy of Harley Earl done in the style of Art Deco designs. They had a single piece bumper, dramatic pontoon fenders and chevron trim integrated into the front fenders. There was a vee windshield and the bodies were constructed entirely of steel.

This Sport Coupe is finished in a dark rose metallic that has a hint of burnt tangerine. It has a trunk-back coupe, a dark maroon velour interior with a mohair type of headliner. The odometer reads just 89,603 miles since new. The rear seating area features two jump seats that fold down from underneath the rear window and face toward each other with the back being below each quarter window.

The engine is a 322 cubic-inch L-head unit rated at 125 horsepower. There is a three-speed manual transmission and four-wheel hydraulic drum brakes. The data rim plate displays style number 37-5027, body 4207, trim 81, and paint 27.

In 2009, this Deluxe Eight was offered for sale at the Houston Classic Auction presented by Worldwide Auctioneers and held in Seabrook, Texas. The lot was estimated to sell for $30,000 - $40,000 and offered without reserve. It was sold for the sum of $26,000 not including the 10-percent buyer's premium.
By Daniel Vaughan | May 2009
Convertible Sedan
Coachwork: Fisher

For 1937, LaSalle underwent many changes including shedding the Oldsmobile Straight-Eight engine used during the prior three years. Also new for 1937 was the Convertible Sedan bodystyle built by Fisher Body as were all other 1937 LaSalles, which increased the number of models to five.

This 1937 LaSalle 37-5049 Convertible Sedan was donated by the publisher of the Des Moines (IA) Register newspaper to the Cadillac-LaSalle Club Museum and Research Center. The owner found and restored this car to match his father's original. In 1937, Cadillac built a total of 31,993 LaSalles including 530 Convertible Sedans in ten standard color combinations. This car has option group A6, which includes wheel discs, flexible steering wheel and metal tire covers.
The LaSalle Company was positioned to fill in a price gap within the General Motors hierarchy, more specifically between Buick and Cadillac. It was more than that; it was a new brand with a sporty, stylish character. The cars wore a design by Harley Earl, a young designer who ended up working for GM for 32 years.

The 1937 LaSalle models were very similar to 1936 entry-level Cadillac Series 60, and both shared a 124-inch wheelbase. The LaSalle shed 1934-36's L-head straight-eight in exchange for the V-8 from the previous year's Cadillac Series 60. The engine displaced 322 cubic-inches and offered 125 horsepower, an improvement of 20 from the year before. The 1937 LaSalle's also featured a new hypoid axle which allowed a lower drive-shaft and floor for two inches of added headroom.
For 1937, sales were strong - an all-time high in fact, with 32,000 units sold. Sales more than doubled over the prior year. Another accomplishment for this year was being chosen to be the pace car for the Indianapolis 500.

This 1937 LaSalle Series 50 Convertible Coupe wears an older restoration. The car features a rumble seat and side-mounts.

In 2012 the car was offered for sale at the Quail Lodge Sale in Carmel, CA presented by Bonhams. As bidding came to a close, the car had been sold for the sum of $43,700, including buyer's premium.
By Daniel Vaughan | Oct 2012
During the first two decades of the 1900's, Cadillac was the leader in the U.S. luxury-car market. It wasn't until around 1925 when Packard Automobiles began replacing Cadillac as America's new favorite in the premium automobile market when Cadillac realized that they needed to step it up.

With the bottom-end Cadillac priced at $3195, many consumers were unwilling to spend such a significant amount when the top of the line Buick cost $1925. In the years following World War I, Packard's smart new group of lower-priced high-quality 'pocket-size' vehicles were responsible for basically running away with the luxury market, and consequently, much of GM's business.

Conceived as a baby Cadillac with a bit more added style, the La Salle series was introduced on March 5, 1927. To present a youthful, dashing image completely opposite from the staid and proper Cadillac, the La Salle series was meant to be a stepping stone in a perceived gap between Cadillac and Buick in GM's lineup. Priced just above the Buick, the La Salle was designed to be a complete model line that would adequately fill out GM's product roster. The name La Salle was chosen in reference to the famed French explorer that Cadillac had been named after, as one of his compatriots.

Wanting the La Salle to be considerably more stylish than the Cadillac, President of GM Larry Fisher hired a young stylist from Cadillac's California distributor to aid in the design of the new junior series. Harley Earl was given the job as a consultant to design the first La Salle. Though assumed to be only hired for this specific task, Earl went on to become the company's director of design until he retired some 30 years later. During Earl's time at Cadillac, he influenced the entire industry in the areas of both styling and marketing strategy.

The original La Salle produced in 1927 became the first mass-production vehicle to consciously 'styled' in the modern sense. Considered to by the most fashionable American automobiles of its day, the LaSalle was the first of the smaller and more maneuverable luxury vehicles. The LaSalle was also the pioneer in the automobile color industry. Up until this point all vehicles were produced in only black Japan enamel, the only finish available to dry quickly enough to stand up to the pace of mass production. The introduction to DuPont Chemical Company's fast-drying, polychromatic duco finishes in '24 supplied automobiles with a stunning array of colors. La Salle became one of the first cars to take advantage of this modern advancement.

The Series 350 was introduced in 1934 and was considered to be more like an Oldsmobile than a Cadillac. Borrowing an L-head straight eight from the Oldsmobile division to replace the traditional Cadillac V-8, the new series shared the same 240.3-cubic-inch (4-liter) displacement. A completely redesigned chassis was introduced with a much shorter, 119-inch wheelbase. Since the beginning of the La Salle, the double-plate type clutch was utilized until before replaced with a single-plate clutch. Hydraulic brakes were also newly adopted into the series adding yet another first to GM's repertoire.

Independent front suspension now reduced the unsprung weight problem that had been an issue since 1933. Cadillac was able to reduce the price of the LaSalle base models by $650 with these cost cutting new innovative features.

Considered to be the automotive industries fashion leader, the La Salle was equally impressive from its design side. The new design styling for the 1934 model was considered to be dramatic and eye-catching. High-set headlamps in bullet-shaped pods were placed on both sides of a tall, narrow vee'd radiator, along with curvy 'pontoon' fenders at both the front and rear. Wheels were encased in smart chromed discs while hood vent doors gave to 'portholes'.

The La Salle featured bumpers that emulated the shape of twin slim blades separated by two bullets, similar to the '27 Cadillacs. Trunks were absorbed into the main body on all models and spare tires moved inside the vehicles. The LaSalle Series 50 featured a four-door sedan, a new five-passenger club sedan, a two-seat coupe and a rumble-seat convertible coupe in its 1934 lineup. All models showcased Fleetwood bodywork and rear-hinged front doors. Cadillac's standard of quality and luxury were still rated as outstanding despite the money-saving measures. For the 1934 Indianapolis 500, the '34 LaSalle was chosen as a pace car for that year.

Unfortunately the following year's sales dipped far below expectations, even though they doubled the previous year's total. A total of only 7195 models were produced for the 1934 year.

Not much styling was changed for the 1935 LaSalle Series 50. Updates included two-door and four-door 'trunkback' sedans joining the line with an industry trend. Fisher's new 'Turret-Top' construction was introduced to replace the original closed body styles. This update required steel to replace the traditional fabric inserted into the roof. Horsepower was up from 90 to 95 with a slightly higher compression ratio. Very few mechanical changes were made for the '35 model.

Due to the release of Packard's new One-Twenty, about the same size as LaSalle, though slightly lighter and 16% more powerful and costing $450 less, LaSalle sales suffered.

The following year Cadillac responded to the competition by reducing the little-changed Series 50 by $320, though even this wasn't enough to stimulate sales significantly. Packard's One-Twenty continued to thrive, and outsold the LaSalle by better than four to one for 1936.

Time to try a new approach, Cadillac next introduced a new 'compact' Series 60 that same season.
By Jessica Donaldson
ACURA TLX GT RACE CAR TO DEBUT AT DETROIT GRAND PRIX
◾Racing application for new 2015 Acura TLX ◾Will run in highly competitive GT category ◾Single-car entry for RealTime Racing and driver Peter Cunningham Acura Motorsports today announced that the new 2015 Acura TLX GT will make its Pirelli World Challenge competition debut at the May 30-June 1 Detroit Belle Isle Grand Prix double-header race weekend. To be campaigned by long time Acura Motorsports partner RealTime Racing, the new TLX GT will move Acura into the top category of the Pirell...[Read more...]
DUKE AND DUCHESS OF WINDSOR'S 1941 CADILLAC TO BE AUCTIONED IN NEW YORK CITY
• RM Auctions and Sotheby's offer one-of-one Cadillac custom built for the Duke and Duchess of Windsor, without reserve, November 21, in New York City • Delivered to the royal couple at the Waldorf, the Cadillac — long thought to be destroyed —has been missing from the public eye since 1952 • Known affectionately as 'The Duchess,' this bespoke limousine is an important piece of automotive and society history • Full sale details now available online at www.rmauctions.com NEW YORK...[Read more...]
1953 FERRARI 375 MM SPIDER LEADS LATEST HIGHLIGHTS FOR RM'S MULTI-MILLION-DOLLAR MONTEREY SALE
• RM Auctions secures a championship-winning 1953 Ferrari 375 MM Spider competition car for its flagship Monterey, California, sale, August 16–17, after single ownership for 45 years • Also announced are a 1939 Mercedes-Benz 540K Special Roadster, a 1958 Lister-Jaguar 'Knobbly' Prototype, and a 1960 Aston Martin DB4GT • Sale held during the Pebble Beach Concours d'Elegance motoring week features no less than 25 automobiles estimated to fetch in excess of $1,000,000 each • Complete list of en...[Read more...]
BUICK TURNS 110: 11 HIGHLIGHTS OF 11 DECADES
Buick vehicles today are built in state-of-the-art facilities around the world. The Enclave luxury crossover's Lansing Delta Township plant was the industry's first LEED Gold-certified manufacturing facility. The brand has evolved in many ways since 1903, when the first Buick was hand-built in a small barn behind David Dunbar Buick's Detroit home. Here are 11 top highlights from Buick's first 11 decades: • Through the end of 2012, Buick has sold more than 43 million vehicles. That's the equiv...[Read more...]
Automotive Hall of Fame Inductees Named
Awards to be Presented in Conjunction with the Concours d'Elegance of America The Automotive Hall of Fame will present its annual induction and awards ceremony on Thursday, July 26, 2012 as one of the week-long Concours d'Elegance of America events. It will be held at The Inn at St. John's in Plymouth, Michigan. Both the Concours d'Elegance of America and the Automotive Hall of Fame celebrate the heritage and history of Detroit. The show highlights the evolution of the automobile's...[Read more...]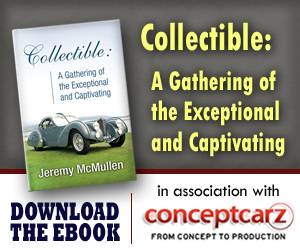 © 1998-2014. All rights reserved. The material may not be published, broadcast, rewritten, or redistributed.