1934 Hudson Eight LT Special news, pictures, specifications, and information

Tweet
Hudson celebrated its twenty-fifth anniversary in 1934 - having just ended a phenomenal model year, winning 72 official performance records. On February 24th 1909, a group of Detroit businessmen had pooled resources to found the Hudson Motor Car Company. Among them was retailing store magnate Joseph L. Hudson, whose department store survives today as 'Target.'

The entirely new-for-'34 Hudson was described in dealer brochures as 'Streamlined in Wind Sculptured Steel,' Frank S. Spring, who moved to Hudson as Director of Styling from Walter M. Murphy Coachbuilders in 1931, led the design team. Spring had charge of all Hudson exterior and interiors from 1933 until the company merged with Nash in 1954. The 1934 Convertible Coupes were unique in that Hudson contracted fabrication to the custom coachwork firm of Briggs Manufacturing Company located in Detroit.

This 1934 Hudson 8 LT Special Convertible Coupes was shipped to Massachusetts from the mid-west as a 'basket case' in 1998. During the next eight years, the current owner performed much of the restoration. Only twelve 1934 Hudson 8 convertibles are known to remain. The color is designated Hudson factory symbol 'T' Daphnis Green.' The Hudson Special Convertible Coupe is equipped with twin horns, two full chromium tail lamps, fender lamps and radio. It's original list price was around $1,000.
The Hudson marque was named after department store magnate Joseph L. Hudson, one of the eight founders of the Hudson Motor Car Company. The company built their reputation on their Six and Super Six models of the 1920s, and in the early 1930s moved further upmarket with the introduction of their Eight. The Eight was power and efficient, and often favored by various law enforcement agencies that required a capable car to catch Prohibition-era 'bootleggers.'

At its peak in 1929, 300,962 cars were produced by Hudson and its lower priced companion car, Essex, allowing Hudson to finish third in sales among American nameplates, just behind Ford and Chevrolet.

The Hudson LU model, also known as the Deluxe Eight, represented the luxury end of the Hudson line. It was powered by a 254 CID straight eight-cylinder engine offering 113 horsepower and rode on a 116-inch wheelbase chassis. In convertible form, the car sold for $900.

This Hudson Convertible Coupe was first restored in 1970 and is one of fewer than 10 examples remaining today. Recently, the current owner acquired the Hudson and invested some $30,000, with brand-new leather upholstery, new carpeting, a new wood-grain dash, a custom-built black convertible top with red piping, a glass rear window, a new matching top boot, a restored top mechanism and a new set of Coker wide whitewall radial tires. The car features suicide doors, a rumble seat, a flip-out windshield, a factory-fitted spotlight, and hinged array of engine-cooling vents.

In 2010, this Hudson Eight was offered for sale at the Vintage Motor Cars of Meadow Brook event presented by RM Auctions. It was estimated to sell for $80,000-$100,000. As bidding came to a close, the car had been sold for the sum of $104,500 including buyer's premium.
By Daniel Vaughan | Aug 2011
Jeep Brand Debuts Four Design Concept Vehicles at the Beijing Motor Show
•Four Chinese-inspired design concepts push boundaries of Jeep brand •Jeep Zi You Xia design concept showcases a sophisticated interpretation of the all-new Jeep Renegade •Jeep Wrangler Sundancer brings premium luxury to the iconic model •Jeep Cherokee Sageland and Urbane reflect distinctive Chinese inspired personalities April 19, 2014 , Beijing - The Jeep® brand introduced four new design concepts at the 2014 Beijing International Motor Show today. The quartet takes Jeep product...[Read more...]
AT HOME WITH BENTLEY IN MILAN
Complete range of Bentley Home Collections on show at the prestigious Salon del Mobile • A modern aesthetic sensibility and refined craftsmanship, expressing a synthesis between tradition and innovation • Collaboration with leading Italian interiors company defines luxury lifestyle direction for homes and offices (Crewe, 8 April 2014) – Bentley Motors introduces its complete Home Collection for the first time at Salon del Mobile 2014, designed and manufactured in collaboration with L...[Read more...]
1937 Delage Takes Home Best Of Show At The 10Th Annual Keeneland Concours D'Elegance
Mustangs, classic cars, helicopters and motorcycles take center stage LEXINGTON, KY – July 22, 2013 – A very deserving 1937 Delage was named Best In Show at the annual Keeneland Concours d'Elegance on July 20. The Mari Hulman George award for Best of Show went to the 1937 Delage D8 120 SS Aerodynamic Coupe presented by The Patterson Collection of Louisville. The French car also was named top car in its class, Coach-built Classics. The Best of Show Award is presented by the In...[Read more...]
2014 Honda Odyssey Arrives At Dealers July 2 Delivering More Value To Customers With Refreshed Styling
06/25/2013 - TORRANCE, Calif. The 2014 Honda Odyssey minivan arrives at Honda dealerships nationwide on July 2, refreshed with a host of powertrain, styling, interior, feature and safety upgrades, all designed to meet the needs of today's family. Key changes to the 2014 Odyssey minivan include the addition of a standard 6-speed automatic transmission on all trims resulting in class-leading fuel-economy ratings, enhanced safety equipment, cleaner front and rear exterior styling, plus revis...[Read more...]
Mercedes-Benz Pays Homage to a Regional Classic at the 2013 Greenwich Concours d'Elegance
The all-new 2014 E-Class Wagon Debuts Alongside a 1957 300c Mercedes-Benz USA debuts the all-new 2014 E-Class Wagon alongside one of its predecessors, a pristine 1957 300c at the 18th Annual Greenwich Concours d'Elegance from June 1-2, 2013. The event features rare vehicles from past and present and benefits Americares, the private, non-profit relief and humanitarian aid organization. With the background of the breathtaking Greenwich seaside, Mercedes-Benz highlights one of the Nort...[Read more...]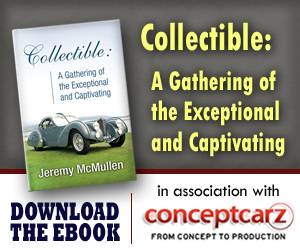 © 1998-2014. All rights reserved. The material may not be published, broadcast, rewritten, or redistributed.