1934 Hudson Eight LT Special news, pictures, specifications, and information

Tweet
Hudson celebrated its twenty-fifth anniversary in 1934 - having just ended a phenomenal model year, winning 72 official performance records. On February 24th 1909, a group of Detroit businessmen had pooled resources to found the Hudson Motor Car Company. Among them was retailing store magnate Joseph L. Hudson, whose department store survives today as 'Target.'

The entirely new-for-'34 Hudson was described in dealer brochures as 'Streamlined in Wind Sculptured Steel,' Frank S. Spring, who moved to Hudson as Director of Styling from Walter M. Murphy Coachbuilders in 1931, led the design team. Spring had charge of all Hudson exterior and interiors from 1933 until the company merged with Nash in 1954. The 1934 Convertible Coupes were unique in that Hudson contracted fabrication to the custom coachwork firm of Briggs Manufacturing Company located in Detroit.

This 1934 Hudson 8 LT Special Convertible Coupes was shipped to Massachusetts from the mid-west as a 'basket case' in 1998. During the next eight years, the current owner performed much of the restoration. Only twelve 1934 Hudson 8 convertibles are known to remain. The color is designated Hudson factory symbol 'T' Daphnis Green.' The Hudson Special Convertible Coupe is equipped with twin horns, two full chromium tail lamps, fender lamps and radio. It's original list price was around $1,000.
The Hudson marque was named after department store magnate Joseph L. Hudson, one of the eight founders of the Hudson Motor Car Company. The company built their reputation on their Six and Super Six models of the 1920s, and in the early 1930s moved further upmarket with the introduction of their Eight. The Eight was power and efficient, and often favored by various law enforcement agencies that required a capable car to catch Prohibition-era 'bootleggers.'

At its peak in 1929, 300,962 cars were produced by Hudson and its lower priced companion car, Essex, allowing Hudson to finish third in sales among American nameplates, just behind Ford and Chevrolet.

The Hudson LU model, also known as the Deluxe Eight, represented the luxury end of the Hudson line. It was powered by a 254 CID straight eight-cylinder engine offering 113 horsepower and rode on a 116-inch wheelbase chassis. In convertible form, the car sold for $900.

This Hudson Convertible Coupe was first restored in 1970 and is one of fewer than 10 examples remaining today. Recently, the current owner acquired the Hudson and invested some $30,000, with brand-new leather upholstery, new carpeting, a new wood-grain dash, a custom-built black convertible top with red piping, a glass rear window, a new matching top boot, a restored top mechanism and a new set of Coker wide whitewall radial tires. The car features suicide doors, a rumble seat, a flip-out windshield, a factory-fitted spotlight, and hinged array of engine-cooling vents.

In 2010, this Hudson Eight was offered for sale at the Vintage Motor Cars of Meadow Brook event presented by RM Auctions. It was estimated to sell for $80,000-$100,000. As bidding came to a close, the car had been sold for the sum of $104,500 including buyer's premium.
By Daniel Vaughan | Aug 2011
ONE-OF-A-KIND 2014 BMW i8 CONCOURS d'ELEGANCE EDITION SOLD FOR WORLD AUCTION RECORD PRICE OF $825,000
• One-of-a-Kind 2014 BMW i8 Concours d'Elegance Edition, Presented by Jay Leno and Ludwig Willisch, President and CEO of BMW of North America
Woodcliff Lake, NJ – August 17, 2014… On Saturday evening, August 16, in celebration of the U.S. arrival of the revolutionary BMW i8, Jay Leno and Ludwig Willisch, President and CEO, BMW of North America, presented a one-of-a-kind 2014 BMW i8 Concours d'Elegance Edition, which was then auctioned off for $825,00, including buyer's premier, ...[Read more...]
ONE-OF-A-KIND BMW I8 CONCOURS D'ELEGANCE EDITION TO BE AUCTIONED DURING PEBBLE BEACH CONCOURS D'ELEGANCE WEEKEND
BMW i8 Concours d'Elegance Edition to be sold at Pebble Beach Auctions presented by Gooding & Company with proceeds benefitting the Pebble Beach Company Foundation and the Pebble Beach Concours d'Elegance Woodcliff Lake, N.J. – July 25, 2014… In celebration of the US arrival of the BMW i8, the world's most innovative sports car, a one-of-a-kind 2014 BMW i8 Concours d'Elegance Edition will be auctioned during the weekend of the 2014 Pebble Beach Concours d'Elegance, ahead of the ...[Read more...]
S 65 AMG AND SLS AMG GT FINAL EDITION IN TOKYO AND LOS ANGELES
Double world premiere for Mercedes-AMG November 15, 2013 - Affalterbach/Tokyo/Los Angeles Two motor shows, two new AMG high-performance vehicles: Mercedes-AMG is presenting the S 65 AMG and the SLS AMG GT FINAL EDITION simultaneously at the Los Angeles Auto Show and the Tokyo Motor Show (both from 20 November to 1 December 2013). Tobias Moers, Chairman of the Board of Management of Mercedes-AMG GmbH says 'The two new AMG high-performance vehicles represent the spectacular ...[Read more...]
THE PINNACLE OF COLLECTOR CAR AUCTIONS: RM AND SOTHEBY'S OFFER A CENTURY OF AUTOMOTIVE HISTORY AND DESIGN IN NEW YORK CITY
• Final countdown underway to RM Auctions and Sotheby's expertly curated Art of the Automobile sale, November 21, in New York City • First major collector car auction to be held in Manhattan in over a decade; the sale's catalogue features examples of the upper echelons of design from each era of motoring • Extraordinary exhibition that showcases all vehicles on offer will be held from November 18–20 on the 10th floor galleries at Sotheby's New York • Official digital catalogue now availab...[Read more...]
MERCEDES-BENZ 2014 G63 AMG: THE ULTIMATE G-CLASS
The latest technology for the AMG off-road icon: the new 2014 G63 AMG impresses with a state-of-the-art powertrain, expressive new design and improved efficiency. All this is largely attributable to the AMG 5.5-liter V8 biturbo engine delivering 536 hp and the AMG SPEEDSHIFT PLUS 7-speed automatic transmission. Every new AMG high-performance vehicle offers an outstanding mix of 'more power from less fuel' – and the G63 AMG is no exception. The 'strong man' in the AMG model range has been furt...[Read more...]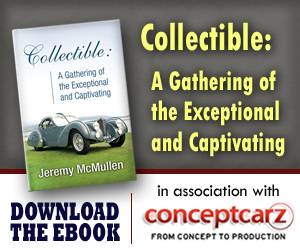 © 1998-2014. All rights reserved. The material may not be published, broadcast, rewritten, or redistributed.