1967 Pontiac Beaumont news, pictures, specifications, and information

Tweet
The Beaumont featured a Chevrolet drive-train and General Motors bodies. They were version of the Chevrolet Chevelle with instrument panels similar to Pontiac GTO's and sold to the Canadian market. Though they were sold through Pontiac dealerships, there is little reference of mention of the nameplate Pontiac in the manual or instruction booklet.

In 1968, only 708 Beaumont SD hardtops were created making it relatively rare and highly collectible. Outfitted with a 396 cubic inch V8 engine, the vehicle produced between 325 and 350 horsepower.
By Daniel Vaughan | Sep 2007
To avoid tariffs imposed by the Canadian government, GM produced some cars with Canadian content that were distinctively Canadian. The big Pontiacs from there looked like Pontiacs but were built on Chevy chassis and had Chevy engines; names were distinctly Canadian, such as Laurentian, Parisienne, and Strato-Chief. Mid-sized cars looked like Chevelles but had Pontiac hallmarks like the split grille; they were called Beaumonts. By 1970, the trade laws were relaxed; the unique Beaumont became superfluous and was discontinued.

Sold by Pontiac dealers starting in 1964, Beaumonts carried their own styling, which was influenced by Pontiac's trademark split grille. The SD (Sport Deluxe, NOT Super Duty) was the high-line version of the Beaumont, which originally started as the high-line Acadian. Sport Deluxes initially included the same engines as the American Chevelle, but starting in 1967, they were analogous to the Chevelle SS396; however, the SD396 didn't offer the 396/375 like its American counterpart.

This car spent its life in Ottawa, Ontario until moving to the Buffalo, NY area a few years ago, where it underwent a six-year restoration. Only 66 SD396 Beaumont convertibles were built in 1967, and none of them were sold new in the United States. Is it a Pontiac? Is it a Chevelle? Ask a Poncho or Chevy fan and you may get a different answer!
OKLAHOMA, DALLAS ORDER 300-PLUS CNG-CAPABLE FORD F-150 PICKUPS AS DEMAND GROWS FOR ALTERNATIVE FUEL OPTION
◾The state of Oklahoma and its agencies to buy 256 Ford F-150 trucks prepped to run on compressed natural gas; Dallas orders 65 for its fleet ◾2014 F-150 available with gaseous-fuel prep option on 3.7-liter V6 engine; can run on CNG or liquefied petroleum gas (also called propane autogas) ◾By summer, Ford will offer eight vehicles that can run on clean-burning, affordable CNG; the company is on track to sell more than 15,000 such vehicles in 2014 The state of Oklahoma, its agencies and the ...[Read more...]
NEW 2015 FORD F-SERIES SUPER DUTY WILL DELIVER BEST-IN-CLASS HORSEPOWER, TORQUE AND TOWING CAPACITY
◾Second-generation 6.7-liter Power Stroke® V8 turbo diesel boosts horsepower to a class-leading 440 horsepower; torque to class-leading 860 lb.-ft. for all models ◾F-450 chassis upgrades raise maximum gooseneck trailer towing capacity to class-leading 31,200 pounds, fifth wheel towing capacity to class-leading 26,500 pounds, and gross combined weight rating to a class-leading 40,000 pounds ◾F-350 available with maximum towing package that increases fifth-wheel/gooseneck trailer towing capacity...[Read more...]
ALL-NEW FORD F-650/F-750 ANCHORS AMERICA'S BROADEST, BEST-SELLING LINEUP OF COMMERCIAL TRUCKS
◾Built Ford Tough: Fully designed and developed by Ford Truck engineers in Dearborn, robot-tested over taxing durability courses, 500,000+ miles of harsh dynamometer engine testing at extreme power levels and temperatures and built in the USA by Ford ◾Great Value: Ford 6.7-liter Power Stroke® V8 diesel engine and Ford TorqShift® six-speed automatic transmission enhanced for medium-duty use with great power, performance and fuel economy, backed by unsurpassed warranty and national network of mor...[Read more...]
Russo and Steele Collector Car Auctions Kicks off 2014 in a Big Way with Outstanding Results and New World Records at Scottsdale
Phoenix, Arizona (January 22, 2014) – At Russo and Steele Collector Car Auctions, we are thrilled to announce the achievement of outstanding results and world-record sales at our January 15-19 Scottsdale, Arizona Sports and Muscle auction event. Throughout the event's five action-packed days, beautiful weather helped draw record attendance numbers, estimated at 35% higher than 2013 levels. At the time of writing, preliminary sale results exceeding $21 million were generated with a very st...[Read more...]
Joe Bortz to Host Historic Dream Car Discussion Panel
Dream car collector and historian Joe Bortz has prepared a special treat for participants at the 40th Annual Pontiac-Oakland Club International Convention in St. Charles Illinois, this coming July 17-21. In addition to bringing his four historic Pontiac Dream Cars, he has also assembled a panel, conisisting of two noted designers, a retired engineer and two veteran authors to examine the topic of Pontiac's early concept vehicles. The panel discussion will be held on Friday, July 20th at 1...[Read more...]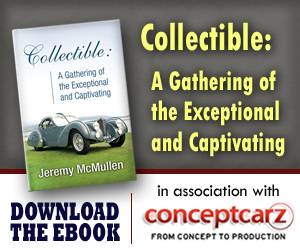 © 1998-2014. All rights reserved. The material may not be published, broadcast, rewritten, or redistributed.