1967 Pontiac Beaumont news, pictures, specifications, and information

Tweet
The Beaumont featured a Chevrolet drive-train and General Motors bodies. They were version of the Chevrolet Chevelle with instrument panels similar to Pontiac GTO's and sold to the Canadian market. Though they were sold through Pontiac dealerships, there is little reference of mention of the nameplate Pontiac in the manual or instruction booklet.

In 1968, only 708 Beaumont SD hardtops were created making it relatively rare and highly collectible. Outfitted with a 396 cubic inch V8 engine, the vehicle produced between 325 and 350 horsepower.
By Daniel Vaughan | Sep 2007
To avoid tariffs imposed by the Canadian government, GM produced some cars with Canadian content that were distinctively Canadian. The big Pontiacs from there looked like Pontiacs but were built on Chevy chassis and had Chevy engines; names were distinctly Canadian, such as Laurentian, Parisienne, and Strato-Chief. Mid-sized cars looked like Chevelles but had Pontiac hallmarks like the split grille; they were called Beaumonts. By 1970, the trade laws were relaxed; the unique Beaumont became superfluous and was discontinued.

Sold by Pontiac dealers starting in 1964, Beaumonts carried their own styling, which was influenced by Pontiac's trademark split grille. The SD (Sport Deluxe, NOT Super Duty) was the high-line version of the Beaumont, which originally started as the high-line Acadian. Sport Deluxes initially included the same engines as the American Chevelle, but starting in 1967, they were analogous to the Chevelle SS396; however, the SD396 didn't offer the 396/375 like its American counterpart.

This car spent its life in Ottawa, Ontario until moving to the Buffalo, NY area a few years ago, where it underwent a six-year restoration. Only 66 SD396 Beaumont convertibles were built in 1967, and none of them were sold new in the United States. Is it a Pontiac? Is it a Chevelle? Ask a Poncho or Chevy fan and you may get a different answer!
THE DIRT ON FORD'S NEW 3D DIRT DETECTION TECHNOLOGY: THERE ISN'T ANY
◾Industry-first dirt detection technology uses high-resolution cameras to generate a 3D model so Ford can identify and eliminate dirt particles smaller than a grain of salt on vehicle paint surfaces ◾Ford data show new automated vision system led to an 82 percent improvement in combined paint quality and customer satisfaction metrics for surface finish within one year ◾Digital imaging system analyzes more than 3,000 images in 15 seconds to identify dirt particles. Previously, paint inspections...[Read more...]
BUILT FORD GREEN: SUSTAINABLE MATERIALS MAKE AMERICA'S BEST-SELLING TRUCK ENVIRONMENTALLY FRIENDLY AND TOUGH
◾Rice hulls are the latest sustainable material used in Ford F-150; the hulls reinforce plastic used in an electrical harness in 2014 F-150 ◾Other eco-friendly materials in F-Series trucks are soybeans and post-industrial recycled cotton – one 2014 Ford F-150 truck uses the equivalent of about 10 pairs of jeans, 26 bath towels or 31 T-shirts as carpet insulation or sound absorber ◾Eco-friendly materials complement fuel efficient F-Series powertrains, including an available 3.5-liter EcoBoost® ...[Read more...]
FORD F-150 TO OFFER ABILITY TO RUN ON COMPRESSED NATURAL GAS; SALES OF FORD CNG-PREPPED VEHICLES CONTINUE GROWTH
◾2014 Ford F-150 will offer a gaseous-fuel prep option on the 3.7-liter V6 engine; it will be able to run on compressed natural gas or liquefied petroleum gas ◾With the addition of F-150, Ford will have eight vehicles available to run on clean-burning, inexpensive CNG/LPG. Sales continue to grow rapidly, with Ford expecting to sell more than 15,000 CNG/LPG-prepped vehicles this year ◾Ford Qualified Vehicle Modifiers offer a wide variety of CNG options to help customers find the best, most cost...[Read more...]
J.D. POWER 2013 U.S. AUTOMOTIVE PERFORMANCE, EXECUTION AND LAYOUT (APEAL) STUDY
• Volkswagen Group Receives Five Model-Level Awards, GM Receives Four, and Ford Receives Three; Porsche Ranks Highest among Nameplates
WESTLAKE VILLAGE, Calif.: 24 July 2013 -- The most appealing vehicles tend to remain on dealer lots for shorter periods, command higher transaction prices, and are more likely to create owner loyalty when they are ultimately traded-in, according to the J.D. Power 2013 U.S. Automotive Performance, Execution and Layout (APEAL) StudySM released toda...[Read more...]
FORD'S SUPPLIER DIVERSITY DEVELOPMENT PROGRAM: 35 YEARS OF EMPOWERING MINORITY, WOMEN AND VETERAN BUSINESS OWNERS
◾ Ford's award-winning Supplier Diversity Development (SDD) program celebrates its 35th anniversary; since 1978 Ford has spent more than $67 billion with diverse suppliers ◾ In 2012 Ford spent $5.7 billion with tier-one minority-owned suppliers, $1.2 billion with tier-one women-owned suppliers, and $2.1 billion with tier-one suppliers who use tier-two minority- and women-owned businesses ◾ A diverse supplier base brings a fresh perspective that can lead to cutting-edge innovations and help ac...[Read more...]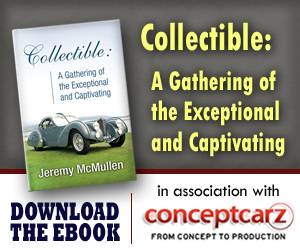 © 1998-2014. All rights reserved. The material may not be published, broadcast, rewritten, or redistributed.