1913 Stevens Duryea Model C news, pictures, specifications, and information

Tweet
J. Frank Duryea built America's first gasoline engine automobiles with his brother Charles in Springfield, Massachusetts. By 1895, the brothers parted ways and started their own automobile companies.

J. Frank Duryea next teamed with the Steven Arms and Tool Company to build his own automobile and by 1896 the company was already producing and selling automobiles. The company was renamed Stevens-Duryea in 1901 and by 1910 had produced and sold over 2,000 automobiles.

This rare 1913 Model C Stevens Duryea is powered by a large, six cylinder engine with a factory rating of 48 horsepower. It rides on a 131-inch wheelbase chassis and is equipped with a three-speed transmission and rear wheel brakes. Stevens-Duryea's offering for 1913 included a variety of body styles with prices ranging from $4,550 to $5,800 and it was the first year that the company supplied all of its vehicles with electric lights and horns.

This Model C-Sixes is one of only eight known to survive. Seven of which were mounted on the 'short' 131-inch wheelbase chassis.

This example has long-term Michigan ownership history. It was acquired from the collection of the late Jack Skaff, by Gil and Clara Mack. When it was retrieved from Mr. Skaff's stable, the car was in completely original condition. Mr. Mack spent several years restoring the Stevens-Duryea, retaining all of its original components and parts throughout the process. The work was completed in 2008. It was completed in dark blue finish pinstriped in light grey and accented with black, a black canvas top with a grey cloth liner, and a glass rear window. It is trimmed in nickel, including its Stevens-Duryea script headlamps and the accessory Boyce MotoMeter. The seats are upholstered in black diamond-tufted leather. There is a five-spoke wood-rim steering wheel, a 'Triumph' fuel gauge located between the driver and passenger, and a Warner Autometer, which contains a speedometer, odometer, and a trip odometer. Other instrumentation includes a Westinghouse voltmeter, a pressure gauge for the original Kellogg air-starting system, and a Boston Clock Company timepiece.

The current owner acquired the car in July of 2010. It has been shown at the July 2010 Eyes On Design event in Michigan and at the July 2011 Concours d'Elegance of America. It has also appeared at the Bay Harbor Vintage Car & Boat Festival.


In 2008 this 1913 Stevens-Duryea Model C Five-Passenger Touring Car was brought to RM Auctions' Vintage Motor Cars of Meadow Brook. It was estimated to sell for $190,000-$240,000. Bidding surpassed the estimated value, settling at $330,000 including buyer's premium.

In 2010, the car returned to auction, again at RM's Vintage Motor Cars of Meadow Brook sale where it was estimated to sell for $225,000 - $325,000. As bidding came to a close, the car had been sold for the sum of $220,000 including buyer's premium.
The Stevens-Duryea motor was 'There is No Better Motor car.' It was founded by J. Frank Duryea, considered to be the father of the American automobile industry. His first car, which he built with his brother, in September of 1893 was the first gasoline powered car built in America. The company persisted until the early 1920s when it was purchased by Ray M. Owen of Owen Magnetic. Production would continue until 1927.

This car is an original California car and has never had a complete restoration. It has been well taken care-of throughout its life. The exterior is light gray with burgundy accents. It has factory-fitted brass. There is gray painted wooden wheels with burgundy accents, dual rearview mirrors, and a rear-mounted luggage trunk.

The engine is a six-cylinder unit cast-in-pairs and has been restored to show quality. There is twin ignition with two spark plugs per cylinder. It is believed that this car is one of about ten such examples that are known to exist in modern times.

In 2008 this car was brought to the 2nd Annual Vintage Motor Cars of Hershey presented by RM Auctions where it was estimated to sell for $250,000 - $350,000. Bidding reached $143,000 but was not enough to satisfy the cars reserve. The lot remained unsold.
By Daniel Vaughan | Oct 2008
Charles Duryea was a successful bicycle manufacturer living in the United States. In 1892 he commissioned his brother, J. Frank Dureya to design and build a motor vehicle. The result was successful, becoming the first motor car in the United States. In 1895 a version of the vehicle was entered in the first race held in the United States. The race was sponsored by the Chicago Times. The Duryea built motor vehicle captured first place.

In 1896 the series production began for the Duryea Company, located in Springfield Massachusetts. The president of the company was Frank Dureya, having terminated the business relationship with his brother a year prior. Production continued slowly but steady. Additional capital was raised to expand business development and production. In 1901 Duryea teamed with the Stevens Arms and Tool Company to help expand the evolving business. The union resulted in the production of Stevens-Duryea automobiles, the first vehicle being show in November of 1901 and on sale in March of 1902. The vehicles were powered by 2 cylinder engines capable of producing 5 horsepower. During the 1902 model year, 50 examples were produced. In 1903, the company increased the horsepower to 7 and dubbed the vehicle the Model L. This series continued until 1905 when it was replaced by the Model R. In its introductory year, 300 examples were sold. The Model R was produced from 1905 through 1908. It featured a 20 horsepower engine and sat atop a 90 inch wheelbase.

In 1904, the contract between Dureay and the Stevens Arms and Tool Company was terminated. The Stevens-Duryea Company was formed by J. Frank Duryea where he was appointed chief engineer and vice president.

In 1906, the company introduced the Model S featuring a six-cylinder engine. With 50 horsepower and a 122 inch wheel base, the car was an instant success, with over 900 examples produced in its first year.

From 1906 through 1909, the Model U was produced. It was a lighter version of the Model S, sitting on a shortened 114 wheelbase. The 35 horsepower engine was quick and responsive, and ultimately aided in the sale of over 2000 Model U models. In 1910 the Model AA was introduced as a replacement for the Model U. Featuring a 35 horsepower engine and a 128 inch wheelbase, the vehicle was built from 1910 through 1912.

In 1908 through 1912, the 4-cylinder Model X was produced. It featured a 124 inch wheelbase and a 24 horsepower engine. In 1909, the company introduced the Model XXX using the same 4-cylinder engine but using a 109 inch wheelbase. The result was a runabout that was produced from 1909 through 1912.

In 1909 came the Model Y capable of transporting seven passengers. The 142 inch wheelbase and 40 horsepower engine made it an excellent touring vehicle. Production continued until 1912.

From 1913 through 1914, the Model C was a six-cylinder vehicle built on a 131 and 138 inch wheelbase. It was the first Stevens-Duryea offered with electric lights and starter.

In 1915 the left-hand drive Model D was introduced and like the Model C, was available on a 131 and 138 inch wheelbase.

In 1922 the company was reorganized and the name was changed to Stevens-Duryea Motors Inc.

In 1927, production of the Stevens-Duryea automobiles ceased.

At the age of 97, Frank Duryea passed away in 1967.

With claims of being the first automobile produced in the United States and winning the first automobile race ever transpiring in the United States, the Stevens-Duryea's place in history is forever certain. The company was innovative and its history progressive. It focused its resources on building reliable, beautiful, and economical automobiles. Today, their legacy can be seen at many car shows, Concourse's, and museums.
By Daniel Vaughan | Oct 2008
The Stevens-Duryea was one of the most prestigious automobiles of the pre-World War One era. This huge touring car sold new for a dollar a pound - $4,500. It is powered by a massive 481 cubic-inch six-cylinder motor with dual ignition.

Over the years, this rare 'brass era' automobile has never been completely restored, but rather, maintained. The current owners have enjoyed participating in numerous vintage car tours with this car.

Production of the Stevens-Duryea, which had begun in 1902 ceased following production of the 1915 models and did not resume until 1920, then ceased permanently in 1927.
By Daniel Vaughan | Sep 2009
| | |
| --- | --- |
| | Touring |
Only ten examples of the 1913 Model Cs are known to exist. The various body styles of the Model C sold new from $4,550 to $5,800.

Frank and Charles Duryea earliest automobile was a one-cylinder, 4-horsepower buggy that was created in 1893, making them one of the first automobile creators in the United States. After the brothers had a falling out they went their separate ways. Charles continued to make Duryea cars and Frank hooked up with an arms maker, J. Stevens, to form the Stevens-Duryea Company of Chicopee Falls, Massachusetts.

They produced cars from 1906 to 1915 when Frank introduced the new Model D and sold his interest in the company. IN 1919 the company was resurrected with a massively expensive new version of the Model D.
The 1913 Model C is powered by a 460 cubic-inch inline 6-cylinder engine offering 45 horsepower and rides on a 131 inch wheelbase. The body and fenders are made of aluminum and the car features an air-starting system. It is equipped with rear wheel brakes and is the first year that Stevens-Duryea offered electric lights and horns as standard. The car weighed 4,500 lbs., cost $4,800 and 1,000 were sold in 1913.

In 1917, the California owner's son took this car out chasing rabbits and damaged it. The rancher then put the car in the barn with just 3,500 miles on it. The car was purchased with the ranch in the late 1940s and is still believed to have less than 7,000 miles on it. In June the car completed the Red Rock Tour in Montana, a 2 1/2 week trip of 2,100 miles. The car is one of ten known to exist.
VOLVO TRUCKS TO AGAIN SPONSOR AMERICA'S ROAD TEAM IN 2015
Volvo Trucks will continue its sponsorship of America's Road Team, serving as the sole sponsor of the premier trucking industry safety outreach program. As part of its support, Volvo will donate a 2015 Volvo VNL 780 model for use by the America's Road Team program. Gӧran Nyberg, president of Volvo Trucks North American Sales and Marketing, made the announcement at the American Trucking Associations Management Conference & Exhibition in San Diego, California. 'Volvo Trucks is proud to again...[Read more...]
NEW BELGIAN CIRCUIT AWAITS WORLD RX CREWS
The FIA World Rallycross Championship presented by Monster Energy will conclude its busiest stretch of the season in Belgium this weekend as the Championship prepares for its third World RX event in a row. With a newly-built rallycross circuit plus guest drives from former WRC star Francois Duval and GT Racer Edward Sandstrom, the Belgian RX round will be a welcome addition to the calendar as the FIA's newest World Championship approaches its half-way point. Set 60 miles south-east of Brussel...[Read more...]
GM Leads Industry with Most American-Made Vehicles
DETROIT – For the second year in a row, General Motors dominates the 'Made in America' Automotive Index produced by American University's Kogod School of Business. GM's Chevrolet Corvette Stingray tied for No. 1 and 17 other GM vehicles tied for places in the Top 10. In addition to the Stingray, seven other Chevrolets made the Top Ten including: Traverse, Equinox, Express, Malibu, Impala, Suburban and Tahoe. Other GM vehicles that ranked in the Top 10 were the GMC Acadia, Acadia Denali...[Read more...]
LOUIS VUITTON CREATES TAILOR-MADE LUGGAGE FOR THE BMW i8
Louis Vuitton creates tailor-made luggage for the BMW i8. Forward-looking travel bags for progressive driving made from carbon fibre. Munich. Exceptional luggage for an exceptional automobile. Louis Vuitton, the pioneer of the art of travel, has created a tailor-made set of luggage for the most progressive sports car – the BMW i8 plug-in hybrid. The innovative collection of luggage comprises two travel bags, a business case and a garment bag. To ensure optimal use of space, the lugg...[Read more...]
VOLVO BEGINS CONSTRUCTION OF CUSTOMER EXPERIENCE TRACK AT NEW RIVER VALLEY PLANT
Volvo's New River Valley (NRV) assembly plant in Dublin, Va. recently welcomed Volvo Trucks dealers and fleet representatives for a sneak-peek at the construction of a Customer Experience Track, set to open during the third quarter of 2014. The track will feature a 1.1-mile paved road course and an off-highway area, allowing Volvo to showcase its entire Class 8 lineup during customer tours and other events. 'Customers visit our plant nearly every day to see their trucks being built and experi...[Read more...]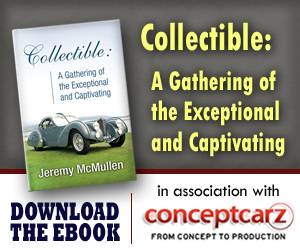 © 1998-2014. All rights reserved. The material may not be published, broadcast, rewritten, or redistributed.