1938 Delage D8-120 news, pictures, specifications, and information

Tweet
The Delage D8-120 was created after the merger between Delage and Delahaye. Louis Delage built racing and road cars up until 1935. The D8-120 has an eight cylinder, 4.3-liter engine developed from the six-cylinder Delahaye 135. It also has a Cotal electromagnetic gearbox. Many companies created extravagant bodies for the D8 but the VanVooren Company's more subtle approach is rare and wonderful. Witness this VanVooren convertible Victoria with three-position top.
Delage was a graduate engineer and a former chief draftsman and tester for Peugeot. His namesake company was created in 1905 and he strictly enforced2 two codes for building automobiles; they must be of the highest-quality engineering and they must exude beauty and art. Under his rule for the next three decades, Louis Delage's wonderful machines exceeded these expectations. What made Delage grand also became its undoing.

Excessive amounts of money were spent on prototypes that proved inadequate. More capital was spent on racing endeavors - winning the 1927 Grand Prix World Championship - that should have been put towards better use. Sales of costly chassis continued at very low rates. Finally, in April of 1935, Delage went into receivership. Losing his entire fortune, he died virtually penniless in 1947. After liquidation, the marque was purchased by a former agent for the brand. In August of 1935 the newly rescued Delage Company entered contract with Delahaye, and two years later was fully absorbed by the manufacturer.

This car wears an aerosport coupe body that was crafted by the Parisian firm of Letourneur & Marchand. It is one of just 12 examples produced and was completed in September of 1938. Upon its completion, it was immediately displayed at the 1938 Paris Salon. It was purchased by the present owner in December of 2008.
Louis Delage was born in 1874 and was handicapped by blindness in one eye. This handicap would not hinder him at all in creating some of the most elegant and beautiful creations of the pre-WWII era, and into the early 1950s. He acquired his engineering abilities while working for Peugeot. He worked with the company until 1905, when he left to build cars bearing his own name.

Delage had a strong loyalty to France, and he endeavored to build cars that would bring honor to his country. He began racing in 1906 and acquired some success. By 1913, he had constructed a worthy racing machine to claim the Grand Prix de France. His racing machines continued to evolve. In 1914, they featured double overhead camshafts and brakes on all four wheels.

Rene Thomas drove a Delage in the 1914 Indianapolis 500 where he emerged victorious. In 1924, he set a land speed record at just over 143 mph.

During World War I, the newly built factory in Courbevoie was used for the production of military items.

During the mid-1920s, the Delage cars were powered by eight-cylinder engine displacing 1.5-liters. In 1927, Robert Benoist drove a Delage with an inline-eight cylinder engine to a victory at the Grand Prix de France, Spanish Grand Prix, British Grand Prix at Brooklands, and the Grand Prix de l'Europe at Monza. After this brilliant accomplishment, Delage announced his retirement from racing.

Delage had left the sport on a high-note, but there were troubled times in its future. The Great Depression rattled many industries, including the automotive world. By 1935, Delage had felt the strains of this painful time in history, and was forced to enter liquidation. A Delage dealer named Walter Watney purchased the company's assets. This proved to be a pipe-dream for Watney, and soon was looking for aid from an automotive partner who could help bear the costs of engineering, development and manufacturing. Luckily, he found the assistance he was searching for - at Delahaye. An agreement was reached which allowed the Delage name to continue.

The first new product from this union was the D8-120. Mounted in the long, graceful bonnets were an eight-cylinder engine. The engine was basically a Delahye 135MS six with two additional cylinders. Some of Europe's greatest coachbuilders were tasked with creating designs for the chassis. The list includes Saoutchik, Chapron, Pourtout, and Letourner et Marchand.

The Delage D8's were very impressive automobiles that had style and glamour in a high-performance package. Though the economy disparity of the time begged Delage to move down market, the company refused, and continued to produce their high-priced machines.

The Delage D8-120 had hydraulic brakes, Cotal electromagnet gearbox, and a suspension comprised of transverse leaf springs in the front. The 4.3-liter eight-cylinder engine was capable of producing nearly 100 horsepower in unmodified guise.

The Delage D8-100 was a long-wheel base version of the short-wheelbase D8-120. Both the D8-100 and D-120 were built as a conventional rolling chassis and supplied to the coachbuilders for completion. The coachbuilders would often construct the final product to the exact specifications and requirements supplied by the customer. Because of this, many of the vehicles and their specifications vary considerably. Prior to World War II, around 100 examples were created.

Production of the Delage vehicles continued until 1953.
By Daniel Vaughan | May 2010
For more information and related vehicles, click
here
RM Group of Companies Celebrates Record-Setting 2013 With $442 Million in Sales and 'Best of Show' at Pebble Beach
• RM group of companies, including RM Auctions and Auctions America, realizes an outstanding $442 million in auction sales in 2013 • RM Auctions secures 78 individual million-dollar-plus transactions and redefines the high-end collector car auction experience with record Monterey and New York sales • Auctions America expands national footprint with highly successful California debut and live broadcasts on NBC Sports Network • RM Auto Restoration confirms status as world's premier restorati...[Read more...]
RM Auctions Continues Strong 2013 Auction Season with $9.6 Million Hershey Sale
• RM Auctions generates more than $9.6 million in total sales, with 90 percent of all lots sold, at its annual Hershey, Pennsylvania, sale • Top-sellers: superlative 1933 Chrysler CL Imperial Convertible Roadster achieves $704,000; 1910 Pierce-Arrow 48-SS Seven Passenger Touring, offered for first time in six decades, brings $687,500 • Estate collection of Jim Miller realizes $1,265,000, with numerous lots exceeding estimate • Full results available online at www.rmauctions.com B...[Read more...]
Cherished Classics From The Pettit Collection Will Be Offered Without Reserve
• The 1929 Duesenberg 'Blue J' and 11 collector cars from the William A. C. Pettit, III Collection will be sold at Gooding & Company's Pebble Beach Auctions
• Estate Proceeds will benefit the Shriners Hospital for Children®-Tampa
Gooding & Company, the acclaimed auction house celebrated for selling the world's most significant and valuable collector cars, is honored to present the finest automobiles of the William A.C. Pettit, III Collection at its Pebble Beach Auctions on Aug...[Read more...]
Auctions America 2012 Auburn Spring Auction Offers Full Range of Convertibles
Just in time for summer fun, Auctions America by RM will offer an array of open-air collector cars during its June 1-3 Auburn Spring auction,including a one-of-a-kind concept car that cost Ford Motor Co. more than a half-million dollars to produce. During the three-day event, more than 600 American muscle cars, Classics, foreign sports cars and hot rods will cross the block at the historic Auburn Auction Park, the company's national headquarters in Auburn, Indiana. 'It's that time of year wh...[Read more...]
Consignments now invited for RM St. John's
RM Auctions, the official auction house of the Concours d'Elegance of America, returns to the Inn at St. John's, July 28, 2012 for its firmly rooted Michigan sale. A featured attraction of the Concours weekend and a longstanding summer tradition for collectors, the single-day sale has established a reputation for offering outstanding American classics. In 2011, the sale enjoyed a very positive response to its new venue at The Inn at St. John's, realizing more than $7.6 million in sales with ...[Read more...]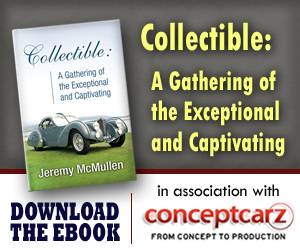 © 1998-2014. All rights reserved. The material may not be published, broadcast, rewritten, or redistributed.