1913 Chalmers Model 18 news, pictures, specifications, and information

Tweet
Chalmers cars were named after Hugh Chalmers of the National Cash Register Company, who bought into the Thomas-Detroit car company in 1907 and changed the name to his own. This car has a six-cylinder, 54 horsepower F-head engine, and the body is one of six different variations built on the same Model 18 chassis. It was found in unrestored original condition in a garage just a few blocks from the J. B. Nethercutt premises in Sylmar where it had been hidden away for over 30 years. The car has only 9,800 miles on the clock. In 1920, with many car companies in difficulties, the Chalmers Company joined forces with the Maxwell Car Company, which in turn later became a Chrysler subsidiary. The last Chalmers car rolled off the production line in 1923.
As the automobile began to grow in interest, companies and those eager to capitalize on this new market scrambled to meet the demand. Prior to World War I, hundreds of individuals and companies sprung-up in every major city and throughout the United Sates trying to create their version of the horseless carriage. Many would be out of business within a few years.

In 1903 Jonathan Maxwell, with assistance from Benjamin Briscoe, designed and built their first motor car and soon the Maxwell-Briscoe Company was formed. Production began in 1904 in facilities located in Tarrytown, New York. Within the first year they were able to create 532 cars, an astonishing accomplishment considering the evolutionary stage of the motor car in that era.

As time progressed, their vehicles improved as did the mechanical capabilities and durability. A shaft drive replaced the chain drive in 1905.

In 1908 William C. Durant and his Buick marque tried to convince the Briscoe brothers, Frank and Benjamin, to become apart of a single corporation called 'General Motors Corporation.' Talks fail though each would go on to form their own 'large entity' corporation. Durrant formed 'General Motors' and the Briscoe brothers formed the United States Motor Company, consisting of their Maxwell-Briscoe Company and Brush Motor Car Company. Brush Motor Car Company was formed in 1907 by Alanson P. Brush and located in Detroit, Michigan. It was known for their simplistic vehicles consisting of a single-cylinder engine using chain drive to propel the wood frame vehicle. Many other small, independent companies soon joined the United States Motor Car Company, including Columbia, Brush, Maxwell, Stoddard-Dayton, Courier, Samspon Trucks, Chalmers, and more.

In 1910 Maxwell ranked third in U.S. sales behind Ford and Buick.

Chalmers cars were named after Hugh Chalmers of the National Cash Register Company, who bought into the Thomas-Detroit car company in 1907 and changed the name to Chalmers-Detroit. Within a few years, the 'Detroit' part was dropped and it was simply known as 'Chalmers'.

Just prior to World War I, the United States Motor Company dissolved due to conflicts between two of its primary financial supporters. These individuals also had financial interests in the General Motors Corporation. Walter Flanders purchased the ailing Maxwell Company and continued to produce cars using its nameplate. The company survived until 1924 when Walter P. Chrysler merged it with his new Chrysler Corporation.

In 1917 Maxwell's business was successful while the Chalmers Company's sales were stagnate. Maxwell had secured many government orders for the war efforts and was finding it difficult to keep pace with demand. Maxwell formed an agreement with Chalmers for the lease of their production plant on Jefferson Avenue to aid in production of their Highland Park facility. The agreement stated that Chalmers cars would be sold through Maxwell's dealerships.

When war time ceased, both Maxwell and Chalmers were met with the harsh reality of a post-war recession, slow sales, material shortages, tough competition, rapidly evolving technology, and increased prices.

In 1920 the Maxwell Company produced 34,169 cars but was only able to find buyers for about 8,200 of them. Walter P. Chrysler headed a reorganization committee which formed the Maxwell Motor Corporation with Chalmers in May of 1921. Walter Chrysler was named Chairman of the Board. Production of the Maxwell and Chalmers cars continued in the early 1920s. The companies tried much to survive in the Post War era, but were met with slow sales and build problems. Production of the Maxwell Cars limped along until 1924 and on June 6 of 1925, the Chrysler Corporation was formed replacing the Maxwell Motor Corporation.
By Daniel Vaughan | Dec 2007
The Model 18, introduced in 1913, was the company's premier offering. It was available in six different body styles and powered by a 54 horsepower F-head six-cylinder engine.

Jim Dillon is the earliest known owner of this Model 18 Touring. It was purchased by Matt Browning in 1988 and remained in his care until his collection was sold at the Pebble Beach Auctions in 2000. Harris Laskey purchased it at that sale. The current caretaker acquired it in September of 2006.

The car is painted in a two-tone burgundy combination with pinstriping accentuating the lines of the coachwork. In 2009, the engine was given a professional overhaul.

This Touring car has dual head and side lamps, side-mounted spares, touring trunk, folding windshield, Gray & Davis taillamp, Jordan Motometer and Warner Speedomter.

In 2011, the car was offered for sale at the Gooding & Company auction in Scottsdale, Arizona. It was estimated to sell for $110,000 - $140,000. As bidding came to a close, the car had been sold for the sum of $104,500, inclusive of buyer's premium.
By Daniel Vaughan | Feb 2011
FIRST RETAIL UNIT 2015 FORD MUSTANG GT FASTBACK SELLS FOR $300,000 AT BARRETT-JACKSON AUCTION IN SCOTTSDALE
◾The first retail unit 2015 Ford Mustang GT Fastback sold for $300,000 with proceeds benefiting JDRF, the leading diabetes research organization ◾With this sale, Ford has increased its JDRF charity car vehicle sales to more than $3.5 million ◾The winning bidder will personalize their new car with available 2015 Mustang GT options ◾Shelby GT500-inspired, 1956 Ford F-100 pulled in $450,000 for the Children's Hospital of Saskatchewan in Canada. KISS bassist and Rock and Roll Hall of Fame inducte...[Read more...]
Car Expert Hans Wurl Joins Gooding & Company's Team of Classic Automobile Specialists
SANTA MONICA, Calif. (December 9, 2013) – Gooding & Company, the official auction house of the Pebble Beach Concours d'Elegance®, is expanding its existing team with the addition of Hans Wurl, a well-known classic car specialist with a strong technical background. Wurl has served as advisor to noted collectors and participated in some of the best collector car events around the world. Based in Seattle, Wurl joins Gooding & Company's team of respected automotive specialists David Brynan,...[Read more...]
Barrett-Jackson Generates More Than $21 Million In Sales At 11th Annual Palm Beach Auction
The World's Greatest Collector Car Auctions™ Attracts Nearly 55,000 Attendees Despite Weather Concerns, Reports Strong Sales Signifying that Collector Car Market is on Steady Incline •More than $21 million in gross sales – An increase over 2012 sales •Nearly 55,000 car fans in attendance •More than $1.8 million raised for charity Scottsdale, Ariz. – (April 9, 2013) – Barrett-Jackson, The World's Greatest Collector Car Auctions™, announced today that it generated more than $21 millio...[Read more...]
Akerson's 1958 Vette Going On Block For Habitat For Humanity
A new home for a classic American car will soon help pave the way for several new homes for families throughout metro Detroit. General Motors Chairman and CEO Dan Akerson's personal 1958 Chevrolet Corvette will be auctioned off on Friday, Jan. 18, 2013 at 7:30 p.m. EST, by the famed Barrett-Jackson Auction Company in Scottsdale, Ariz. All proceeds will be donated by Akerson to Habitat for Humanity Detroit and its efforts to rebuild the Morningside Commons neighborhood located just east of G...[Read more...]
Ferrari Financial Services Signs on for Three Years as the Exclusive Financial Services Provider for Gooding & Company
Gooding & Company, the acclaimed auction house celebrated for selling the world's most significant and valuable collector cars, is pleased to announce that it has just signed an exclusive, three-year agreement with Ferrari Financial Services, the iconic brand's captive finance company. Ferrari Financial Services offers a personalized finance program designed to purchase or lease all types of Ferraris. The new agreement is an official continuation of Ferrari Financial Services' presence at Good...[Read more...]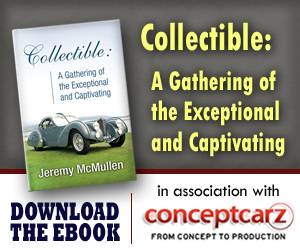 Similarly Priced Vehicles from 1913
Cadillac Model 30 ($1,980-$3,255)
Mercer Model 35 ($2,600-$2,900)
Baker WB Roadster ($2,300-$3,200)
Hudson 6-54 ($2,455-$3,800)
Pathfinder Model 40 ($1,875-$2,500)
Marmon Model 32 ($2,750-$3,000)

Average Auction Sale: $104,500
© 1998-2014. All rights reserved. The material may not be published, broadcast, rewritten, or redistributed.