1913 Chalmers Model 18 news, pictures, specifications, and information

Tweet
Chalmers cars were named after Hugh Chalmers of the National Cash Register Company, who bought into the Thomas-Detroit car company in 1907 and changed the name to his own. This car has a six-cylinder, 54 horsepower F-head engine, and the body is one of six different variations built on the same Model 18 chassis. It was found in unrestored original condition in a garage just a few blocks from the J. B. Nethercutt premises in Sylmar where it had been hidden away for over 30 years. The car has only 9,800 miles on the clock. In 1920, with many car companies in difficulties, the Chalmers Company joined forces with the Maxwell Car Company, which in turn later became a Chrysler subsidiary. The last Chalmers car rolled off the production line in 1923.
As the automobile began to grow in interest, companies and those eager to capitalize on this new market scrambled to meet the demand. Prior to World War I, hundreds of individuals and companies sprung-up in every major city and throughout the United Sates trying to create their version of the horseless carriage. Many would be out of business within a few years.

In 1903 Jonathan Maxwell, with assistance from Benjamin Briscoe, designed and built their first motor car and soon the Maxwell-Briscoe Company was formed. Production began in 1904 in facilities located in Tarrytown, New York. Within the first year they were able to create 532 cars, an astonishing accomplishment considering the evolutionary stage of the motor car in that era.

As time progressed, their vehicles improved as did the mechanical capabilities and durability. A shaft drive replaced the chain drive in 1905.

In 1908 William C. Durant and his Buick marque tried to convince the Briscoe brothers, Frank and Benjamin, to become apart of a single corporation called 'General Motors Corporation.' Talks fail though each would go on to form their own 'large entity' corporation. Durrant formed 'General Motors' and the Briscoe brothers formed the United States Motor Company, consisting of their Maxwell-Briscoe Company and Brush Motor Car Company. Brush Motor Car Company was formed in 1907 by Alanson P. Brush and located in Detroit, Michigan. It was known for their simplistic vehicles consisting of a single-cylinder engine using chain drive to propel the wood frame vehicle. Many other small, independent companies soon joined the United States Motor Car Company, including Columbia, Brush, Maxwell, Stoddard-Dayton, Courier, Samspon Trucks, Chalmers, and more.

In 1910 Maxwell ranked third in U.S. sales behind Ford and Buick.

Chalmers cars were named after Hugh Chalmers of the National Cash Register Company, who bought into the Thomas-Detroit car company in 1907 and changed the name to Chalmers-Detroit. Within a few years, the 'Detroit' part was dropped and it was simply known as 'Chalmers'.

Just prior to World War I, the United States Motor Company dissolved due to conflicts between two of its primary financial supporters. These individuals also had financial interests in the General Motors Corporation. Walter Flanders purchased the ailing Maxwell Company and continued to produce cars using its nameplate. The company survived until 1924 when Walter P. Chrysler merged it with his new Chrysler Corporation.

In 1917 Maxwell's business was successful while the Chalmers Company's sales were stagnate. Maxwell had secured many government orders for the war efforts and was finding it difficult to keep pace with demand. Maxwell formed an agreement with Chalmers for the lease of their production plant on Jefferson Avenue to aid in production of their Highland Park facility. The agreement stated that Chalmers cars would be sold through Maxwell's dealerships.

When war time ceased, both Maxwell and Chalmers were met with the harsh reality of a post-war recession, slow sales, material shortages, tough competition, rapidly evolving technology, and increased prices.

In 1920 the Maxwell Company produced 34,169 cars but was only able to find buyers for about 8,200 of them. Walter P. Chrysler headed a reorganization committee which formed the Maxwell Motor Corporation with Chalmers in May of 1921. Walter Chrysler was named Chairman of the Board. Production of the Maxwell and Chalmers cars continued in the early 1920s. The companies tried much to survive in the Post War era, but were met with slow sales and build problems. Production of the Maxwell Cars limped along until 1924 and on June 6 of 1925, the Chrysler Corporation was formed replacing the Maxwell Motor Corporation.
By Daniel Vaughan | Dec 2007
The Model 18, introduced in 1913, was the company's premier offering. It was available in six different body styles and powered by a 54 horsepower F-head six-cylinder engine.

Jim Dillon is the earliest known owner of this Model 18 Touring. It was purchased by Matt Browning in 1988 and remained in his care until his collection was sold at the Pebble Beach Auctions in 2000. Harris Laskey purchased it at that sale. The current caretaker acquired it in September of 2006.

The car is painted in a two-tone burgundy combination with pinstriping accentuating the lines of the coachwork. In 2009, the engine was given a professional overhaul.

This Touring car has dual head and side lamps, side-mounted spares, touring trunk, folding windshield, Gray & Davis taillamp, Jordan Motometer and Warner Speedomter.

In 2011, the car was offered for sale at the Gooding & Company auction in Scottsdale, Arizona. It was estimated to sell for $110,000 - $140,000. As bidding came to a close, the car had been sold for the sum of $104,500, inclusive of buyer's premium.
By Daniel Vaughan | Feb 2011
BARRETT-JACKSON'S SCOTTSDALE 2014 SALON COLLECTION TO OFFER DIVERSE DOCKET OF WORLD'S MOST SOUGHT-AFTER COLLECTIBLES
Rare and Desirable Vehicles Plus One Fully-Operational Carousel Will Cross the Auction Block at Company's Monumental Scottsdale Auction, Jan. 12-19, 2014 SCOTTSDALE, ARIZ. (Dec. 18, 2013) – Barrett-Jackson, The World's Greatest Collector Car Auctions™, announced today a group of exceptional vehicles representing 85 years of automotive history will cross the auction block as part of the world-renowned Salon Collection. The collection will be offered during the company's 43rd Ann...[Read more...]
MACCACHREN SWEEPS STADIUM SUPER TRUCKS ROUND NO. 6
St. Louis, Mo. (June 8, 2013) – After the first five events primarily on the west coast, SPEED Energy Stadium SUPER Trucks brought the 600 hp high flying machines inside the Edward Jones Dome in St. Louis, Mo., for a night of urban off-road action. Rob MacCachren, Aaron Basl, and Sheldon Creed were able to conquer the multiple challenges of the tacky Missouri clay to record wins in Round No. 6 of SST Competition. Rob MacCachren, of Las Vegas, Nev., driving the No. 21 Traxxas truck made...[Read more...]
Bonhams to offer the renowned Oldenburg family collection of classic automobiles at Scottsdale
More than 30 American, British and Italian cars of various vintages head to Scottsdale, Arizona Bonhams is honored to have been chosen to represent the highly esteemed Oldenburg Family Automobile Collection at its second annual Scottsdale Auction in January. The extensive collection of more than 30 cars from the prominent horse breeding family includes multiple models of the same marque, including Ferrari and Jaguar. The Italians Leading the impressive assembly are ...[Read more...]
Carroll Shelby, Ford Family for More Than Half a Century
Carroll Shelby was a member of the Ford family for the better part of 60 years, producing stunning performance vehicles from concepts to production models. He once said his energy and passion for performance products were always strongest when he was working with Ford. Shelby most recently collaborated with the company on the 2013 Ford Shelby GT500 Mustang, the most powerful production V8 in the world. Working with SVT engineers at Sebring and the Arizona Proving Grounds, at times he drov...[Read more...]
Premier US Collector Automobile Auction Russo and Steele Plans To Expand Auctions To China and Asia In Joint Venture With Leading Chinese Luxury Auto Importer China Auto Logistics Inc.
In a joint announcement today, privately owned Russo and Steele Collector Automobile Auctions ('Russo and Steele') and China Auto Logistics Inc. ('CALI') (NASDAQ:CALI), said they have signed a memorandum of understanding for a joint venture to develop the Russo and Steele Collector Automobile Auction business in China. In connection with the planned joint venture, Russo and Steele expects to coordinate auction events with CALI in China and work together with CALI to develop marketing programs to...[Read more...]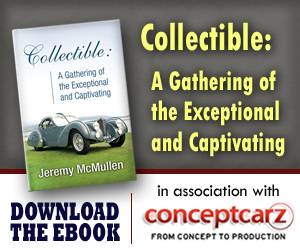 Similarly Priced Vehicles from 1913
Cadillac Model 30 ($1,980-$3,255)
Mercer Model 35 ($2,600-$2,900)
Baker WB Roadster ($2,300-$3,200)
Hudson 6-54 ($2,455-$3,800)
Pathfinder Model 40 ($1,875-$2,500)
Marmon Model 32 ($2,750-$3,000)

Average Auction Sale: $104,500
© 1998-2014. All rights reserved. The material may not be published, broadcast, rewritten, or redistributed.