1932 Auburn 12-160 news, pictures, specifications, and information

Tweet
The twelve-cylinder Auburn engine has 391 cubic-inches, 160 horsepower and twin down-draft carburetors. With the lightweight boattail Speedster body, several stock car speed records were set at California's Muroc Dry Lake. In addition, the famous Collier brothers competed strongly in both American and European racing events driving an Auburn Twelve Speedster nearly identical to this example. From showroom to boulevard to race track, the Twelve Speedster excelled in all respects.
Auburn was produced from 1900 through 1936. In 1924 the company was purchased by Errett Lobban Cord (1894-1974), a highly successful automobile salesman. Cord aggressively marketed the company's inventory and completed his buyout before the end of 1925. In 1926, he partnered with Duesenberg Corporation, famous for its racing cars, and used it as the launching platform for a line of high-priced luxury vehicles. He also put his own name on a front-wheel-drive car, the Cord, later referred to as 'L-29.'

Employing imaginative designers such as Alan Leamy and Gordon Buehrig, Cord built cars that became famous for their advanced engineering as well as their striking appearance, e.g., the 1928 Auburn Boattail Speedster, the Model J Duesenbergs, the 1935-1937 Auburn Speedsters and the 810/812 Cords. Unfortunately, styling and engineering failed to overcome the fact that Mr. Cord's vehicles were too expensive for the Depression-era market and that his stock manipulations would force him to give up control of his companies. In 1937, production of Auburns, Cords and Duesenbergs ended.

This Auburn 12-160A Boattail Speedster was designed to be the most exotic and beautiful of all Auburns. It is one of 35 built. Its V-12 Lycoming engine of 391 cubic-inches developed 160 horsepower, and it set speed records at the Murdoc Dry Lake in California of over 100 mph.
At the tender age of fifteen Errett Lobban Cord, commonly known as E.L. Cord, left school in pursuit of a job as a car salesman. After a successful stint in that profession he began working as a mechanic in a service station located in Los Angeles. This led to modifying his Model T's to include bodywork and engine modifications. He later moved to Chicago where he went back to selling vehicles. He moved to Milwaukee where he opened his own car distributor company and by 1924 was looking to purchase his own manufacturing company.

When the Auburn Automobile Company prompted Cord with a top level management position, he accepted but under conditions. He demanded that he be given 20% of the profits and complete control of the company. He also stated that he wanted the option to buy the company once it recovered. The partners, at this point, were on the verge of bankruptcy, so they accepted the offer.

Cord had a profound knowledge of marketing and was very business savvy. During his career he purchased Duesenberg, cab companies, Aircraft Company, and a New York shipyard. By 1932 he purchased controlling interests in the Aviation Corp, which later became American Airways and is currently known as American Airlines.

His fortunes turned during the mid-1930's as the stock market crashed and the Great Depression brought many of his business to a bitter end.

The Auburn Company had turned a considerable profit during the 1920s but keeping up with the changing market was difficult. The cylinder wars of the early 1930s sent many companies struggling to keep up with the changing technology and mechanical advancements. Auburn answered this challenge in 1932 with the creation of their twelve-cylinder engine in 'Vee' configuration. To stimulate even more interest, the 12-160A was offered at an incredibly low price, at just under a thousand dollars. At that price it has remained in history as the lowest 12-cylinder vehicle ever produced. Many people feared that the quality of the engine or the vehicle was reflective of the price. This mindset backfired and as a result did not sell as well as intended. By years end the company had lost more than a million dollars.

The 6.5-liter Lycoming engine produced a respectable 160 horsepower and enough torque to propel the vehicle to around 100 mph. One of the most ingenious components of the vehicle was the 'Dual Ratio' differential which was operated by a dashboard lever. There were high and low ratios available for each of the three gears which improved fuel and oil consumption. The end result was less strain and wear-and-tare on the engine.

Cord had encountered problems with the Securities and Exchange Commission and fled to England in 1933. Harold Ames was left in control, though times were difficult since production had fallen nearly 85%. The 12-161A was introduced in 1933 though never achieved the desired success. The Great depression, struggling economy, and near-bankrupt company were part of the problems.

The Auburn 12-160A Speedster body was the most exclusive of the offering. With its low price tag, the vehicles were a bargain. Tough times and consumer fears were its ultimate demise and its potential was never realized.
By Daniel Vaughan | Jun 2009
An exceptional value for their day, the Auburn was the least expensive marque in the Cord Empire that also comprised Duesenberg. Priced at $1,250, the Auburn was a spectacular value for a twelve-cylinder automobile. From 1927 to 1938 the Auburn/Cord/Duesenberg Company manufactured hand-built custom vehicles of the highest quality in Auburn Indiana. Rated at 160 horsepower, the 1932 Auburn 12-160A featured a twelve-cylindered Lycoming engine. The car weighed 4,165 lbs and had a wheelbase measured at 132 inches.

From 1900 through 1937 Auburn was a brand name of United States automobiles. The Auburn Company was grown out of the Eckhard Carriage Company which was started by Charles Eckhart. On an experimental basis, Eckhart's sons, Morris and Frank began building vehicles before entering the business in earnest. In 1909 they moved into a larger plant. Modestly successful, the company did well until World War I forced the plant to close due to material shortages.

A touring car model, the 1904 Auburn was equipped with a tonneau that could seat 2 or 4 passengers. The touring was priced at $1000. Producing 10 hp (7.5 kW) the flat-mounted single-cylinder engine was placed in the center of the vehicle. Weighing 1500 lbs, the angle-steel-framed vehicle used half-elliptical spring and was fitted with a 2-speed planetary transmission.

The Eckhart brothers sold their company to a group out of Chicago investors in 1919 headed by Ralph Austin Bard. Though the business was revived, the new owners failed to produce the profits that they had hoped for. The new owners approached Errett Cord in 1924, a successful automobile salesman, with an offer to run the company. In an offer that amounted to a leveraged buyout, the Chicago group accepted the offer.

Before the end of 1925 Cord completed his buyout and aggressively marketed the company's unsold inventory. In 1926, Cord partnered with Duesenberg Corporation and used it as the launching platform for a line of high-priced luxury cars. Cord built vehicles that became famous both their advanced engineering and their striking experience. He also employed imaginative designers such as Gordon Buehrig and Alan Leamy.

Unfortunately Cord's vehicles were priced too expensively for the Depression-era market and Cord's stock manipulation eventually forced him to give up control of his car companies. Cord was forced to refrain from further violations by injunctions from the U.S. Securities and Exchange Commission. He sold his shares from his automobile holding company and in 1937 all production of Auburns, Duesenbergs and Cords ended.

The Auburn-Cord-Duesenberg Museum is now housed in the company's art deco headquarters in Auburn and was made a National Historic Landmark in 2005.

The last few cars that made the Auburn Company famous before it the factory was shut down were the 851 and 852 Speedsters, and the Aubern 12.

The Auburn Twelve was produced in the early 1930's and was designed with innovation, elegance, power, style and speed. The Auburn Model 12 – 165 was introduced in 1933. The 1931 Auburn came with a 127 inch wheelbase, 98HP straight 8, and a long large roomy car that came with a door so wide that rear seat passengers could enter without disturbing those in front. The price was $945. The 1934 Auburn 12 Cabriolet came with a 12-cylinder engine and had wide whitewall tires and wire wheels. The 1934 model also came with an auxillary trunk that was mounted on the back.
By Jessica Donaldson
For more information and related vehicles, click
here
DIESEL ENGINES EMERGING AS NEW TECHNOLOGY FOR FUTURE OF GENERAL AVIATION AIRCRAFT
Manufacturers Cite Increased Range, Fuel Availability & Better Performance at Altitude As Major Benefits of Diesel Engines Washington, D.C. – With several major aircraft and engine manufacturers recently announcing the development of new diesel aircraft engines, the general aviation industry in the United States appears to be entering a new diesel evolution phase, said Allen Schaeffer, the Executive Director of the Diesel Technology Forum. In just the past month, aircraft and engine manufa...[Read more...]
Auctions America Continues Successful 2013 Season with its Annual Fall Carlisle Sale
• Auctions America rounds out its 2013 auction season in Carlisle, Pennsylvania, October 3-4 • Two-day Fall Carlisle sale, held in conjunction with the Carlisle Events Collector Car Swap Meet & Corral, features a diverse roster of 300 classics, exotics, muscle cars, hot rods, and customs • Auction highlights include a desirable 1967 Chevrolet Corvette 427/435 Roadster, a 1969 Chevrolet Camaro Z-28 RS Sport Coupe, and a 1960 Mercedes-Benz 190SL Roadster • Full event details and a frequentl...[Read more...]
Edsel Ford's Speedster Stars at 'The Amelia'
Edsel Ford's 'continental car', a custom boattail speedster, will take its rightful place in the Sports Car Class of the 18th annual Amelia Island Concours d'Elegance. In the shape of Edsel's seminal speedster is the genesis of Ford's legendary design department. Edsel Ford was hardly 'a chip off the old block'. The acorn fell well away from the mighty oak that was Henry Ford, founder of the Ford Motor Company. Edsel was not just the President of Ford, he was a car guy to his core. His ta...[Read more...]
Worldwide's fifth annual The Auburn Auction to be held at the National Auto and Truck Museum
In recent years, Worldwide Auctioneers has established its annual catalogue event, The Auburn Auction, as an integral part of the Labor Day festivities at the long standing Auburn Cord Duesenberg Festival Weekend. This year the fifth annual event will be at the heart of the action, with today's announcement that The Auburn Auction will take place in the historic setting of the National Auto and Truck Museum (NATMUS), housed in the former factory L29 Cord building of the legendary Auburn Automobi...[Read more...]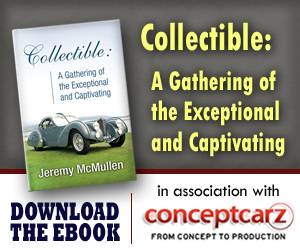 © 1998-2014. All rights reserved. The material may not be published, broadcast, rewritten, or redistributed.