1938 Phantom Corsair news, pictures, specifications, and information

Tweet
Rust Heinz, heir to the Heinz 57 ketchup fortune, was a young designer who had the means to put into reality his car of tomorrow, better known as the Phantom Corsair. Based on a 1936 Cord Westchester Sedan with a Granatelli modified 192 horsepower supercharged Cord motor, the body was constructed by Maurice Schwartz of Bohman & Schwartz Body Company. Designed in a wind tunnel, the radical fastback body incorporates modern items such as a climate control system and crash padded dash. It starred in the 1938 movie The Young at Heart where it was called the 'Flying Wombat.' Originally intended to be produced in limited numbers for $12,500, the project ended with Heinz' untimely death in 1939.
The Phantom Corsair was designed by Rust Heinz of the Heinz 57 Ketchup fame, and Maurice Schwartz of Pasadena, California. Schwartz was one of the primary individuals in the Bohman & Schwartz Coachbuilding Company. The resulting design was amazing, aerodynamic and certainly bred from unconventional thinking. Its smooth surface was void of running boards and separate fenders allowing for the curvaceous body to gracefully flow undisturbed from front to back.

The chassis was from a Cord 810 and large enough to seat six individuals. To propel this rather large vehicle, a Lycoming V8 engine was fitted that displaced 289 cubic-inches and provided 190 horsepower allowing the Phantom to reach 115 miles per hour. Drum brakes on all four corners were necessary to slow the vehicle and keep it in the drivers control.

This was meant as a production vehicle. Heinz had hoped to sell these for $12,500, which was a very large fortune to most individuals at the time. Unfortunately, Heinz passed away in 1938 and the plans for production died with him. Only one example was ever produced.

This vehicle has played a starring role in the motion picture 'The Young at Heart.'
By Daniel Vaughan | Oct 2007
Phantom Corsair Making Rare Trip Out of Museum for Amelia 2009
California Coachbuilder Bohman & Schwartz's Creation Labeled Both Monstrosity & Marvel

The Phantom Corsair, a one-of-kind look at the future of auto design penned in the late thirties by Rust Heinz of the H.J. Heinz family food empire, will make its way to the 14th annual Amelia Island Concours d'Elegance, March 13-15, 2009. The vehicle will be on display courtesy of the National Automobile Museum (The Harrah Collection) in Reno, Nevada.

'There are certain what I like to call 'once-in-a-lifetime' designs and the Phantom Corsair easily falls into that category,' says Bill Warner, founder & co-chairman of the Amelia Island Concours d'Elegance. 'When this car came out of Bohman & Schwartz, it was called outrageous and futuristic at the same time. It's a 70-year-old design and still generates a buzz wherever it goes, and still defies description today; just as it did when it rolled out of their Pasadena shop in 1938.'


Not Another One Like It In The World
The Phantom Corsair was ahead of its time and displayed a number of innovative design queues. The streamlined look from bumper to bumper gave the Phantom Corsair a distinct aerodynamic advantage enabling the car to reach nearly 120 m.p.h., which was impressive for a car its size back in 1938. There were several never-seen-before features in the car such as hydraulic impact bumpers, covered driving lights, climate control system, and
interior crash padding. After its stint at the 1939 World's Fair, it moved on to a new career in Hollywood as the mysteriously sinister 'Flying Wombat,' in the David O. Selznick production, 'The Young in Heart,' which starred screen legend Douglas Fairbanks, Jr.

Bohman & Schwartz built the Phantom Corsair for an estimated $25,000, and Heinz had plans to build a limited number for about $12,500 per car, but his untimely death shortly after its completion ended any production plans. The vehicle was later sold to the famous comedian Herb Shriner and was displayed for a time at the Silver Springs (Florida) Museum before ending up in the hands of famed collector William Harrah, who restored the car to its
original configuration and displayed it as a showcase car in his vast collection. Bohman & Schwartz performed work for many of Hollywood's elite and customized a number of makes, including Duesenberg, Cadillac, and LaSalle. They remained active until ceasing operations in the early sixties.

'There will never be another one like it,' Warner says of the Phantom Corsair. 'I've often wondered what it would be like to drive that car around town; imagine the looks you would get. It's going to really surprise people when it appears on the show field and it will probably be one of the most photographed cars throughout the day.'
Source - Amelia Island Concours
ALL-ORIGINAL FERRARI 365 GTB/4 DAYTONA TO BE OFFERED BY ITS FIRST AND ONLY OWNER AT RM'S AMELIA ISLAND SALE
• RM Auctions presents the 'Condo Find Daytona' at its Amelia Island, Florida sale, March 14 • Offered on behalf of its original owner, the Ferrari 365 GTB/4 Daytona recently emerged from 25 years storage in downtown Toronto • The official auction of the Amelia Island Concours d'Elegance, RM sale also lifts the gavel on a spectacular 1938 Bugatti Type 57C Aravis Cabriolet, which was judged 'Best of Show' at Amelia Island in 2012 • Frequently updated list of entries available online at www....[Read more...]
'CARS OF THE COWBOYS' CLASS COMING TO THE 2015 AMELIA ISLAND CONCOURS D'ELEGANCE
On March 15, 2015, the 20th annual Amelia Island Concours d'Elegance will display the eclectic and eccentric cars customized and modified to promote America's movie and TV cowboys with the highly anticipated 'Cars of the Cowboys' class. In true 'Amelia' tradition, this unique display on the 10th and 18th fairways of The Golf Club of Amelia Island at The Ritz-Carlton will put fun ahead of fad and fashion as the first gathering of cowboy vehicles at a major international Concours. Featur...[Read more...]
BMW's 'BATMOBILES' SET FOR 19th ANNUAL AMELIA CONCOURS
Scheduled to appear in the 19th Annual Amelia Concours' BMW 3.0 CSL 'batmobile class' are not only the 1975 Sebring 12 Hour and '76 Daytona 24 winners, but Alexander Calder's 1975 Le Mans 3.0 CSL with his trademark signature on the left rear fender. BMW's 'Batmobile' racers were glorious mutants. They arrived from Europe wearing a frosting of giant wings, huge fender boxes and big spoilers, all powered by a 430 hp straight-six engine that made a glorious noise and propelled BMW's luxury cou...[Read more...]
The Final Alfa-Romeo Zagato Stradale TZ3 To Debut At The Amelia Island Concours d'Elegance
The last of only nine custom built ALFA Romeo Stradale TZ3s will make its debut on the 18th annual Amelia Island Concours d'Elegance field on Sunday, March 10, 2013 at the Ritz-Carlton, Amelia Island. Known as the Italian sports car with 'the heart of a Viper and the soul of an ALFA', this stunning automobile is sure to please car fans. Just nine Stradale TZ3s have been constructed to celebrate the centenary of Carrozzeria Zagato in 2010. The Azzurro California hued example slated to appear ...[Read more...]
Edsel Ford's Speedster Stars at 'The Amelia'
Edsel Ford's 'continental car', a custom boattail speedster, will take its rightful place in the Sports Car Class of the 18th annual Amelia Island Concours d'Elegance. In the shape of Edsel's seminal speedster is the genesis of Ford's legendary design department. Edsel Ford was hardly 'a chip off the old block'. The acorn fell well away from the mighty oak that was Henry Ford, founder of the Ford Motor Company. Edsel was not just the President of Ford, he was a car guy to his core. His ta...[Read more...]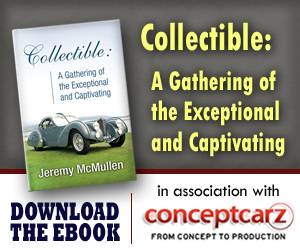 © 1998-2014. All rights reserved. The material may not be published, broadcast, rewritten, or redistributed.