1926 Rolls-Royce Silver Ghost news, pictures, specifications, and information

Tweet
Frederick Henry Royce made his first car, a 'Royce', in his Manchester factory in 1904. He was introduced to Charles Stewart Rolls at the Midland Hotel in Manchester on May 4th of that year, and the pair agreed to a deal whereby Royce would manufacture cars to be sold exclusively by Rolls. A clause was added to the contract stipulating the cars would be called 'Rolls-Royce.' The company was formed on March 15, 1906, and moved to Derby in 1908.

The Silver Ghost, built from 1906 to 1926, was the car that made Rolls Royce the 'Best car in the world', a phrase coined not by themselves, but by the prestigious publication Autocar in 1907. In 1921, to help meet demand, the company opened a factory in the US, at Springfield, Massachusetts, where 1,701 'Springfield Ghosts' were built. Only the last 600 had left-hand drive. By 1926, some models cost an astonishing $16,000. This factory operated for 10 years, closing in 1931 as a casualty of the Great Depression.

This Silver Ghost was delivered on February 2, 1926 in Boston with 'Mayfair Town Car' coachwork designed by Rolls-Royce Custom Coachwork and built by the Massachusetts coachbuilder, Merrimac. In the mid-1980's, a fire destroyed the body and part of the chassis. The present owner later acquired the damaged chassis and also a derelict Silver Ghost 'Pall Mall Tourer' body of the same vintage. The two were combined to create this magnificent automobile.
Rolls-Royce automobiles are special in their own right - among the finest in the world. This Rolls-Royce is a bit more special as it was owned by the eccentric billionaire Howard Hughes during his halcyon Hollywood years.

This automobile is known as a 'Springfield Rolls-Royce,' since the car was manufactured in Rolls-Royce's American plant in Springfield, Mass. (operational from 1920 until 1931). The Pall Mall Tourer body was built by Rolls-Royce Custom Coachworks in New Haven, Conn. The body style is attractive and functional, ideally suited for countryside touring.

This was the last year for the Silver Ghost; it was succeeded by the Phantom I. The Silver Ghost was powered by a six cylinder motor that developed 120 brake horsepower.

Chassis number S226PL is a Merrimac-build Pall Mall tourer. It is a left-hand drive example with a three-speed central-change gear box and dual ignition.

The Merrimac Body Co. was formed in January of 1920 by some of the principals from the J.B. Judkins Co. at Amesbury, Massachusetts. Judkins had received a large order from Mercer and needed additional space to build open bodies. Thus a new factory was constructed at nearby Merrimac, also called West Amesbury. Though it is sometimes described as a subsidiary of Judkins, Merrimac was actually a separate company. They specialized in tourers and roadsters for such customers as DuPont, Franklin, Locomobile and Mercer, in addition to Rolls-Royce.

The Great Depression was a difficult period of time, and Merrimac suffered along with the rest of the country. They essentially ceased coachbuilding in 1931, but remained in business, doing upkeep and refurbishment for customers until 1934.

This vehicle is believed to have been used by Ella Hughes, wife of Howard Hughes. It remained in Houston after they moved to Hollywood, where Hughes was embarking on a career as a film director and producer. It is believed to have remained in storage at Houston for over 5 decades. In May of 2005, the car was purchased by the current owner and then treated to a complete, frame-off restoration. Upon completion, it was invited to the 2007 Pebble Beach Concours d'Elegance, where it was awarded Second in Class.
By Daniel Vaughan | Oct 2011
Frederick Henry Royce was an engineer and the Honorable Charles Stewart Rolls was a man with many talents. He was an aviator, driver, and automobile enthusiasts. In the world of business, he excelled at marketing.

The Rolls-Royce Company began its distinguished career in the early 1900's, focusing on quality and performance. During 1905 and 1906, forty vehicles were produced, all with four-cylinder engines producing 20 horsepower.

1906 was a big year for the young company, with Charles Stewart Rolls and Frederick Henry Royce officially registering the Rolls-Royce Limited Company. The legendary 40/50 six-cylinder Silver Ghost was introduced with much acclaim. During the same year, Rolls and Royce entered the Tourist Trophy Race, one of the most prestigious events of the time. Their powerful and durable car outran the rest of pack, beating the nearest competitor by 27 minutes. In 1907 the company further showcased their vehicles durability by participating in a 15,000 mile reliability event.

In a time when maintenance and durability were on the minds of every consumer, Rolls-Royce left their buyers with peace of mind. To add even more prestige to their vehicles, the vehicles were marketed to the most elite and well-to-do in society. By supplying their vehicles to British royalty, the Rolls-Royce Company concreted their reputation in history. The cars durability was matched by its comfort; they were outfitted with luxurious bodies by some of the top coachbuilders in the industry. The engines were powerful and provided a rather smooth and comfortable ride. The engines were engineering marvels, constructed of an aluminum alloy crankcase. Instead of chains, the timing and ignition drive were both run by gears. The parts were hand polished and constructed to a high degree of accuracy. The sturdy construction meant that conversation were possible, even while the vehicle was at top speed.

The 40/50 HP Silver Ghost models were sold for a period of fifteen years as the companies only offering. By 1922, the Rolls-Royce Company began offering the Twenty which was offered to a larger market, though still very exclusive. Competition such as Hispano Suiza had caught up with Rolls-Royce by 1925; Rolls-Royce responded. Development began on a more modern version of its Silver Ghost engine that would be more powerful and durable. The stroke was enlarged providing a greater increase in horsepower. The resulting vehicle was named the '40/50 New Phantom'. When the Phantom II was introduced in 1929, the '40/50 New Phantom' was retrospectively named the Phantom I. There were two wheelbases offered on the Phantom I, a 143.5 and a 150.5 inch. Many of the mechanical components stayed the same as the Silver Ghost. The gearbox was the same but the clutch was replaced with a single dry plate unit. This provided a smoother and quieter ride.

During a speed test at Brookland, the Phantom did not live up to expectations. It was unable to achieve a top speed that had been met by a 1911 Silver Ghost. There were many ideas on how to resolve this problem, such as tuning the engine or reducing the overall weight of the vehicle. A lightweight Barker touring body was created and placed on a Phantom chassis. Again, the Phantom failed to achieve the desired speeds during testing.

Ivan Evernden, a Rolls-Royce designer, proposed strict guidelines on a new tourer body. Amazingly, the quality was not sacrificed and the desired reduction was achieved. Tests at Brooklands proved the vehicles capabilities and traveled more than 89 mph.
By Daniel Vaughan | Mar 2009
C.S. Rolls brought three cars to race at New York's Empire City track in 1906. This was followed by a exhibit at the annual auto show where three cars were sold. In 1913, a New York depot was set-up with coachbuilders Brewster & Co., who bodied the majority of the imported chassis. Rolls-Royce acquired a factory in Springfield, Massachusetts in 1919 and began to manufacturer the Silver Ghost. Other coachbuilders, in addition to Brewster, were tasked with providing coachwork, a number of them under the hallmark of Rolls-Royce Custom Coach Work. Companies included Biddle & Smart, Willoughby, Merrimac, and Holbrook.

The Springfield factory offered a range of standard designs which were built by the aforementioned firms. Included were the Pall Mall tourer, the Oxford seven-passenger tourer, the Piccadilly roadster, and the Mayfair and Riviera town cars.

The American built Springfield Rolls-Royces had several components that were different from their British counterparts. The American Bosch ignition was used in place of the Watford magneto, American wheels replaced Dunlops, and eventually all electrical equipment was of local manufacture. By the mid-1920s, six-volt electrics had been adopted and the chassis had been reconfigured for left-hand drive. Around the same time, the four-speed, right-hand shifted gearbox gave way to an American-style three-speed with center change.

This particular example was delivered on March 11th of 1926 to Mr. D. Armstrong, of Greenwich, Connecticut. It originally wore a Willoughby-built Mayfair town car body. It was later traded back to Rolls-Royce of America where it was given the Playboy Convertible Coupe body with coachwork by Brewster.

The car was then sold to Walter Reade by successor company J.S. Inskip on June 9, 1934. In June of 1959, the car was purchased by Bob Wilhelm of Flint, Michigan. Years later, it was imported into Belgium prior to being purchased by the preceding owner. The current owner brought the car to RM Auction's Amelia Island sale where it was sold for the sum of $313,500 including buyer's premium.
By Daniel Vaughan | Apr 2013
This car was delivered to its original owner, a Mrs. Montgomery of California, with a Pickwick limousine body. Many years later, it was given this Piccadilly roadster body utilizing a 1924 body originally mounted on chassis number 368XH.

In the early 1990s, a professional restoration began on this car. When completed, it returned to its owner's home where it was put into dry, heated storage where it has laid dormant for many years. Only recently has it been driven under its own power.

The interior of the car is fitted with red Connolly leather, there are new and correct tires, and it is equipped with wind wings, side-mounted mirrors and a correct trunk and truck rack. This left-hand drive car has a central gearshift and its original tool kit.

The engine is a 7428cc inline-six cylinder unit capable of producing 65 horsepower. There is a three-speed selective sliding gearbox and a screw-and-nut steering system. The brakes are mechanical internal expanding in the rear.

In 2008, this Brewster-bodied Piccadilly Roadster was offered for sale at the Gooding & Company auction held in Pebble Beach, CA. The car was estimated to sell for $150,000 - $175,000. As the gavel fell for the third and final time, the car had found several willing buyers. The final bid was $319,000, including buyer's premium. The lot was sold.
By Daniel Vaughan | Mar 2009
Piccadilly Roadster
Coachwork: Merrimac
Chassis Num: S335RL
Engine Num: 22355

This Springfield Rolls-Royce Silver Ghost was among the last American Silver Ghost made, and was used as a 'trials' car in preparation for the New Phantom. Modifications to the car were extensive, and included twin taillights with 'reversing' lamps, dual-filament headlights, improved double ignition, Houdaille hydraulic shock absorbers and a Westinghouse vacuum servo-powered four-wheel braking system. It was sold, in 1928, as a used car, to the principal of the Scullin Steel Co., of St. Louis. The body, a Picadilly roadster, was built by Merrimack Body Co., of Rolls-Royce Custom Coachwork, and is original to the chassis. The present owners have toured the car extensively, including the 90th anniversary of the 1913 Alpine Trials in Austria and Italy.

This Rolls-Royce Silver Ghost was manufactured in June of 1926 and used for two years as a company demonstrator and trials car. After its duties were complete, the car was refreshed before being sold to its first owner, A.J. Davis of St. Louis, Missouri, on December 28th of 1928. The list price was $13,450.

The car's second owner was Edward M. Bergen who took possession in 1937. Subsequent owners include John B. Davis of Florissant, Missouri, and then Carroll Vail, also of St. Louis. Then car was then sold to Conrad Karras of Great North, New Jersey, and Naples, Florida, who took the car on the 1973 Alpine Tour. Dennis Nicotra of Woodbridge, Connecticut, bought the car in 1986. In 1987, it was acquired William B. Ruger, in whose care it remained until it was sold from his estate in 2002. The car was mechanically restored, which included fitting two new cylinder blocks.

The next owner, Lyle Patterson, Mr. Ruger's collection manager, entered the Piccadilly Roadster in the 2003 European Alpine Tour, then several Florida concours events, including Amelia Island and Boca Raton in 2009.

In 2006, the car was given a new stainless steel exhaust system and an overdrive was added. The front seats were re-trimmed in black leather, and the body was refinished in black over gray with black wings.
1926 Rolls-Royce Silver Ghost by Fleetwood
The Rolls-Royce Silver is legendary in the automotive world. In production for almost 20 years, the Ghost set the standard by which the firm's reputation was built. This sport tourer is the only known Fleetwood bodied Ghost, and is used regularly by its current owner in vintage tours throughout North America.
This is a 1926 American Silver Ghost (S321PL) Rolls -Royce Piccadilly Roadster, built in Springfield, MA It was one of the last Silver Ghost chassis built, as only 1,700 were manufactured in the U.S. between 1921 and 1926. The English Silver Ghosts were built in Durbey, England, from 1907 through 1925.
This car was delivered on September 1, 1926, to H. Pearce in Philadelphia, PA, as a Mayfair Town Car. The exact date is unknown but at some point it was re-bodied with a Merrimac (M-591) Piccadilly Roadster Body.
This car was restored in the early 1970's and has been in the same family for over 35 years.
| | |
| --- | --- |
| | Playboy Roadster |
The chassis for this car was originally completed in August 1926 and fitted originally with a Pickwick saloon before being changed by the Rolls-Royce factory to the Playboy Roadster it is today in 1932.
In 1906 a new model, the 40/50 horsepower, was developed wîth a longer chassis and a six-cylinder engine. The popularity of the new Rolls-Royce grew quickly as it developed a reputation for smoothness, silence, flexibility and, above all, reliability. In 1907 a writer from the 'Autocar' described riding in the Rolls-Royce 40/50 hp as '....the feeling of being wafted through the countryside.' Engineers at Rolls-Royce coined the word 'waftability' to encapsulate that sensation. Today it is a word that cannot be found in any direction but it is a key design and engineering criterion.
The twelfth 40/50 produced had all its fittings silver-plated and the coachwork painted in aluminum paint. This car became known as the Silver Ghost and is probably the most famous car in the world. The name was later adopted for all the 40/50 hp car and had an immediate international impact, enhanced by the coachbuilders of the day, who could produce bodies of breathtaking beauty. The Silver Ghost was, quite simply, in a class of its own.

The motor car's versatility is legendary. It overwhelmingly won every reliability trial and distance record, dominated the great Alpine Trial of 1913 and won the Spanish Grand Prix of that year.

In May 1907, Claude Johnson drove the car to Scotland and back. This run was a precursor to the Scottish Reliability Trial for which the motor car was later awarded a gold model by the RAC.


The original idea was to drive 10,000 miles without stopping the engine, but the Silver Ghost proved so reliable that the target was raised to 15,000 miles. Despite a stall at 629 miles, when rough roads shook the petrol switch to the off position, the Silver Ghost ran faultlessly for 40 days and nights.

A further challenge was designed by Napier for Rolls-Royce to compete against them in a run from London to Edinburgh followed by high-speed runs at Brooklands. But the challenge was to complete the distance without changing gear, as opposed to how far you could travel. The car, driven by Ernest Hives, averaged 24.3 mpg between London and Edinburgh and attained a speed of 78.2 mph at Brooklands.

As an armored car in the First World War The Silver Ghost delivered exemplary service to the extent that Colonel T.E Lawrence (Lawrence of Arabia) is quoted as saying, 'A Rolls in the desert is above rubies'.


In more elegant guise the Silver Ghost was the choice of the rich and famous across the globe. Kings, queens, maharajas, tsars and emperors owned them. The demand for the Silver Ghost was so high that manufacture was started in the Únited States in 1921 and continued in production wîth worldwide success until 1925.
Source - Rolls-Rocye Motor Cars Limited
For more information and related vehicles, click
here
Gooding & Company Adds Two Legendary Ferraris to Scottsdale Offerings Including a 1959 250 GT LWB California Spider
The two-day event will also drop the hammer on a 1962 Ferrari 400 Superamerica SWB Coupe Aerodinamico along with over a dozen other models from the Italian marque SANTA MONICA, Calif. (December 12, 2014) – Gooding & Company, the record-setting auction house acclaimed for selling the world's most significant and valuable collector cars, announced today the addition of two superlative Ferraris to its Scottsdale roster. New consignments include a 1959 Ferrari 250 GT LWB California...[Read more...]
Bonhams sell ex-Tazio Nuvolari 1935 Alfa Romeo for world record breaking price of £5.9 million at Goodwood Revival Sale
One of the most charismatic of all the great pre-war Grand Prix racing cars - the ex-Tazio Nuvolari 1935 Alfa Romeo Tipo C 8C-35 '50013' - Scuderia Ferrari Nr '65' sold for £5,937,500 at Bonhams Goodwood Revival Meeting today (Saturday 14 September), creating a new world record for an Alfa Romeo sold at auction. The previous record for this marque was £4,245,118 for a 1933 Alfa Romeo 8 cylinder Monza 2300 sold in California in 2010. Bonhams Goodwood Revival sale saw the iconic 330-horsepow...[Read more...]
ROLLS-ROYCE WELCOMES THE SILVER DAWN
The Home of Rolls-Royce Motor Cars today welcomes one of the oldest Rolls-Royce Silver Ghosts in the world. The Silver Dawn has just returned from Europe, having successfully completed 1,800 miles on the 2013 Centenary Alpine Trial, the oldest Silver Ghost to do so. Proudly wearing the 'Number 1' rally plaque, The Silver Dawn conquered treacherous and demanding conditions, including the infamous Stelvio and Loibl passes. This remarkable motor car is currently on display in the foyer of the compa...[Read more...]
G-POWER - Victory in Hockenheim
Victory – BMW M3 E46 with 4.0l V8 S65 engine and G-POWER supercharger system wins 1. and 2. place in its class at the season opening of the International DMV TCC at the Hockenheimring BMW M3 E46 V8 of the GETRAG racing team • 4.0l V8 engine implanted from a BMW M3 E92 • G-POWER supercharger system with ASA T1-523 supercharger • Power output approx. 650 hp • 2. place in its class in the first run; overall 4th place • 1. place in its class in the second run; overall 4th pl...[Read more...]
Cherished Classics From The Pettit Collection Will Be Offered Without Reserve
• The 1929 Duesenberg 'Blue J' and 11 collector cars from the William A. C. Pettit, III Collection will be sold at Gooding & Company's Pebble Beach Auctions
• Estate Proceeds will benefit the Shriners Hospital for Children®-Tampa
Gooding & Company, the acclaimed auction house celebrated for selling the world's most significant and valuable collector cars, is honored to present the finest automobiles of the William A.C. Pettit, III Collection at its Pebble Beach Auctions on Aug...[Read more...]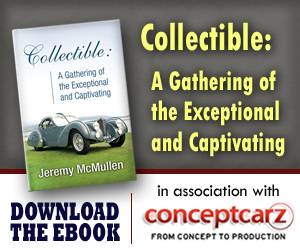 Rolls-Royce
Monthly Sales Figures
Volume
December 2014
75
November 2014
75
October 2014
75
September 2014
75
August 2014
75
July 2014
75
June 2014
75
May 2014
75
April 2014
75
March 2014
75
January 2014
86
(More Details)
© 1998-2014. All rights reserved. The material may not be published, broadcast, rewritten, or redistributed.