1962 Maserati 3500 GTi news, pictures, specifications, and information

Tweet
Though 1962 was a prolific year for Maserati, the company decided to offer a larger car to augment its production of two-seaters. Built on the same wheelbase as the smaller car, the Sebring was a 2+2 coupe wîth spacing seating for two up front and two smaller seats in the rear. Officially known as the 3500-GTIS, the car referred to as the Sebring to recognize Maserati's success at the Sebring racetrack. In 1957, Juan Manuel Fangio drove the factory's 450S to victory, leading the entire race and setting new track records.

The existing Maserati inline six engine was used, but fuel injection was incorporated pushing the car's top speed to 135 mph. The Alfredo Vignale designed body was built on the same chassis as the 3500-GT Spyder, but had more severe lines and a more upright profile. As was the case wîth most Italian cars, handling was nimble and quick, and the car was expected to be a big seller, especially in the ÚS and Britain. However, since the price of the car was more than $13,000, fewer Sebrings were imported than Maserati hoped. Although a second series was introduced in 1965, sales remained low and the Sebring finished production in 1966.
Source - SDAM
Vin # AM101.1954 Superleggera (Alloyed) Coach by Touring. Total 3500 GT Worldwide production 1958 to 1964 was 2219. 1 of 390 built in 1962.

Purchased new by Peter Revson, professional Grand Prix driver, as his 'daily driver'. Pete was one of America's most talented drivers and a favorite at tracks all over the world before his life was cut short in a shunt.
The definitive Gran Turismo of its era, the Maserati 3500 GT debuted in 1957 and was the company's first genuine series-production road car. Maserati's three decades as a constructor of some of the world's finest racing cars showed in every detail of the elegant Touring bodied-coupe. From its exquisite, race-derived six-cylinder 3.5-liter engine with twin-cams, twin-plugs and triple-Weber carburetors. It had impeccable road manners with fine brakes and faultless build quality. Here was a car to rival the best that Mercedes-Benz, Aston martin and Ferrari had to offer. The car became the best-selling Maserati ever.
This Vignale Spider was produced on October 20th of 1961. It has power windows, four-wheel disc brakes, a five-speed gearbox and Weber carburetion. The previous owner cared for the car from 1981 until 2008. IN early 2000, the cars engine was removed from the car and disassembled and rebuilt. The 3485cc twin overhead camshaft twin-plug inline six-cylinder engine delivers 220 horsepower and is mated to a five-speed manual gearbox.

In 2010, the car was offered for sale at the Sports & Classics of Monterey presented by RM Auctions. It was estimated to sell for $220,000 - $240,000. As bidding came to a close, the car had been sold for the sum of $231,000 inclusive of buyer's premium.
By Daniel Vaughan | Dec 2010
Chassis number 101.2428 was built in late 1962 and has features from both the early and late series. The car has the earlier side window frames without the second vent window at the rear of the door, and the earlier, single-piece taillights. The car may have been built with an unused body from the previous series to fulfill the wishes of an influential client who enjoyed the earlier design. The car has a five-speed gearbox of the later production with Weber carburetors and Borrani wire wheels.

The current owner purchased the car in 1998 and later treated it to a professional and complete restoration.

The car has won Best in Class, the Count Lurani Award and Best of Show at Le Belle Macchine d'Italia; Outstanding Maserati at the Concours of Italian Style at Meadow Brook; AACA Junior and Senior First Prizes; as well as National Award Candidate at Hershey. It also was awarded Second in Class at the 1994 Pebble beach Concours d'Elegance.

The car is finished in deep blue paint with chrome and alloy brightwork. Inside is a white leather interior with correct finishes and fittings.

In 2012, the car was offered for sale at Pebble Beach presented by Gooding & Company. The car was estimated to sell for $160,000 - $180,000 and offered without reserve. As bidding came to a close, the car had been sold for the sum of $236,500, including buyer's premium.
By Daniel Vaughan | Nov 2012
The Maserati 3500 GT touring made its introduction in 1957 and continued until 1964, with approximately 2,000 manufactured during that period. This example spent the first five years of its life in Europe. In November of 1961, Bologna Maserati dealer Cesare Perdisa, placed an order for this car, finished in grey with a blue interior. The car was delivered in February of the following year and remained with Mr. Perdisa for the next two years. It was acquired in 1964 by Bruno Deserti.

Revson brought AM 101.1954 back to Modena in the summer of 1964 for a service. By the close of 1964, the car entered the care of Chris Amon, of New Zealand. The next owner was Walter Willmott, a fellow New Zealander and an employee of Team McLaren.

By 1967, the car had arrived stateside and resided in Wisconsin until about 2004. Owners during this period included Clarence Graham, Jackson Reiff, David Uihlein, and Don Faul, who began a twelve-year process or redoing and repairing as needed. The current owner acquired the car in the early 2000s. Finished in West Indies Blue (Maserati color code 20527 Blu Antile Savid) and an interior color of blue leather (Scuro Blu hides) over tufted wool carpeting. A new, factory correct headliner was installed by the current owner.

The car has been awarded the People's Choice Awards on several occasions and was recognized as the Best Maserati at the Palm Beach Cavallino Classic Sports Sunday, among other honors.

Power is from a 3485cc inline six-cylinder engine, three Weber 42 DCOE3 twin-choke sidedraft carburetors and offers 240 horsepower. There is a ZF five-speed manual transmission with disc brakes in the front and drums in the rear.

In 2012, this car was offered for sale at RM Auction's Monterey, CA sale. It was estimated to sell for $105,000 - $145,000 and offered without reserve. As bidding came to a close, the car had been sold for the sum of $137,500, inclusive of buyer's premium.
By Daniel Vaughan | Nov 2012
Maserati introduced the 3500 GT at the 1957 Geneva Salon. It was designed by chief engineer Giulio Alfieri and was essentially developed from the company's first street car, the AG6 of 1946, which was offered only as a rolling chassis and was bodied by several coachbuilders. The twin-plug, 3.5-liter inline six-cylinder engine carried the 3500 GT upwards of 140 mph. The 3500 GT was given the best possible components, including a ZF all-synchro four-speed gearbox, a Salisbury axle, Alford and Adler front suspension, and Girling brakes.

During the production lifespan of the 3500 GT, mechanical developments were steady, with a five-speed ZF gearbox made optional in 1960 and standardized the next year. Large Alfin drum brakes were offered until 1959, when three options were added, which were front disc brakes, a limited-slip differential, and center-lock Borrani wire wheels. In 1961, a Lucas mechanical fuel injection system was added.

The Alfredo Vignale bodied 3500 GT Spyder models were the rarest factory iteration. They were offered on a slightly shortened 100-inch wheelbase chassis.

This Spyder has been treated to a recent no-expense-spared restoration. The body was refinished in its original color of Argento Luna (Silver Moon), and the interior featured dark blue leather, a comprehensively instrumented dashboard, light grey carpet, and a new black top.

Since new, the fuel supply system has been upgraded to the triple Weber 42 DCOE carburetors, which were fitted to the 1957-1960 models.
By Daniel Vaughan | Nov 2014
The Maserati 3500 GT, introduced at the Geneva Motor Show in 1957, was produced through 1964 with more than 2,200 examples built during that time. The 3500 GT's alloy body was styled by Carrozzeria Touring and utilized the firm's famous Superleggera lightweight construction techniques. The 3500 GT's 3.5-liter DOHC six-cylinder engine offered 200 horsepower in carbureted form. The 1961-1964 cars were equipped with a ZF five-speed manual transmission, replacing the four-speed used previously. The GTi designation arrived in 1962, with the 'i' signifying Lucas-sourced fuel injection that increased power to 235 bhp. They were initially built with 4-wheel drum brakes, the 3500 GT was gradually improved over the years, gaining the aforementioned five-speed gearbox, front disc brakes and finally, all-disc braking.

Most of the Maserati 3500 Coupes were clothed by Touring, while the Spiders received coachwork by Frua and Vignale, among others.

Moretti began building motorcycles in 1925 and later moved onto to microcars. After World War II, Moretti turned its attention to modifying Fiats and later building its own cars, with the most famous of those being the Moretti 750. Moretti would continue to work closely with Fiat until it closed shop in the 1980s.

This particular example was delivered new to Copenhagen, Denmark in 1962 as a Touring bodied coupe. After an accident in 1965, the decision was made to have the car entirely re-bodied rather than repaired. Moretti was tasked with performing the work. The completed car was put on display at the 1966 Geneva Auto Salon. It had a long hood and Kamm tail with a fastback design. At the time, it was finished in bright red, a slightly darker red than it wears today, and wearing Danish license plates.

The history of the car from the late 1960s through the mid-1980s, is not known. By the 1980s the car was with a collector in Germany. Alfredo Brener acquired the car from Germany in 2000, and brought the car to the United States. The car is mostly original and has been repainted in bright red, while its white leather interior was redone presumably around the same time.
By Daniel Vaughan | Nov 2014
The Maserati 3500 GT was produced from 1957 through 1964 with over 2000 examples being produced. The vehicle was penned by Carrozzeria Touring gathering many styling cues from the legendary Maserati A6G54 coupe. The 3500 GT is seen as a savior for the Maserati Company. Prior to its production, the company produced less than 140 cars in a ten year time span. Racing and competition nearly exhausted the funds; the company needed help. Becoming a mass-produced company and the widely accepted 3500 GT saved the company and allowed for Maserati to continue its racing efforts with the design and development of the famous birdcage design.

In March of 1957, the 3500 GT was shown to the public at the Geneva Motor Show. Two prototypes were shown; one was designed by Touring and the other by Allemano. The Touring design was a 2+2 coupe, which was later selected by Omer Orsi selected for production. There were minor modifications of the production design. The headlamps, radiator grille, and the dashboard were slightly modified but remained mostly unchanged.

Over the Maserati 3500 GT's production lifespan, many improvements were made. In 1960, front disc brakes became standard; also this year the four-speed manual gear was replaced by a ZF five-speed transmission. In 1961, disc brakes became standard on all four corners. In 1962 the engine was matted to a Lucas Fuel Injection system which increased horsepower by 15.

Under the hood was a 3.5 liter DOHC inline-six cylinder power-plant equipped with three side-draft two-barrel carburetors achieving 240 horsepower. The engine was an evolution of the Tipo 250F Formula 1 car. Top speed with the 3500 GT was achieved at 145 mph.

In 1960 Carrozziera Vignale introduced a 3500 spider which sat atop a shortened chassis. Other coachbuilders such as Allemano, Frua, Moretti, Bertone, and Boneschi produced bodies for the 3500 chassis.

The car was impressive both visually and mechanically. It was Maserati's first production car built in great numbers. During its eight year production lifespan, over 2225 examples of the Coupes and Spyders were produced.
By Daniel Vaughan | May 2009
Postwar Ferrari Named Best of Show at 2014 Pebble Beach Concours d'Elegance
1954 Ferrari 375 MM Scaglietti Coupe Named 'Best of Show' PEBBLE BEACH, Calif. (August 17, 2014) -- Excited cheers echoed across the 18th fairway of Pebble Beach Golf Links Sunday when a 1954 Ferrari 375 MM Scaglietti Coupe was named Best of Show at the 64th annual Pebble Beach Concours d'Elegance. The car, owned by Jon Shirley of Medina, Washington, was the first postwar car to take the top award at the prestigious event in nearly five decades. It was also the first Ferrari to win. ...[Read more...]
The Trident is Raised
One of Italy's most famous marks, and perhaps most troubled, the trident-bearing automaker continues to provoke passion through its search of excellence. Five brothers would come together in December of 1914 to found a motor company bearing their name—Maserati. Alfieri, Bindo, Carlo, Ettore and Ernesto had all demonstrated a passion for automobiles, particularly racing, during those early years at the turn of the 20th century. The foundations of the company would actually begin ...[Read more...]
REVERED FERRARI 250 LM LEADS SUPERLATIVE ROSTER OF ITALIAN SPORTS CARS AT RM'S FLAGSHIP MONTEREY SALE
· RM Auctions announces a legendary 1964 Ferrari 250 LM by Scaglietti as the latest multi-million-dollar highlight for its flagship Monterey sale, August 15–16 in California · 250 LM leads a superb roster of no less than 26 Ferraris at RM's two-day sale; additional new entries include a 1953 250 Europa and a 1963 400 SA LWB Coupe Aerodinamico Series II · RM joins in Maserati's 100th anniversary celebrations, presenting no less than four examples from the luxury Italian ma...[Read more...]
NEW YORK AUTO SHOW CONCEPT CARS: THE FUTURE STARTS HERE
NEW YORK, April 7, 2014 - With an awe-inspiring combination of new design ideas and technological innovation, this year's concept cars at the New York International Automobile Show reveal what's to come in the automotive world. The Auto Show opens to the public on Friday, April 18th through April 27th at the Jacob K. Javits Convention Center in Manhattan. The future starts here… Kia GT-4 Stinger Hearkening back to the glory days of purebred, affordable sports cars, Kia's...[Read more...]
Historic Jaguar D-Type Leads Growing List of Significant Entries for RM's Monterey Sale
• RM Auctions building towards a spectacular roster of cars for its flagship Monterey sale held during the famous Pebble Beach Concours d'Elegance motoring week, August 16–17, in California • Historic 1955 Jaguar D-Type leads a superb roster of the world's finest sports and racing cars poised for the RM podium • Additional star lots include a 1955 Ferrari 750 Monza Scaglietti Spider, a 1950 Ferrari 166 Touring Barchetta, a 1961 Ferrari 400 Superamerica SWB Coupe Aerodinamico and a 1953 Masera...[Read more...]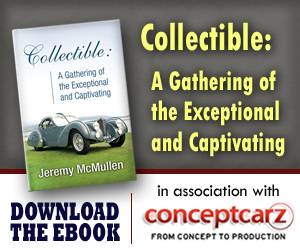 Maserati
Monthly Sales Figures
Volume
December 2014
1,412
November 2014
1,203
October 2014
1,203
September 2014
1,318
August 2014
1,233
July 2014
1,132
June 2014
966
May 2014
1,144
April 2014
964
March 2014
963
January 2014
567
(More Details)
© 1998-2014. All rights reserved. The material may not be published, broadcast, rewritten, or redistributed.