1931 LaSalle Model 345A news, pictures, specifications, and information

Tweet
The LaSalle Company was introduced by General Motors as a companion to Cadillac and is widely regarded as the beginning of modern automobile styling. In the mid-1920s, Cadillac was losing sales to Packard which was offering a line of lower priced luxury cars. California designer Harley Earl, hired specifically for this project, designed the LaSalle as a smaller, more stylish car influenced by the rakish Hispano-Suiza. It was launched in 1927 and was unlike anything else. LaSalles were equipped with Cadillac's engine, making the car faster and more agile. LaSalle was one of the first cars to take full advantage of the bright colors offered by DuPont's fast-drying duco paints introduced in 1924. With all this, LaSalle was enthusiastically received.

The Model 345 was introduced in 1930 and was powered by a 353 cubic-inch V8 producing 95 horsepower. It rode on a 134 inch wheelbase chassis weighing 4,345 pounds. Just over 10,000 units were sold in 1931 for $2,245 in roadster form.

This Roadster with coachwork by Fleetwood is one of eight shipped to Chicago for the 1931 show held at the Stevens Hotel. It was burned in a serious fire in 1971 and was gradually restored by a series of owners over many years who each contributed parts and work towards it restoration.
The LaSalle cars were intended to fill the position between Buick and Cadillac; in many respects, they were basically a small Cadillac, though with a shorter wheelbase and a shorter stroke of the Cadillac V8 engine. New styling was added in 1931, including replacing the hood louvers with doors. The front featured a radiator stone guard that gave them a resemblance to the larger V12 and V16 models. An astonishing twenty body styles were offered, able to appease even the most discerning customer.

This particular example is a Fisher built convertible coupe with style 31668. It is painted in burgundy with deep crimson accent molding, white pin stripe and black fenders. Many years ago this car was restored; since then it has been well maintained and preserved. It is equipped with wire wheels and dual side-mount spares with chrome spokes. It is a First Place winner in the Classic Car Club of America and is recognized by the CCCA as a Full Classic.

In 2008 this 1931 LaSalle Convertible Coupe was brought to the 2008 Automobiles of Amelia presented by RM Auctions where it was estimated to sell for $80,000 - $100,000. It was offered without reserve which worked well for the buyer, who purchased the car for $63,800 including buyer's premium.
By Daniel Vaughan | Feb 2010
Since many of Buick's affluent customers were wanting more and usually finding it at other marques (such as Packard), GM decided to create a new line of vehicles that could cater to their needs. It was positioned between Buick and Cadillac and aimed at recapturing a large portion of the market that could not yet afford a Cadillac, but wanted something more than what Buick had to offer.

The LaSalle was powered by a V-8 engine that followed Cadillac tradition, but lacked the fork-and-blade connecting rods. It was less expensive to build and was made simpler and less complex that its Cadillac cousin. The engine worked so well that it was later enlarged and used for the 1928 Cadillac.

The LaSalle brand was formally introduced on March 5th of 1927 and priced at $2,685. The Buicks sold for around $1,925 while bottom-end Cadillac's went for $3,195. The LaSalle was exactly $100 higher than the equivalent Fifth Series Packard. The engine offered 75 horsepower and was capable of 70 mph.

Two-tone color combinations were a novelty at this time, and the LaSalles created a sensation by wearing them. The hoods and cowls were finished in darker hues than the rest of the body, and 'cheat' lines and belt molding effects served to accentuate the car's compactness.

THe 1928 models remained mostly unchanged from the previous year. The 12 broad hood louvers were replaced with a set of 28 narrow louvers. The engine received a boost in power, now up to 80.

The 345A was introduced in 1931 and it was basically a 'lower' version of a Cadillac. Both rode on a 134-inch wheelbase and both were powered by the 353.3 cubic-inch V8. The main differences were the brand name and the trim.

This car has been in the same ownership for the last 55 years. In 2008 it was brought to auction, the first time in over half a century. It was recently treated to a cosmetic restoration and finished in Carnival Red with Formal Black accents on the exterior. There are dual sidemounts with rear facing mirrors and fender mounted driving lights. In the rear is an accessory luggage rack. There are wire wheels, black interior and leather seat surfaces.

In 2008, this Chrysler CG Imperial was offered for sale at the Hilton Head Sports & Classic Car Auction presented by Worldwide Auctioneers. It had an estimated value of $160,000 - $180,000. As the gavel fell for the third and final time, the lot had been sold for a high bid of $137,500, including buyer's premium.
During the first two decades of the 1900's, Cadillac was the leader in the U.S. luxury-car market. It wasn't until around 1925 when Packard Automobiles began replacing Cadillac as America's new favorite in the premium automobile market when Cadillac realized that they needed to step it up.

With the bottom-end Cadillac priced at $3195, many consumers were unwilling to spend such a significant amount when the top of the line Buick cost $1925. In the years following World War I, Packard's smart new group of lower-priced high-quality 'pocket-size' vehicles were responsible for basically running away with the luxury market, and consequently, much of GM's business.

Conceived as a baby Cadillac with a bit more added style, the La Salle series was introduced on March 5, 1927. To present a youthful, dashing image completely opposite from the staid and proper Cadillac, the La Salle series was meant to be a stepping stone in a perceived gap between Cadillac and Buick in GM's lineup. Priced just above the Buick, the La Salle was designed to be a complete model line that would adequately fill out GM's product roster. The name La Salle was chosen in reference to the famed French explorer that Cadillac had been named after, as one of his compatriots.

Wanting the La Salle to be considerably more stylish than the Cadillac, President of GM Larry Fisher hired a young stylist from Cadillac's California distributor to aid in the design of the new junior series. Harley Earl was given the job as a consultant to design the first La Salle. Though assumed to be only hired for this specific task, Earl went on to become the company's director of design until he retired some 30 years later. During Earl's time at Cadillac, he influenced the entire industry in the areas of both styling and marketing strategy.

The original La Salle produced in 1927 became the first mass-production vehicle to consciously 'styled' in the modern sense. Considered to by the most fashionable American automobiles of its day, the LaSalle was the first of the smaller and more maneuverable luxury vehicles. The LaSalle was also the pioneer in the automobile color industry. Up until this point all vehicles were produced in only black Japan enamel, the only finish available to dry quickly enough to stand up to the pace of mass production. The introduction to DuPont Chemical Company's fast-drying, polychromatic duco finishes in '24 supplied automobiles with a stunning array of colors. La Salle became one of the first cars to take advantage of this modern advancement.

The Series 350 was introduced in 1934 and was considered to be more like an Oldsmobile than a Cadillac. Borrowing an L-head straight eight from the Oldsmobile division to replace the traditional Cadillac V-8, the new series shared the same 240.3-cubic-inch (4-liter) displacement. A completely redesigned chassis was introduced with a much shorter, 119-inch wheelbase. Since the beginning of the La Salle, the double-plate type clutch was utilized until before replaced with a single-plate clutch. Hydraulic brakes were also newly adopted into the series adding yet another first to GM's repertoire.

Independent front suspension now reduced the unsprung weight problem that had been an issue since 1933. Cadillac was able to reduce the price of the LaSalle base models by $650 with these cost cutting new innovative features.

Considered to be the automotive industries fashion leader, the La Salle was equally impressive from its design side. The new design styling for the 1934 model was considered to be dramatic and eye-catching. High-set headlamps in bullet-shaped pods were placed on both sides of a tall, narrow vee'd radiator, along with curvy 'pontoon' fenders at both the front and rear. Wheels were encased in smart chromed discs while hood vent doors gave to 'portholes'.

The La Salle featured bumpers that emulated the shape of twin slim blades separated by two bullets, similar to the '27 Cadillacs. Trunks were absorbed into the main body on all models and spare tires moved inside the vehicles. The LaSalle Series 50 featured a four-door sedan, a new five-passenger club sedan, a two-seat coupe and a rumble-seat convertible coupe in its 1934 lineup. All models showcased Fleetwood bodywork and rear-hinged front doors. Cadillac's standard of quality and luxury were still rated as outstanding despite the money-saving measures. For the 1934 Indianapolis 500, the '34 LaSalle was chosen as a pace car for that year.

Unfortunately the following year's sales dipped far below expectations, even though they doubled the previous year's total. A total of only 7195 models were produced for the 1934 year.

Not much styling was changed for the 1935 LaSalle Series 50. Updates included two-door and four-door 'trunkback' sedans joining the line with an industry trend. Fisher's new 'Turret-Top' construction was introduced to replace the original closed body styles. This update required steel to replace the traditional fabric inserted into the roof. Horsepower was up from 90 to 95 with a slightly higher compression ratio. Very few mechanical changes were made for the '35 model.

Due to the release of Packard's new One-Twenty, about the same size as LaSalle, though slightly lighter and 16% more powerful and costing $450 less, LaSalle sales suffered.

The following year Cadillac responded to the competition by reducing the little-changed Series 50 by $320, though even this wasn't enough to stimulate sales significantly. Packard's One-Twenty continued to thrive, and outsold the LaSalle by better than four to one for 1936.

Time to try a new approach, Cadillac next introduced a new 'compact' Series 60 that same season.
By Jessica Donaldson
Rumbleseat Coupe
Coachwork: Fisher

This vehicle has Pilot vision lights that track with steering. The windshield opens up and down. The Vision-All wipers sweep across windshield. There is a cigar lighter that extends from the dash to rumble seat. There is a golf club Door on the passenger side.
For more information and related vehicles, click
here
GM DESIGN'S TOM PETERS EARNS LIFETIME ACHIEVEMENT AWARD
PASADENA, Calif. – In addition to more than 30 years of designing some of General Motors' most memorable vehicles, Tom Peters led the exterior studio teams that produced two of GM's most important product introductions this year – the 2014 Chevrolet Corvette Stingray and 2014 Chevrolet Silverado full-size pickup. On Sunday, Peters received a lifetime achievement award for his work from his alma mater, Art Center College of Design, which has been at the forefront of art and design educ...[Read more...]
MECUM TOPS $18.6 MILLION IN CHICAGO
Walworth, WI - October 15, 2013 -- The windy city welcomed Mecum Auctions with an exceptional sale and enormous crowds at the Schaumburg Convention Center in Schaumburg, Ill., this past weekend. With 965 cars crossing the block throughout the three-day event, 615 hammered sold for a 64 percent sell-through rate and $18,634,223 in sales. The one-of-a-kind personal driver of Corvette's original designer Harley J. Earl led auction sales with a hammer price of $1.5 million. Chicagoland was...[Read more...]
Honda Factory Performance Package Now Available For Accord Coupe V6
07/16/2013 - TORRANCE, Calif. The limited-edition Honda Factory Performance® (HFP®) package for the Honda Accord Coupe V6 goes on sale today at select Honda dealers in the United States. First shown at the 2012 SEMA Show in Las Vegas and recently performance tested by Honda's North American racing company, Honda Performance Development, Inc. (HPD), the HFP package adds significantly enhanced vehicle dynamics and distinctive styling cues to the already-sporty Accord Coupe. To verify th...[Read more...]
Kia Motors Announces Pricing For All-New 2014 Cadenza Premium Sedan
Kia's Flagship Sedan Offers Premium Amenities at a Starting Price of $35,1001 MSRP • The most powerful and technologically advanced Kia in the U.S. market is defined by European-influenced styling and extraordinary levels of refinement and amenities
• Cadenza features class-leading interior room2 and is offered in one trim level with two available option packages
IRVINE, Calif., April 19, 2013 – Kia Motors America (KMA) is pleased to announce pricing for its most powerful and ...[Read more...]
Citroen Shifts Into Racing Gear For 2012 Goodwood Festival Of Speed
•New Citroën Racing driver, Thierry Neuville, will be putting DS3 WRC through its paces on the hill climb & Forest Rally Stage •Hot blooded 256bhp DS4 Racing concept making its UK premiere on the Citroën stand •New Citroën DS5 taking part in the Moving Motor Show Citroën is showcasing the very best of its stylish flair, 'Créative Technologie' and racing pedigree at this year's Goodwood Festival of Speed with the DS3 WRC in action; the UK premiere of DS4 Racing concept and a display of th...[Read more...]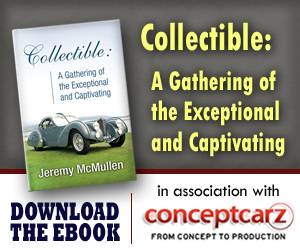 © 1998-2014. All rights reserved. The material may not be published, broadcast, rewritten, or redistributed.