1959 Mercedes-Benz 220S news, pictures, specifications, and information

Tweet
This 1959 Mercedes-Benz 220S Cabriolet was offered for sale at the 2007 Sports and Classic Car Auction presented by The Worldwide Group, in Hilton Head Island, SC where it was estimated to sell for $50,000 - $75,000. It was offered without reserve. It is powered by a 2.2-liter six-cylinder engine capable of producing 125 horsepower. There is a four-speed manual gearbox and servo assisted drum brakes on all four-wheels.

The 220S Mercedes-Benz model was available in either Saloon, Coupe, or convertible configuration. The interior featured leather seats and exotic material used throughout the vehicle, such as the mahogany wood trim.

The 'S-Class' designation of Mercedes-Benz, during its early history, usually represented the largest and most spacious luxury vehicle in the marque's lineup. In other cases, the 'S-Class' represented that the vehicle required premium fuel due to the higher compression ratio and high output engines.

Beginning the mid-1950s, the 220S (W128) was produced in limited numbers, with production continuing until October of 1959. A total of 3,429 units were created during that time with 2178 being convertibles.

The 220S featured a unitized body and frame with a fully independent suspension setup. All models were given the 2.2-liter version of the straight six engine with aluminum heads, overhead camshaft, and Bosch mechanical fuel injection. The column mounted four-speed manual gearbox was available with an automatic clutch.

This example was factory equipped with the Becker multi-band radio, clock, and many other Mercedes-Benz accessories. The estimated value proved to be accurate at auction, as this vehicle was sold for $51,750.
By Daniel Vaughan | Dec 2007
The Ponton series of Mercedes-Benz, introduced in 1953, is considered the first truly modern Mercedes-Benz built in the post-war era. The 220 was priced well below the 300 Series and benefitted from the same quality workmanship, engineering and design. The 220 was outfitted with hand-fitted woodwork and fashionable styling, and - unlike its 300 Series sibling - was priced to accommodate a wider clientele.

This 220 S Cabriolet was originally finished in the combination of Cream (DB 629) with a red leather interior. It is well equipped with the optional Becker Europa radio, Continental whitewall tires and special equipment for US delivery. On July 9, 1959, the completed Cabriolet was shipped to Indianapolis, presumably destined for Studebaker Packard in South Bend, the factory's official US distribution agent at the time.

Ted Nugent of Holland, Michigan acquired the 220 S in the mid-1970s. About a decade later, a restoration began to return the car to its original splendor. The work was completed in the early 1990s and then was taken to a number of local shows. It was shown at the Mercedes-Benz Club gatherings and earned a First Place at the 1994 Downtown Discovery Days show in Grand Rapids, Michigan.

The car is powered by a 2195cc single overhead cam, six-cylinder engine breathing through twin Solex carburetors. The engine delivers 115 horsepower and is sent to the rear wheels via a four-speed manual gearbox.

In 2012, this vehicle was offered for sale at the Gooding & Company auction in Scottsdale, Arizona where it was estimated to sell for $130,000 - $160,000 and offered without reserve. As bidding came to a close, the car had been sold for the sum of $92,400 inclusive of buyer's premium.
By Daniel Vaughan | Feb 2012
This Mercedes-Benz 220S Cabriolet is currently in the care of a very important German collection specializing only in Mercedes-Benz. It was added to the collection in the mid-2000s, having been acquired from a prominent German classic car dealership, and was subsequently used on classic car rallies and for shows. It is finished in black with red leather interior.

In 2012, the 'Ponton' Cabriolet was offered for sale at Coys 'Legende et Passion' Monaco sale where it was estimated to sell for €75.000 - €85.000.
By Daniel Vaughan | Jul 2012
There Mercedes-Benz 220 was an economically important model for the company, comprising the vast majority of cars built, particular for export, in the mid- and late-1950s. The Mercedes-Benz Model 220 was introduced in 1951 and came fitted with an 80 horsepower, single overhead camshaft six.

The commercial success of the Mercedes-Benz 220 saw a new body introduced at the 1956 Frankfurt Show, nicknamed the 'Ponton.' The design featured a slight hint of separate rear fenders with full-envelope bodywork which was thoroughly modern yet still retaining its Stuttgart heritage. In the front was a fully independent suspension with single joint rear swing axle.

The 2.2 liter single overhead camshaft six-cylinder M180 engine, found in the Mercedes-Benz 220S, featured dual carburetion and a higher compression ratio. It was introduced in 1956 and y 1959 power had risen to 120 horsepower. For 1959, just 2178 examples of the 220S Cabriolet versions were built. This particular example is finished in light blue with white leather upholstery and a tan cloth top. It is completely original except for a repaint.

The car is equipped with a column-shift four-speed manual transmission, hubcaps, radial tires with narrow whitewalls, a Becker Mexico radio and driving lights.

In 2013, the car was offered for sale at the Bonhams Auction in Scottsdale, Arizona. As bidding came to a close, the car had been sold for the sum of $115,000 including buyer's premium.
By Daniel Vaughan | Feb 2013
The Mercedes-Benz 220SE was introduced in 1958 and remained in production until 1959 with a total of 1974 examples being produced. 1112 of those were cabriolets. The 'SE' was considered an upgraded version of the 220 and offered in coupe, sedan and cabriolet body styles.

The 220SE were built with high attention to detail, almost mimicking the 330SC. They came equipped with polished wooden dashboards and door cappings, leather upholstery, and chrome trim. Under the hood was a 2.2-liter engine that produced nearly 135 horsepower and could carry the 220SE to speeds of 100 mph. The use of Bosch fuel-injection meant the increase in power while a reduction in fuel consumption.

A cabriolet, also known as a 'Ponton Series', cost just under $9,000 when new. These were among the first of the postwar, modern, Mercedes-Benz designs. Their styling retained the traditional Mercedes-Benz touches while adapting a modern style that appealed to a wider generation.
By Daniel Vaughan | Feb 2007
For more information and related vehicles, click
here
Gooding & Company Provides Sneak Peek into its Two-Day Scottsdale Lineup
SANTA MONICA, Calif. (November 18, 2014) – Gooding & Company, the auction house acclaimed for selling the world's most significant and valuable collector cars, is delighted to present an exceptional ensemble of motorcars at its annual two-day Scottsdale Auctions on January 16 and 17, 2015. Appearing in this impressive roster is a wonderfully original 1960 Alfa Romeo Giulietta Sprint Zagato, a rare-to-market Porsche 959 Sport with an exclusive factory power upgrade as well as a Formula 1 F...[Read more...]
Automobiles with Exceptional Provenance Highlight Gooding & Company's Pebble Beach Auctions
SANTA MONICA, Calif. (July 10, 2014) – Gooding & Company, celebrated for its world-class automotive auctions and record-breaking results, will begin its second decade as the official auction house of the Pebble Beach Concours d'Elegance® on August 17 and 18. Gooding & Company is pleased to share a hand selected group of consignments from our Pebble Beach Auctions with exceptional provenance. Exciting entries include an extremely rare 1939 Alfa Romeo Tipo 256 Cabriolet with spectacular one...[Read more...]
Gooding & Company's Scottsdale Auctions Friday Sale Realizes More Than $26 Million
First day auction highlights include a record-breaking 1958 Ferrari 250 GT Series 1 Cabriolet and a 1956 Ferrari 410 Superamerica Series I Coupe Scottsdale, AZ (January 17, 2014) – Gooding & Company, the auction house acclaimed for selling the world's most significant and valuable collector cars, realized more than $26 million during the first of its two Scottsdale auctions. The energy in the salesroom was electric as the auction house sold 57 of the 59 lots, which resulted in a...[Read more...]
BARRETT-JACKSON'S SCOTTSDALE 2014 SALON COLLECTION TO OFFER DIVERSE DOCKET OF WORLD'S MOST SOUGHT-AFTER COLLECTIBLES
Rare and Desirable Vehicles Plus One Fully-Operational Carousel Will Cross the Auction Block at Company's Monumental Scottsdale Auction, Jan. 12-19, 2014 SCOTTSDALE, ARIZ. (Dec. 18, 2013) – Barrett-Jackson, The World's Greatest Collector Car Auctions™, announced today a group of exceptional vehicles representing 85 years of automotive history will cross the auction block as part of the world-renowned Salon Collection. The collection will be offered during the company's 43rd Ann...[Read more...]
Italian Racing Classics Lead Gooding & Company's 10th Anniversary
SANTA MONICA, Calif. (June 4, 2013) – Gooding & Company, the official auction house of the Pebble Beach Concours d'Elegance acclaimed for selling the world's most significant and valuable collector cars, will be hosting the 10th Anniversary sale of the Pebble Beach Auctions on August 17 and 18. This year Gooding & Company offers an early preview of some of the most highly sought after and rapidly amassing value collectible – the distinguished Italian race car. Auction highlights include a...[Read more...]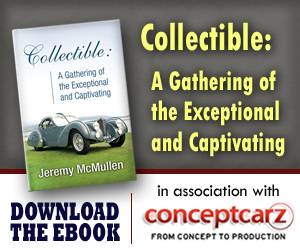 Similarly Priced Vehicles from 1959
Jaguar MK IX ($6,030-$6,030)
Cadillac DeVille ($5,250-$5,496)
Cadillac Series 62 ($4,890-$5,453)
Cadillac Eldorado Biarritz ($7,400-$7,400)
Alfa Romeo Giulietta ($3,520-$4,340)
Porsche 356A ($3,580-$5,900)
DeSoto Adventurer ($4,425-$4,747)
Chrysler 300E ($5,320-$5,750)

Average Auction Sale: $52,620
Mercedes-Benz
Monthly Sales Figures
Volume
October 2014
30,733
September 2014
29,523
August 2014
28,958
July 2014
29,406
June 2014
28,707
May 2014
26,617
April 2014
28,281
March 2014
29,316
February 2014
22,609
January 2014
23,892
December 2013
35,835
November 2013
36,386
(More Details)
© 1998-2014. All rights reserved. The material may not be published, broadcast, rewritten, or redistributed.