1957 Devin MG Special news, pictures, specifications, and information

Tweet
Bill Devin built a car that had the style, sophistication, and performance of a Ferrari but sold for less. The prancing horse demanded a high price due to its pedigree; Devin decided to exploit the market and offer a nearly identical vehicle at an affordable price.


Bill had a history of racing that included a win at the first Pebble Beach race in 1949 while driving a modified Crosley Hot Shot. Later he entered the fiberglass body business where he sold hundreds of lightweight but durable bodies at just under $300 a piece. Near the close of the 1950's, his company was producing nearly 100 bodies per week and shipping them throughout the world.


Irishman Malcom MacGregor approached Devin with a sports car that he had built. It was complete without a body. Devin was impressed with the design and soon chassis development was taking place in Ireland. The rolling chassis were then shipped to Devin in Elmonte, California where he would finish the assembly. It included an independent suspension in the front and a De Dion tube setup in the rear. Steering was through a rack-and-pinion unit. 12 inch Girling disc brakes provided ample stopping power while the Dunlop wire wheels held the car firmly in place under heavy cornering.

Around fifteen chassis were sent to Devin who finished them with Chevrolet V8 power, Borg Warner transmission, chromed exhaust pipes, and lightweight bodies. Ferrari's of the day were fetching around $12,000 while a comparable Devin racer cost just under $6000. The cars were built on a modular system which could support chassis varying from 76-inch to 106-inches. They were available in 27 variations and built to fit cars that ranged from the Crosley's to the Allards.

On the racing circuit the vehicles quickly proved their potential. One of the Devin racers was driven by Pete Woods who won the C-modified Championship. Many of the others were converted into road friendly vehicles and purchased by customers who were looking for a car that could get them noticed.

Road & Track got their hands on one and recorded a seven second zero-to-sixty time with the quarter mile in 14 seconds. Top speed was just over 130 mph.

The MG chassis were a popular platform for the Devin bodies. This example has been upgraded to Chevrolet V8 power sometime in the early 1990s. To accommodate the additional weight, the MGA frame was reinforced and the engine was set well back into the chassis and features triple Stromberg 97 carburetors on an Edelbrock intake. There is a Chevrolet four-speed manual transmission and disc brakes. Borrani wire wheels can be found at all four corners.

This vehicle was brought to the 2007 Monterey Sports & Classic Car Auction presented by RM Auctions, where it was estimated to sell for $75,000 - $95,000. The lot was offered without reserve. As the gavel fell the lot had been sold for $45,100 including buyer's premium.
By Daniel Vaughan | Dec 2007
John Barnard's Finest: Some of the Greatest of Barnard's Design
The latter-part of Barnard's Formula One career would be filled with disappointments and disputes. However, there was no disputing the genius of the man from London. In fact, a couple of innovations that are mainstays in Formula One design were first introduced by this man who had been involved in motor racing in some form or manner since the 1960s. John Barnard would be born in London on the 4th of May in 1946. The war was over and a whole new world loomed on the horizon. It was t...[Read more...]
BEACH CARS STORM THE 2014 AMELIA CONCOURS d'ELEGANCE
'For an event like 'The Amelia' a class of beach cars is appropriate and ideal,' said Warner. 'After all, when you take a break from the concours field and sit on the veranda at the Ritz-Carlton with a cool drink in front of you, you stare at the ocean and the beach. I just wish we could find a way to make the beach part of the concours field just this once.' During the La Dolce Vita epoch, the ultimate European playboy's car was neither a Maserati nor a Ferrari. It arrived on sun splashed ...[Read more...]
KIA MOTORS AMERICA ELECTRIFIES LAS VEGAS WITH MUSIC-DRIVEN SOULS AT SEMA
Inspired by the Eclectic World of Contemporary Music, Kia Partners with RIDES Magazine and Popular Mechanics to Open the Show in Amplified Fashion ◾Five 2014 Souls debut with live mobile performances, featuring a cutting-edge DJ station and a pro-sound-quality, plug-in-ready amplifier on wheels ◾NBC's The Voice and Vans Warped Tour are represented with their own themed Soul urban hatchbacks ◾A rolling music museum Soul pays homage to the art form with memorabilia spanning multiple genr...[Read more...]
1967 Can-Am Road America: The Beginning of the 'Bruce and Denny Show'
While Formula One will be forever considered the pinnacle of motorsport, from a period between 1966 and 1986 there existed a series that would likely be the closest to 'anything goes' as any motor racing series could truly get. Based upon the FIA Group 7 cars but allowed to showcase unlimited engine sizes and unfettered aerodynamics, the Can-Am cars would have to be considered the pinnacle of motorsport technology and power of their era. And for more than a couple of years there would be one tea...[Read more...]
Carroll Shelby, Ford Family for More Than Half a Century
Carroll Shelby was a member of the Ford family for the better part of 60 years, producing stunning performance vehicles from concepts to production models. He once said his energy and passion for performance products were always strongest when he was working with Ford. Shelby most recently collaborated with the company on the 2013 Ford Shelby GT500 Mustang, the most powerful production V8 in the world. Working with SVT engineers at Sebring and the Arizona Proving Grounds, at times he drov...[Read more...]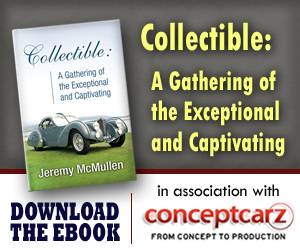 © 1998-2014. All rights reserved. The material may not be published, broadcast, rewritten, or redistributed.