Image credits: © BMW.
1965 BMW 3200CS news, pictures, specifications, and information

Tweet
Only ten BMW 3200 CS examples are known to reside in the United States, and this example has been in the US, garage kept, for the past 25 years. It is a low mileage car with a white exterior and a brown leather upholstery interior. It has the BMW V8 engine with 160 horsepower and front disc and rear drum brakes.

In 2007 this 1965 BMW 3200 CS Bertone was brought to the Monterey Sports & Classic Car Auction presented by RM Auctions, where it had an estimated value of $40,000 - $60,000. It was offered without reserve which worked well for the buyer who purchased the car for nearly half the expected value, at $22,500 including buyer's premium.
By Daniel Vaughan | Dec 2007
The CS, meaning Coupe Sport, featured a powerful V8 engine and a special 507 rear axle. The design and building of the body was tasked to Bertone. In 1961, at the Frankfurt Motor Show, the BMW 3200CS was unveiled and the first cars were delivered by February of 1962.

The V8 OHV engine displaced 3168cc and produced 160 horsepower at 5600 RPM. It was mated to a four-speed manual gearbox and had disc brakes in the front. Many of the vehicles styling cues would make their way into later BMW models such as the slim roof section, distinctive C pillar, and the round taillights with central indicators.

The BMW CS carried a price tag of $7,500 which meant it was intended for an exclusive clientele. Many of the cars were customized to suite customer specifications. After just 603 examples were created, BMW halted production. Their New Class of vehicles were enjoying tremendous success while their hand-built CS models were very expensive to build.

This 1965 BMW 3200CS was given a restoration in the late 1990s and painted in dark blue. The V8 engine was refurbished and all of the gauges, wooden dashboard, and 507-inspired steering wheel are in working condition. It has a factory electric sunroof, Becker Mexico radio, and a floor-mounted 4-speed.

After its restoration was completed, it was shown at the 2000 BMW Oktoberfest where it was awarded 'People's Choice' and first place in the concours competition. In 2001 it was awarded the Featured Marque Award at the Concours d'Elegance of the Easter US in Pennsylvania.

It is believed that around 50 examples of the 603 examples produced are still in existence. In 2007 this 3200CS was brought to the Gooding & Company auction held in Pebble Beach, California where it was estimated to sell for $105,000 - $135,000. Those estimates proved accurate as the lot was sold for $126,500 including buyer's premium.
By Daniel Vaughan | Apr 2008
By the close of the 1950s Bavarian Motor Works (BMW) found itself in financial distress. With the help of some creative and brilliant creations, BMW would weather these difficult times. One of their attempts to boost sales and their image the talents of Turin, Italy based Giuseppe 'Nuccio' Bertone was requested. Bertone was tasked with restyling the BMW 502 Salon which resulted in the 3200CS. With the aid of his chief stylist, Giorgetto Giugiaro, Bertone create a beautifully proportioned two door, four seater, high performance vehicle on the 502 chassis. Prototypes were shown at the 1961 IAA Frankfurt Show and construction started in February of 1962.

Under the bonnet was a very powerful 3.2-liter V8 engine that displaced 3169cc, had an aluminum block, twin Zenith double-barrel carburetors, and an available 160 horsepower. The interior was elegant, comfortable, and luxurious. Production would last until 1965 with a total of 596 units created.
By Daniel Vaughan | Dec 2007
Debuting at the 1961 Frankfurt Motor Show alongside the BMW 1500, one of the most prestigious coupes of all time, the 3200 CS was produced from January 1962 until September 1965. The sporty touring 3200 CS would be the last of the big V8 engine BMWs . The 3200 CS was incredibly innovative for its time and featured numerous design elements that would be used in future BMW models including the renowned Hofmeister kink. The Bertone designed 3200 CS, the last of BMW's early postwar luxury cars, featured beautiful classic Italian lines that hinted at future coupe designs to come.

BMW's marketing manager Helmut Werner Bonsch made the discovery that the Pininfarina body for the Lancia Flaminia coupe would easily fit on the BMW 3200L sedan chassis without any extra work. He next went to BMW's management to commission Pininfarina to construct Flaminia coupe bodies with BMW grilles. This design would be the replacement for the 503, which had been discontinued in 1959. Unfortunately for Bonsch, BMW management chose instead to instruct chief engineer Fritz Fiedler to commission Giuseppe 'Nuccio' Bertone to both design and manufacture a coupe body for the 3200S. He restyled the BMW 502 Salon with the assistance of his chief stylist, Giogetto Giugiaro, resulting in the two-door, four-seater, high-performance 3200 CS on the 502 chassis.

The 3200 CS used a perimeter frame, a four speed manual gearbox, a 3,168 cc, twin-carburetor version of the BMW OHV V8 engine, a live rear axle, disc brakes on the front wheels and torsion bar springs at all four wheels. It was the last BMW that would have pushrod-operated engine valves, a solid rear axle and a perimeter frame. The 3200 CS had an available 160 horsepower.

The classic 3200 CS was a vision of what was to come in BMW's future as the low beltline, thin pillars and tall greenhouse became a template of sorts for the marque's later coupes. The 2000 C and CS coupes based on the New Class sedans and the E9 'New Six' coupes were examples of this. The styling as the side of the greenhouse eventually became known as the Hofmeister kind.

596 examples of the landmark BMW designed 3200 CS were built during its production run. The elegant model offered high performance, high style, and exceptional comfort all wrapped up in a classically styled package. The 3200 CS featured a roomy interior with wide windows. A 1964 3200 CS Coupe recently sold for $30,800 at RM Auctions.

Sources:
http://www.autoevolution.com/news/bmw-history-3200-cs-bertone-video-1-50754.html
http://en.wikipedia.org/wiki/BMW_3200_CS

By Jessica Donaldson
ONE-OF-A-KIND BMW I8 CONCOURS D'ELEGANCE EDITION TO BE AUCTIONED DURING PEBBLE BEACH CONCOURS D'ELEGANCE WEEKEND
BMW i8 Concours d'Elegance Edition to be sold at Pebble Beach Auctions presented by Gooding & Company with proceeds benefitting the Pebble Beach Company Foundation and the Pebble Beach Concours d'Elegance Woodcliff Lake, N.J. – July 25, 2014… In celebration of the US arrival of the BMW i8, the world's most innovative sports car, a one-of-a-kind 2014 BMW i8 Concours d'Elegance Edition will be auctioned during the weekend of the 2014 Pebble Beach Concours d'Elegance, ahead of the ...[Read more...]
TIMELESSLY ALLURING: 25 YEARS OF THE BMW 8 SERIES
Munich. It was streets ahead of its time at launch and maintains an ageless glow to this day, yet a glance at the calendar reveals the disarming truth: 25 years have passed since the BMW 8 Series was presented to the world at large for the first time. The car's international fan community duly came together last weekend at its Bavarian birthplace to celebrate the anniversary, with events including a spectacular parade of 120 cars at the BMW Group headquarters highlighting their collective...[Read more...]
BMW X4 SPORTS ACTIVITY COUPE AND M4 CONVERTIBLE MAKE WORLD DEBUT AT 2014 NEW YORK INTERNATIONAL AUTO SHOW
◾New BMW 4 Series Gran Coupe and BMW ALPINA B6 xDrive Gran Coupe to make North American debuts ◾Updated BMW X3 Sports Activity Vehicle also makes North American debut including first BMW Advanced Diesel X3 model for the US ◾BMW Concept X5 eDrive showcases new dimension of BMW EfficientDynamics technology Woodcliff Lake, NJ – April 3, 2014 6:00pm EDT/3:00pm PDT. . . The all-new BMW X4 Sports Activity Coupe as well as the BMW M4 Convertible make their world debuts at the 2014 New Yor...[Read more...]
Mercedes-Benz Pays Homage to a Regional Classic at the 2013 Greenwich Concours d'Elegance
The all-new 2014 E-Class Wagon Debuts Alongside a 1957 300c Mercedes-Benz USA debuts the all-new 2014 E-Class Wagon alongside one of its predecessors, a pristine 1957 300c at the 18th Annual Greenwich Concours d'Elegance from June 1-2, 2013. The event features rare vehicles from past and present and benefits Americares, the private, non-profit relief and humanitarian aid organization. With the background of the breathtaking Greenwich seaside, Mercedes-Benz highlights one of the Nort...[Read more...]
NIGHT OF THE WHITE GLOVES AT THE BMW MUSEUM. BMW HISTORY – A HANDS-ON EXPERIENCE.
Touching the exhibits in a museum? Normally that's a big no-no which you ignore at your peril. But as we all know, forbidden fruit is the sweetest – and that's why the BMW Museum is opening its doors on Friday, 23 November for the fifth edition of its 'Night of the White Gloves'. From 7 p.m. onwards, visitors will don a pair of white gloves and be free to stroke the cars they would normally be allowed to caress with their eyes only. 'The 'Night of the White Gloves' is a unique event in the museu...[Read more...]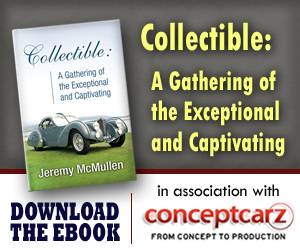 BMW
Monthly Sales Figures
Volume
November 2014
31,019
October 2014
30,602
September 2014
25,586
August 2014
27,214
July 2014
26,409
June 2014
30,201
May 2014
29,602
April 2014
25,202
March 2014
32,107
February 2014
22,017
January 2014
18,253
December 2013
37,389
(More Details)
© 1998-2014. All rights reserved. The material may not be published, broadcast, rewritten, or redistributed.