1954 Nash Metropolitan news, pictures, specifications, and information

Tweet
The Nash Metropolitan is one of those vehicles that has a cult following. It was a smaller, less expensive compact car aimed squarely for the second-car market, with the belief that families would want a smaller, less expensive car to complement their primary vehicle. This was the first mass-produced subcompact car and the first car marketed to and sold in the United States while being entirely machined and assembled overseas.

This model has been given a full restoration since new. It is painted in Spruce Green and has a white roof and powered by a 1,200cc four-cylinder engine that is mated to a three-speed transmission operated from a column shift.

In 2009, this Nash Metropolitan was offered for sale at the Gooding & Company auction held in Scottsdale, Arizona. It was expected to sell for $20,000 - $30,000 and offered without reserve. The lot was sold for a high bid of $19,800 including buyer's premium.
By Daniel Vaughan | Apr 2009
The Nash Metropolitan was produced from 1954 through 1962. In 1954 the Nash-Kelvinator Corporation merged with Hudson Motor Car Company to form the American Motors Corporation (AMC). It was the largest corporate merger in the United States history up to that point.

When most other automobile manufacturers of the time were creating large automobiles, the Nash Motor Company set out to produce a small, economical, fuel-efficient vehicle. A concept car was created to gauge public reaction. This concept was the NXI, known as the Nash Experimental International, builit by William J. Flajole. After a number of positive reviews and interest in the vehicle, the decision was made to produce the vehicle. Additional research revealed that it would be more cost-effective to produce the vehicle overseas using existing mechanical components rather than to invest in tooling costs in the United States. After searching and negotiation, the production was handed over to Austin of England. In October of 1953 production began at Austin's Longbridge factory. Bodywork was handled by Fisher & Ludlow. Final assembly was by the Austin Motor Company.

The Nash Metropolitan was available in two body-styles, a hardtop or convertible. They rested on an 85-inch wheelbase and weighed just 1800 lbs. Power was from the Austin four-cylinder A-series engine which sent the power through a three-speed manual gearbox to the rear wheels. A change was made to the B-series engine after 10,000 examples had been produced.

In 1956 the Metropolitan was redesigned and the engine capacity was enlarged from 1200cc to 1500cc. Two-tone paint schemes and chrome trim could now be found on the exterior. The non-functional hood scoop was removed.

Power was again improved in 1959, now reaching 55 horsepower. This was also the year that had its greatest number of sales for any given year.

Production continued until 1961 though there were still enough product to continue sales until March of 1962. In total, 95,000 examples of the Metropolitan had been sold to US Customers. About 9,400 examples were sold to United Kingdom customers.
By Daniel Vaughan | Dec 2006
FIRST RETAIL 2015 FORD MUSTANG GT FASTBACK CROSSING BARRETT-JACKSON BLOCK TO BENEFIT JDRF
◾The first retail 2015 Ford Mustang GT fastback will be auctioned to benefit leading diabetes research charity, JDRF ◾The winning bidder of the fastback can personalize his or her car with any available Mustang GT options The first retail unit of the all-new Ford Mustang will be sold at Barrett-Jackson Auction Company's event in Scottsdale, Ariz. on Jan. 18, 2014. Offered at no reserve, all proceeds will benefit JDRF, the country's leading global organization funding type 1 diabetes resear...[Read more...]
GORDON RACES TO SECOND SPEED ENERGY STADIUM SUPER TRUCKS WIN OF SEASON
San Diego, Calif. (May 18, 2013) – SPEED Energy Stadium SUPER Trucks made a return trip to Qualcomm Stadium in San Diego, Calif., for the second and final time in 2013. Five distinct racing divisions took to the track to test their driving skills on the uniquely prepared dirt and asphalt course. Robby Gordon, Larry Swim, Apdaly Lopez, Derek Costella and Shelby Anderson were able to record wins in Round No. 5 of SST competition. Robby Gordon, of Orange, Calif., driving the #7 SPEED Ener...[Read more...]
TOPLINE COLLECTORS PLACE SPOTLIGHT on SPEED'S BARRETT-JACKSON BROADCAST FROM SCOTTSDALE
• TOPLINE COLLECTORS PLACE SPOTLIGHT on SPEED'S BARRETT-JACKSON BROADCAST FROM SCOTTSDALE
• 'LOST' SHELBY DUAL PROTOTYPE, HAGERTY GIVEAWAY & SALON COLLECTION HIGHLIGHT 39 HOURS OF LIVE COVERAGE
The 42nd annual Barrett-Jackson Scottsdale (Ariz.) Collector Car Event, the first of four set for live coverage in 2013, kicks off the auction season in grand style as some of the world's most sought-after machines cross the block starting Tuesday, Jan. 15 at 7 p.m. ET/4 p.m. PT. SP...[Read more...]
Barrett-Jackson Concludes 10th Anniversary In Palm Beach
With More Than $18 Million In Revenue; Over 55,000 In Attendance Barrett-Jackson Auction Company, The World's Greatest Collector Car Auctions™, announced today that its 10th Annual Palm Beach Event, held April 5-7 at the South Florida Fairgrounds, generated more than $18 million in sales of Classics, Muscle Cars, Hot Rods, Resto-Mods, Exotics and Contemporary Collectibles in front of a crowd of over 55,000. Both attendance and sales figures were up from last year. The three-day eve...[Read more...]
GOODING & COMPANY ANNOUNCES MORE THAN $50 MILLION IN SALES AT 2009 PEBBLE BEACH AUCTION
Gooding Sold 129 Exceptional Lots with Two $4+ Million Cars and Achieved Three World Records in 2 Days Gooding & Company, the official auction house of the Pebble Beach Concours d'Elegance®, sold 129 total lots over both Saturday and Sunday auction events, collectively earning more than $50 Million* in sales. Continuing its successful presence at the Pebble Beach Concours d'Elegance and as the leading auction house in Monterey, Gooding & Company attracted thousands of collectors and en...[Read more...]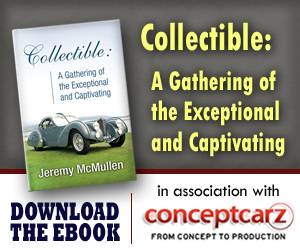 © 1998-2014. All rights reserved. The material may not be published, broadcast, rewritten, or redistributed.