1954 Nash Metropolitan news, pictures, specifications, and information

Tweet
The Nash Metropolitan is one of those vehicles that has a cult following. It was a smaller, less expensive compact car aimed squarely for the second-car market, with the belief that families would want a smaller, less expensive car to complement their primary vehicle. This was the first mass-produced subcompact car and the first car marketed to and sold in the United States while being entirely machined and assembled overseas.

This model has been given a full restoration since new. It is painted in Spruce Green and has a white roof and powered by a 1,200cc four-cylinder engine that is mated to a three-speed transmission operated from a column shift.

In 2009, this Nash Metropolitan was offered for sale at the Gooding & Company auction held in Scottsdale, Arizona. It was expected to sell for $20,000 - $30,000 and offered without reserve. The lot was sold for a high bid of $19,800 including buyer's premium.
By Daniel Vaughan | Apr 2009
The Nash Metropolitan was produced from 1954 through 1962. In 1954 the Nash-Kelvinator Corporation merged with Hudson Motor Car Company to form the American Motors Corporation (AMC). It was the largest corporate merger in the United States history up to that point.

When most other automobile manufacturers of the time were creating large automobiles, the Nash Motor Company set out to produce a small, economical, fuel-efficient vehicle. A concept car was created to gauge public reaction. This concept was the NXI, known as the Nash Experimental International, builit by William J. Flajole. After a number of positive reviews and interest in the vehicle, the decision was made to produce the vehicle. Additional research revealed that it would be more cost-effective to produce the vehicle overseas using existing mechanical components rather than to invest in tooling costs in the United States. After searching and negotiation, the production was handed over to Austin of England. In October of 1953 production began at Austin's Longbridge factory. Bodywork was handled by Fisher & Ludlow. Final assembly was by the Austin Motor Company.

The Nash Metropolitan was available in two body-styles, a hardtop or convertible. They rested on an 85-inch wheelbase and weighed just 1800 lbs. Power was from the Austin four-cylinder A-series engine which sent the power through a three-speed manual gearbox to the rear wheels. A change was made to the B-series engine after 10,000 examples had been produced.

In 1956 the Metropolitan was redesigned and the engine capacity was enlarged from 1200cc to 1500cc. Two-tone paint schemes and chrome trim could now be found on the exterior. The non-functional hood scoop was removed.

Power was again improved in 1959, now reaching 55 horsepower. This was also the year that had its greatest number of sales for any given year.

Production continued until 1961 though there were still enough product to continue sales until March of 1962. In total, 95,000 examples of the Metropolitan had been sold to US Customers. About 9,400 examples were sold to United Kingdom customers.
By Daniel Vaughan | Dec 2006
McLAREN NORTH AMERICA EXPANDS RETAILER NETWORK WITH FIVE ADDITIONAL LOCATIONS
◾New locations in Atlanta, Long Island, Scottsdale and Washington D.C. confirmed for North America ◾McLaren Vancouver confirmed as second Canadian location ◾Five new locations to support the continued expansion of the McLaren brand McLaren North America is pleased to announce the continued expansion of the retailer network, with the appointment of five new authorised retailers. The four locations in the US and one in Canada will take the network to 15 retailers representing the North Americ...[Read more...]
Barrett-Jackson Announces Three Bonus Hours Of Live TV Coverage During Inaugural Hot August Nights Auction August 8-10, 2013
The World's Greatest Collector Car Auctions™ Expands Coverage of the Inaugural Reno Tahoe Event on FUEL TV Scottsdale, AZ (April 30, 2013) – Barrett-Jackson, The World's Greatest Collector Car Auctions™, announced today that for the first time ever, it will broadcast three bonus hours of its inaugural Hot August Nights auction on FUEL TV, taking place at the Reno-Sparks Convention Center Aug. 8-10, 2013. The live coverage on FUEL TV will broadcast on Saturday, Aug. 10 from 5pm-8PM E...[Read more...]
POW! BAM! ZOOM! The Original 1966 TV Batmobile To Cross Auction Block At Barrett-Jackson Scottsdale
Holy Grail of TV Star Cars to be Sold for First Time January 19, 2013 Barrett-Jackson, the World's Greatest Collector Car Auctions™, announced today that it will offer one of the most recognized and popular pieces of entertainment history worldwide, at its 42nd annual Scottsdale www.barrett-jackson.com/scottsdale/ auction in January – the only 1955 Lincoln Futura concept car which was heavily modified by legendary customizer George Barris to become the original 1966 Batmobile in the l...[Read more...]
Gooding & Company Announces its Final Selection of Amelia Island Auction Cars
Star cars include a 1955 Porsche 550/ 1500 RS Spyder, 1967 Porsche 906E, Mike Hawthorn's 1951 Ferrari 212 Inter Coupe, George Reed's 1960 Chevrolet Corvette 'Race Rat,' 1988 Porsche 959, and the iconic 1948 Tucker #1034 featured in Coppola's Hollywood hit film Gooding & Company, the acclaimed auction house celebrated for selling the world's most significant and valuable collector cars, is delighted to announce its latest group of star car consignments for the highly-anticipated Amelia ...[Read more...]
GOODING & COMPANY ANNOUNCES TWO EXCEPTIONAL AUTOMOBILES FOR ITS PEBBLE BEACH AUCTION LINE-UP
The 1935 Duesenberg SJ Roadster, formerly owned by Prince Serge M'Divani, and Racing Legend Phil Hill's 1927 Packard 343 Convertible Sedan are the Final Additions to Gooding's 2009 Pebble Beach Auction Event Gooding & Company, the official auction house of the Pebble Beach Concours d'Elegance, is delighted to announce the consignment of the 1935 Duesenberg Model SJ Roadster, formerly owned by Prince Serge M'Divani, and the 1927 Packard 343 Convertible Sedan from the estate of Racing Le...[Read more...]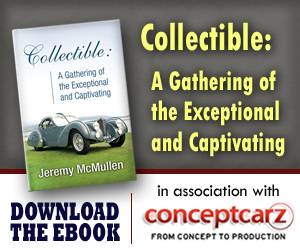 © 1998-2014. All rights reserved. The material may not be published, broadcast, rewritten, or redistributed.