1927 Bentley 4.5 Liter news, pictures, specifications, and information

Tweet
With the 'Bentley Boys' success at LeMans, owners of Bentley touring cars for decades have had theirs re-bodied to emulate the LeMans winner. This car, #YU7692, received this upgrading including a proper 4.5-liter engine with Phoenix crank and rods, 4.5 gearbox and transmission, larger racing fuel tank, long racing bonnet, cycle wings and larger racing gauges.

As noted Shelsley Special racer J.G. Fry said back in 1943, 'Recipe: take a good three-liter Red Label Bentley chassis, mix in a good 4.5-liter engine, gearbox and transmission, and add a light two-seater body with accessories to taste. The result is a motor car which, while still retaining good vintage flavor, possesses performance equaled by few other machines even of the most modern and expensive type.'

This #YU7692 is a fully sorted example that was owned by the same Bentley Drivers Club owner since the 1960s and VSCC raced throughout Europe and is ready for vintage racing or any historic tours or events.
The Bentley 4 1/2 liter came into existence to fill a void left by the 3-liter and the 6.5-liter variants. The 3-liter suffered from underperformance while the 6.5-liter was unsafe for the roads. The 6.5-liter was powerful, and with poor road-conditions often caused tires to fail quickly. The solution was the Bentley 4.5-liter; a vehicle that had enough power to carry the vehicle down the road at a good pace. The chassis consists of channel-steel, front and rear suspension by semi-elliptic leaf springs, and 4-wheel drum brakes.
Production amounted to a total of 733 cars of all body styles. Fifty-four cars were equipped with the famous supercharged engine, 'Blower Bentleys,' built by the race driver Sir Henry 'Tim' Birkin as a private venture - against W.O. Bentley's wishes.

The 4.5-Liter Supercharged Bentley, better known as the 'Blower' Bentleys, is a sporting automotive icon that earned its place in history as an engineering marvel and powerhouse. Only 50 examples, plus an additional five racing prototypes, were created. In the modern era, they are among the top rank in collector cars throughout the world.

Engineer and founder W.O. Bentley was hesitant to adapt a supercharger to his 4.5-liter engines. Rather, the development was financed by a woman, the Honorable Dorthy Paget, who provided the funds necessary to complete the project. It was for Henry R.S. 'Tim' Birkin, one of the 'Bentley Boys' who campaigned the Bentleys at many venues and various competition events bringing recognition and victories to the Bentley marque. The list includes Brooklands with its closed oval course, and the other extreme, LeMans, with his challenging road course.

Birkin had intended to race the supercharged 4.5-liter Bentley at LeMans in 1929, but lubrication problems on the early cars halted those plans. Instead, Woolf Barnato (Bentley's chairman and fellow factory team racer), Birkin, and Glen Kidston drove the Bentley Speed Six Models in 1929 to victories at LeMans.

Birkin was able to convince Barnato to enter the 'blower' Bentley in the 1930 LeMans race. In order to do so, homologation requirements had to be satisfied. The rules stated a minimum of 50 examples had to be built. Bentley officially introduced their production versions of the cars at the 1929 Olympia Motor Show, with the fist cars on sale in April of 1930.

With homologation requirements satisfied, Bentley entered two blowers and three Speed Six models. Birkin's LeMans blower was co-drive by Jean Chassagne. The Blower Bentley showed great promise early in the race, and by the fourth lap had passed a highly-competitive supercharged Mercedes at 126 mph. In the process it shredded a tire and was forced to stop. At the time, they had been averaging 89.66 mph per lap, which was a new lap record for the course.

The other Bentley's were given the job of chasing down the Mercedes. Their job became much easier when the Mercedes was forced to retire when their battery died. The Blower Bentley's would endure similar fate, as they were forced to retire in the 20th hour. The Speed Six models went on to secure a 1-2 Bentley victory.

1930 was the last year the Bentley factory team would compete at LeMans, as the company had fallen on very difficult economical times. Dorothy Paget eventually withdrew her support for the Birkin blowers as the cost to compete continued to escalate. This brought an end to the short-lived saga of the Bentley blower era.
By Daniel Vaughan | Apr 2008
For more information and related vehicles, click
here
BENTLEY MOTORSPORT REVIEWS 2014 SEASON
• Team reflects on a successful debut season for the Continental GT3 • Bentley finishes 2nd in Blancpain Endurance Series • Bentley Boys Smith, Kane & Meyrick runners-up in Drivers' Championship • Dyson Racing Team Bentley score Bentley's first U.S. victory • Bentley Motorsport begins Project NBR15, starting development for 2015 Nürburgring 24 Hours with two test VLN races • Continental GT3 soon to race in China and Australia • Bentley Motorsport releases Spa 24-hr film (Crewe, 7th O...[Read more...]
BENTLEY CELEBRATES SEASON FINALE WITH TWO CHAMPIONSHIP SECOND PLACES
Team M-Sport Bentley finishes 2nd in Blancpain Endurance Series • Bentley Boys Smith, Kane & Meyrick finish 2nd in Drivers' Championship • Tough race sees Continental GT3 finish 5th and 7th in class • Successful end to debut season for Continental GT3 (Crewe, 22nd September 2014) Bentley Motorsport and technical partner M-Sport celebrate the conclusion of the 2014 Blancpain Endurance Series by securing second place in both the Team and Drivers Championships with a strong performance...[Read more...]
Trio Of British Drivers To Return Bentley To The Track
Guy Smith, Steven Kane and Andy Meyrick to drive the Continental GT3 •Gulf 12 Hours marks the return of Bentley to motorsport •Development continues after endurance test (Crewe, 14th November 2013) Three accomplished British sports car racers are spearheading Bentley's return to competitive motorsport in the Continental GT3. The team compete together for the first time at the car's first test race, the Gulf 12 Hours at the Yas Marina circuit in Abu Dhabi on 13th December 2013. Guy Sm...[Read more...]
ICONIC BLOWER BENTLEYS PRIMED FOR MILLE MIGLIA CHALLENGE
Famous, supercharged Bentleys set for 1,000 mile Italian epic •'Bentley Boy' Tim Birkin's 1930 Le Mans racer leads charge •Original Bentley Motors 'demonstrator' completes team (Crewe, 14 May 2013) Bentley Motors will compete in this year's Mille Miglia with two unique 4 ½ litre Supercharged 'Blowers'; a 1930 Le Mans race car belonging to perhaps the most famous and daring of the Bentley Boys and a company demonstrator that is still going strong even after nine decades on the road. The N...[Read more...]
Four Magnificent Motorsport Legends Return to the Public Eye at Gooding & Company's Pebble Beach Auctions
Gooding & Company, the acclaimed auction house celebrated for selling the world's most significant and valuable collector cars, is proud to announce that it will present four magnificent motorsport legends – a 1928 Bentley 4 1/2 Litre Le Mans Sports 'Bobtail' team car, the 1964 Ford GT40 Prototype 104, a 1955 Ferrari 857 Sport and a 1960 Porsche RS60 Spyder – at its Pebble Beach Auctions on August 18 and 19, in association with the prestigious Pebble Beach Concours d'Elegance. Originating in fou...[Read more...]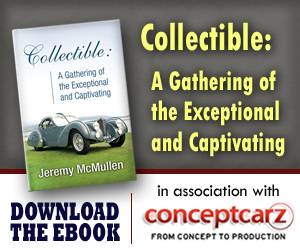 Bentley
Monthly Sales Figures
Volume
November 2014
323
October 2014
282
September 2014
236
August 2014
241
July 2014
201
June 2014
216
May 2014
233
April 2014
209
March 2014
280
January 2014
192
December 2013
350
October 2013
340
(More Details)
© 1998-2014. All rights reserved. The material may not be published, broadcast, rewritten, or redistributed.