1911 Franklin Model D news, pictures, specifications, and information

Tweet
This Franklin is one of the best examples of an original unrestored race car from the early era of racing in the United States.

When engineer John Wilkinson and former newspaper publisher Herbert H. Franklin joined forces in 1901, the result was the most long-lived and successful air-cooled automobile in America. This is one of the best examples of a completely original racecar of the era. In 1911, this car placed second in the 540 mile Cactus Derby Desert Races from Los Angeles to Phoenix driven by Mr. Ralph Hamlin. The car was purchased by Mr. H. E. Bonebrake in 1913 and delivered by train to his car dealership/hardware store in El Reno, OK. It was raced by Mr. Bonebrake for several years. It has remained in Oklahoma ever since.

The car has an air-cooled 302 cubic-inch engine developing 38 horsepower. It has been featured in Automobile Quarterly and certified by the AACA as a Competition Race Vehicle and holds plaque #181.

Built in Syracuse, New York, from 1902 until 1934, the Franklin was the most popular air-cooled automobile in the United States.
The Franklin was the most popular air-cooled automobile built in the United States. It was built in Syracuse, New York by the H.H. Franklin Company from 1902 until 1934.

This body style, the torpedo phaeton, was one of the most popular and attractive offered in 1911. It was designed to accommodate four passengers. The car, the only known one of its type, has been properly restored to its original color scheme.

The Type D featured a six-cylinder motor mounted on a 123-inch wheelbase chassis. That motor developed 38 horsepower. This was the first year for combination gas and electric lights.
The H.H. Franklin Manufacturing Company built the most successful American direct air-cooled cars from 1902 to 1934. John Wilkinson was the engineer who built the first Franklin car and whose design principles combining high quality with light weight gave Franklin their distinct reputation for dependability and long life. All Franklins utilized air-cooled engines and double elliptical springs on all four wheels. Their legacy has been one of successful innovations and, of course, the unusual vehicles that survived.

The Franklin Manufacturing Company initiated a strong advertising campaign that promoted their high quality and lightweight vehicles. Their engineering was progressive and introduced many new features. Wilkinson used a wooden frame constructed of three-ply laminated ash. The benefits were two-fold; decreasing the weight of the vehicle and providing a better material to absorb shocks.

In 1924, Wilkinson left the company. The designs of the vehicle dramatically changed over the next few years, mainly in response to criticism from dealers. The most visual of these design changes was the radiators which became more conventional in design.

When Wilkinson left the company he was replaced by Frank DeCausse, a well known designer who had made a name for himself through work he had done at Rolls-Royce and Locomobilie. DeCausse refined the Franklins, ever increasing their appeal. Unfortunately, DeCausse died around 1928 leaving the Franklin Company without a lead designer.

In 1928 the Franklin Company hired Ray Dietrich as a replacement for DeCausse. In only a year, Dietrich had created some of the most exquisite designs the Franklin Company had ever produced. The designs attracted a new breed of buyers but it was the Great Depression that was responsible for the demise of the brand.
By Daniel Vaughan | Jul 2011
For more information and related vehicles, click
here
MASERATI AND RUXTON AMONG FEATURED MARQUES AT 2014 PEBBLE BEACH CONCOURS d'ELEGANCE
PEBBLE BEACH, Calif. (February 20, 2014) -- Maserati, a marque renowned for its racing greats as well as road cars offering both elegance and sporting performance, takes center stage at the 64th annual Pebble Beach Concours d'Elegance. The event, often said to be the most intense collector car competition in the world, will be held on Sunday, August 17, at The Lodge at Pebble Beach. Additional 2014 features range from rainbow-hued Ruxtons and antique steamers to the elegant coachwork...[Read more...]
BESPOKE 911s METICULOUSLY RESTORED FOR CUSTOMERS BY SINGER VEHICLE DESIGN
• Newest Handcrafted Customer Car by Singer Salutes50th Anniversary of Original 911, Evoking Passion for a True Automotive Icon
LOS ANGELES – November 20, 2013 – As Singer Vehicle Design (SVD) tonight hosts a Los Angeles viewing of its latest handcrafted masterpiece restored for a customer, the company will continue to salute the genius of Porsche and the 50th anniversary of the original 911. Considered the most bespoke 911 re-imagined by SVD yet, the 'Sweden' car, to be shown t...[Read more...]
Singer Vehicle Design Celebrates 50Th Year Of 911 With Latest 'Re-Imagined' Debut At Quail
• Newest Handcrafted Restored Customer Car by Singer Evokes Past Racing Glories of Porsche, With State-of-the-Art Content and Peerless Execution.
LOS ANGELES – August 1, 2013 – When Singer Vehicle Design (SVD) displays the latest handcrafted masterpiece it has restored for a customer at the 2013 Quail Motorsports Gathering on August 15th, it will note a series of 'firsts' while continuing to salute the genius of Porsche and the 50th anniversary of the original 911. For SVD, the...[Read more...]
BMW CONCEPT NINETY
Cernobbio. 90 years of BMW Motorrad, 90 years of two-wheeled history – hardly another motorcycle manufacturer can boast such a longstanding and successful heritage as BMW. The BMW R 90 S likewise has cause to celebrate: the BMW Motorrad design icon turns 40 this year. As a tribute to both these anniversaries, the BMW Group is presenting a very special model at the Concorso d'Eleganza Villa d'Este 2013: the BMW Concept Ninety. In partnership with the custom bike company Roland Sands Design, the B...[Read more...]
Auctions America By RM's Spring Carlisle Auction Kicks off 2012 Northeastern U.S. Collector Car Season
Auctions America by RM will return to the Carlisle Expo Center in Carlisle, Pennsylvania, on April 26-27, 2012, to kick off the collector car season for the Northeastern U.S. with its Spring Carlisle auction. Featuring nearly 300 American hot rods, muscle cars, classics and memorabilia during its two-day sale, the Spring Carlisle auction is held in conjunction with the Spring Carlisle Collector Car Swap Meet & Corral (April 25-29), hosted each year by Carlisle Events. The auction is one of se...[Read more...]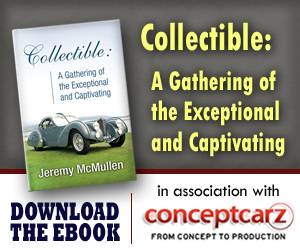 Similarly Priced Vehicles from 1911
Stevens Duryea Tourer AA ($3,500-$3,500)
Pope-Hartford Model W ($2,750-$4,150)
Packard Model 30 ($4,250-$5,600)
Baker Electric ($1,000-$3,500)
Marmon Model 32 ($2,750-$4,100)
Pierce Arrow Model 36 ($4,013-$5,044)
Oldsmobile Autocrat ($3,500-$5,000)
Rambler Model 65 ($3,100-$4,200)
Speedwell Series 11 50HP ($2,500-$3,500)

Average Auction Sale: $117,000
© 1998-2014. All rights reserved. The material may not be published, broadcast, rewritten, or redistributed.