Image credits: © Imperial.
1959 Imperial Crown Series MY1-M news, pictures, specifications, and information

Tweet
Originally sold by Earle C. Anthony Motors of San Francisco, this rare California survivor has undergone a five-year, body-off, total restoration, utilizing NOS parts, to an uncompromising level of perfection. This example has all available factory options, including power steering, brakes, windows, seats, electric door locks, TorqueFlite automatic transmission, SureGrip differential, 'Hi-Way Hi-Fi' record player, wonder bar radio, automatic headlamp dimmer, auto-pilot, deluxe heater, factory air conditioning and a full leather interior. 1959 of the 'wedge' 413-ci, 350-hp engine for the Imperial. The Imperial is size, space and faultless luxury made even richer by the gracious practicality of swivel bucket seats and the 'auto-pilot' for effortless cruising.
The 1959 Imperial Crown marked the end of Virgil Exner's 'Forward Look' design theme and the start of a new era. Chrysler Corporation's hemispherical-head V8 was replaced by a new 413 cubic-inch 'wedge' with single Carter four-barrel carburetor offering 350 horsepower while weighing 101 pounds less than the 'Hemi.' The 1959 Imperials were the first cars to be assembled at Chrysler's new Dearborn, Michigan plant.

The 1959 Imperials were futuristic and filled with a host of impressive features, including fingertip-controlled dual-front swivel seats and a pushbutton-actuated heater/air conditioner unit. These Jet Age innovations joined the finger-controlled TorqueFlite transmission, Auto-Pilot cruise control, radio, six-way power seats, power windows and power door locks in pampering the Imperial driver and passengers. Optional Imperial features debuting for 1959 included an air suspension enhancement to its torsion-bar setup, a self-adjusting rearview mirror and an electronic headlight beam changer.

This Imperial is a Copper Spice four-door hardtop example that was acquired in 2008 by its current owner. At the time of purchase, the odometer showed less than 38,200 miles.

In 2012, the car was offered for sale at RM Auction's sale in Amelia Island, Florida. It was estimated to sell for $45,000 - $55,000 and offered without reserve. As bidding came to a close, the car had been sold for the sum of $33,000 inclusive of buyer's premium.
By Daniel Vaughan | Mar 2012
The Imperial was designed by Virgil Exner and hailed by Chrysler as 'The Finest Car America Has Yet Produced.' A very bold statement considering some of the masterpieces produced from Packard, Cadillac, and countless others. This was Chryslers first vehicle to have a wraparound windshield. Produced in limited numbers, only 11,430 examples were created in 1955. This was Chryslers interpretation of a true luxury automobile.

The Imperial was a highly priced vehicle for its time, costing $4,483 for the four door sedan, over $500 more than the Cadillac Series 62. Even though it was pricy, it offered items as standard equipment that were optional on other vehicles. For example, power brakes and power steering were both included with the sticker-price of the vehicle, while other manufacturers charged extra for these luxury items. The Imperial Newport hartop coupe sold for roughly $4,720.

A two speed automatic transmission with a 250 horsepower Hemi engine was offered for the base models.

The 1957 Chrysler Imperial is probably the most famous and popular Imperial in history. Styling was once again handled by Virgil Exner. Tailfins could be found in the rear of the vehicle. The curved door glass were not only creative, they were the first in the industry. The long, stylish front hood hid a giant 392 cubic inch V8 capable of producing 325 horsepower. The Hemi V8 version produced 350 horsepower.

In 1956, Chrysler had introduced a TorqueFlite, three-speed automatic transmission. In 1957, it found a home in the Imperial. This transmission, coupled with the V8 powerplant could propel this large, luxury vehicle from zero to sixty miles per hour in 9.8 seconds easily beating the nearest competitor. Its top speed of 125 miles per hour was also unmatched.

Three body styles were offered, they were the two door hardtop, convertible, pillared sedan, and four door hardtop.

In 1957, 35,734 Imperials were produced, the best year Chrysler would have with this vehicle. Production continued until the 1970's with both mechanical and styling changes occuring throughout the years.

In 1958, the Imperial was fitted with cruise control and electric door locks. In 1959, a new 413.2 cubic inch V8 engine was introduced, producing 350 horsepower at 4600 rpm. In 1961, large tail fins were fitted to the rear of the vehicle. This was not the first time tail fins were used on the vehicle. The tail fins first appeared on the vehicle in 1956 but they were subtle, unlike the 1961 fins that were large and commanding. Was it styling, was it more competition Was it a market that was headed towards more economically friend vehicles, or Was it simply some other reason? During the 1961 model year, Chrysler only produced 12,249 Imperials. Whatever it was, the Imperial carried a bold statement, an unbeatable powerplant, superb luxury elements, and handling that could tame and control the vehicle even at high speeds.

In 1966, the horsepower was increased again with the introduction of a 440 cubic inch V8. Better power-to-weight ratio improved the performance and handling. With 350 horsepower at 4400 rpm and 480 ft-lbs at 2800 rpm, the Imperial 440 was the most powerful luxury American automobile ever.

In 1967, 17,620 Impericals were produced.
By Daniel Vaughan | Mar 2008
Trio of Rare, Fully Restored Shelby GT's Hits Showroom at RK Motors Charlotte
Charlotte, N.C. – July 23, 2014 — Led by a pristinely restored GT500KR packing a ferocious 428 Cobra Jet V8, a trio of rare Shelbys have joined the burgeoning collection of classic, muscle and high-performance cars now available from Charlotte-based RK Motors. One of just 530 four-speed KR fastbacks produced for the 1968 model year, the stellar pony car sports only 95,518 original miles. This awesome Shelby likely spent very little time in the showroom before its big power and head-tu...[Read more...]
Concours d'Elegance of America at St. John's : Class Previews
Here is a little preview of two of our special classes for St. John's upcoming show. Featured Designer: Virgil Exner The 2014 Concours d'Elegance of America will honor the work of famed chief designer Virgil Exner with an unprecedented display of Chrysler Corporation's 1955-1961 'Forward Look,' a daring two-pronged styling revolution that changed the look of the American car. First up were the 'jet-age'1955 Plymouths, Dodges, DeSotos, Chryslers and Imperials. Then came the 1957 m...[Read more...]
RARE REUNION: CHRYSLER CONCEPT CARS GATHER AT AMELIA, 2014
Nine rare and important Chrysler Concept Cars from the forties, fifties and sixties will be presented together for the first time at the 19th annual Amelia Island Concours d'Elegance on March 9, 2014. From the two-seat Chrysler Thunderbolt roadster and the dual-cowl Chrysler Newport of 1941 through the radical 1963 Chrysler Turbine car, Amelia's Chrysler Concept Car Class shows the genesis of the styling and engineering philosophy that summoned Chrysler's industry-changing 'Forward Look...[Read more...]
CHRYSLER CANADA STARTS THE YEAR MARKING ITS 50TH CONSECUTIVE MONTH OF YEAR-OVER-YEAR SALES GROWTH
◾Fifty consecutive months of year-over-year sales growth – longest growth streak in Company's history ◾17,698 vehicles sold; an increase of 4 per cent over January 2013 sales ◾January sales records set for Fiat brand, Dodge Dart and Ram trucks ◾Best January for mid-size Sport Utility Vehicles, with 1,310 Jeep Cherokee sales ◾Ram truck is the second best-selling vehicle in Canada February 3, 2014 , Windsor, Ontario - Chrysler Canada today announced its 50th consecutive month of year...[Read more...]
Joe Bortz to Host Historic Dream Car Discussion Panel
Dream car collector and historian Joe Bortz has prepared a special treat for participants at the 40th Annual Pontiac-Oakland Club International Convention in St. Charles Illinois, this coming July 17-21. In addition to bringing his four historic Pontiac Dream Cars, he has also assembled a panel, conisisting of two noted designers, a retired engineer and two veteran authors to examine the topic of Pontiac's early concept vehicles. The panel discussion will be held on Friday, July 20th at 1...[Read more...]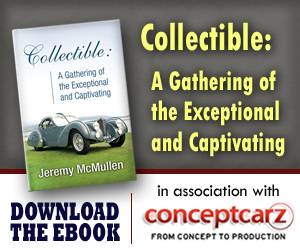 Similarly Priced Vehicles from 1959
Cadillac DeVille ($5,250-$5,496)
Cadillac Series 62 ($4,890-$5,453)
Porsche 356A ($3,580-$5,900)
Chrysler 300E ($5,320-$5,750)
Porsche 356A GS/GT ($5,660-$5,920)
AC Ace Bristol ($5,650-$5,650)
Allard Palm Beach ($5,600-$5,600)
AC Aceca ($5,700-$5,700)

Average Auction Sale: $73,412
© 1998-2014. All rights reserved. The material may not be published, broadcast, rewritten, or redistributed.