1957 Ford Battlebird news, pictures, specifications, and information

Tweet
Peter DePaolo Engineering was commissioned by Ford to build two experimental Thunderbirds named Battlebirds for speed records. One had a 430 Lincoln and this car, #98, ran a highly modified 312 engine.

In 1957, Chuch Daigh drove this Battlebird to a speed of 93.312 mph on the beach at Daytona in the Speed Weeks Standing Mile Acceleration Event for Experimental Cars. Daigh was reported to have taken this car over 200 mph on the Two Way Flying Mile, but was unable to back the speed up due to mechanical problems.

This Battlebird also competed in the Airport Sports Car Races where it was driven by Marvin Panch. Panch's road racing experience and the Battlebird's performance paid off when he finished second to Carroll Shelby in a 4.9 Ferrari.
There were two Ford Battlebirds created and they were the work of talented engineers in an effort to bring racing glory to the Ford nameplate and to defeat stiff competition such as the Corvette. Much was needed to be done to make the popular Thunderbird into a formidable competitor. They were heavy, suffered from under-braking, and had a suspension that did not suite it well on the race track.

Four Thunderbirds were sent to Pete de paolo Engineering, which had a history with working with other Ford racing projects. Two cars were stripped of non-essential items and material and some of its material was replaced with aluminum. The aluminum bodywork was courtesy of Dick Troutman and Dwight Clayton.

The two remaining cars were kept in nearly stock guise so it would qualify for 'stock car class' racing. These two cars were intended to perform well on straight, high speed courses while the other two heavily modified cars were destined for road courses.

The two modified cars were given the nickname 'Battlebird.' They were built by Jim Travers and Frank Coons. The Ford engine was moved six-inches towards the back to held distribute the weight - as nearly every component had been removed from the interior of the car. One of the cars was fitted with a 312 cubic-inch Y-block engine while the other was given a Lincoln 430 cubic-inch V8. After a fuel injection system, supercharger, and other modifications, the engines were estimated to produce over 400 horsepower. Since Ford did not have a suitable gearbox to handle the power and to compete with Chevy's Borg-Warner T-10, a Jaguar four-speed unit was used.

Finned drum brakes were used with the rears receiving special cooling. The suspension was improved with coil springs in the front and a seven-leaf spring setup in the rear. A Halibrand quick-change differential was installed and an additional gas tank installed in the trunk. The cars rode on Halibrand magnesium wheels with knock-offs and Firestone Super Sport tires.

The cars had some success in racing prior to the Automobile Manufacturers' Association ban on racing, which meant the cars became obsolete. The were later sold to a privateer who continued to race them for several years. The Lincoln powered car was destroyed in an accident; the Ford engined cars remains and has been restored to its original Battlebird form.

Though the cars did not compete at Sebring and rival their competitors, they were given the opportunity to race prior to the ban. Out of the two, the Ford performed better, though the Lincoln-powered car did set the Daytona record for a standing-start.
By Daniel Vaughan | Dec 2009
SHELBY AMERICAN RENEWS PLANET SHELBY COBRA'S DEALER AND LICENSE AGREEMENTS
LAS VEGAS – August 1, 2013 – Officials with Shelby American, a wholly owned subsidiary of Carroll Shelby International Inc., (CSBI.PK), announced today that Planet Shelby Cobra's dealer and licensing agreements have been renewed. Under the new five year agreements, Planet Shelby Cobra can immediately resume the sale and delivery of official Shelby Cobras to its impressive base of customers. 'We're pleased that one of our most important advocates and Shelby Cobra dealers will stay in th...[Read more...]
10th Annual Keeneland Concours d'Elegance Announces 50 Years of Mustangs Will be on Display
• Classic cars, muscle cars, vintage motorcycles and helicopters are among the featured exhibits
LEXINGTON, KY – In celebrating its 10th year, the Keeneland Concours d'Elegance will honor one of America's most popular cars, the Ford Mustang, on Saturday, July 20. This year more than 130 collector cars and motorcycles will be on display, competing for honors in 19 judged classes. Working in conjunction with the Bluegrass Mustang Club, the Concours' organizers are expecting 1,000...[Read more...]
2nd annual Concours d'Elegance of Texas
Entries are rolling in for the 2nd annual Concours d'Elegance of Texas, a highlight of this year's Houston Classic Weekend, scheduled for May 3-5 at the award winning La Torretta Lake Resort & Spa in Montgomery, Texas. With 'The Cars of Carroll Shelby' as the Featured Class, organizers have confirmed the only big block DragonSnake Cobra ever built as one of the stars of the show, owned by automotive dealer, collector and philanthropist, Mr. Sam Pack of Carrollton, Texas. Alongside the cars of Ca...[Read more...]
Four Magnificent Motorsport Legends Return to the Public Eye at Gooding & Company's Pebble Beach Auctions
Gooding & Company, the acclaimed auction house celebrated for selling the world's most significant and valuable collector cars, is proud to announce that it will present four magnificent motorsport legends – a 1928 Bentley 4 1/2 Litre Le Mans Sports 'Bobtail' team car, the 1964 Ford GT40 Prototype 104, a 1955 Ferrari 857 Sport and a 1960 Porsche RS60 Spyder – at its Pebble Beach Auctions on August 18 and 19, in association with the prestigious Pebble Beach Concours d'Elegance. Originating in fou...[Read more...]
Record Number of Original Shelby Cobra Competition Cars Accepted at Rolex Monterey Motorsports Reunion
When Carroll Shelby, along with chief engineer Phil Remington, finished the very first Cobra, neither imagined that history was being written. Shelby just wanted to go race and win…right away, but Shelby American's incredible efforts between 1962 and 1967 resulted in 998 Shelby Cobras being constructed. It's estimated that 120 of these Shelby Cobras were competition cars, and they forever changed sports car racing. The Rolex Monterey Motorsports Reunion, August 17-19 at Mazda Raceway Laguna ...[Read more...]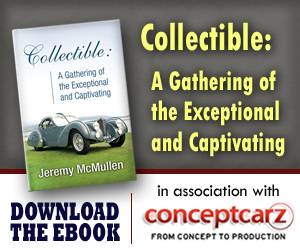 Ford
Monthly Sales Figures
Volume
August 2014
214,028
July 2014
204,373
June 2014
214,793
May 2014
244,501
April 2014
203,552
March 2014
235,198
February 2014
177,286
January 2014
148,671
December 2013
210,074
November 2013
183,722
October 2013
184,854
September 2013
178,693
(More Details)
© 1998-2014. All rights reserved. The material may not be published, broadcast, rewritten, or redistributed.