1959 Bentley Continental S1 news, pictures, specifications, and information

Tweet
This S-Continental Park Ward Convertible is one of the 31 left drive, alloy-bodied dropheads built between 1956 and 1959. This late example is equipped with the upgraded large valve, large carburetor engine, original equipment power steering, power-operated convertible top and air-conditioning authentic for the period. It is also one of three originally supplied with power-operated windows.

It was acquired by the restorer in entirely original unrestored and undamaged order from the original owner, the wife of a principal of the Dreyfus Fund. As promised to her, it was restored to show quality, finished in sand/sable with beige top and hides.

Complete tools, owner's handbooks, and copies of the manufacturer's records are included.
Use of the term continental to indicate a high performance version of an existing chassis was an inspiration of Sir Henry Royce and was applied to the short chassis version of the Phantom II in 1930. Bentley decided to offer a Continental version of the S series and H.J. Mulliner, now part of the Rolls-Royce empire, was responsible for these fine-looking, two-door, fastback cars. The addition of 'High Wing' at the rear of the standard continental was a feature on only three left-hand drive examples.

This 1959 Bentley Continental S1 has coachwork designed by H.J. Mulliner and is a High Wing Fastback Coupe. It is the first of only three left-drives built and was delivered to Mr. Paul Roebling of Trenton, NJ. He was a descendent of the legendary Charles Roebling, the engineer who designed and built the Brooklyn Bridge. It is fully optioned with Blaupunkt AM-FM-SW radio, power antenna and windows, Sundym glsas throughout and with full refrigeration (air conditioning), all of which remain.

This Bentley, with chassis number BC38LEL, was delivered to its first owner, Paul Roebling of New Jersey, in 1959. Priced at $35,000 it was fully fitted with every option that Bentley offered at the time, including air conditioning, Sundym glass and electric windows. After several subsequent owners, it was acquired in 2007 by its current Bentley enthusiast. It was given a restoration in the late 2000s.
The Continental S1 was produced starting in 1955 and ending in 1959 with Design #29. Most base-series S1s were factory-made steel body saloons, but a limited number of S1 Continentals were custom built by outside coach maker James Young. This left-drive was one of two built and is the only one in existence today, which makes it a rare model. The car was imported by Inskip Motors on August 15th of 1958, and was delivered to Mobile, Alabama. It is the first factory air conditioned car to enter the United States. The cost of this sports saloon new was 8,295 pounds, the most expensive Continental. It was the fastest saloon built obtaining speeds in excess of 120 mph, and did 0-60 mph in 12.9 seconds. It is powered by a six-cylinder, 4.9-liter engine coupled to a four-speed hydramatic transmission and weighs 4,480 pounds.

In 1992, the car underwent a ground-up, two-year restoration by Vantage Motorworks.
This Bentley is a H.J. Mulliner Design #7466 'High Wing' Fastback coupe. It is the second of only three left drives built, all for the 1959 model year. They were delivered to a discerning clientele who had both the taste and the approximately $35,000 required to dictate the color layouts and equipment. Factory records indicate this example was delivered to Lucius E. Packard of Newport Beach, CA, on November 12, 1959 and was the last S-1 Continental supplied to the United States. it was delivered so late that the instructions were to title it as a 1960 model, which it is not.

The early ownership trail is not documented but it was acquired by Vantage Motorworks in entirely original undamaged order in May 1997 with 82,000 miles. It had been the object of a protracted litigation between a collector/trader who acquired it in 1989 from the estate of a gentleman who died in 1982.

It was then offered by Alfred B. Lerner who gave it a one year restoration. He enjoyed the car on a limited basis until his death some years later. The current owner purchased the car from his estate with less than 1,000 miles traveled.
The Bentley S1 was produced from 1955 through 1959 during which 3538 examples were created with 145 being outfitted with custom bodies. 431 examples were Bentley S1 Continentals. Thirty-five of the Bentley S1's sat atop a long wheelbase. Some of the notable coachbuilders who outfitted the S1's were Park Ward and H.J. Mulliner.
The Rolls-Royce Silver Cloud I and the Bentley S1 were nearly identical, except for different badging and radiators. Mechanically, they were identical. Under the hood was an F-head 4887 cc straight six Crewe engine with cast-iron cylinder block and aluminum alloy cylinder heads. A dual SU carburetor type HD6 was used from 1955 through 1957. From 1957 through 1959, a dual SU carburetor type HD8 was used. A four speed automatic gearbox was standard; however, a four-speed manual unit was available as optional equipment. Stopping power was provided by drum brakes. The vehicles were adorned in two-tone paintwork with the hood finished in the lower color.

Six months after the introduction of the S1, Bentley introduced the S1 Continental, a name that had also been used as early as 1952 on the R-Type sedan. The Continental versions featured a slightly tuned engine and other performance features. Bentley claimed the Continental as 'the fastest four-seater in the world'. The engines were modified by enlarging the bore which increased the displacement to 4.9 liters. With the standard automatic gearbox and the added weight of optional power steering and power windows, the increase in engine size was well received by Bentley customers. The steel-body was replaced with aluminum, thus reducing the overall weight of the vehicle.
By Daniel Vaughan | Mar 2006
When Bentley was purchased by the Volkswagen conglomerate in 1998, many fans of the marque feared the brand would lose its identity. With long time brother Rolls-Royce getting sold off to a different parent company, though, those worries were unwarranted.

Prior to the 1930's, Rolls-Royce and Bentley were serious competitors. Both firms offered their unique interpretations on the English gentleman's car theme. Walter Owen Bentley was a better car builder than businessman, though, and his company was facing serious financial hardships by the early 1930's.

Rolls-Royce Ltd. bought the troubled Bentley facilities in 1931. The first Roll-Royce-produced Bentley, the 3½ Litre, debuted for 1933. From this point until Volkswagen's purchase of the works in 1998, Bentley produced near twins of Rolls-Royce cars, with an occasional special vehicle of its own. Bentley and Rolls produced some of the finest four-wheeled machines in the world during their partnership, but the Bentley brand retained little identity of its own. Bentleys were essentially badge-engineered cars. They were the slightly sportier counterparts of contemporary Rollers.

Proof of this can be found throughout the histories of the two companies, but the Bentley S1 is a great place to start. Produced from 1955 through 1959, the S1 was mechanically and visually (in standard coachwork, at least) identical to the Rolls-Royce Silver Cloud I in most ways. We've all seen Silver Clouds patiently waiting outside churches on wedding days, clad in white with dignified grilles gleaming. The Bentley, though, was a stronger seller despite its relative lack of fame.

A total of 3,538 Bentley S1's were produced. Of these, 3,072 were of the standard S1 variety on standard chassis. There were 35 made with long-wheelbase chassis. The remaining 431 were S1 Continentals.

The ancient F-series engine, a straight six design, powered the S1 and displaced 4,887cc. It had an iron block with an alloy head. Twin SU carburetors were employed in good British taste, and an automatic transmission was standard fare with an available 4-speed manual offered upon request.

The most impressive S1, in terms of both presence and performance, was the Continental. Rolls-Royce and Bentley were not in the habit of announcing such pedestrian numbers as horsepower ratings during S1 production, so it's unknown how much more power the Continental had over the standard S1. Other improvements were obvious, though, and the Continental's intentions were made clear regardless of its hazy power output figures.

Braking, steering, and suspension systems were all reworked to give Continentals a more controllable feel. They were not available with standard coachwork. The H.J. Mulliner Fastback Saloon body seen on many S1 Continentals resembles that of the supremely expensive R Continental which preceded it. An imposing and handsome design, a mammoth grille of the traditionally curved Bentley style stood upright at the nose of the vehicle. A long hood bridged the expansive gap between the radiator grille's top and the rakish windshield's bottom, and from there all body lines flowed downward and back in a sweeping motion to create an impression of speed even at standstill.

The S1 with standard coachwork was, as stated, a Silver Cloud I twin with a revised grille and new badging. It took the Continental version of the S1 to provide Bentley with a unique car that was in the honest spirit of the maker.

If you walk into a Bentley dealer today, you will notice, amongst other cars, a wonderfully styled fastback named Continental. It has a unique design and an engine with astounding grunt. It was designed to go, stop, and handle with aplomb, and bears no resemblance to any modern Rolls-Royce. So the next time you mistake a standard S1 for a Silver Cloud, ask yourself just how much of Bentley's innate identity was lost to Volkswagen.

Sources:

Kinney, Dave. 'Bentley S1 Continental.' Sports Car Market Apr 2005 21 Mar 2009 http://www.sportscarmarket.com/Profiles/2005/April/English/.

'Bentley S1 and Bentley S1 Continental; Rolls-Royce Silver Cloud I: Bentley 3 1/2 Litre.' Rolls Royce and Bentley 21 Mar 2009 http://www.rrab.com/.
By Evan Acuña
For more information and related vehicles, click
here
VOLKSWAGEN CELEBRATES 40 YEARS OF THE GOLF AT THE NEW YORK AUTO SHOW
The most successful European car of all time turns 40 ◾More than 30 million Golf models have been sold worldwide ◾Car went on sale in Europe in May 1974, was sold in the U.S. from December that year as the Rabbit ◾Seventh-generation Golf GTI goes on sale in June in the U.S., with Golf TDI® and TSI® models arriving at dealerships in August Herndon, VA — The most successful European car of all time turns 40 this year. More than 30 million Golf models have been sold since the car went...[Read more...]
63rd Pebble Beach Concours d'Elegance Names 1934 Packard 'Best of Show'
The competition showcased 248 cars, including 48 from abroad PEBBLE BEACH, Calif. (August 18, 2013) -- A 1934 Packard 1108 Twelve Dietrich Convertible Victoria owned by Joseph and Margie Cassini III of West Orange, New Jersey, was named Best of Show at the 63rd Pebble Beach Concours d'Elegance, held Sunday on the 18th fairway of Pebble Beach Golf Links at Pebble Beach Resorts. The event showcased 248 cars from 36 states and 12 countries and raised $1,277,007 for charity. 'This Pack...[Read more...]
RM Auctions' Don Davis Collection Attracts Texas-Size Bids
• RM Auctions posts over $21.2 million at the record-breaking sale of the distinguished Don Davis Collection, April 27 in Fort Worth, Texas • Top seller: a rare 1967 Ferrari 330 GTS sold for $1,936,000, to establish a new auction record • Five lots achieve million-dollar-plus results, with numerous auction records shattered • Toyota 2000GT enters history books with seven-figure sales price • Exceptional collection attracts bidders from 14 countries around the world FORT WORTH, Texas (A...[Read more...]
Famous Bentley 4¼-Litre 'Embiricos' Special Makes Star Appearance At Crewe Factory
One of the rarest and most valuable Bentleys in the world, the 4¼-Litre 'Embiricos' special, is making an historic appearance at the marque's home in Crewe. Fresh from taking part in the Louis Vuitton 'Serenissima Run' in Venice and featuring at the Le Mans Classic as part of the Bentley lineup, this magnificent car takes pride of place in the Lineage Showroom at the firm's Pyms Lane factory until September. Throughout the 1930s Bentley Motors, then owned by Rolls-Royce, was producing fast,...[Read more...]
Cherished Classics From The Pettit Collection Will Be Offered Without Reserve
• The 1929 Duesenberg 'Blue J' and 11 collector cars from the William A. C. Pettit, III Collection will be sold at Gooding & Company's Pebble Beach Auctions
• Estate Proceeds will benefit the Shriners Hospital for Children®-Tampa
Gooding & Company, the acclaimed auction house celebrated for selling the world's most significant and valuable collector cars, is honored to present the finest automobiles of the William A.C. Pettit, III Collection at its Pebble Beach Auctions on Aug...[Read more...]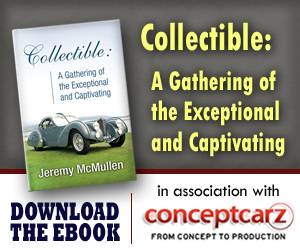 Bentley
Monthly Sales Figures
Volume
December 2014
412
November 2014
323
October 2014
282
September 2014
236
August 2014
241
July 2014
201
June 2014
216
May 2014
233
April 2014
209
March 2014
280
January 2014
192
(More Details)
© 1998-2014. All rights reserved. The material may not be published, broadcast, rewritten, or redistributed.