1918 Milburn Electric Model 27 news, pictures, specifications, and information

Tweet
The dawn of the automobile era saw many individuals and companies experimenting with a wide variety of fuel sources, such as gasoline, electric, and steam. These three sources were the primary sources with each having benefits and limitations. The electric vehicles were limited on their range but they were clean, quiet and easy to start. Another disadvantage was that households that lacked electricity in their homes were unable to recharge the storage batteries. The steam powered vehicles were also clean and quiet but they required a few minutes before starting to allow steam to form. The gasoline engine was noisy, dirty, and hard to start but showed the most potential. The advent of the electric starter around 1914 meant the demise of the other fuel sources.

By 1910, electric mains had reached a wide portion of the United States population, making electric vehicles more desirable. In 1914, a company was formed in Toledo, Ohio named the Millburn Wagon Company. It was faced with stiff competition from well established electric car makers such as Baker and Detroit, not to mention mounting pressure from many other alternative-fuel sourced vehicles and the low-cost Ford Model T's. What Millburn offered that was unique to the company was a battery pack on rollers, which allowed fresh batteries to be installed quickly. This eliminated the downtime required for re-charging making it much more versatile and useful than the traditional electric cars. Sales reflected, with around 1,000 cars sold in 1915 and increasing to 1500 the following year. Their success was short-lived, and by the early 1920s the era of the electric car was going the way of the dinosaur. Production ceased in 1923 and the factory was sold to General Motors.

Most of the bodystyles produced on the Millburn had the 'phone booth' design. A few roadsters, town cars, and even a delivery van were available.

This 1918 Milburn Electric Model 27 has a Brougham bodystyle. It is a well-preserved example with an older restoration. It has a green body and black top and fenders. The interior is well appointed with plush bolstered cloth upholstery that is in excellent condition considering its age. Steering is by tiller controls on the left side and there are two rear-facing fold-down seats in addition to the seats in the back.

This car has traveled a total of 17,591 miles. Top speed from the 76 volt General Electric DC electric motor was around 19 mph and could travel 60 miles before requiring a re-charge. There are four forward speeds and two reverse. Two-wheel mechanical brakes providing the stopping power for the 105-inch wheelbase car.

This car was brought to the 2008 Automobiles of Amelia presented by RM Auctions where it was estimated to sell for $35,000 - $45,000. Included in the sale was an authentic Millburn Battery charger. At the conclusion of the auction, the lot had been sold for $46,750 including buyer's premium.
By Daniel Vaughan | Apr 2008
The Milburn Wagon Company of Toledo, Ohio entered business in 1914. By this time, other electric car companies such as Baker and Detroit had been in business for over a decade, perfecting their product, marketing, and distribution. Milburn was clearly at a disadvantage. One advantage the new company had was their battery pack on rollers, allowing fresh batteries to be quickly installed, eliminating the downtime for charging. At first, sales were strong with 1,000 cars produced in 1915 and 1,500 the next year, but by 1923, production had ceased and the factory was sold to General Motors.

This example was part of the O'Quinn collection and formerly owned by Edwin and Alyce Oberhaus. It is a well preserved recipient of an older restoration. The car is painted green with a black top and fenders. There is a 76 volt General Electric DC motor and a controller with four-speeds forward and two reverse. The interior is plush with cloth upholstery and fabric. The driving position is at the rear and there is a tiller control on the left side. The odometer indicates fewer than 18,000 miles.

In 2010, the car was offered for sale at the Vintage Motor Cars of Hershey auction presented by RM Auctions. The car was estimated to sell for $30,000 - $50,000. As bidding came to a close, the car had been sold for the sum of $41,800 including buyer's premium.
By Daniel Vaughan | Oct 2010
VOLVO CARS' ALL-NEW XC90 WILL BE THE WORLD'S MOST POWERFUL AND CLEANEST SUV
◾All-wheel drive, seven seats, around 400 hp and 472 lb.-ft. of torque with ultra-low emissions of around 60g/km ◾Delivering guilt-free luxury SUV ownership ◾New Volvo-developed Plug-in Hybrid, Twin Engine technology Volvo Cars' all-new XC90 will offer an unrivaled combination of power and clean operation when it is launched later this year. The all-wheel drive seven-seater will deliver guilt-free luxury SUV ownership, offering drivers around 400 horsepower but with carbon dioxide (CO2) emi...[Read more...]
SMART ELECTRIC DRIVE ARRIVES ON THE STREETS OF CHINA
• smart becomes the first European importer to bring an all-electric vehicle to the Chinese market
• Following on from Europe, the USA, Canada and Japan, the electric smart reaches its 14th market with its launch in China
• With a market share of around 40 percent, the smart fortwo electric drive is the frontrunner in Germany
Stuttgart. The new smart fortwo electric drive is now available to buy from dealerships in China. The smart brand celebrated this market l...[Read more...]
VOLKSWAGEN E-GOLF TO MAKE NORTH AMERICAN DEBUT AT THE LOS ANGELES AUTO SHOW
The first fully electric Volkswagen for the U.S. market promises everyday usability and versatility with zero tailpipe emissions and low ownership costs ◾ Drivetrain consists of 24.2 kWh lithium-ion battery and 115 horsepower electric motor: 7.2 kW onboard charger is standard ◾ Three driver selectable regenerative braking modes ◾ Standard Fast Charging capability allows 80 percent battery charge within 30 minutes ◾ Roadside Assistance Plan takes the anxiety out of 'range anxiety' ◾ First Vo...[Read more...]
PORSCHE 918 SPYDER WOWS GOODWOOD
◾Innovative 887 hp plug-in hybrid super sports car makes public dynamic debut at Festival of Speed ◾Pedigree motorsport technology delivers maximum performance with minimum fuel consumption ◾Mid-mounted 4.6-litre V8 engine and two electric motors with lithium-ion batteries combine to deliver 0-62 mph in 2.8 secs, 211 mph top speed, plus approx. 85 mpg and 79 g/km CO2 (NEDC) ◾Independent all-wheel drive offers traction and driving dynamics benefits ◾Priced from 781,155 Euro – 'Weissach' packa...[Read more...]
World'S Fastest Ev – Detroit Electric Sp:01 – Makes Global Public Debut At Shanghai Motor Show
• Limited-edition SP:01 is world's fastest pure-electric production sports car– 155 mph (249 km/h)top speed and 0-62 mph (0-100km/h) in 3.7 seconds
• SP:01boasts a carbon-fibre body, luxurious and high-tech interior, and range of over 180 miles
• Customer orders already confirmed
Detroit Electric's new high-performance electric sports car, the SP:01, received its global public reveal at the Shanghai Motor Show today (20 April 2013). A limited-edition, two-seat pure-ele...[Read more...]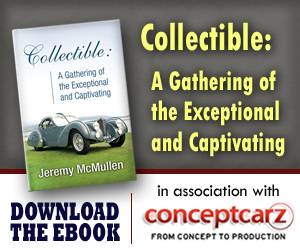 Similarly Priced Vehicles from 1918
Stanley Model 810 ($2,300-$2,300)
Detroit Electric Model 75 ($2,175-$2,175)
Stanley Model 735 ($2,550-$2,550)
Cadillac Type 57 ($2,595-$4,690)
REO Type T ($1,650-$2,400)
Roamer Model C ($2,575-$2,750)
Stutz Series S ($2,550-$2,750)
Biddle Model H ($2,600-$4,100)

Average Auction Sale: $44,275
© 1998-2014. All rights reserved. The material may not be published, broadcast, rewritten, or redistributed.