1929 Delage DMN news, pictures, specifications, and information

Tweet
This 1929 Delage DMN Faux Cabriolet left the Boulogne-sur-Seine workshops in December of 1929. It has a body created by Figoni and its first owner was a Belgium diplomat named M.O. Wetter. The history of the vehicle is mostly unknown until the 1960s when it was restored in England by Sir Peter Graham, who would keep the car in his ownership for many years.

In 1993 ownership changed to a Belgian collector who had a private museum featuring many important vintage Delages. During its stay, it was treated to a 'refresher' and used on touring trips throughout Europe.

This car is powered by a six-cylinder overhead-valve engine that displaces 3818cc. It was brought to the 2007 Bonhams Auction, An Important Sale of Collectors' Motorcars and Automobilia, held at the Quail Lodge Resort & Golf Club in Carmel, California. The lot was sold for $200,000 including premiums and taxes.
By Daniel Vaughan | Apr 2008
Louis Delage was born in 1874 in Cognac, south of France. His family had a modest income which allowed for him to attend and graduate from the Ecole des Arts et Metiers in Angers in 1893. He then moved to Paris and began working with the Turgan-Foy company. Later he accepted a position with Peugeot. He left soon after to start his own company. Louis Delage began designing and building cars in 1905 with Augustin Legros as his chief engineer. Legros had left Peugeot with Delage and stayed with the company until 1935. The company focused on building cars that were of high quality and reliability. Their first cars were produced in 1906, and called the Type A and B. The cars were powered by a single cylinder de Dion engines producing about 6-7 horsepower.

Louis Delage was a very ambitious man. He had a passion for racing and a competitive edge that led him to produce some of the greatest sports cars of the era. In 1906 he participated in the Coupe des Voiturettes and was awarded a second place finish. This accomplished fueled sales. In 1908 he had three cars entered in the Coupe des Voiturettes race where their achieved a fist place victory.

In 1909 Delage moved away from the de Dion engines and began using their own 4-cylinder engine. However, some of the models they produced did use engines produced by the famous engine supplier, Ballot.

During World War I the company aided in the war-time efforts by producing munitions. This did much to increase Louis Delage's personal fortune. When peace returned, the Delage Company returned to automobile production. Their first vehicle after WWI was a six-cylinder CO, which was a slow seller. Their other model, the four-cylinder DO, was also an unfruitful venture. Production continued until 1921, with a total of 1602 examples produced of both types.

In 1921, at the Paris Motor Salon, Delage introduced their next new model, the four-cylinder DE. Sales were steady, with around 3600 units produced by 1923. One of the more famed Delage cars was the DI Type that had a 2121cc capacity and the GL Type which had a displacement size of 5954cc. These cars were constructed to combat the ultra-luxury marques such as Hispano-Suiza.

The DI series was a line of four-cylinder cars. The DM had a larger six-cylinder engine which was suitable for larger, touring car production. In 1929, at the Paris Salon, Delage introduced their D8 model. Under the bonnet was a straight-eight cylinder engine that displaced four-liters and had many magnificent bodies clothed by Europe's finest coachbuilders including Figoni, Henri Chapron, and Fernandes et Darrin (to name a few).

The DM Series included the DM, DMS, and the DMN. The DMN was the last of the DM series, and was produced for twelve months beginning in January of 1929. A total of 897 examples were created during that time. The DMN featured many improvements over its siblings, including an improved clutch assembly and a lighter flywheel. The cylinder heads were larger, courtesy of the D8.

There were a total of 340 examples of the DMS constructed. The DMS was the sporty model in the DM range. Power was derived from the DI's 3181cc overhead-valve six-cylinder engine.
By Daniel Vaughan | Apr 2008
For more information and related vehicles, click
here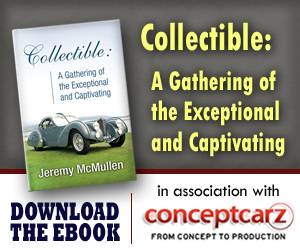 © 1998-2014. All rights reserved. The material may not be published, broadcast, rewritten, or redistributed.