1958 Dual Ghia Convertible news, pictures, specifications, and information

Tweet
The Dual Motors Company, founded by Eugene Casaroll, used a Dodge chassis as the platform for their Convertible and sent the rolling chassis to the Ghia factory in Italy for fitment with custom built Ghia coachwork. Upon completion, they were shipped back to the Dual Motors factory in Detroit, Michigan where they were fitted with the D-500 engine and the rest of the running gear. Most of the vehicles were produced in 1957 and 1958, though production began in 1956. There were very few changes throughout that period of time. It is unclear exactly how many were produced, though it is believed that around 100 cars were built during the first production run of 1956 through 1958.

This example is chassis number 191 and is painted in its factory color of Eggplant. It has been given a full restoration and remains in excellent condition in modern times. Its early history is not known; the first recorded owner was Mrs. Grace Danko of Woodstock, New York. It was later sold to Peter Balis of Baliston Lake, New York. The next owner was Mr. Wayne Huie in the city of Memphis, Tennessee. Huie kept the car for many years before selling to a Canadian (the current owner).

This car is fitted with Kelsey-Hayes wire wheels and sporty twin rear antennas. The interior is burgundy/cream with leather seats. It is powered by its original 315 cubic-inch V-8 Hemispherical engine and mated to an automatic transmission. The power convertible top is in good overall and workable condition. Other convenience features include power steering, power windows, and power brakes.

In 2008, the car was brought to the Hilton Head Sports & Classic Car Auction presented by the Worldwide Auctioneers. It was estimated to sell for $325,000 - $375,000. Bidding failed to reach those estimates, though a high bid of $319,000 including buyer's premium was enough to satisfy the cars reserve. The lot was sold.

In 2009, this Dual-Ghia Convertible was offered for sale at the Automobiles of Amelia Island auction presented by RM Auctions. It was expected to sell for $225,000 - $300,000. It sold for a high bid of $209,000, including buyer's premium.
By Daniel Vaughan | Apr 2009
This car is chassis number 128 and has a body painted in yellow with a matching tan top and camel-colored interior. In 2007 it was brought to the Bonhams Auction, An Important Sale of Collectors' Motorcars and Automobilia, held at the Quail Lodge Resort & Golf Club in Carmel, California. The lot was sold for $175,000 plus premium and tax.
By Daniel Vaughan | Feb 2010
This first-generation Dual-Ghia was originally purchased by a collector and spent part of its life in a temperate Floridian climate. Prior to being sold to its current owner, the car was treated to a nut-and-bolt restoration that was carried out to a very high standard. It has mohair soft top, chrome plating, whitewall tires, and wheel covers.

Between 1957 and 1958, there were just 117 examples of this ultra-exclusive convertible produced. It is believed that only 78 of these examples still exist.

Under the bonnet is a 383 cubic-inch overhead valve Chrysler Wedge V8 engine fitted with a single Carter 4-barrel carburetor. There is a two-speed PowerFlite automatic transmission and four-wheel hydraulic drum brakes.

In 2010, this Dual-Ghia was brought to Gooding & Company's Scottsdale Auction where it was estimated to sell for $300,000 - $400,000. As bidding came to a close, the lot failed to sell after receiving a high bid of $200,000.
By Daniel Vaughan | Feb 2010
There were approximately 117 examples of the Dual-Ghia Convertible (including the prototype) produced. All but two were convertibles. They carried a price tag of $7,646, a considerable sum making them one of the most expensive cars of its era. Even with its expense, the Dual Motors Company reportedly lost money on every example it produced.

This example, chassis number 5169, is the 69th car built. It joined a private collection in August of 2007. The car has received a comprehensive and professional body-off-frame restoration which was completed in 2007. The work included a complete strip and repaint, a full mechanical and chassis restoration, a new top, a new interior, and new carpets.

In 2010, the car was offered for sale at the Sports & Classics of Monterey presented by RM Auctions. It was estimated to sell for $200,000 - $275,000. As bidding came to a close, the car had been sold for the sum of $159,500 inclusive of buyer's premium.
By Daniel Vaughan | Dec 2010
Eugene A. Casaroll was an American-Italian businessman who set-up Dual Motors during World War II to build trucks and generators for the military. He also ran Automobile Shippers, Chrysler's main car transporter. Smitten with the 1954 Dodge Firearrow IV concept car designed by Virgil Exner, he approached Dodge general manager William Newburg for permission to build the car. He was given the rights and Dodge provided the chassis for the project. Bodies were made in Turin, Italy and shipped back to Detroit where they were mounted to the chassis. Power was supplied by Dodge's 315 cubic-inch Hemi or a 315 Poly engine, both high-performance D-500s.

The Hollywood elite, including the Rat Pack of Dean Martin, Frank Sinatra, Peter Lawford, Sammy Davis, Jr., and Joey Bishop, all owned Dual Ghias. The cars were built from 1956-1958, with about 100 convertibles built at a pricey $7,646.

This car is chassis number 185 and was built for Mr. Casaroll as his personal vehicle.
This Dual-Ghia Convertible, chassis number 195, is a late-production example that was produced approximately three cars prior to the end of its first-generation Dual-Ghia production. It has the Dodge Red Ram V-8 engine which produces 230-brake horsepower with 'Hemi' design.

The car was delivered by Sanders Motors Incorporated, a Cadillac dealer in Port Washington, New York, on April 18, 1958, at a cost of $7,300. The car was purchased by Lyman Kenyon Loomis. The car remained in his care in Green Farms, Connecticut, for three years. In 1961, it was sold to the present owner. The car has recently been given a complete restoration and finished in maroon. There is a maroon and cream leather interior and a maroon cloth top. The car rides on chrome wire wheels and is powered by the Dodge D-500 'Red Ram' V-8 engine with Carter four-barrel carburetion. There is a Chrysler Powerflite two-speed automatic transmission and four-wheel hydraulic drum brakes.
By Daniel Vaughan | Oct 2014
Eugene Casaroll, proprietor of Automobile Shippers Incorporated, was the individual responsible for the creation of the Dual-Ghia. The design was inspired by Virgini Exner's Dodge Firearrow, later called the Firebomb, show car. When Chrysler decided not to produce the car, Casaroll purchased the original Firebomb show car. It was re-engineered for public sale by designer Paul Farago. The interior room was increased, as was the luggage space. The chassis was from Chrysler, which was sent to Turin, Italy to have Ghia create the coachwork. Ghia had created the original Firebomb body, thus were the perfect craftsman to create the production vehicle. When the bodies were assembled, they were shipped to Detroit where Dual Motors fitted the drive-train and interior trim. The first series were equipped with Chryslers D500 and D500-1 engines. The D500 displaced 315 cubic-inches and produced 230 horsepower. The D500-1 had a larger, 325 cubic-inch displacement and 260 horsepower.

Production of this series lasted from 1956 through 1958 with a total of 117 examples constructed. There were two convertibles and the rest were coupes. The cars were competitively price considering they cost less than a Cadillac Eldorado and the Lincoln Continental. Just like many new automotive upstarts, the Dual Motors Company lost money on every car.

The concept was later revived in 1961. This time it was produced entirely in Italy in hopes of reducing the cost and expenses. This series is commonly known as the L6.4 as they were powered by Chrysler's 383 cubic-inch (6.4-liter) V8 engine. The chassis was its own, as Chrysler now used a unitary construction method. The cars were offered in hardtop coupe form only. Casaroll doubled the price in hopes of turning a profit, or at least break even. Problems continued to escalate as overhead costs continued to soar. Production continued until 1963 with a total of 26 examples created.
By Daniel Vaughan | Apr 2008
The Dual Ghia was inspired by the Chrysler Fire-Arrow prototype and went on sale in 1956. It had been introduced at the Grosse Pointe Yacht Club in 1955. The body of the vehicle was built by carrozzeria Ghia, an Italian coachbuilder firm. Dual was a independent automaker based in Detroit Michigan. The name of the car, obviously, came from the forging of both companies name.

Powered by a 315 cubic-inch Dodge enter and featuring a Powerflite transmission, the vehicle cost a hefty $7600. It was produced in limited numbers with 117 examples being produced before Dual Motors went out of business. Around 32 examples exist in modern times.

It was America's first four passenger sports car and popular with American celebrities such as Frank Sinatra, Richard Nixon, Desi Arnaz, Ronald Reagan, and Sterling Hayden. Reagan lost his car to Lyndon Johnson in a high-stakes poker game.
By Daniel Vaughan | Apr 2008
For more information and related vehicles, click
here
The Crescendo Effect: As the Days Get Closer, The Cars Get Bigger at Russo and Steele's 15th Anniversary Auction Event!
Scottsdale, Arizona (January 6th, 2015) – For Enthusiasts – By Enthusiasts. ™ This is far more than a tagline at Russo and Steele Collector Automobile Auctions. It's a lifestyle, and we are gearing up to deliver that singular passion to the High Desert of sunny Scottsdale, Arizona for our annual flagship event during the world renowned collector car week. Additionally, Scottsdale marks the kick-off of the year-long celebration of our 15th anniversary. Held over five thrilling and actio...[Read more...]
RARE REUNION: CHRYSLER CONCEPT CARS GATHER AT AMELIA, 2014
Nine rare and important Chrysler Concept Cars from the forties, fifties and sixties will be presented together for the first time at the 19th annual Amelia Island Concours d'Elegance on March 9, 2014. From the two-seat Chrysler Thunderbolt roadster and the dual-cowl Chrysler Newport of 1941 through the radical 1963 Chrysler Turbine car, Amelia's Chrysler Concept Car Class shows the genesis of the styling and engineering philosophy that summoned Chrysler's industry-changing 'Forward Look...[Read more...]
RARE CHRYSLER LA COMTESSE CONCEPT APPEARS AT AMELIA 2014
After decades in obscurity Chrysler's La Comtesse Concept Car will re-debut at the 19th annual Amelia Island Concours d'Elegance on March 9, 2014. The Fifties introduced new automotive chemical and paint technologies that helped summon a sea change in the way cars were purchased. It was a subtle component of Detroit's marketing equation, but color had risen near the top of the car buyer's priority list. The important fact was that women invariably chose the color of the new family car....[Read more...]
POW! BAM! ZOOM! The Original 1966 TV Batmobile To Cross Auction Block At Barrett-Jackson Scottsdale
Holy Grail of TV Star Cars to be Sold for First Time January 19, 2013 Barrett-Jackson, the World's Greatest Collector Car Auctions™, announced today that it will offer one of the most recognized and popular pieces of entertainment history worldwide, at its 42nd annual Scottsdale www.barrett-jackson.com/scottsdale/ auction in January – the only 1955 Lincoln Futura concept car which was heavily modified by legendary customizer George Barris to become the original 1966 Batmobile in the l...[Read more...]
Barrett-Jackson Breaks Sales And Attendance Records At Its Spectacular 5th Annual Las Vegas Auction
The World's Greatest Collector Car Auctions™ Brings Together Auto Enthusiasts from Near and Far Barrett-Jackson, The World's Greatest Collector Car Auctions™, announced today that it generated more than $23 million in sales of rare, high-end collectible vehicles, exotics, customs, classics and Shelbys during its 5th annual Las Vegas auction. The auction company increased its overall hammer average from 2011, proving that the car market is stronger than ever. Automobilia sales reached m...[Read more...]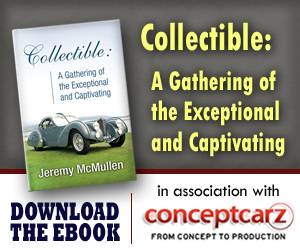 © 1998-2014. All rights reserved. The material may not be published, broadcast, rewritten, or redistributed.