1947 Mercury Series 79M news, pictures, specifications, and information

Tweet
This 1947 Mercury 79M Convertible Coupe has been in the ownership of the same family since new. It has never been in an accident and only shows normal wear and tare. The leather seats are original, though the surfaces and carpeting were replaced in the early 1960s. The engine compartment was repainted in the mid-1980s and all the paint is original.

This car was ordered from the factory with a heater and radio. It was purchased new in Montclair, New Jersey by Charles H. Selick. He was an avid car collector with many interests, including V-12 and V-16 Cadillac's.

In 2007 this Series 79M Convertible Coupe was brought to the Quail Lodge Resort & Golf Club in Carmel, California where it was auctioned at the Bonhams auction, An Important Sale of Collectors' Motorcars and Automobilia. It was sold for a high bid of $35,000 including premium and taxes.
By Daniel Vaughan | Apr 2008
Ford was the first American manufacturer to resume civilian automobile production in the immediate postwar market. They began on July 3rd of 1945 before the Pacific War officially ended with Japan's surrender. Just like Ford, Mercury had new 'spring models' ready for their public debut in April of 1947, with Mercury's changes focused mainly on the grille, with chrome plating added to the heavy surround on the upper section. There was a new 'MERCURY' nameplate added and the body side was truncated on the rear part of the hood. Heavy wingtips were added to the front bumper and the hubcaps were redesigned and given black lettering and white accents. Ten new exterior color choices were available. The Station Wagon was priced at $2,207 and topped the Mercury model line. In total, just 3,558 examples were built.

This example was sold new in Washington State and was in single-family ownership during the 50 years from 1958 to 2008, when the current owner acquired it. It has red metal panels, wooden bodywork, and red leather upholstery. Power is from a 'flathead' V-8 displacing 239 cubic-inches and offering 100 horsepower. There is a three-speed manual transmission and a Columbia two-speed rear axle. Hydraulic drum brakes can be found at all four corners.

In 2012, this car was offered for sale at RM Auctions Monterey, California sale. It was estimated to sell for $120,000 - $140,000 and offered without reserve. As bidding came to a close, the car was sold for the sum of $94,600 inclusive of buyer's premium.
By Daniel Vaughan | Nov 2012
For 1947 styling changes were minimal; more chrome was used on the inside and the dash instruments were redesigned. Convertibles and station wagons came with leather interiors.

The wood station wagon body was shared with its Ford counterpart. With the exception of the Mercury sheet metal and the longer Mercury wheelbase the cars were nearly identical. The Mercury was powered by a 239 cubic-inch V-8 that developed 100 horsepower.

The price of the Mercury was higher - $2,200, which doesn't include accessories such as those found on this car: Appleton spot light, fog lamp and Fulton deluxe sun visor.
Edsel Ford was the only son of Henry Ford, the automotive legend who created the Ford Motor Company and 'put the country on wheels' with their Model T. At the age of 21, Edsel joined his father's business as secretary. Four years later, he was president, though Henry never yielded control. Edsel was given projects that were of no interest to his father, such as growing the Lincoln marque and creating the elegant bodies for which they would become legendary. In 1929, Edsel hired E.T. 'Bob' Gregorie and together they oversaw all the company's esthetic creations of the 1930s, including several one-off designs and the Lincoln Zephyr. Among these styling phenomenons lay the Mercury marque, which served as a gap-filler between Ford and the Lincoln-Zephyr. Introduced in October of 1938, it was initially considered to be a prestige Ford model. But when production commenced, it was its own separate marque. The designs drew their inspiration from the Fords but treated to several styling cues courtesy of Gergorie.

During the first 17 years of Mercury's production, the wheelbase was exactly four-inches longer than its Sibling - Ford. This extra length allowed more interior room for the occupants and additional luxury.

For 1947, having just emerged from the grasps of the Second World War, the styling changes were only minor. One of the more visible changes were new hubcaps adorning all four wheels. There was also new trunk trim, the border around the grille was chrome plated, and the Mercury name could now be found on the side of the hood. The interior featured redesigned dial faces and the convertible and station wagons had leather upholstery.

The Town Sedan with seating for six was the most popular Mercury in 1947, with over 42,000 examples sold. The 2-door Sedan was the least popular, having the lowest sticker price, and only 34 examples ordered. 3,558 examples of the Station Wagon were created, which was about for the next few years to come.

The Series 79M had a three-speed manual gearbox and an L-head V8 engine that displaces 239 cubic-inches and produced 100 horsepower. The five bodystyle options each had a wheelbase that measured 116-inches and a length of 201.8 inches. In total, around 85,000 Mercury Series 79M were created in 1947.
By Daniel Vaughan | Dec 2008
For 1947, the eight-passenger station wagon was the most expensive model in the Mercury lineup, selling for $2,207. In total, there were a mere 3,558 examples produced, as compared to 16,104 Ford wagons that year. The timber was mostly maple and ash framing with mahogany panels, all grown from Ford's forests, then harvested, dried and aged at Iron Mountain. Skill craftsmen hand-built, assembled and trimmed each woodie body, a process that was complex and expensive to build.

The original owner of this 79M Station Wagon was Ollie Hammond of Southern California. In the mid-1980s, the car was given a restoration, with the odometer registering just 21,000 miles at the time. Most of the original wood was saved. The original fenders, chrome parts and running gear with in good condition and re-used. The three interior bench seats and the top were re-done. A NOS flathead Ford V8 engine was purchased and installed. The Columbia 2-speed rear end was rebuilt, and many other mechanical components were in good condition and were re-used.

In the late 1980s, the car was sold to its next owner. The owner has continued to maintain the car in proper condition. All of the wood has been hand-sanded and completely refinished. The Mercury now has 25,000 miles showing.

In 2008, this Mercury Model 79M Station Wagon was offered for sale at the Gooding & Company auction held in Pebble Beach, California. It was estimated to sell for $125,000 - $175,000. As bidding came to a close, the high bid had failed to satisfy the vehicles reserve, and the lot was left unsold.
By Daniel Vaughan | Mar 2009
| | |
| --- | --- |
| | Convertible |
This Series 79M 1947 Mercury deluxe two-door convertible was one of 10,221 produced. It rides on a 118-inch wheelbase and is powered by a 239.4 cubic-inch V8 engine that is fitted with a Holly 94 two-barrel carburetor which develops 100 horsepower. This 3,368-pound vehicle is fitted with a standard three-speed manual transmission coupled to a two-speed rear end. This car sold new for $2,002 and was the most expensive model except for the four-door eight-passenger station wagon which sold for $2,207. The convertible and station wagon came with leather upholstery while other styles came with fabric. Convenience options for this year included foot control radio, fog lamps, heater, and whitewall tires.
In 1947, Jose Maria Mendoza Pardo, then the governor of Mexican state of State of Michoacan de Ocampo, special ordered this Mercury directly from Ford and had it shipped to him in Mexico. It was purchased with government money and used as a federal vehicle and plated as such. In 1949, due to some political unrest in the region, Mendoza abandoned the vehicle with relatives.

In 1994, in San Luis, Mexico, the car was presented as a trade for a 1959 Mercedes 220. The new owner began a restoration that would cover the next 13 years. Vintage period parts were sourced, including correct upholstery and roof top materials. The wood portion of the car was hand crafted by furniture restoration specialists who crafted the frame out of fresh maple. The exterior was finished in the correct color and type.

In 2009, it was shown at the Concurso de Elegancia Huixquilucan where it was selected for the Hall of Excellence out of 450 cars from around the country.
By Daniel Vaughan | Apr 2014
FORD FUND ANNOUNCES $1 MILLION WILLIAM CLAY FORD AUTOMOTIVE DESIGN SCHOLARSHIP
◾Scholarship commemorates the design legacy of William Clay Ford, former chairman of Ford Motor Company's design committee ◾Ford Fund commits $50,000 per year during the next 20 years, giving five automotive design students each $10,000 per year ◾Mr. Ford oversaw design of the iconic Lincoln Continental Mark II, considered by many one of the greatest cars ever built Ford Motor Company Fund will award $1 million in automotive design scholarships during the next 20 years to commemorate the la...[Read more...]
150TH ANNIVERSARY OF HENRY FORD'S BIRTH DECLARED 'HENRY FORD DAY' BY MICHIGAN LEGISLATURE
◾The 150th birthday of Henry Ford – July 30, 2013 – is declared 'Henry Ford Day' in the state of Michigan ◾Celebration honoring Henry Ford's 150th birthday to be held on Saturday, July 27, at Henry and Clara Ford's historic home, Henry Ford Estate/Fair Lane in Dearborn, Mich. ◾Henry Ford Estate Inc., a nonprofit that shares governance with Edsel & Eleanor Ford House, takes ownership of the Dearborn estate DEARBORN, Mich., July 25, 2013 – The enduring impact of Henry Ford and the 150t...[Read more...]
Mercedes-Benz Pays Homage to a Regional Classic at the 2013 Greenwich Concours d'Elegance
The all-new 2014 E-Class Wagon Debuts Alongside a 1957 300c Mercedes-Benz USA debuts the all-new 2014 E-Class Wagon alongside one of its predecessors, a pristine 1957 300c at the 18th Annual Greenwich Concours d'Elegance from June 1-2, 2013. The event features rare vehicles from past and present and benefits Americares, the private, non-profit relief and humanitarian aid organization. With the background of the breathtaking Greenwich seaside, Mercedes-Benz highlights one of the Nort...[Read more...]
Edsel Ford's Speedster Stars at 'The Amelia'
Edsel Ford's 'continental car', a custom boattail speedster, will take its rightful place in the Sports Car Class of the 18th annual Amelia Island Concours d'Elegance. In the shape of Edsel's seminal speedster is the genesis of Ford's legendary design department. Edsel Ford was hardly 'a chip off the old block'. The acorn fell well away from the mighty oak that was Henry Ford, founder of the Ford Motor Company. Edsel was not just the President of Ford, he was a car guy to his core. His ta...[Read more...]
Classic Motorcar Holds Grande Salon Auction During Glenmoor Gathering
1912 Edsel Ford Model T Six Cylinder Speedster to Cross the Block CANTON, Ohio - Classic Motorcar Auctions LLC will hold their 3rd annual Grande Salon Auction Sept. 15-16, 2012 during the Glenmoor Gathering event at the historic Glenmoor Country Club in Canton, Ohio. The Grande Salon Auction will feature more than 150 antique, classic and sports cars as well as various automotive memorabilia up for bid. Vehicles will be available for preview on Friday, Sept. 14 from 1-8 p.m. The a...[Read more...]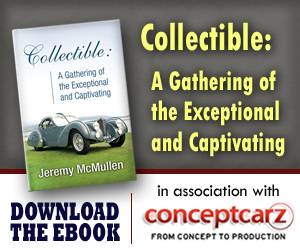 Similarly Priced Vehicles from 1947
Chevrolet Fleetmaster ($1,280-$1,891)
Ford Super Deluxe ($1,250-$2,275)
Chrysler Town and Country ($2,365-$2,365)
HRG 1500 ($2,455-$2,455)
MG TC ($2,240-$2,240)
Cadillac Series 62 ($2,445-$2,900)
Packard Custom Super Clipper Eight ($3,145-$4,520)
Nash Ambassador ($1,750-$2,225)

Average Auction Sale: $49,279
© 1998-2014. All rights reserved. The material may not be published, broadcast, rewritten, or redistributed.