1952 Nash Rambler news, pictures, specifications, and information

Tweet
The 1952 Nash Rambler was offered in a variety of bodystyles, all having two doors and seating for five. The list included a utility wagon, convertible, two versions of the station wagon, and a Country Club. The Country Club was the most popular with a total of 25,785 examples produced and selling for around $2000. Power was from a six-cylinder, L-head engine that displaced 172.6 cubic-inches and produced 82 horsepower.

The Country Club is considered the first two-door compact car to be built in the United States. They were unique automobiles with styling that segregated them from the rest of the market.

This example is painted in Caribbean Blue and Champaign Ivory. The interior is grey. It has traveled a mere $29,000 miles since new and is in great condition, showing no rust, and still wearing its original interior. It has a six-cylinder engine, three-speed gearbox, Continental kit, two-tone paint, and white-wall tires.
By Daniel Vaughan | May 2008
Nash Motors, a division of the Nash-Kelvinator Corporation, manufactured the distinctive Nash Rambler, often described as the 'first modern American compact,' from 1950 to 1954. In May 1954 American Motors Corporation (AMC) was formed by a merger between Nash-Kelvinator and the Hudson Motor Car Company and production continued for only another year. The Greenbrier station wagon could be had with 2 or 4-doors and Super or Custom trim levels including two-tone paint. For 1952 only a 173 cubic-inch, flat head, inline 6 motor was installed offering some 82 horsepower.

Some 53,000 cars were produced in 1952 making them very rare today.
Introduced in 1950, the Nash Rambler was designed to be much smaller than other contemporary vehicles, while still able to accommodate five passengers easily and comfortably. Produced by the Nash Motors division of Nash-Kelvinator Corporation for six years only, the Rambler was responsible for establishing a new segment in the automotive market. Widely considered to be the original modern American compact vehicle, the Nash Rambler was orginally going to be called the Nash Diplomat. Dodge had already reserved the Diplomat name for a two-door hardtop body style, so the Rambler name was resurrected instead.

Introduced during the 1950 model year, the Nash Rambler was the entry model for the low-price segment that had been dominated by models from Ford, Chevrolet, and Plymouth. Riding on a 100' wheelbase, the new model was designed to be smaller in dimension, and lighter in weight than the other popular cars of the time. Nash was able to save on materials in its productions and owners would have better fuel economy by keeping the vehicle smaller. Producing 82 hp, the Rambler's power came from a 173 in³ L-head 6-cylinder engine.

The 'landau' was the designation for the up-maret two-door convertible new Rambler. The Rambler was attempting to gain a positive public image, rather than being seen as an inexpensive little vehicle. The Nash Rambler was equipped with various features that included wheel covers, electric clock, pushbutton radio and whitewall tires.

The Rambler was compact, and the design had a rounded form with an envelop body that enclosed the front wheels. Fortunately thedesign did not impair the vehicles cornering abilities. The Nash Rambler kept the fixed roof structure above the vehicles doors and rear side window frames unlike the traditional convertible of that time period that used frame-free windows. The retractable canvas top used this metal structure as the side rails or guides. The body of the vehicle was considered to be rigid for an open top vehicle, though this design did allow Nash to use its monocque unibody construction on its new compact.

The Rambler line was enhanced to include the Country Club in 1951, a two-door station wagon and a two door hardtop. It wasn't until 1953 that the Nash Rambler received it's first significant restyling which included an all-new 'Airflyte' styling that the 'senior' Nash models had received the previous year. Also in this year, a new two-door sedan was added to the lineup.

In 1954 the Cross Country was added to the line-up, which included a four-door station wagon and four-door sedan. The Cross Country rode on a 108' wheelbase, and during the following year, the traditional front wheel wells were open and exposed.

The Hudson Motor Car Company merged with Nash in 1954, with the successor being the American Motors Corpoation.Soon after the merge, Ramblers were badged as Hudson brand cars. Nash Ramblers and Hudson Ramblers were virtually identical, except fo the brand name and some minor brand badging.

A all-new Rambler was introduced in 1956 by American Motors which featured an increase in the overall length of the vehicle, though still riding on the same 108' (2743mm) wheelbase. Ramblers now only were sold as four-door models, alongside four-door sedans, station wagon, and a new four-door hardtop sedan. A new four-door hardtop station wagon was featured in 1956, an industry first.

The Rambler was no longer branded as either a Nash or Hudson in 1957, but simply as a Rambler in it's own right. A 250-cid V8 engine was finally made available in Ramblers for the first time in 1957. Also, new for this year only was a unique high-performance four-door hardtop sedan model that was named the Rambler Rebel. The Rebel was fitted with AMC's new 327-cid V8 engine which was also used the larger Nash Ambassador and the Hudson Hornet earlier that year.
By Jessica Donaldson
For more information and related vehicles, click
here
RARE CHRYSLER LA COMTESSE CONCEPT APPEARS AT AMELIA 2014
After decades in obscurity Chrysler's La Comtesse Concept Car will re-debut at the 19th annual Amelia Island Concours d'Elegance on March 9, 2014. The Fifties introduced new automotive chemical and paint technologies that helped summon a sea change in the way cars were purchased. It was a subtle component of Detroit's marketing equation, but color had risen near the top of the car buyer's priority list. The important fact was that women invariably chose the color of the new family car....[Read more...]
Mecum's Kansas City Spring Auction Reaches $9.6 Million in Sales
April 25-27 Auction Draws Large Crowd and Diverse Selection to Downtown K.C. Magnificent and serene Kansas City, Mo., turns into a car collector's paradise twice a year when Mecum Auctions comes to town. Last weekend, April 25-27, the Kansas City Convention Center was transformed into that dream location with 735 cars spread across the gleaming floor of beautiful Bartle Hall. With 446 cars selling over the three-day period for a 61 percent sell-through rate, the enduring auction brough...[Read more...]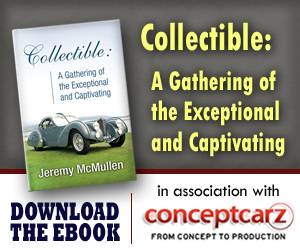 Similarly Priced Vehicles from 1952
Chevrolet Deluxe Styleline Series ($1,700-$2,300)
Skoda 1200 ($2,000-$2,000)
Kaiser Virginian ($1,995-$2,780)
Dodge Wayfarer ($1,885-$2,030)
Studebaker Champion ($1,736-$2,270)
© 1998-2014. All rights reserved. The material may not be published, broadcast, rewritten, or redistributed.